Chinese embassy warns U.S. lawmakers against meeting with Taiwan's president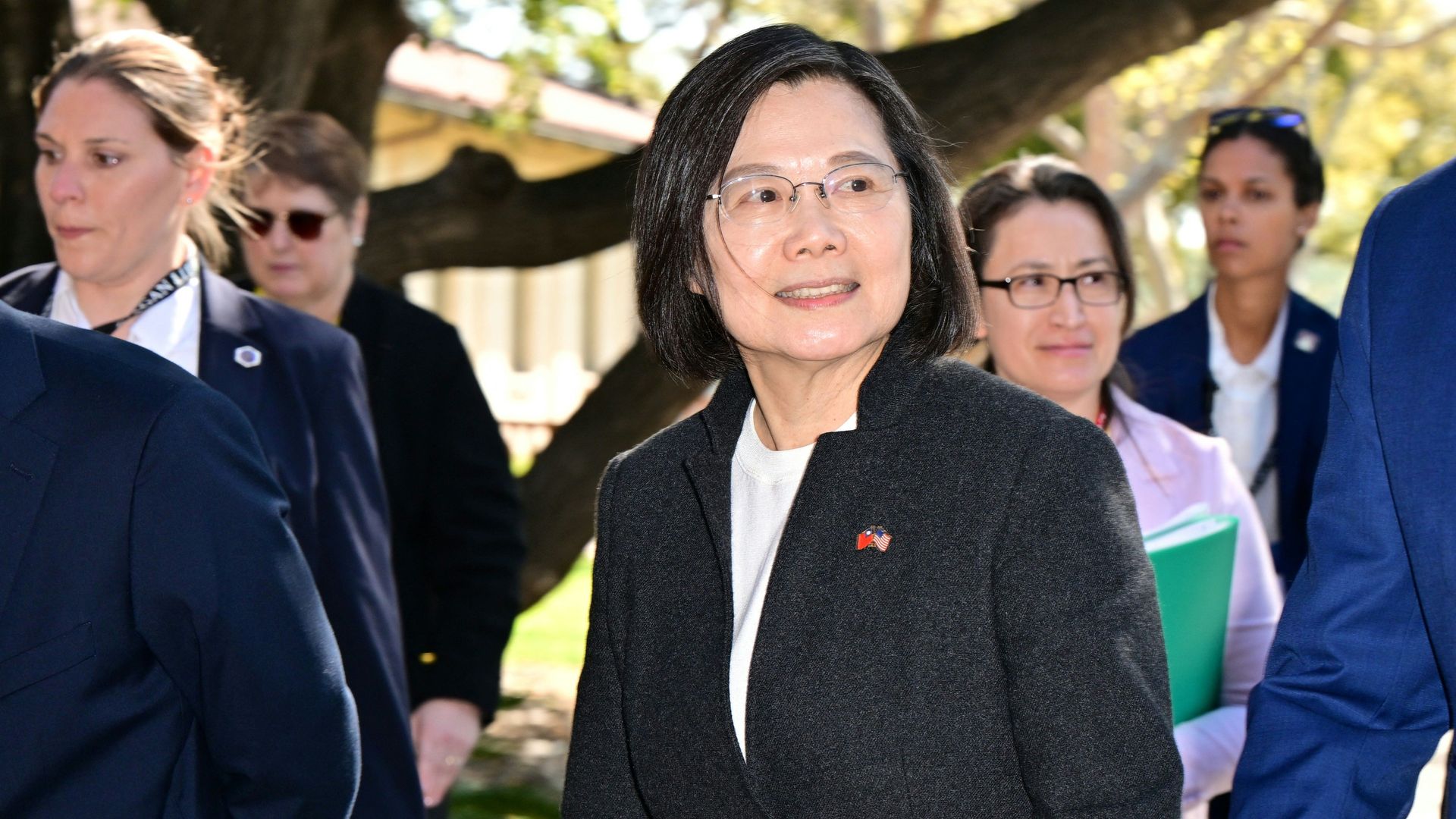 China's embassy in Washington, D.C., warned members of Congress in an email to not meet with Taiwan's President Tsai Ing-wen on Wednesday, calling the prospect "a blatant provocation."
Driving the news: The four-page email, sent Tuesday from Li Xiang, the embassy's liaison to Congress, warned of consequences if the meetings between lawmakers and Tsai took place.
House Speaker Kevin McCarthy (R-Calif.) and Tsai met at the Ronald Reagan Presidential Library in Simi Valley, California, on Wednesday. McCarthy's office did not confirm if he had received the email prior to the meeting.
Several lawmakers from both political parties met with her, as well.
Details: "I would like to reiterate that the Chinese side strongly opposes any form of official interaction between the US and Taiwan," the email states.
Li said China's leadership "will most likely take necessary and resolute actions in response to the unwanted situation" and recalled former Speaker Nancy Pelosi's (D) visit to Taiwan last year.
Beijing responded to Pelosi's visit by holding military drills around Taiwan, firing a missile over the island and cutting off communication with Washington.
China views Taiwan, a self-governing island, as part of its territory and rejects any gesture that treats it as an independent nation, while the U.S. neither rejects nor accepts Beijing's claims over Taiwan.
What they're saying: Rep. Ashley Hinson (R-Iowa), a member of the House Select Committee on China, told Axios in a statement that she received the email on Tuesday and called it "a pathetic threat from the CCP."
"We will relentlessly stand up for freedom and with Taiwan, and we are never going to cower," Hinson said in the statement. "My message back to them is this: I look forward to meeting with President Tsai and reaffirming our commitment to Taiwan and freedom-loving nations everywhere."
Rep. Michelle Steel (R-Calif.) told Axios in a statement she met with Tsai on Wednesday to "reaffirm our support for a free, sovereign democracy."
"I cannot be threatened by the Chinese Communist Party. The CCP will do anything in order to maintain their control," Steel continued. "They are the greatest threat to democracy and will not be allowed to dictate the actions of any American citizen."
Of note: Hours after the Chinese embassy warning, a bipartisan U.S. delegation led by House Foreign Affairs Chair Michael McCaul (R-Texas) arrived in Taipei on a scheduled visit emphasizing solidarity with Taiwan.
"We are confronting a generational threat from the Chinese Communist Party, and the Indo-Pacific theater is our first line of defense against their encroachment," said McCaul in a statement ahead of Thursday's visit.
"That's why now, more than ever, it's critical the United States strengthen relationships with our allies and partners in the region."
Meanwhile, the Chinese military began drills in the Taiwan Strait on Wednesday morning.
The big picture: Xu Xueyuan, charge d'affaires at the Chinese embassy in Washington, previously warned that Tsai's expected stop in California "could lead to serious, serious, serious confrontation in the U.S.-China relationship."
Tsai began her trip last week with a stop in New York, and went on to visit Belize and Guatemala, two of the 13 countries that have diplomatic relations with Taipei rather than Beijing.
The Chinese embassy in D.C. did not respond to Axios' request for comment.
Go deeper: McCarthy meets Taiwan President Tsai despite China's threats
Editor's note: This story has been updated with comment from Reps. Michelle Steel and Michael McCaul and to note the arrival of the U.S. delegation in Taiwan.
Go deeper