Updated Apr 5, 2023 -

World
McCarthy meets Taiwan President Tsai despite China's threats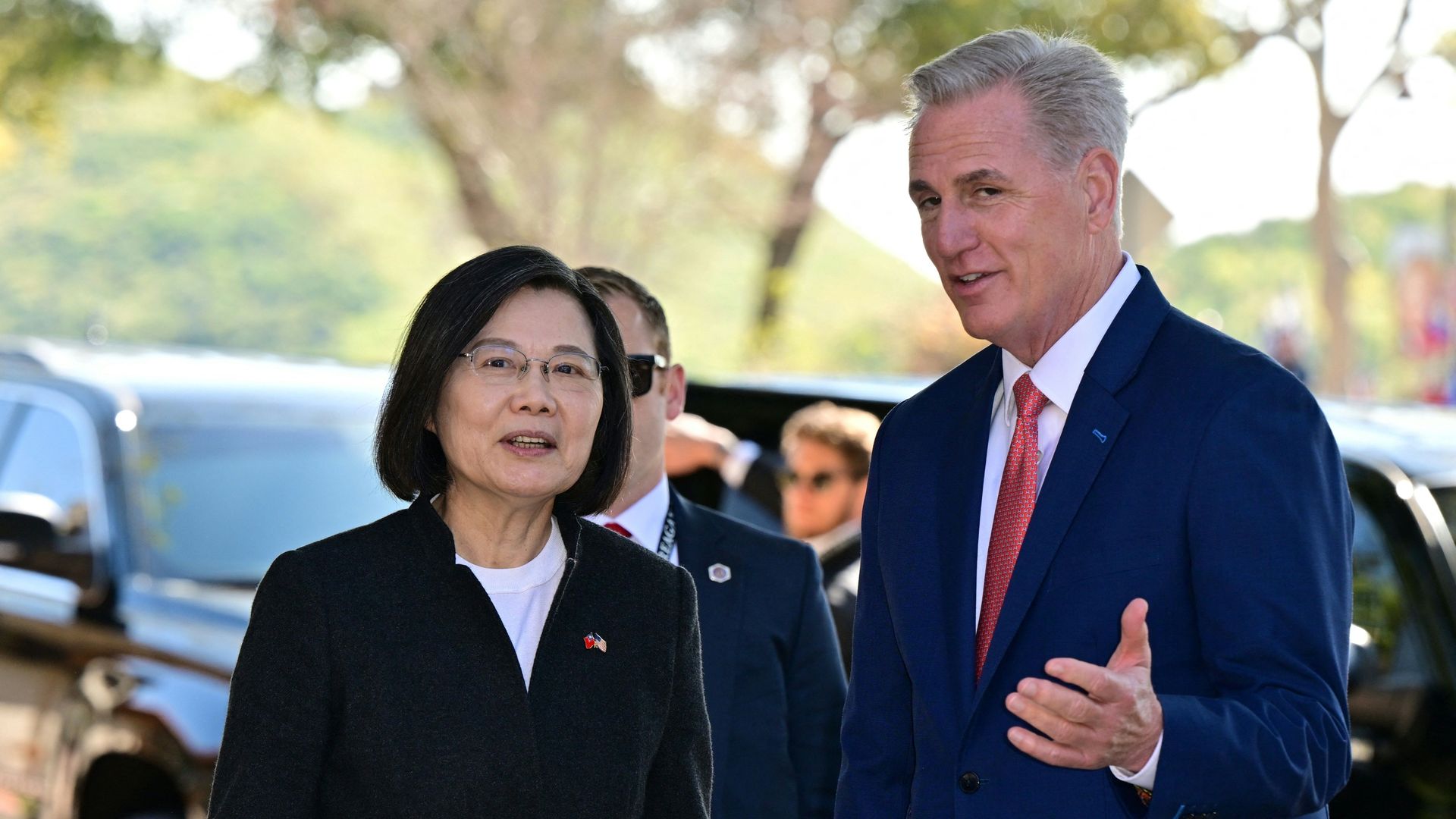 House Speaker Kevin McCarthy (R-Calif.) met with Taiwan President Tsai Ing-wen in California on Wednesday despite warnings from Beijing that the meeting would provoke "severe confrontation" with the U.S.
Why it matters: China views any gesture that seems to treat Taiwan as an independent country as an affront, and responded to a visit to Taipei last year by then-Speaker Nancy Pelosi by holding massive military drills around Taiwan and firing a missile over the island.
The Chinese military began military drills in the Taiwan Strait on Wednesday morning. Taiwan's Ministry of National Defense said it was monitoring the drills.
Background: The top diplomat at China's embassy in Washington warned last week that the trip "could lead to serious, serious, serious confrontation," adding: "Those who play with fire will perish by it."
The White House has been trying to tamp down the tensions by noting that Tsai's recent predecessors have transited through the U.S. and that Tsai herself has been to the U.S. six times before without much incident.
Taiwan is a "sovereign and independent country, and has the right to independently choose to communicate and develop relations with other countries in the world," Taiwan's Foreign Ministry said in a statement on Monday.
What they're saying: "The friendship between America and the people of Taiwan has never been stronger," McCarthy tweeted as he welcomed Tsai.
After the meeting, Tsai thanked McCarthy and the entire U.S. Congress for their support. "In our efforts to protect our way of life, Taiwan is grateful to have the United States of America by our side as we confront the unique challenges of our time," she said.
The big picture: Some analysts believe the U.S. and China are on course for a collision over Taiwan within the next several years.
Chinese President Xi Jinping has vowed to bring the self-governing island under Beijing's control, by force if necessary.
President Biden, meanwhile, has repeatedly stated that the U.S. would defend Taiwan. The U.S. has also stepped up arms sales to the island.
Driving the news: Tsai began her trip last week with a stop in New York, followed by visits to Belize and Guatemala, two of the 13 countries that have diplomatic relations with Taipei rather than Beijing.
McCarthy met Tsai at the Ronald Reagan Presidential Library in California. Several other members of Congress also attended the meeting.
While Tsai has been in the Americas, former Taiwanese President Ma Ying-jeou has been traveling around mainland China — the first former Taiwanese leader to do so.
The two trips mark two differing visions for Taiwan's future, as offered by Taiwan's two main political parties ahead of January's presidential elections.
As China ratchets up pressure on Taiwan, Tsai's Democratic Progressive Party (DPP) wants to stay as close to the U.S. as possible, whereas Ma's KMT is still seeking to alleviate the pressure at the source, by getting closer to Beijing.
Go deeper