China: Taiwan president's U.S. visit could spark "serious confrontation"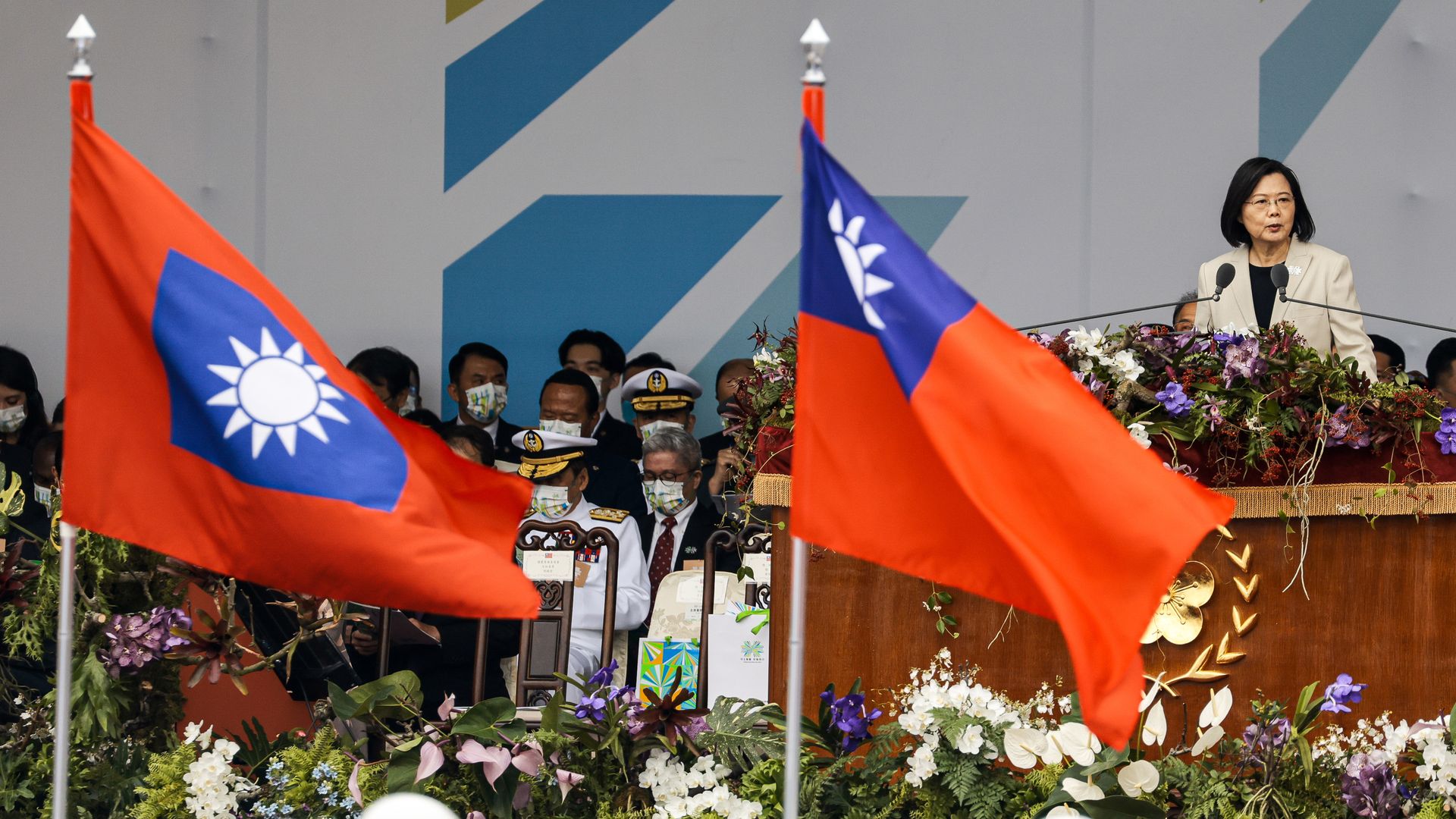 Taiwan President Tsai Ing-wen's stops in the U.S. during her current overseas trip will "have a severe impact on China-U.S. relations," the top diplomat at China's embassy in Washington told reporters Wednesday.
Why it matters: Tsai left Taipei for New York on Wednesday en route to Belize and Guatemala, two of Taipei's few remaining diplomatic allies. Before returning home, she's expected to stop in California next week to give a speech and meet House Speaker Kevin McCarthy.
The White House has tried to tamp down the tensions ahead of her stops in the United States, noting that Tsai's recent predecessors have transited through the U.S. and that Tsai herself has been to the U.S. six times before without much incident.
But Chinese officials have made clear that this time it's different. Beijing responded furiously last year to then-Speaker Nancy Pelosi's visit to Taipei by holding a week of military drills in the waters around Taiwan and cutting off most communication channels with Washington.
Those events brought back memories of the 1996 Taiwan Strait crisis, which was prompted by a visit to New York by then-Taiwanese President Lee Teng-hui.
What they're saying: Xu Xueyuan, charge d'affaires at the Chinese embassy in Washington, said China does not accept the U.S. claims that Tsai's trip is merely a "transit" with plenty of precedent.
"The so-called 'transit' is merely a disguise to her true intention of seeking breakthrough and advocating Taiwan independence," Xu said, accusing the U.S. of allowing Tsai to "make a splash" and "arranging" her meeting with McCarthy. The White House has noted that McCarthy sets his own schedule.
Xu said the trip "could lead to serious, serious, serious confrontation in the U.S.-China relationship," as could any travel by Taiwanese leaders to the U.S., or vice versa. She also condemned arms sales by the U.S. to Taiwan and recent lower-level meetings between U.S. and Taiwanese officials.
Xu accused the U.S. of violating the "One China" principle and warned: "As we say, 'those who play with fire will perish by it.' This is not a threat. The Chinese government must react to violations of the 'One China' principle."
Between the lines: Washington neither rejects nor accepts Beijing's claims over Taiwan and does not recognize the self-governing island's independence.
Tsai, meanwhile, advocates for Taiwan's right to self-government but does not call for full independence. She says her 10-day trip is about "fostering shared prosperity with our allies," Belize and Guatemala.
It's unclear whether Beijing's response this time will include a military show of force, as with Pelosi's visit. Xu didn't elaborate on what she meant by a "confrontation in the U.S.-China relationship."
Split screen: Ma Ying-jeou, a former president from the more dovish Kuomintang (KMT) party, is currently visiting mainland China — the first former Taiwanese leader to do so.
Our thought bubble via Axios' China reporter Bethany Allen-Ebrahimian: Tsai's visit to the U.S. and Ma's visit to China mark two differing visions for Taiwan's future, as offered by Taiwan's two main political parties.
As China ratchets up pressure on Taiwan, Tsai's Democratic Progressive Party (DPP) wants to stay as close to the U.S. as possible, whereas Ma's KMT is still seeking to alleviate the pressure at the source, by getting closer to Beijing.
Beijing may calibrate its approach to Tsai's visit to avoid generating more support for the DPP ahead of January's presidential election. Tsai can't run herself due to term limits.
Go deeper