View from Taipei: Two presidential visits captivate Taiwan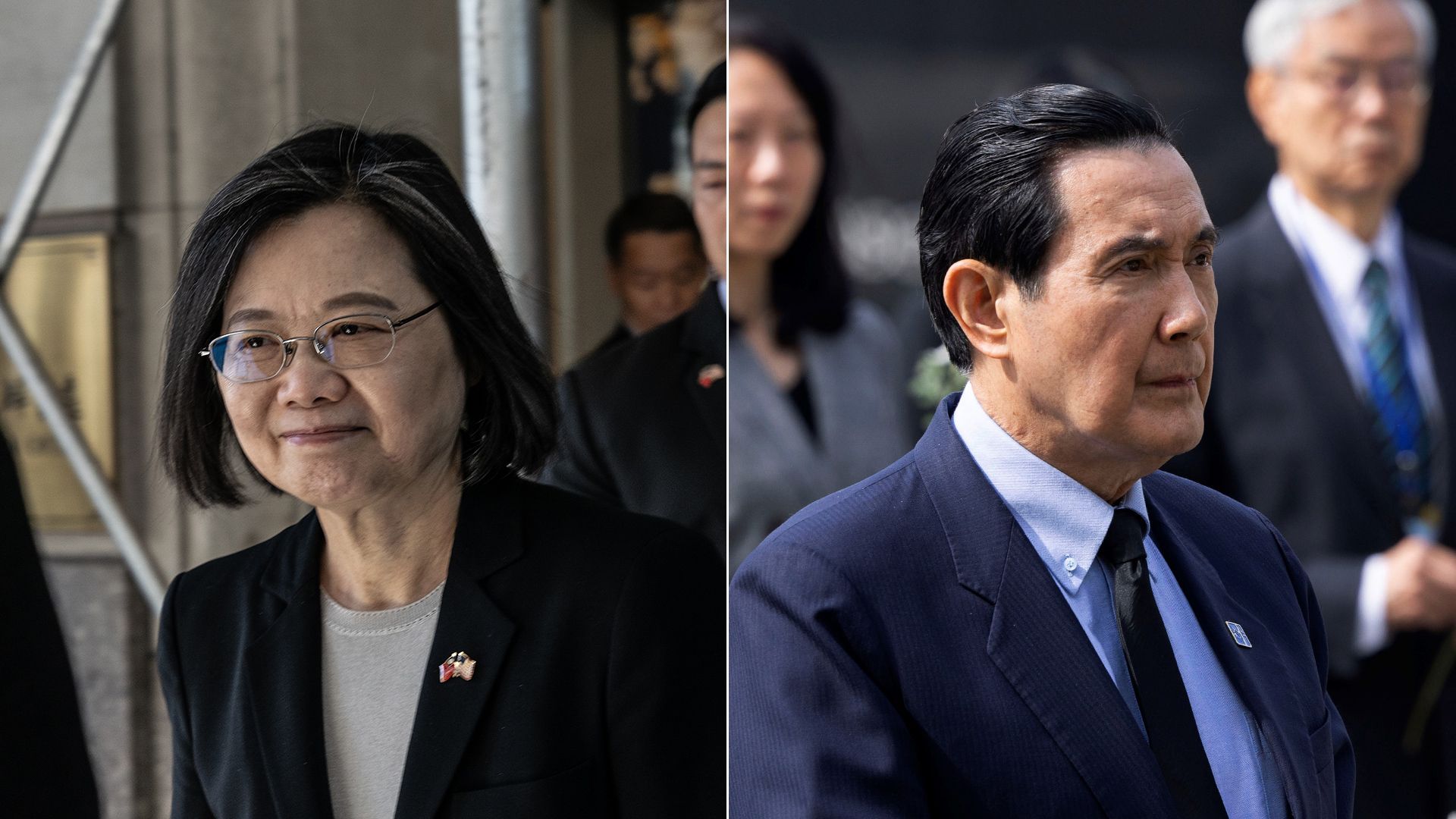 TAIPEI, Taiwan — Current Taiwanese President Tsai Ing-wen's visit to the U.S. and former Taiwanese President Ma Ying-jeou's unprecedented trip to China have reignited debate within Taiwan about the island's future — and the nature of its relationship with mainland China.
Why it matters: With Taiwan's next presidential election less than a year away — and pressure from China growing — Taiwanese voters will soon face a choice between keeping the close U.S. ties forged by Tsai's Democratic Progressive Party and reverting to the rival Beijing-friendly stance of Ma's Kuomintang party.
"The two trips illustrate how the two political parties hold very different strategic views on Taiwan's role in the Indo-Pacific," Lii Wen, DPP chairman for the party branch on Matsu Island, located near China's coast, told Axios.
What's happening: Tsai flew to New York last week on her way for official visits to Guatemala and Belize, two of Taiwan's few remaining diplomatic partners, in what U.S. officials refer to as a "transit" rather than a visit.
She's traveling back to Taiwan through California and is expected to meet House Speaker Kevin McCarthy on Wednesday. Chinese officials have warned of "serious confrontation" if the meeting is held.
Foreign government officials posted to Taiwan have grown increasingly concerned over the past week that Beijing's reaction to the McCarthy-Tsai meeting might be similar in scope and scale to China's response to then-House Speaker Nancy Pelosi's visit to the island last year.
At the time of Pelosi's visit, Beijing held its largest military drills in decades and, in a first, sent a missile over the island.
Taiwan's Ministry of Defense said early Tuesday local time that China sent 20 planes and three naval vessels near Taiwan over the previous 24 hours — a notable increase in the PLA's daily fighter runs in the Taiwan Strait.
Meanwhile, Ma last week began a 12-day trip to China, where he visited the hometown of his ancestors and, despite the unofficial nature of his visit, held meetings with Chinese officials.
The former president met with the head of China's Taiwan Affairs office last Thursday and reiterated the "1992 consensus," an agreement reached between Chinese and Taiwanese representatives in the early 1990s in which both sides recognized the existence of only one China — though the ruling KMT included a caveat that there were different interpretations of what "China" referred to.
The official KMT position is that all of China rightfully belongs to the Republic of China (whose government fled to Taiwan from the mainland in 1949 and reestablished its capital in Taipei), while recognizing that the People's Republic of China currently administers the mainland.
Between the lines: The DPP has de-emphasized the 1992 consensus and Tsai has rejected it outright, while also favoring the term "Taiwan" over the "Republic of China" identity.
DPP supporters tend to believe that the 1992 agreement is obsolete and that China under Xi Jinping has become more aggressive.
But KMT supporters believe that abandoning the consensus needlessly disrupts the status quo and inflames tensions with China.
Ma's emphasis on the 1992 consensus reinforces to both Taiwanese and Chinese audiences that a return to KMT rule would be a return to the traditional interpretation of Taiwan-China ties.
What they're saying: Ma's visit "can effectively ease the tension between the two sides of the strait," Alfred Lin, a KMT spokesperson, told TaiwanPlus.
The other side: "Ma Ying-jeou's visit is untimely, since Beijing keeps ramping up military pressure on Taiwan. It's confusing to the international community," Lii told Axios.
Ma's visit to China has been closely watched across a broad swath of Taiwanese society and has sparked fierce debate.
Taiwan's Mainland Affairs office criticized Ma's descriptions of China and Taiwan as "one China," while Ma's office fired back that the Mainland Affairs office was promoting the "two-state narrative."
What to watch: The presidential election will be held in January 2024.
Recent polling shows DPP candidate and current Vice President Lai Ching-te leading in the polls, including in KMT candidate and current New Taipei City Mayor Hou Yu-ih's home constituency.
Go deeper