Updated Aug 4, 2022 -

World
China fires missiles into sea near Taiwan during drills around island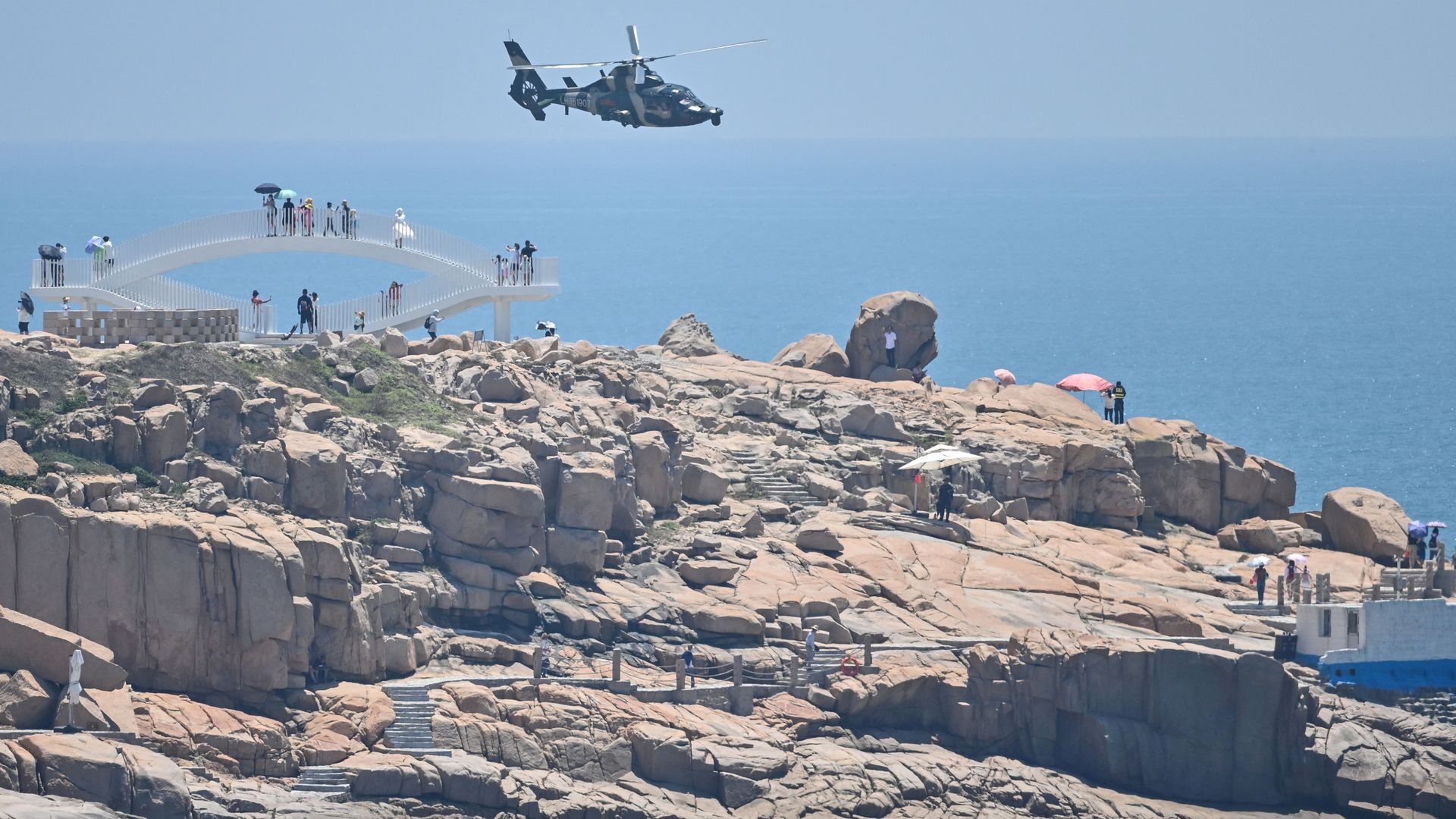 The Chinese military began live ammunition drills near Taiwan on Thursday in a days-long apparent show of force after House Speaker Nancy Pelosi's visit to the self-governing island.
The latest: Taiwan's Ministry of Defense said it activated its defense systems after China's military launched 11 ballistic missiles into waters near Taiwan's northern, southern and eastern coasts. "We condemn such irrational action that has jeopardized regional peace," the ministry said.
China's military said earlier it had conducted "long-range armed live fire precision missile strikes" in the eastern region of the Taiwan Strait, as its state media described the exercises as a "joint blockade, sea target assault, strike on ground targets, and airspace control."
Taiwan's Ministry of Transportation and Communications said at least 70 flights around Taiwan were rerouted to avoid the drills.
Korean Air Lines canceled flights from Seoul to the island on Friday and Saturday, a company spokesperson said. An Asiana Airlines flight planned for Friday was also canceled, per the company's website.
Taiwan's Maritime Port Bureau initially reported that the Chinese military had added a seventh zone, but later retracted its statement, CNN reported.
Why it matters: The zones the Chinese military outlined for the drills encircle Taiwan and some areas cross into territorial waters claimed by the island, the New York Times notes, raising alarm about the potential for dangerous accidents or miscalculation.
The Chinese military warned boats and planes to avoid the areas from Thursday through Sunday for the drills, which the Taiwanese Ministry of Defense said violate Taipei's sovereignty and may amount "to a blockade of Taiwan's air and sea space."
The planned exercises "unilaterally undermine regional peace and stability," the ministry said in a statement Wednesday. "This move will not help China's international image and will hurt people on both sides of the strait."
The current tensions echo the 1996 cross-strait crisis.
What they're saying: China's Foreign Minister Wang Yi told reporters from the sidelines of the Association of Southeast Asian Nations (ASEAN) summit in Cambodia on Wednesday that Pelosi's visit to Taiwan was a "complete farce."
He said the "irreversible historical trend of Taiwan's return to the motherland cannot be changed" and those "who offend China will surely be punished."
Catch up quick: The Chinese government announced the exercises as Pelosi arrived in Taiwan on Tuesday for an overnight visit that angered Beijing, which had warned of "serious consequences" in the days leading up to the trip.
Pelosi, the most senior U.S. lawmaker to visit the island since 1997, made the trip despite President Biden saying publicly that the U.S. military felt it was "not a good idea right now."
"Now more than ever America's solidarity with Taiwan is crucial," Pelosi said early Wednesday local time as she met with Taiwanese President Tsai Ing-Wen.
Despite the heightened tensions, many in Taipei expressed appreciation for Pelosi's support. Tsai said Wednesday that Taiwan will never back down amid heightened security threats.
Flashback: China, angered over a visit to the U.S. by then-Tawainese President Lee Teng-hui, conducted missile tests in 1996, with missiles landing in waters off Taiwan and one flying almost directly over the capital, Taipei.
The U.S., meanwhile, sent two aircraft carrier groups through the Taiwan Strait.
Go deeper... In photos: China's military drills encircle Taiwan
Editor's note: This article has been updated with new details throughout.
Go deeper