Hong Kong's global financial status is at risk, report says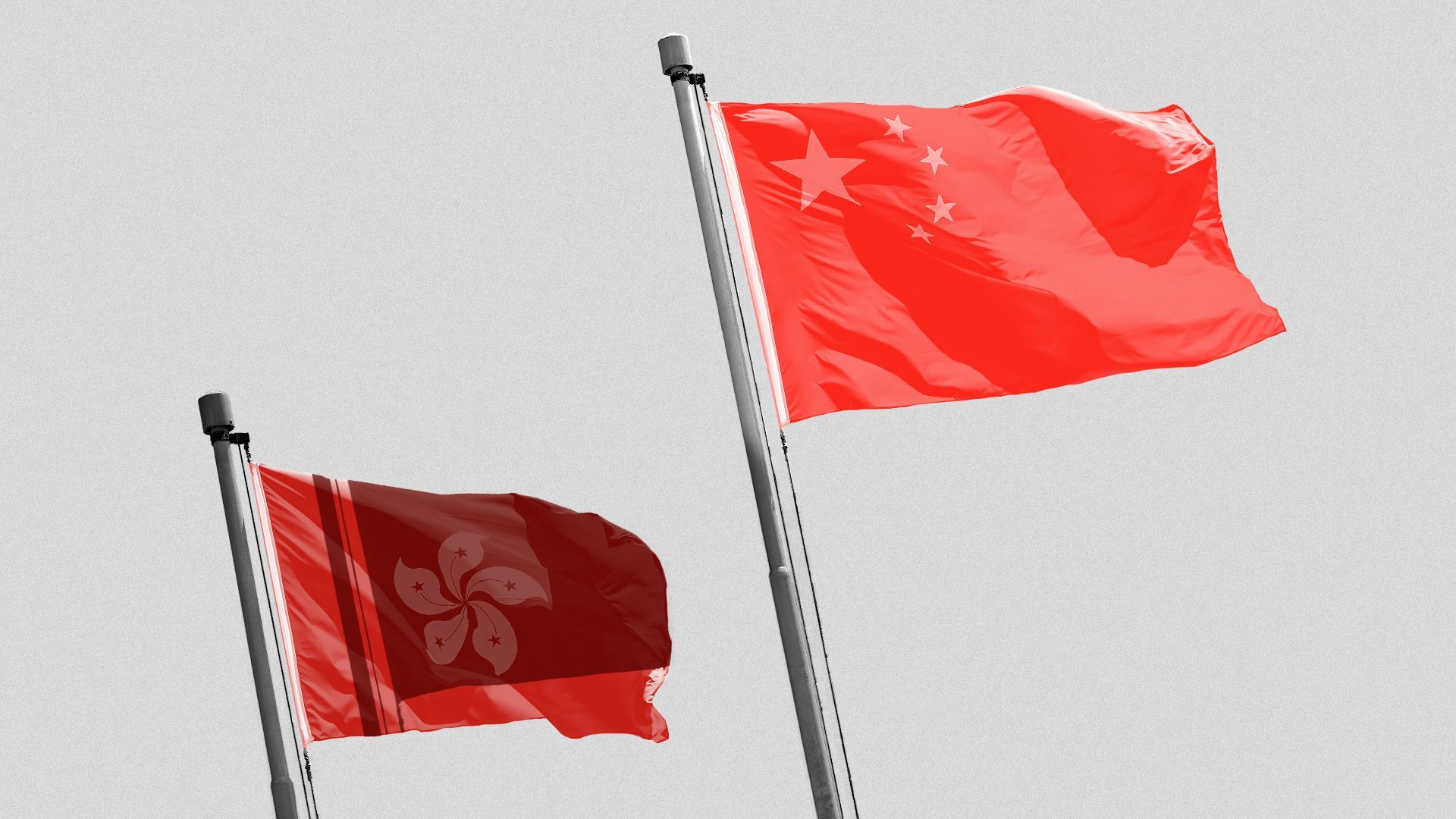 Beijing is changing Hong Kong's political norms, raising new concerns about the institutions underlying the city's previous prosperity and potentially putting its status as a global financial hub at risk, according to a new report.
The big picture: The business community should begin a collective lobbying campaign to convey their concerns directly to Hong Kong authorities, the report recommends, because legal and bureaucratic recourse is now less likely to help the business community protect their interests in the city.
"The most fundamental change in Hong Kong over the past three years has been a shift from legal and institutional constraints on government actions to political and normative constraints," the report by the Atlantic Council states.
"The National Security Law created a parallel system of authority operating both behind and above Hong Kong's system of government."
Details: The report outlines new risks to Hong Kong's status created by the national security law, including:
Risks to the Hong Kong dollar's peg to the U.S. dollar, which was established in 1983 and paved the way for open capital flows in and out of the city. It's very unusual for one country to have two separate currencies, and the end of "one country, two systems" raises new questions about the long-term future of Hong Kong's currency.
Though still unlikely, removing the U.S. peg and replacing it with a peg to the renminbi could result in capital controls being placed on Hong Kong, reducing its viability as a financial center.
New compliance risks, as both the U.S. and Beijing implement sometimes-contradictory sanctions that apply to Hong Kong businesses. For example, China's new anti-foreign sanctions law could in theory punish businesses for abiding by U.S. sanctions.
A weakening in the perceived independence of the judiciary raises questions about the rule of law in the city, though Hong Kong authorities have repeatedly emphasized that the rule of law remains strong. But Beijing clearly views economic and business decisions as an important component of national security, and the political control that Beijing wields over businesses in China suggests Hong Kong businesses may one day face similar political directives affecting individual business decisions.
Data security, since the national security law grants law enforcement sweeping powers to seize data.
What to watch: The report recommends the Hong Kong business community use collective lobbying to communicate their concerns to Hong Kong authorities (and thus to Beijing).
Companies should make clear that the very existence of these concerns, whether or not they come to fruition, can negatively affect the future of Hong Kong, the report states.
Go deeper