Trump's social media posts singled out at arraignment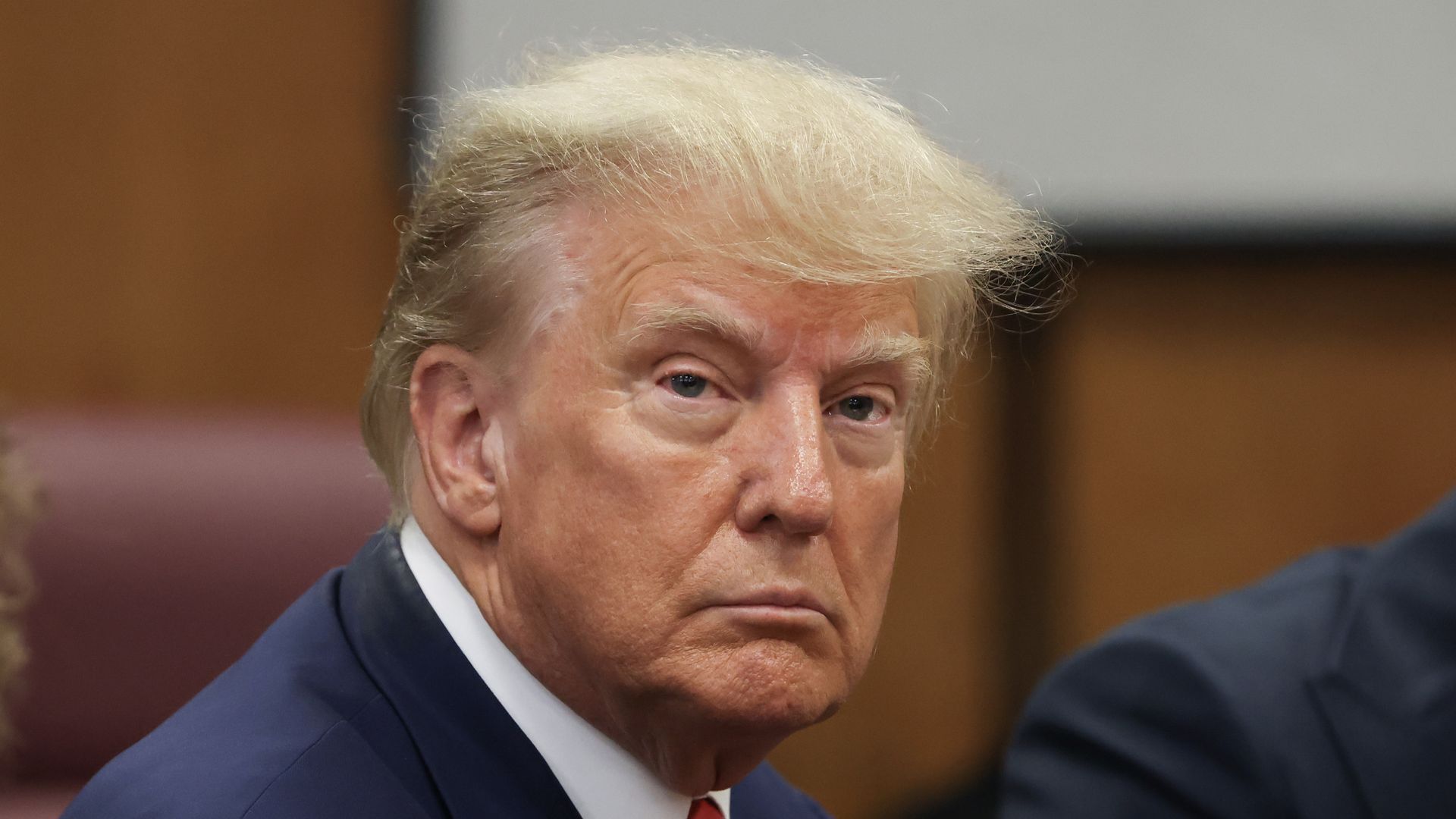 During former President Trump's arraignment in Manhattan Tuesday, prosecutors in the hush-money case addressed his "irresponsible social media posts" — highlighting ones of significant concern.
Driving the news: In particular, prosecutor Chris Conroy pointed to Trump's post warning of "death and destruction" over the case and a photo Trump posted of himself wielding a baseball bat alongside a photo of Manhattan District Attorney Alvin Bragg.
In other posts, Trump has called Bragg, who is Black, an "animal" who "doesn't care about right or wrong."
The former president's elder son, Donald Trump Jr., on Tuesday during the proceedings tweeted a story that included a photo of the judge's daughter, saying she worked on the Biden-Harris campaign.
The big picture: The Manhattan district attorney's office submitted printouts of Trump's problematic recent statements and posts, including the Truth Social post with the baseball bat.
Conroy said there was "significant concern" about the effect of Trump's posts on the "relative safety of jurors and witnesses and on the process," but he told the judge this would not deter prosecutors.
"Trump was frustrated and upset and believed there was injustice," his attorney Todd Blanche said, adding that the former president now running for office has free speech rights.
The prosecutors asked for a protective order that prevents Trump from sharing discovery materials on social media or sharing them with third parties. The two sides are coming to a final agreement on the language of the order.
Zoom in: Acting New York Supreme Court Justice Juan Merchan, the judge presiding over the arraignment, agreed that Trump has the right to free speech, but told Blanche: "I don't share your view that certain language is justified by frustration."
The judge instructed both sides to "refrain from making statements that are likely to incite violence and civil unrest."
Merchan did not issue a gag order, noting that he would not have granted one even if Bragg had asked for one.
Yes, but: He did make clear that he would consider further motions if necessary.
Flashback: The D.A.'s office urged House Republican committee chairs last month to denounce Trump's "harsh" rhetoric.
What he's saying: Trump didn't speak to reporters immediately before or after the arraignment.
The former president in a televised speech at Mar-a-Lago later Tuesday did speak briefly on the indictment, while mostly railing against other investigations he's facing — including his handling of classified documents.
Trump called the criminal case "ridiculous" and claimed there's "no case" to answer. He again attacked Bragg, calling him a criminal and claiming he should be prosecuted or resign.
"I have a Trump hating judge with a Trump hating wife and family, whose daughter worked for Kamala Harris and now receives money from the Biden-Harris campaign — and a lot of it," Trump said.
Reality check: The judge's daughter Loren Merchan is president and a partner of digital campaign agency Authentic, which the Washington Post notes did work on Vice President Kamala Harris' 2020 Democratic presidential campaign.
Merchan was selected at random to oversee the case against the former president and nothing has been documented to suggest that he is biased.
Trump lawyer Joe Tacopina told CNN on Sunday he has "no reason to believe this judge is biased."
Go deeper: Trump campaign fundraises with fake mug shot merch
Editor's note: This article has been updated with excerpts from former President Trump's speech in Florida and further context.
Go deeper