Manhattan DA presses House GOP to condemn Trump rhetoric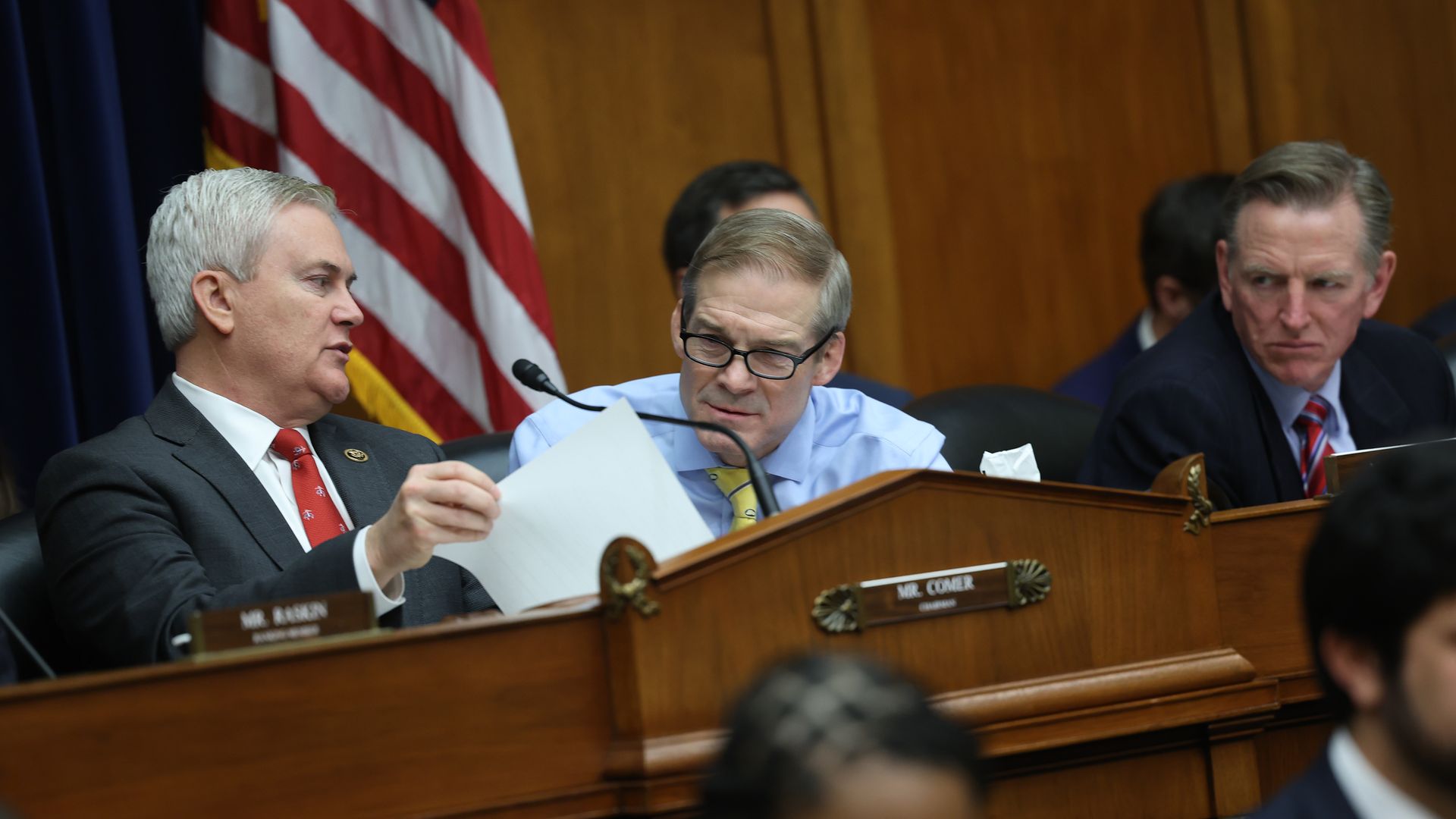 The Manhattan District Attorney's office, in a letter on Friday, urged House Republican committee chairs to denounce former President Trump's "harsh" rhetoric.
Why it matters: The letter comes a day after a New York grand jury voted to indict Trump, prompting a bombastic reaction from the former president.
The charges stem from the Manhattan DA Alvin Bragg's probe into alleged hush money payments to porn star Stormy Daniels.
Driving the news: The letter to Judiciary Committee Chair Jim Jordan (R-Ohio), Oversight Committee Chair James Comer (R-Ky.) and House Administration Committee Chair Bryan Steil (R-Wisc.) cited Trump's warning about "death & destruction" in response to an indictment.
"You could use the stature of your office to denounce these attacks and urge respect for the fairness of our justice system and for the work of the impartial grand jury," wrote Bragg's general counsel, Leslie Dubeck.
Instead, she said, "you and many of your colleagues have chosen to collaborate with Mr. Trump's efforts to vilify and denigrate the integrity of elected state prosecutors and trial judges and made unfounded allegations that the Office's investigation ... is politically motivated."
Dubeck urged the trio to "refrain from these inflammatory accusations" and "let the criminal justice process proceed without unlawful political interference."
Between the lines: The letter also aimed to counter the reactions of Trump's Republican allies in Congress to the indictment.
"Like any other defendant, Mr. Trump is entitled to challenge these charges in court and avail himself of all processes and protections that New York State's robust criminal procedure affords," Dubeck wrote.
"What neither Mr. Trump nor Congress may do is interfere with the ordinary course of proceedings in New York State."
The other side: An aide to one of the committee chairs told Axios they are still reviewing the letter, while others did not respond to requests for comment.
The backdrop: The three committee chairs have been locked in a war of words with Manhattan DA's office since requesting Bragg's testimony and materials related to its investigation of Trump earlier this month.
Zoom in: The letter on Friday sought to fulfill a pledge Dubeck made in her previous correspondence to detail how the DA's office uses federal funds.
Dubeck wrote that, of more than $1 billion in civil asset forfeiture the DA's office has helped the federal government secure in the last 15 years, roughly $5,000 was spent investigating Trump and his businesses.
She also laid out around $840,000 the office has received from three grant programs, writing that "no expenses incurred relating to [the Trump probe] have been paid from funds that the Office receives through federal grant programs."
Yes, but: The GOP committee chairs said a written accounting about the DA's use of federal funds would not satisfy their demands.
In response to Dubeck asked for a meeting to discuss whether any of their areas of inquiry had a legitimate legislative purpose, the chairs wrote that they are weighing legislation to protect presidents from "politically motivated" probes.
What's next: Dubeck asked for a list of questions and documents they could provide that would not violate grand jury secrecy rules or interfere with a pending criminal case.
"We trust you will make a good-faith effort to reach a negotiated resolution before taking the unprecedented and unconstitutional step of serving a subpoena on a district attorney for information related to an ongoing state criminal prosecution."
The Senate sergeant-at-arms warned Senate staff on Friday that they "anticipate demonstration activity across the country related to the indictment of former President Trump."
Go deeper