Scoop: Dems let staff stay home over Trump indictment safety fears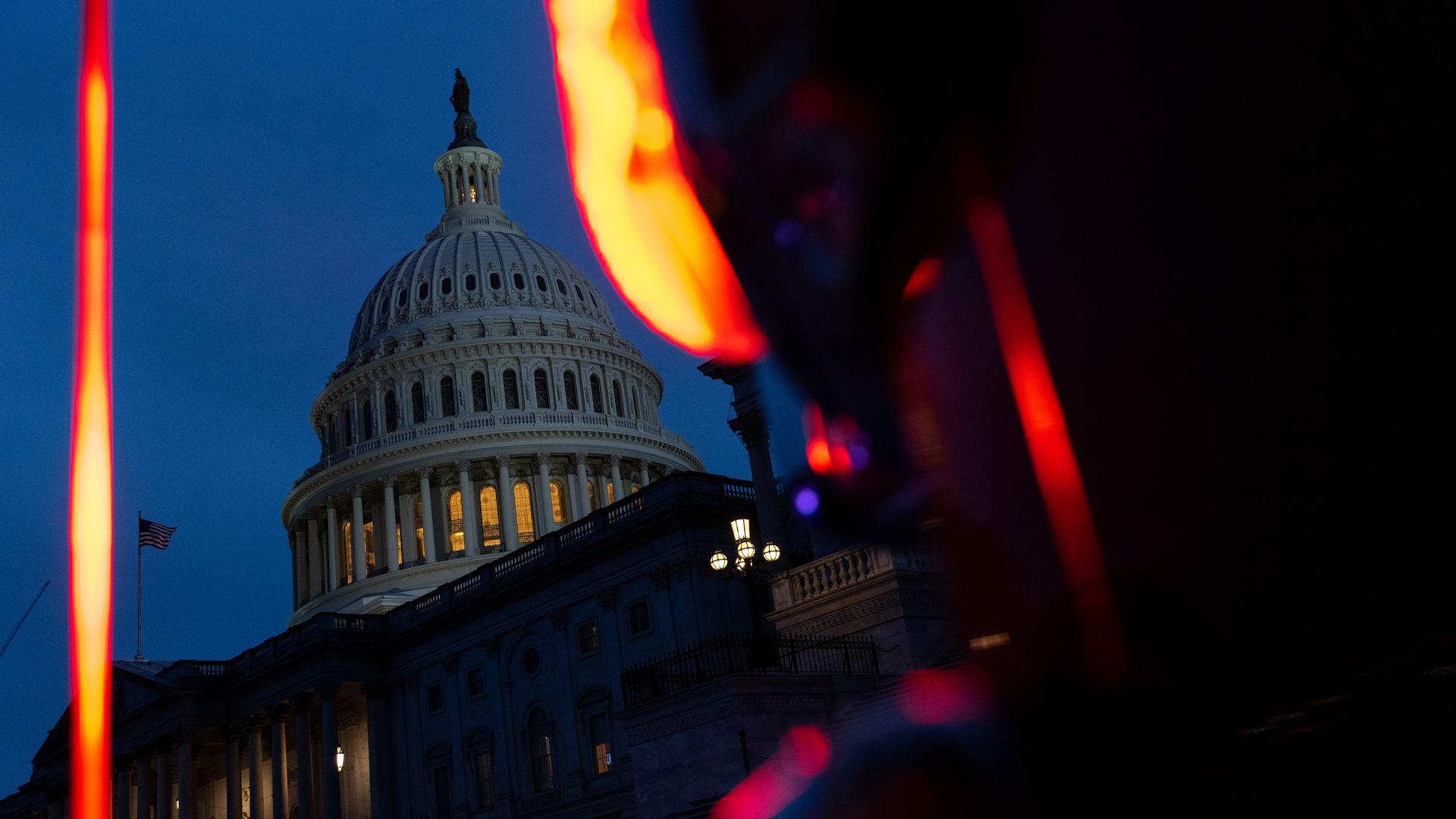 As they begin a two-week recess under the cloud of a Trump indictment, several House Democrats are allowing staffers to work from home as a safety precaution, Axios has learned.
Why it matters: To many lawmakers, the memory of Trump supporters ransacking the Capitol on Jan. 6 is still fresh on the mind.
It comes amid concerns over potential unrest after the former president encouraged supporters to protest and warned of "death and destruction" if he was arrested.
Driving the news: The Senate sergeant-at-arms sent out an alert to Senate staffers on Friday saying they "anticipate demonstration activity across the country related to the indictment of former President Trump."
"While law enforcement is not tracking any specific, credible threats against the Capitol or state offices, there is potential for demonstration activity," the alert said, adding that staffers "may observe a greater law enforcement presence on Capitol Hill."
What we're hearing: Rep. Debbie Dingell (D-Mich.) told Axios she told her staff to work from home on Friday, saying she is "alert" to the dangers and calling Trump's fiery speech in Waco a "call to arms."
"I don't ever want to see a Jan. 6 again," she said. "I've been in the Trump hate tunnel, Donald Trump has gone after me, and quite frankly I don't have security. I don't have entourages."
Rep. Dean Phillips (D-Minn.), one of the members who was trapped in the gallery on Jan. 6, said he will allow staff to work from home on Tuesday, when Trump is reportedly expected to be arraigned in New York.
"Much of the language from the former President and his devotees is similar to what inspired Jan. 6th," he said, "I'm concerned about safety for my colleagues and my staff."
The backdrop: The move was taken by some offices several weeks ago – the day Trump said he was going to be arrested and called for supporters to "protest, take our nation back," according to several senior Democratic aides.
One first-term Democrat, whose office wished to remain anonymous to comment on security plans, will re-up that policy, according to a staffer.
Rep. Pramila Jayapal (D-Wash.) who let staff work from home last week, is considering taking the step again next week, said spokesperson Jenna Behringer.
The big picture: The congressional baseball shooting, a string of threats and attacks against members last year, the assault on Paul Pelosi and an overall rise in threats towards lawmakers have all contributed to frayed nerves on the Hill.
What we're watching: After Trump's initial call to protest, several Republican lawmakers contradicted him and urged his supporters to stay home.
But one of them is already reversing course.
"New York put your MAGA hats on," Rep. Marjorie Taylor Greene (R-Ga.) tweeted on Friday, "Under our constitutional rights, we WILL support President Trump and protest the tyrants. I'll see you on Tuesday."
Go deeper