At Waco rally, Trump blasts probers as "maniacs"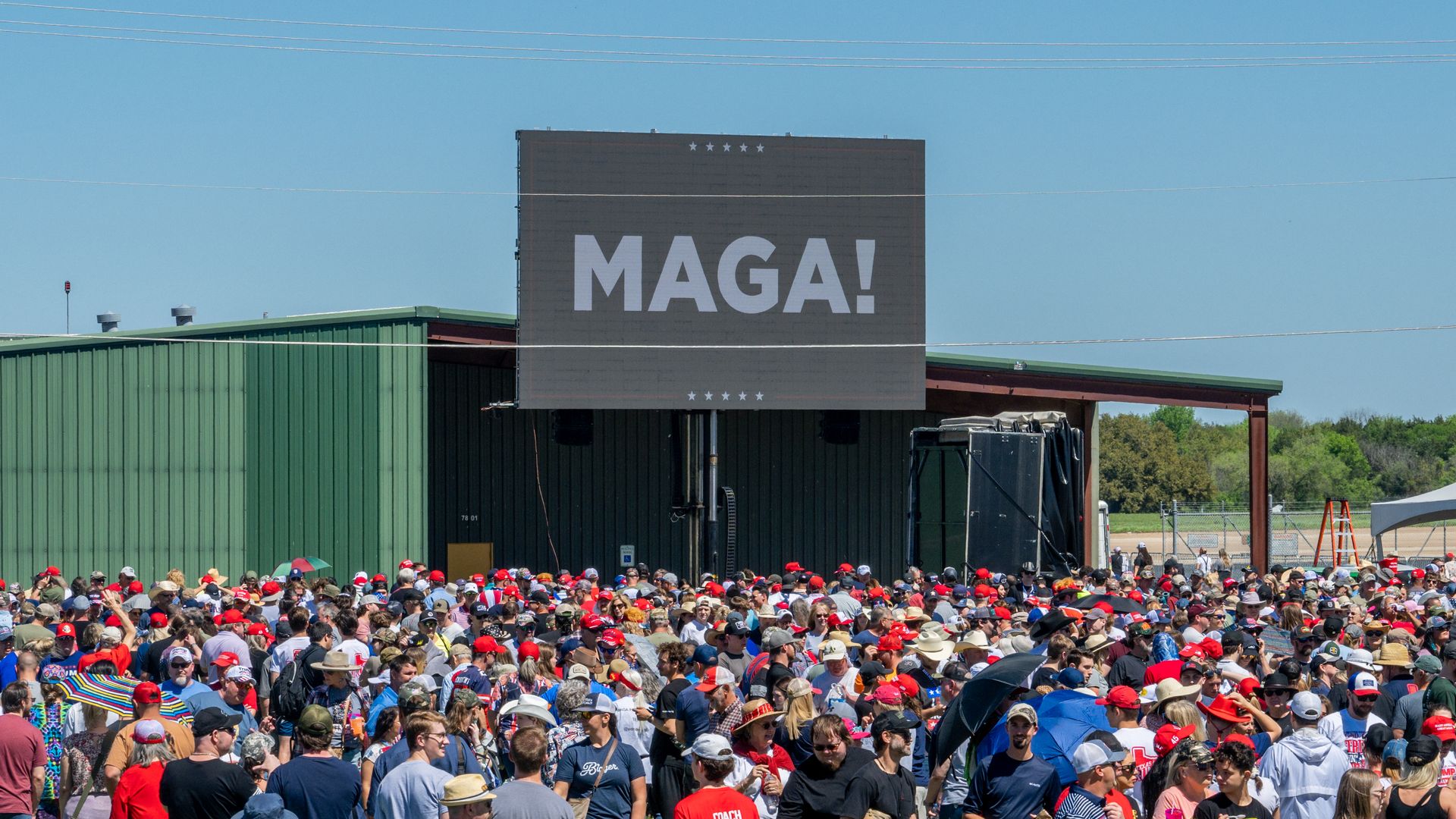 Former President Trump on Saturday blasted the wide-ranging investigations against him, telling thousands of supporters at a rally in Texas that his personal life "has been turned upside down" because of "prosecutorial misconduct by radical left maniacs."
Why it matters: In a rambling speech at the Waco airport, Trump made his most extensive comments yet on the legal jeopardy he faces, starting with the New York probe into alleged hush money he paid to a porn star over an affair she says they had.
Trump touched on a series of grievances, accusations and insults, and cast the investigations of him in New York, Georgia and by the Justice Department as being choreographed by his political opponents in Washington.
He said he was an example of why the "weaponization of law enforcement" was the biggest problem the U.S. faces — and told the crowd: "They're coming after you."
He called his ex-lawyer Michael Cohen — who testified against Trump before a New York grand jury — a "proven liar, convicted felon and disbarred lawyer." And in an apparent reference to porn star Stormy Daniels, Trump said: "I never liked horse-face."
Zoom in: Trump, who leads polls of GOP voters for the party's presidential nomination, portrayed the 2024 election in near-apocalyptic terms: He said the election would be "the final battle" against "open border fanatics" and "stupid warmongers."
The latter was a reference to Trump's opposition to U.S. military assistance to Ukraine to help it resist Russia's invasion. Most Americans support the war effort, but Trump vowed he would stop U.S. aid and "prevent World War III."
Trump also took a shot at Florida Gov. Ron DeSantis, who hasn't announced a run for president but is widely assumed to be Trump's top rival for the Republican nomination.
Trump claimed that his endorsement was the reason DeSantis won the governor's race in 2018 — and that DeSantis' much-touted record as governor is overblown.
Go deeper