DeSantis opens Pandora's box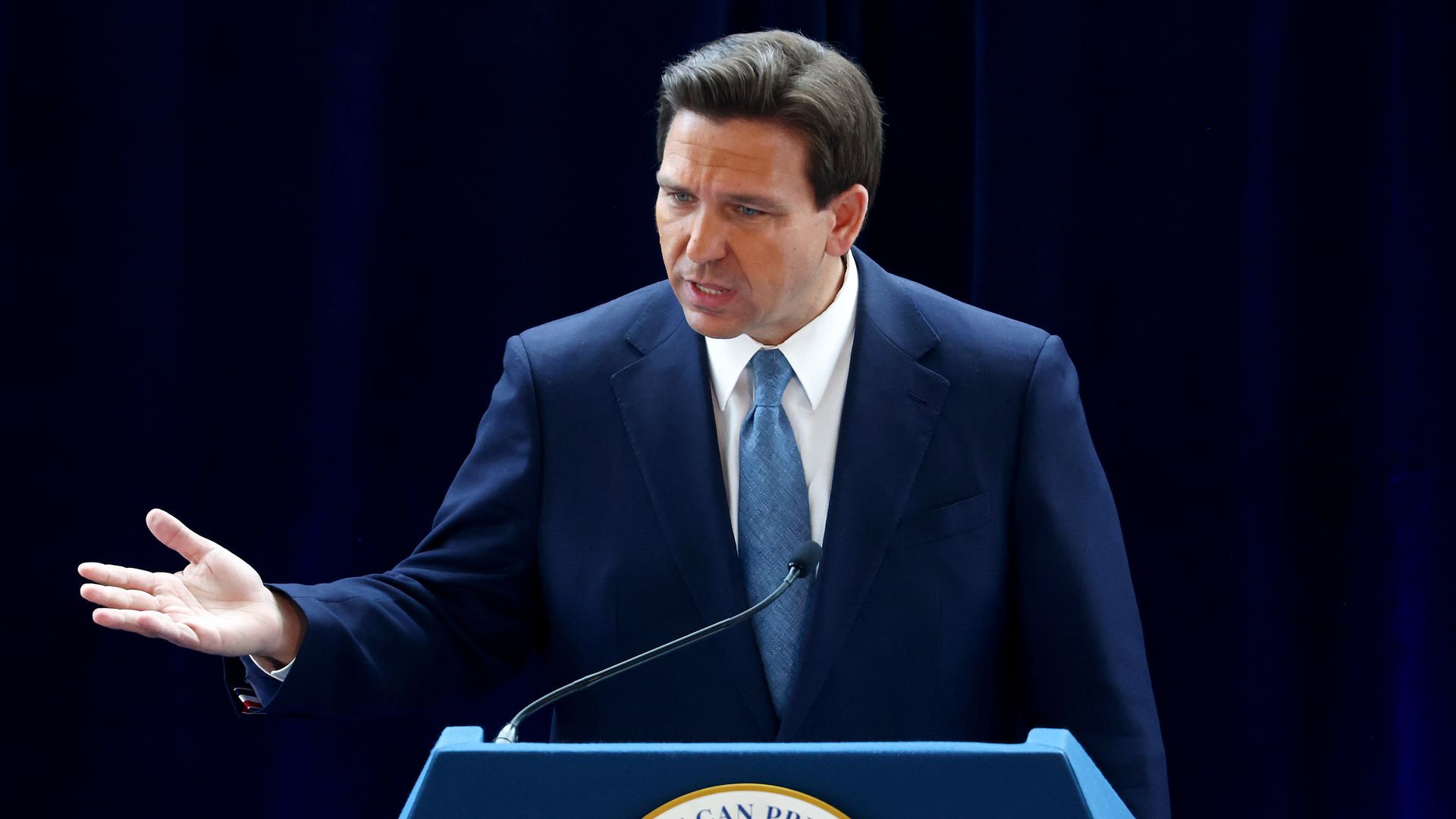 Florida Gov. Ron DeSantis is no longer veiling his presidential ambitions or his criticism of former President Trump, taking a new gloves-off approach in a wide-ranging — and rare — interview with British journalist Piers Morgan.
Why it matters: DeSantis and Trump have long been on a collision course as the two front-runners for the 2024 GOP nomination. Trump's escalating attacks on his former ally have become more personal in recent weeks — and now DeSantis is punching back.
Driving the news: Hours after igniting outrage in Trumpworld with a shot at Trump over the former president's alleged affair with porn star Stormy Daniels, DeSantis told Morgan that the "underlying conduct" in the Manhattan DA's investigation is "outside my wheelhouse."
"At the end of the day as a leader, you really want to look to people like our Founding Fathers," DeSantis said when Morgan asked if personal conduct in a leader matters.
"[I]t's not saying that you don't ever make a mistake in your personal life, but I think, what type of character are you bringing?"
"Truth is essential," DeSantis responded when asked if there's been a departure from the truth being a key component of leadership. "We have to agree that there's a certain reality to the world we live in."
Zoom in: DeSantis suggested that his landslide re-election victory in November is why Trump's attitude toward him has changed — laughing off some of the nicknames the former president has lobbed his way.
"I don't know how to spell the sanctimonious one. I don't really know what it means, but I kinda like it, it's long, it's got a lot of vowels," DeSantis joked, referring to Trump's "Ron DeSanctimonious" moniker.
"I mean you can call me whatever you want, just as long as you also call me a winner because that's what we've been able to do in Florida, is put a lot of points on the board and really take this state to the next level."
The big picture: DeSantis told Morgan that if he does decide to run for president, it's his success in attracting independent voters in Florida that will help vault him to the White House.
He insisted his focus will be on running against President Biden, not Trump — though getting through a grueling GOP primary would be DeSantis' first challenge.
The governor cited the pressure on his "young family" as one reason he may not end up running — but every indication is he's speeding toward an announcement after Florida's legislative session ends in May.
Between the lines: The symbolism of the exclusive DeSantis interview landing in the New York Post — the Rupert Murdoch-owned paper in the city where Trump is expected to be indicted — will not be lost on Trump's allies.
"Just as radical Dems are indicting Trump & destroying the fabric of our nation with their Police State tactics, DeSantis pathetically runs to the liberal media on orders from his RINO establishment owners to attack my father," Donald Trump Jr. tweeted.
"He's exposing himself as 100% Controlled Opposition!"
Go deeper