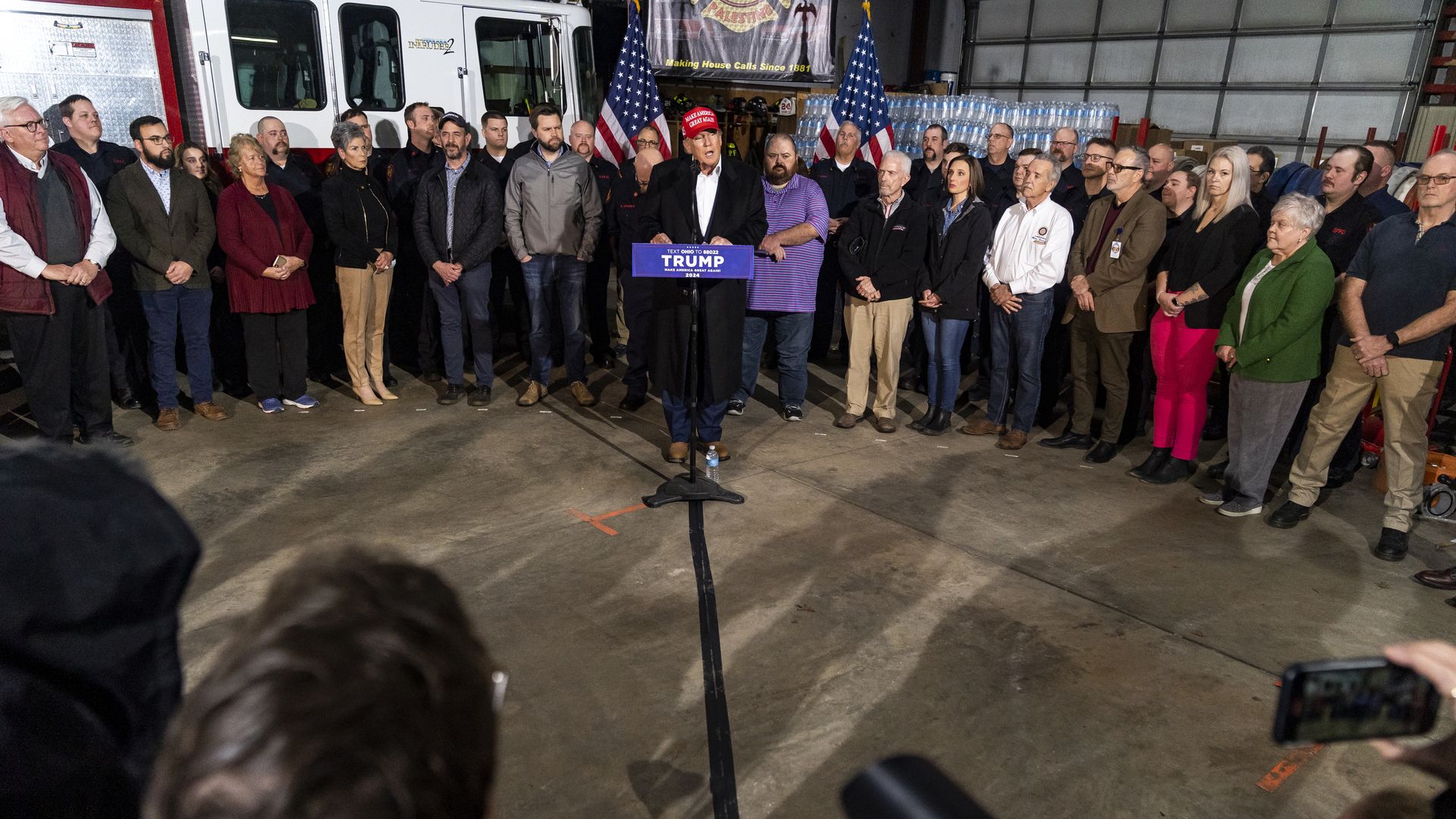 The GOP's 2024 presidential field has an inertia problem.
The big picture: Former President Trump is a wounded front-runner who Republicans privately fear will lose to President Biden if he's the nominee. But he won't go away until a Republican challenger steps into the middle of the ring to dislodge him, and so far, every viable contender is pulling their punches.
Driving the news: Trump's polling numbers dipped after his lackluster November announcement, which failed to scare off potential rivals in the way he had hoped.
But instead of hitting Trump while he's down, other potential Republican candidates have been busy trying to define themselves while dancing around the elephant in the room.
In the meantime, Trump has been hurling unanswered attacks at his GOP rivals and testing fresh ways to reset his campaign — including with a visit to East Palestine, Ohio, on Wednesday that reminded many Republicans of his populist star power.
State of play: Few see a lane for a brazenly anti-Trump Republican to win the nomination, but running as a shadow of the former president without his rabid base of supporters poses its own huge challenges.
Between the lines: Where these Republicans have tried to take shots at Trump, they've been subtle and mostly at the margins.
Haley's mental competency test for politicians over the age of 75 works as a clever jab at Trump veiled as an attack on Biden.
Pence has set himself apart by embracing two explosive issues — abortion and cuts to Social Security and Medicare — that Trump sees as political losers.
DeSantis mostly praises Trump in his new book, according to The Guardian, with minor criticisms of his decisions to extend pandemic restrictions beyond the initial 15 days and sign the first COVID relief package.
Yes, but: A runaway freight train can't be stopped with sling-shots and pebbles. If and when a challenger does take on Trump directly — in a GOP debate, for example — some Republicans fear the former president will go nuclear and bring the whole party down with him.
The bottom line: Just three months ago, the GOP's midterm debacle and Trump's dinner with white nationalist Nick Fuentes had appeared to put a serious dent in the former president's Teflon armor.
But news cycles are fleeting, and Trump's hold on the GOP base is still strong enough to force other contenders to tread carefully.
And while DeSantis has led in numerous head-to-head polls against Trump, the field of candidates is only going to grow — potentially dividing the opposition and entrenching Trump's pole position.
Go deeper