Congress enters "dangerous" territory as Trump indicted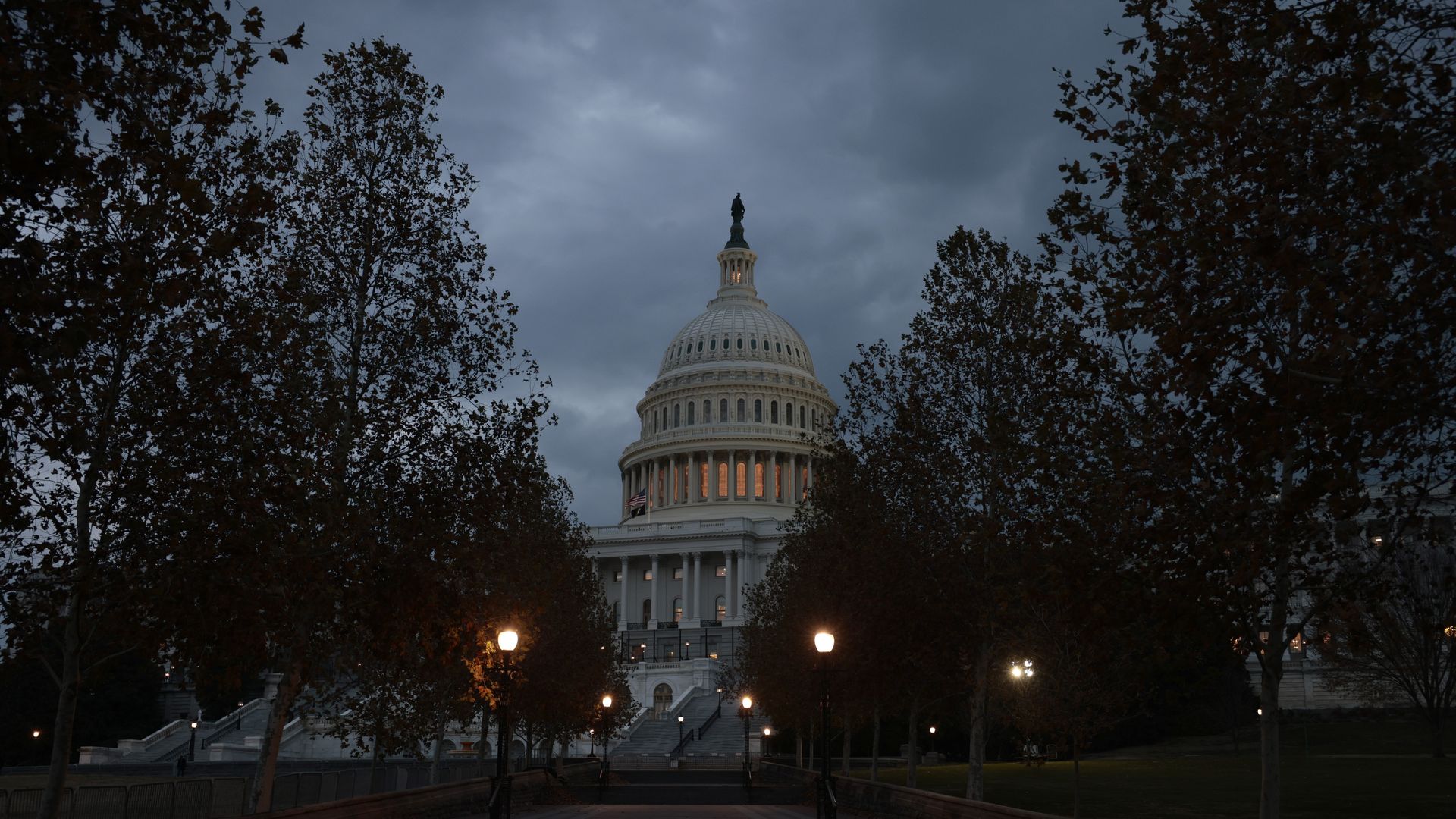 Members of Congress reacted to news of former President Trump's indictment by a Manhattan grand jury with a mixture of shock, outrage, fear, uncertainty and celebration.
Why it matters: It's the first time in U.S. history a former president has been indicted — a shock to the 2024 election and a move likely to harden pro- and anti-Trump sentiments well beyond Washington.
The indictment remained sealed late Thursday, so the precise charges and evidence against Trump were unclear.
The ex-president was under investigation over $130,000 in alleged hush money payments to porn star Stormy Daniels as he was running for election in 2016. She has said they had an affair, which he denies.
The latest: House Speaker Kevin McCarthy (R-Calif.) said in a tweet that "the House of Representatives will hold [Manhattan District Attorney] Alvin Bragg and his unprecedented abuse of power to account."
Three GOP-led House committees already are investigating Bragg's probe of Trump at McCarthy's direction, though Bragg's office has pushed back against efforts to get him to testify or turn over materials to Congress in an active prosecution.
Senate Majority Leader Chuck Schumer (D-N.Y.), by contrast, said in a statement there should be "no outside political influence, intimidation or interference" in the case.
"I encourage both Mr. Trump's critics and supporters to let the process proceed peacefully and according to the law," Schumer said.
What they're saying: "Going to be dangerous days ahead," Rep. Dean Phillips (D-Minn.) told Axios, channeling concerns of lawmakers about potential violence in response to the indictment.
"No one in this country is above the law — including former President Trump," progressive Rep. Jamaal Bowman (D-N.Y.) said in a statement, calling for a measure to "ensure Trump is banned from running for any public office."
Rep. Adam Schiff (D-Calif.), a vocal Trump foe and former House Intelligence Committee chair, said in a statement that "this step, while unprecedented, is also deeply and fundamentally necessary to preserve the rule of law."
The other side: Rep. Jim Jordan (R-Ohio), the Trump-aligned chair of the Judiciary Committee who has been running point on the House investigations into Bragg, had a one word response: "Outrageous."
"Alvin Bragg just single-handedly secured Donald Trump the 2024 presidential election," conservative Rep. Troy Nehls (R-Texas), a member of the House Judiciary Committee, told Axios.
Sen. Thom Tillis (R-N.C.), a more establishment-minded Republican, said the indictment "doesn't pass the smell test" and said Congress has "every right" to investigate the Manhattan DA's decision-making.
Rep. Cory Mills (R-Fla.), another conservative, said the indictment is "clearly an attempt to intimidate President Trump and influence the upcoming 2024 elections."
The intrigue: A few lawmakers are taking a more measured, wait-and-see approach to the indictment.
"I trust our legal system," moderate Rep. Don Bacon (R-Neb.) told Axios, "There's checks and balances with a jury, judges and appeals. President Trump will be able to make his defense and we'll all see if this is a partisan prosecution or not."
Asked about concerns of violence, Bacon said, "I defend peaceful protest. I doubt it will get violent, but if it does those [people] should be held legally accountable."
"In America we believe in the rule of law," Rep. Ruben Gallego (D-Ariz.), who is running for a competitive U.S. Senate seat, said in a statement. "We should wait to hear from the grand jury before jumping to conclusions."
"As this process continues, former President Trump should be afforded the due process protections that he is guaranteed by our Constitution, just like any other American," Senate Majority Whip Dick Durbin (D-Ill.) said in a statement, adding that "no one is above the law."
What caught our eye: Sen. J.D. Vance (R-Ohio), a close Trump ally, is already fundraising off the anger around the indictment — as is the former president.
"THIS JUST IN: PRESIDENT TRUMP HAS BEEN INDICTED," reads a text from his campaign, calling it "unfair on so many levels."
The text includes a link to a WinRed page that says Trump was indicted "for being a patriot."
Go deeper