Potential Trump arrest stokes lawmakers' fears of Jan. 6 redux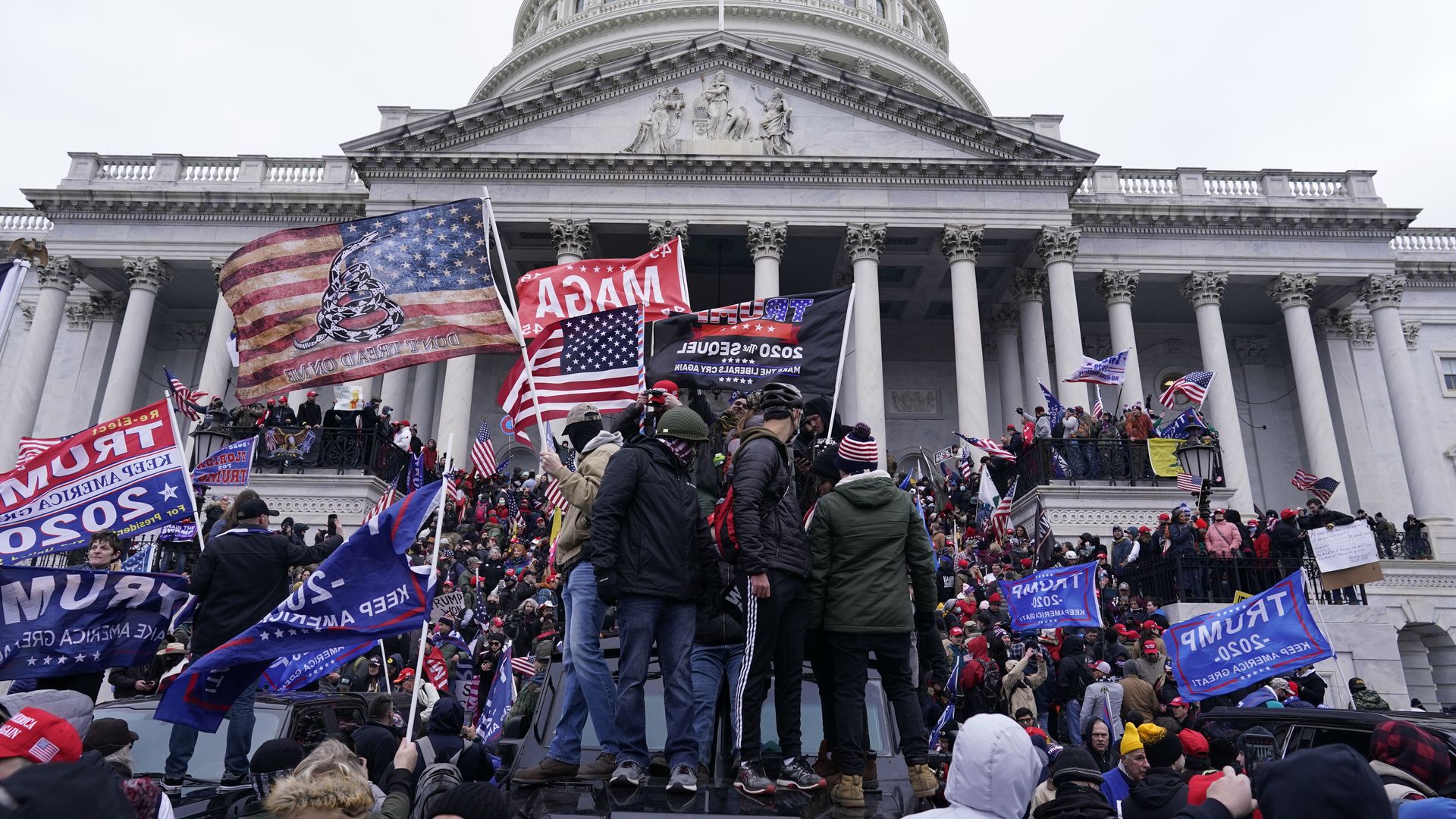 Lawmakers in both parties are warning of the possibility of violence and trying to defuse the tension around a potential indictment of former President Trump.
Why it matters: Many members of Congress, still shaken by the Capitol riot, increasingly see the specter of Jan. 6 looming as the ex-president whips his supporters into indignant fury and urges them to protest if he's arrested.
Driving the news: Rep. Robert Garcia (D-Calif.) urged Attorney General Merrick Garland and Homeland Security Secretary Alejandro Mayorkas to "take all necessary steps to [ensure] the safety of the American people" in a letter obtained by Axios.
Trump's "dark rhetoric clearly evokes the language which the former president used to provoke the January 6th insurrection," wrote Garcia, the top Democrat on a House Oversight panel that oversees national security.
The letter requests information on "preparations for potential violence and your efforts to support local officials in preparing to respond to threats."
Context: Manhattan District Attorney Alvin Bragg is investigating a hush money payment to adult film actress Stormy Daniels.
What they're saying: Rep. Ritchie Torres (D-N.Y.), in an MSNBC interview on Saturday, compared Trump's call to protest to his remarks urging supporters to mobilize over baseless allegations of 2020 election fraud — which formed the basis for his second impeachment.
"He's using the same rhetoric that he did in the lead-up to Jan. 6, and Donald Trump has an ugly history of inciting political violence for his own political self-preservation," Torres said.
"We saw what happened on Jan. 6," Rep. Debbie Dingell (D-Mich.) told Axios, "I think we all need to be alert. ... I don't know what's going to happen, I've got no inside track, but I'm concerned people are being stirred up."
Garcia, after speaking to several of his fellow House freshmen, told Axios, "We're the first, kind of, post-Jan. 6 class. Many of us ran [for office] in large part because of what happened. ... A lot of us are feeling, obviously, concerned."
Zoom in: Members who were trapped in the House gallery on Jan. 6, 2021, in particular, are "on edge" and "very concerned" about possible violence, according to one House Democrat who has spoken with several of them.
"They've already got post-traumatic [stress disorder] from what happened that day. So, yeah, there are some members that are super-hyper," the Democratic lawmaker told Axios.
The other side: "No violence is tolerable … period," Rep. Don Bacon (R-Neb.) told Axios.
Bacon thinks the possibility of a Jan. 6-style riot is "unlikely," but said Republicans "oppose all political violence. Everyone has [the] right to protest, but violence is always wrong. It doesn't matter if it's BLM or in support of [Trump]."
House Speaker Kevin McCarthy (R-Calif.), Rep. Marjorie Taylor Greene (R-Ga.) and other prominent Trump allies have similarly discouraged the former president's supporters from protesting or committing violent acts.
"Nobody should harm one another in this," McCarthy said on Sunday. "We want calmness out there."
Yes, but: Even as they discourage violence, Republicans are in lockstep with Trump in his efforts to undermine the credibility of the DA's probe — including by launching an investigation into it.
And Greene has pushed a theory often employed by Republicans seeking to downplay the violence on Jan. 6: that federal agents would be planted within the crowds of protesters to incite violence and ultimately entrap them.
Garcia said his freshmen colleagues are "angry that the Republican leadership and so many others are not taking this more seriously," accusing them of "trying to have it both ways."
"I'm glad they're all calling for not having protests," he said, "But then in the following sentence, they are attacking the investigation. ... Trying to discredit a judicial process absolutely leads to inciting fear and anger among [the Trump] base."
Go deeper