Trump's surreal surrender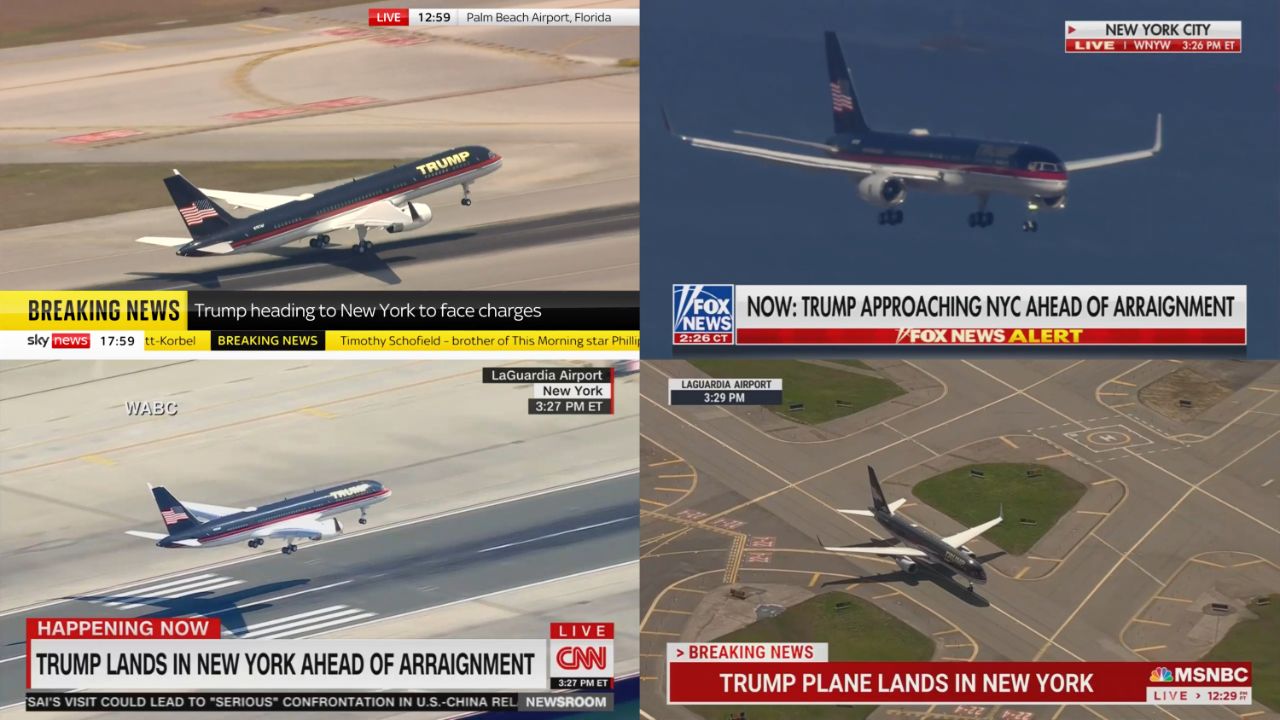 Even for Donald Trump's tradition-wrecking era in politics, the scene Tuesday will be extraordinary: A Secret Service motorcade will deliver an ex-president to a courthouse, where he'll be arraigned on felony charges.
Why it matters: Trump, the first current or former president to be indicted, has always used drama and victimhood to score political points — and his surrender to Manhattan authorities will be choreographed through the lens of his current campaign for president.
As Trump flew from West Palm Beach, Florida, to New York's LaGuardia Airport on Monday afternoon, several of his top campaign officials were along for the ride.
It was a sign that Trump — whose campaign says it raised $7 million since the indictment was announced Thursday — still sees opportunity in legal jeopardy.
Zoom in: New York officials prepared for Trump's arrival by putting all 36,000 of the city's police officers on alert and erecting barriers for several blocks around the courthouse on Centre Street in Lower Manhattan.
Thousands of pro- and anti-Trump protesters, media and others are expected to flood the area Tuesday, but police said there was no indication that Trump's pre-indictment forecast of "death and destruction" had led to any credible threats of violence.
The intrigue: At some point Tuesday, Manhattan District Attorney Alvin Bragg's case against Trump will become clear: The indictment — which reports have indicated could charge Trump with 30 or more counts that include illegal hush money payments to a porn star — will be released.
Trump's day: After he spends the night at his Trump Tower home on 5th Avenue (which also is surrounded by barricades), Trump's motorcade will travel four or so miles — likely along Park Avenue and Broadway — to the courthouse, police sources said.
Trump's appearance before Judge Juan Merchan is expected to last 15 minutes or so. Trump's legal team has said the former president — whose Secret Service agents will remain with him as he is booked — will be fingerprinted but not handcuffed, as is typical with felony defendants.
Trump may have a police photo taken, according to the New York Times. Such photos usually aren't released publicly in New York — but the intense interest in Trump's case could change that.
Court officials have indicated Trump will be in a "holding room" (not a cell) before he's arraigned.
Trump's team is fighting a request by media organizations to have a camera in the courtroom.
Zoom out: About a block from the courthouse, the New York Young Republican Club will hold a rally protesting Trump's indictment, with Rep. Marjorie Taylor Greene (R-Ga.), a fervent Trump supporter, a featured speaker.
What they're saying: Just before Trump left Palm Beach for New York on Monday afternoon, he fired off a familiar post on Truth Social: "WITCH HUNT, as our once great Country is going to HELL!"
Trump's recent posts blasting Bragg and Merchan have been incendiary enough to raise speculation that Trump could be sanctioned by the court if he keeps it up.
In a social media post that many saw as racially tinged, he called Bragg — who is Black — an "animal" who "doesn't care about right or wrong."
Trump went after Merchan in another post, declaring that the judge "HATES ME" and that he had "railroaded" Allen Weisselberg, a former Trump Organization executive, into pleading guilty in exchange for a five-month sentence in a tax fraud case.
The bottom line: Trump is counting on the scene in New York — and a planned news conference back in Florida late Tuesday — to cast him as the victim of an overzealous, politically motivated prosecutor.
Go deeper