What is an atmospheric river? Weather event behind California floods, record snow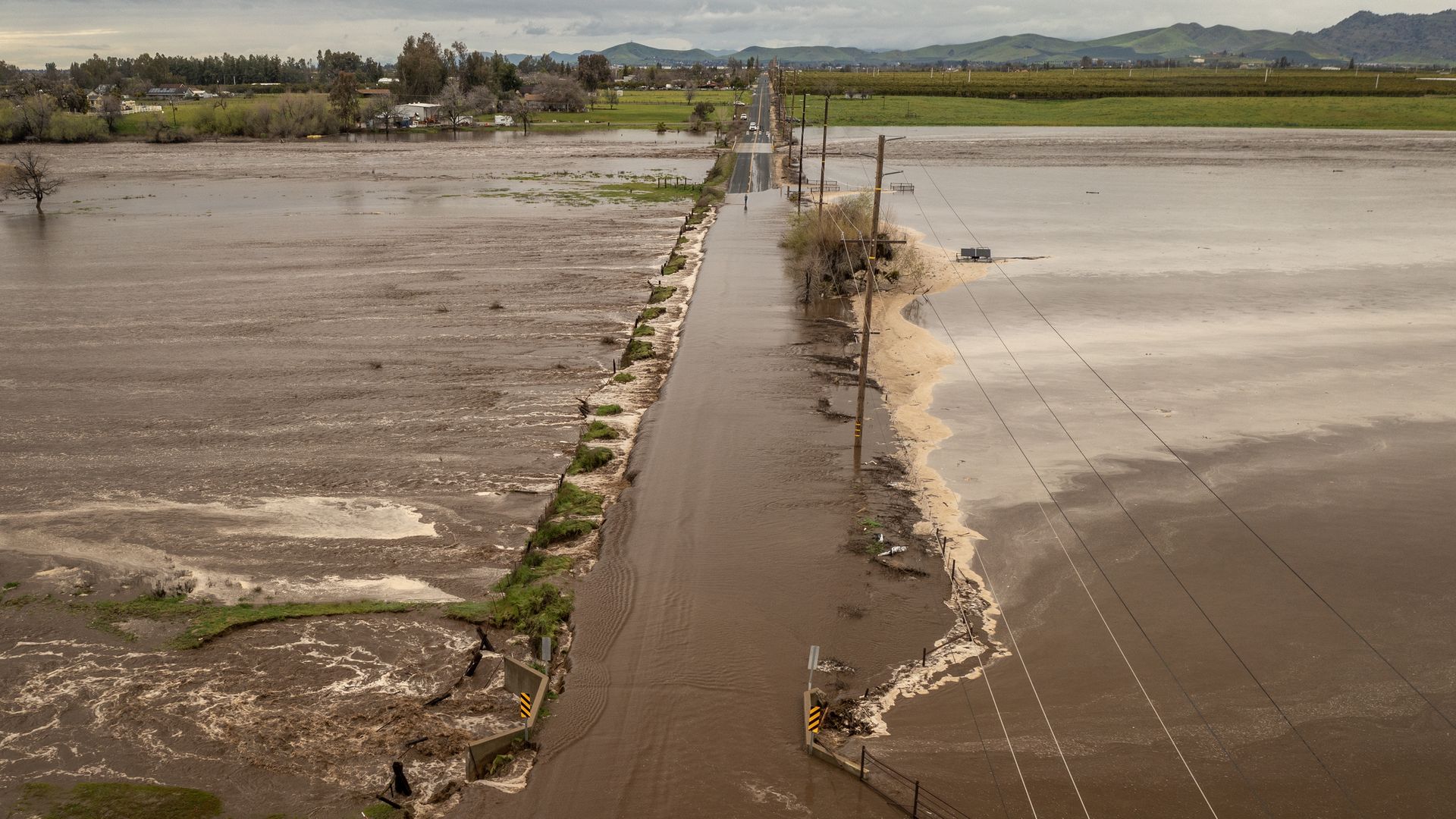 Storms associated with atmospheric rivers have dumped record amounts of rain and snow in California this winter, resulting in flooding and other hazards.
The big picture: Atmospheric rivers direct tropical moisture, often from more than 1,500 miles away, toward the Golden State, where it is wrung out in the form of heavy precipitation.
Atmospheric rivers are long, narrow highways of moisture, typically located at about 10,000 to 15,000 feet above the surface. They can travel thousands of miles and are responsible for 30-50% of the wet season precipitation along the West Coast of the U.S., according to NOAA.
A strong atmospheric river can transport an amount of water vapor that is "roughly equivalent to 7.5–15 times the average flow of liquid water at the mouth of the Mississippi River," NOAA has found.
Scientists have only recently gained a greater understanding of the role that atmospheric rivers play in West Coast storm events, and observed them affecting other regions of the world as well.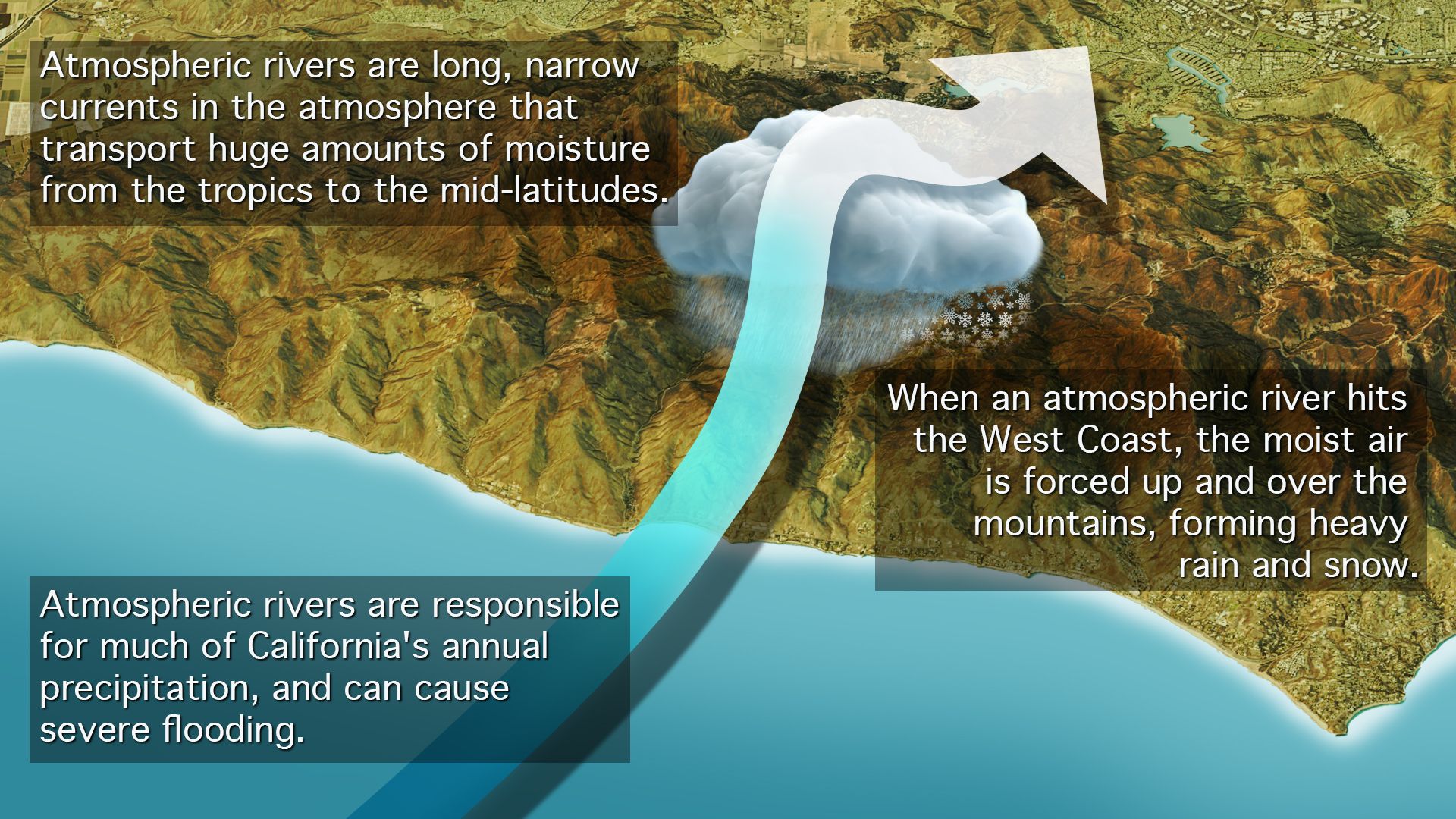 During the past few months, hurricane hunters operated by the Air Force and NOAA have been investigating atmospheric rivers over the Pacific Ocean and providing added data for computer models to refine their projections.
'Threat level: This winter, California has been hit by more than a dozen atmospheric river events, many of them strong ones that have dumped upwards of 100 inches of snow at a time in the Sierra Nevada mountains, and about a foot of rain at lower elevations.
While all this precipitation has helped ease, though not eliminate, the record drought affecting the state, there can be too much of a good thing.
With an epic snowpack 200 inches deep in some places, reservoirs that are rising toward full levels and rivers running high, any additional atmospheric river events could cause serious flooding.
This is particularly the case for warm atmospheric rivers, which can raise snow levels and cause rain to fall on top of the existing snow, releasing some of its water content.
Damaging flooding has already occurred in Central and Northern California during mid-March from atmospheric river events, and more may be on the way.
Between the lines: Climate change is adding even more moisture to atmospheric rivers, enabling them to dump higher rain and snow totals.
This is occurring because ocean temperatures are increasing, causing more heat and moisture to be transferred into the atmosphere and made available to storm systems.
In addition, with each 1°C (1.8°F) increase in air temperatures, a particular air mass can hold at least 7% more moisture.
Individual storms associated with atmospheric rivers can pull in even more water vapor than this, making damaging rain and snowfall more likely.
California is still in a long-term severe drought, particularly given its depleted groundwater supplies.
The bottom line: Studies also show that climate change raises the odds of weather whiplash events from drought to flooding and back again.
This is noteworthy since California was already known for its feast or famine precipitation regime.
Go deeper: Next in parade of atmospheric rivers set to slam storm-hit California
Go deeper