"Atmospheric river" swings Northern California from drought to flood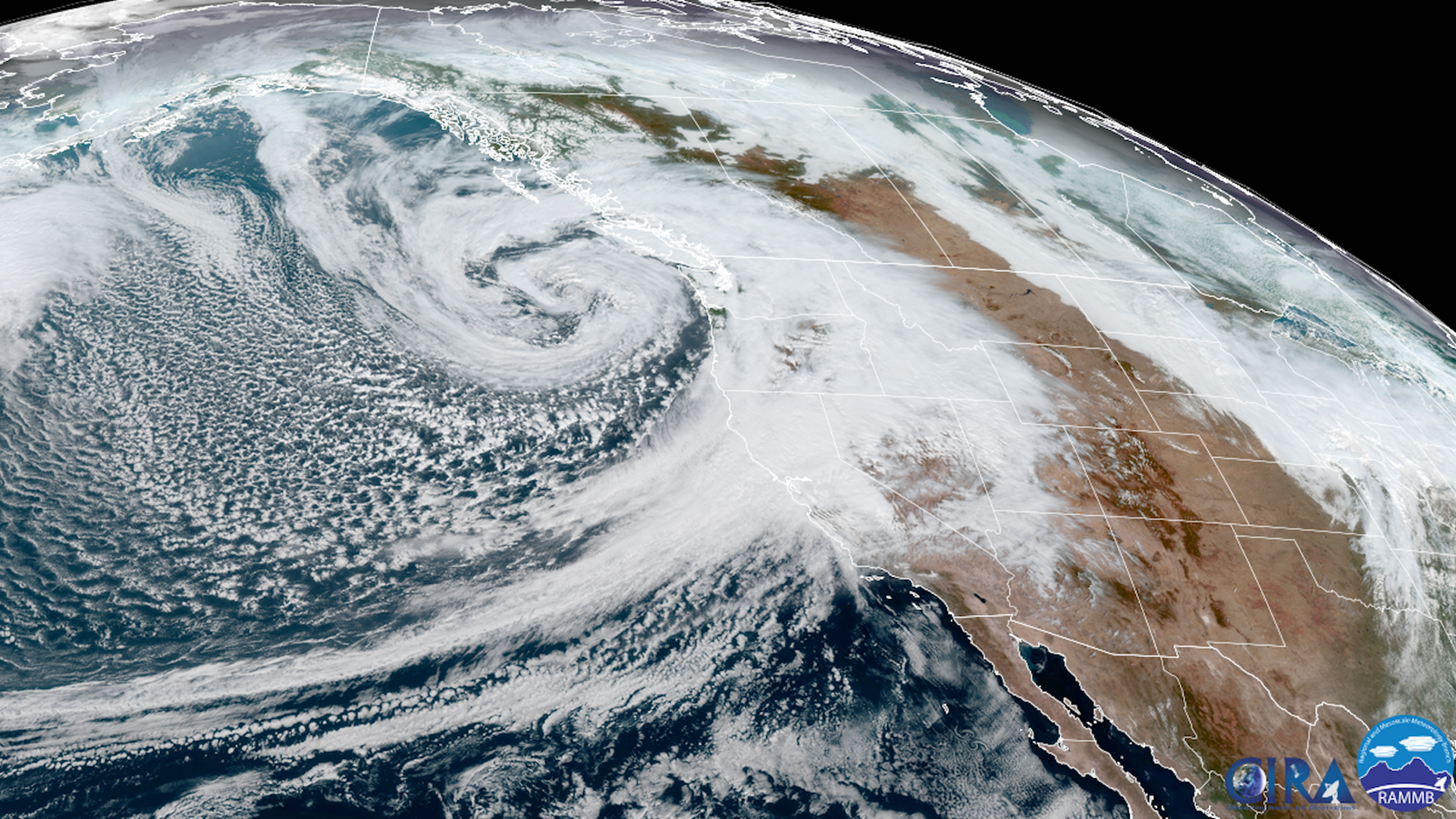 A series of powerful "atmospheric river" storms are delivering historic amounts of rainfall across parts of drought-stricken California and the Pacific Northwest.
Why it matters: The atmospheric river, packing large amounts of moisture, was causing Northern California to whiplash from drought to flood, as it slowly moved south overnight. It's triggered widespread power outages, flooding and mudslides.
The storm system claimed the lives of two people in Washington state after a tree fell on a vehicle amid powerful winds Sunday.
Threat level: The storm is associated with a record-strong "bomb cyclone" off the Pacific Northwest, which was forecast to remain at sea. But it's bringing wind gusts of up to 60-70 mph and greater than 40-foot waves off the coasts of northern California, Oregon, Washington and British Columbia.
A bomb cyclone refers to a non-tropical storm whose pressure drops at least 24mb in 24 hrs. This one more than doubled that rate, and is likely to become the strongest low-pressure area on record off the coast of the Pacific Northwest.
Widespread flooding was reported in the San Francisco Bay area amid potentially record rainfall.
The atmospheric river in this region was elevated to a Category 5 — the highest level on a scale based on strength and duration, per the Center for Western Weather and Water Extremes at Scripps Institution of Oceanography.
By the numbers: Over 116,000 customers had lost power in California and 72,000 others in Washington state were also without electricity early Monday, according to utility tracking site poweroutage.us.
The big picture: The storm was hitting with historic intensity, dumping 8-10 inches of rain across the region Sunday — and has already triggered potentially life-threatening flash floods and mudslides near the Dixie Fire and Calder Fire burn scars, per the National Weather Service.
Other burn areas during the devastating fire seasons from 2018 to 2021 were also under flash flood warning.
Evacuation orders were announced for the Santa Cruz Mountains ahead of the storm's expected arrival early Monday amid concerns the rain could cause debris flows in the CZU Lightning Complex Fire burn scar.
Tho NWS warned residents near burn scars in Sacramento to be prepared to evacuate if ordered to do so, noting that in some areas it may be too late for evacuation and residents should shelter in the highest parts of their homes.
California's Department of Transportation said mudslides in Colusa and Yolo counties caused state highways 16 and 20 to close.
Of note: Sacramento, which just experienced its longest dry spell ever recorded, after breaking a record set in 1880, saw 5.44 inches of rainfall by Sunday evening.
This broke the all-time record for the city's highest 24-hour rainfall total, the NWS Sacramento office noted in a statement.
Reno, Nev., meanwhile, set a new October rainfall record, with 2.82 inches of rainfall by 5 a.m. PDT Monday. That includes 2.59 inches of rain that fell in the past 24 hours, according to NWS Reno.
The previous October record was set in 2010 when 2.65 inches of rain fell in the city.
"The rain hasn't ended!" NWS Reno tweeted Monday.
Between the lines: That turnaround marks an example of the extremes that are known to buffet California, with precipitation going from "feast to famine" and back again — except the odds are stacked even further in favor of extremes now with climate change. 
Yes, but: The extreme rainfall won't be enough to end the drought for most places, though it will help.
Not all of California was forecast to be hit by this rainfall, and fire season was set to continue in the south part of the state.
Editor's note: This article has been updated with new details throughout.
Go deeper