Next in parade of atmospheric rivers set to slam storm-hit California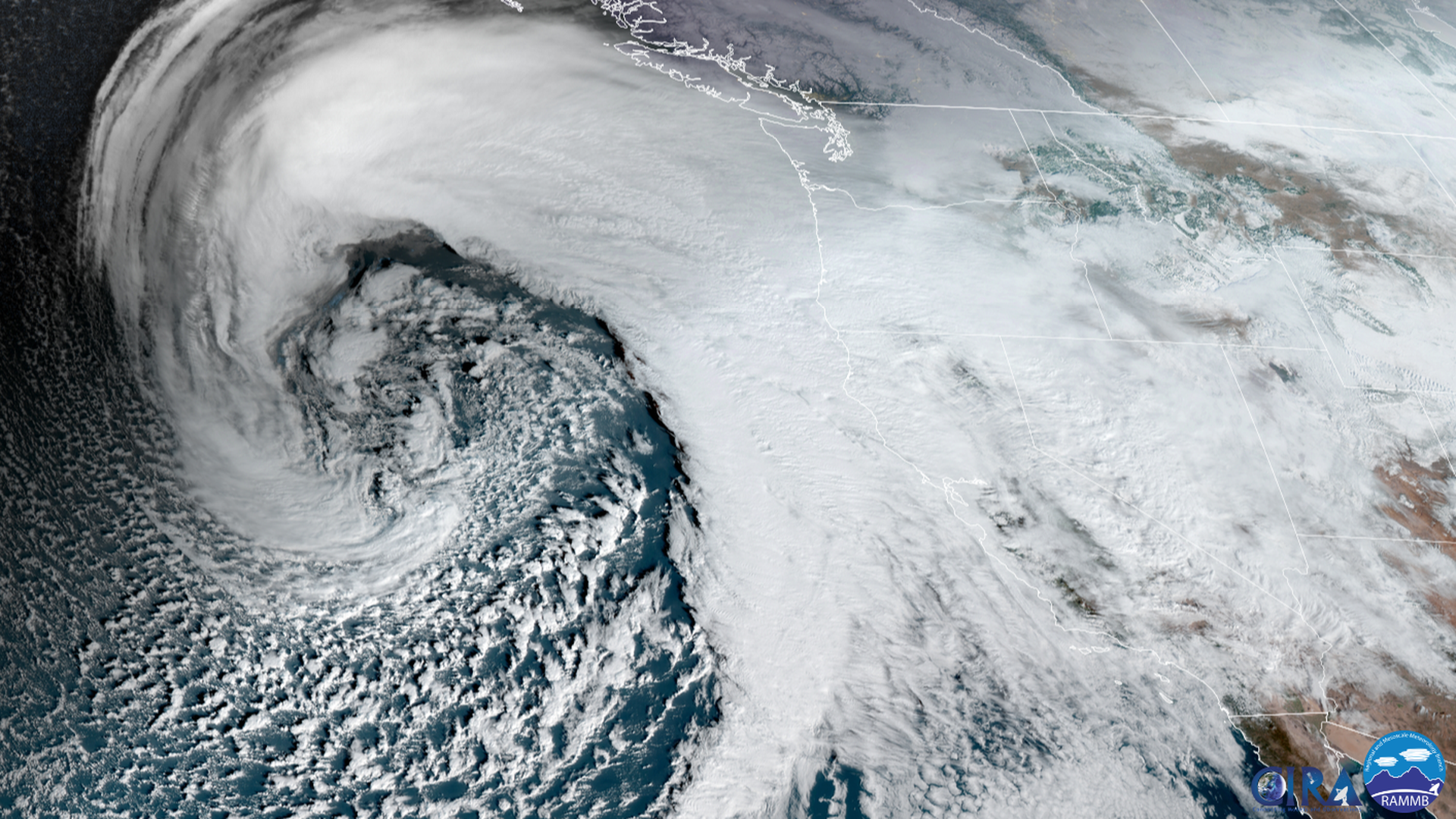 A potent atmospheric river storm associated with a bomb cyclone that brought heavy rains, damaging winds and a significant amount of mountain snowfall in California eased by Thursday night.
Yes, but: "The next in this parade of Atmospheric River events is expected to arrive late Friday into northern California, spreading south to central California Saturday," the National Weather Service warned. "Heavy rainfall will lead to additional flooding and heavy mountain snow is expected in the Sierras."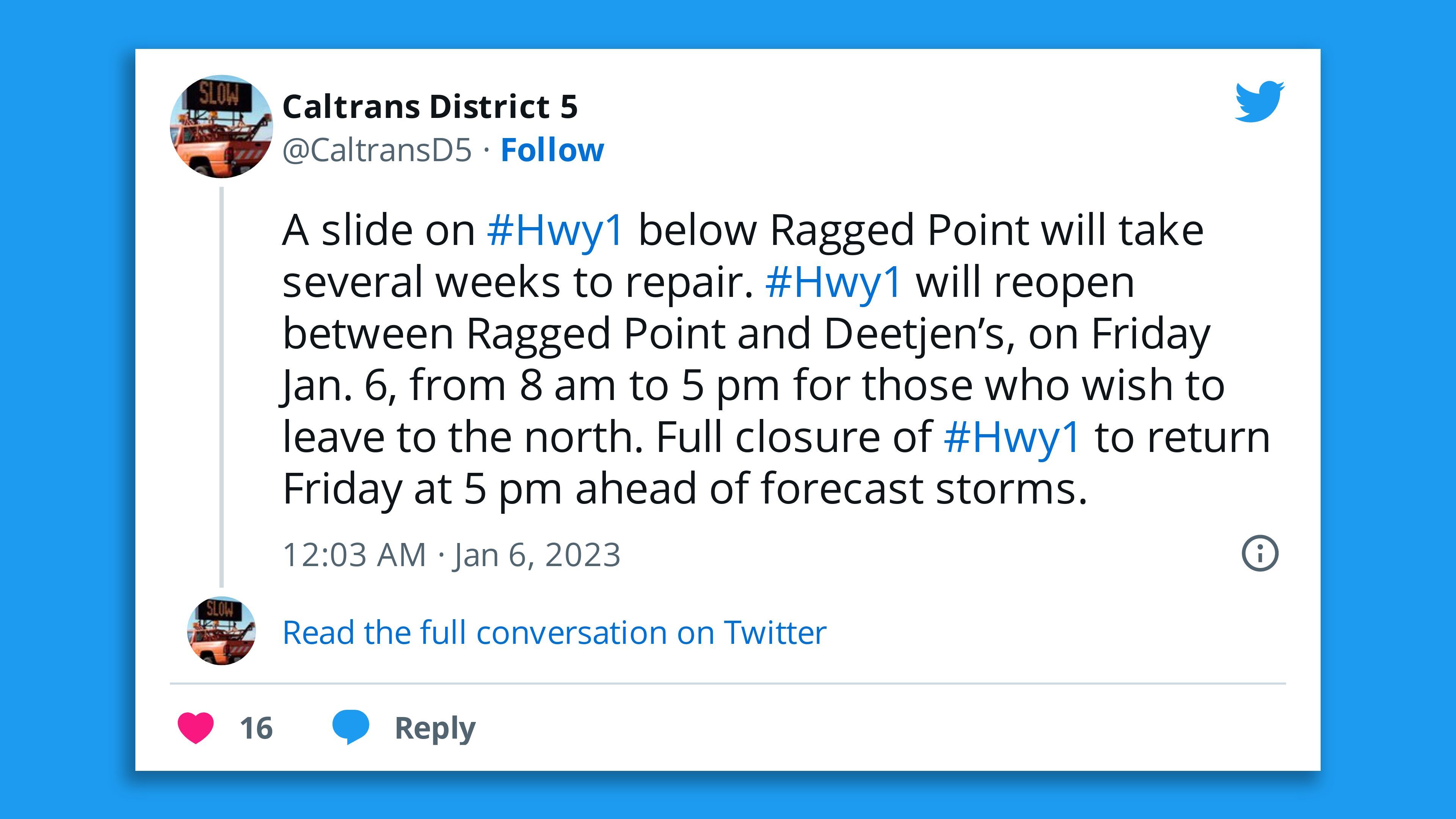 The latest: An estimated 62,700-plus customers were without power in California and dozens of flights were delayed or canceled at San Francisco International Airport as of late Thursday due to the deadly storm.
State of play: Swaths of California were under flood warnings, advisories and watches, coastal flood warnings and winter storm warnings by the NWS.
Widespread flooding of roadways has been reported in Los Angeles County as well as flooding from pounding surf up and down the California coastline.
Damage was reported across the state Thursday, with Santa Cruz County reporting destruction to piers in Capitola and Seacliff.
At least two people have died in California from the storm after a tree fell on a mobile home in Sonoma County and crushed a toddler and after a 19-year-old driver hydroplaned and fatally collided with a utility pole in the town of Fairfield.
Why it matters: The latest storm is one in a series of atmospheric river storms to hit the Golden State, with multiple subsequent disturbances set to spin up across the North Pacific in the coming weeks.
The latest storm, on top of water-saturated soils, runoff from earlier rain, raised the threat of potentially significant flooding across central and Northern California that's expected to continue into next week.
The dramatic swing from historically dry to very wet conditions in parts of California is in line with what climate change is expected to bring to the Golden State, studies show.
By the numbers: Winds gusts topped 119 mph in Kirkwood Meadows in northern California, while Grapevine Peak and Pulga experienced wind gusts exceeding 100 mph Thursday, per the NWS.
The town of Burlingame picked up almost three inches from 7 am Wednesday to 6am Thursday, according to NWS.
In that period, Sacramento International Airport and San Francisco International Airport received over 1.5 inches.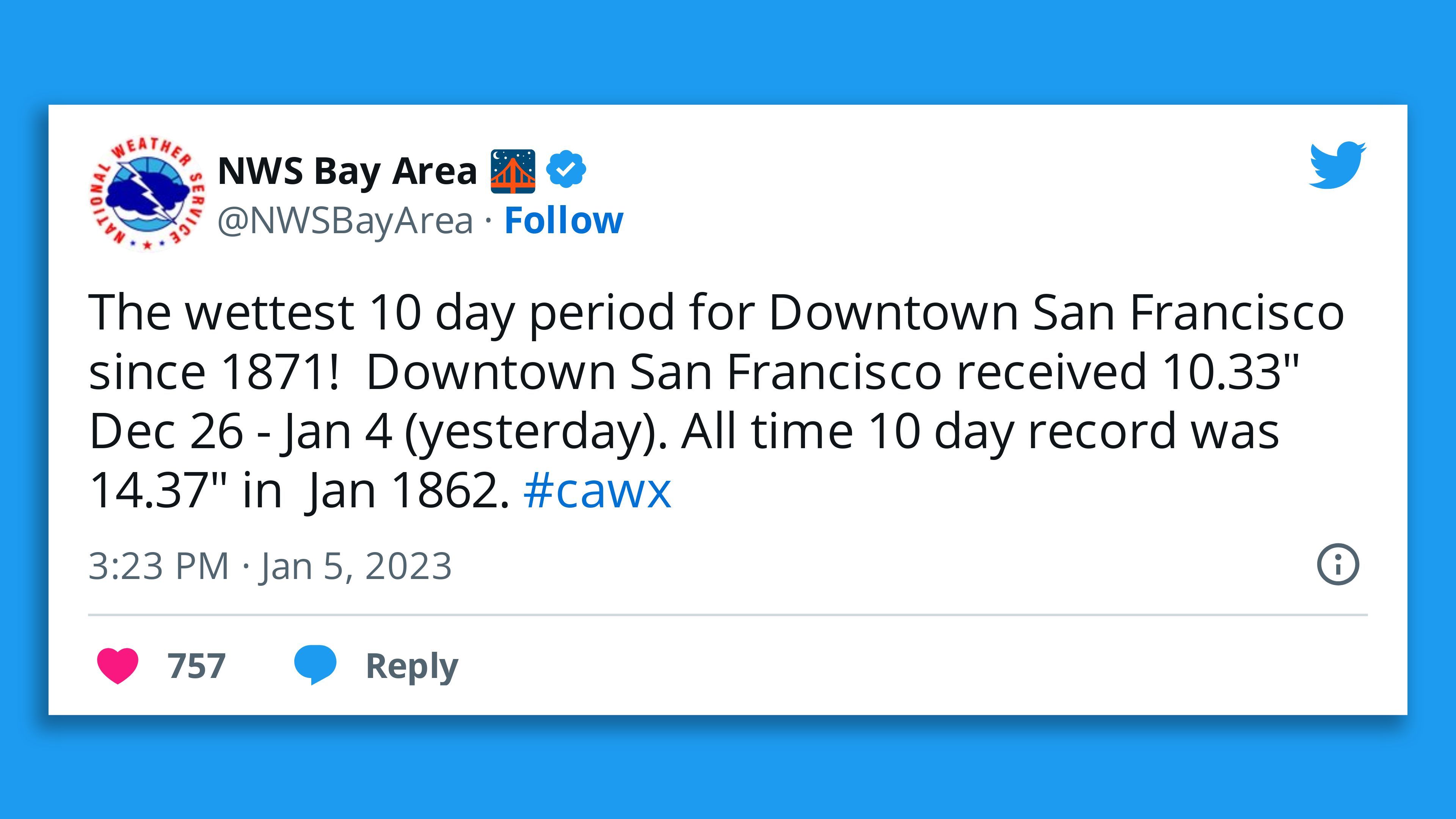 Threat level: The prolific atmospheric river could dump as much as 10 inches of rain and 4 feet of snow in some spots, though the heaviest rainfall has ended in many areas.
Atmospheric rivers are narrow currents of moisture-laden air that can transport vast amounts of water vapor thousands of miles.
The NWS warned of landslides, "widespread flooding" in lower elevations and impassable roadways in the mountains as snow falls at rapid rates.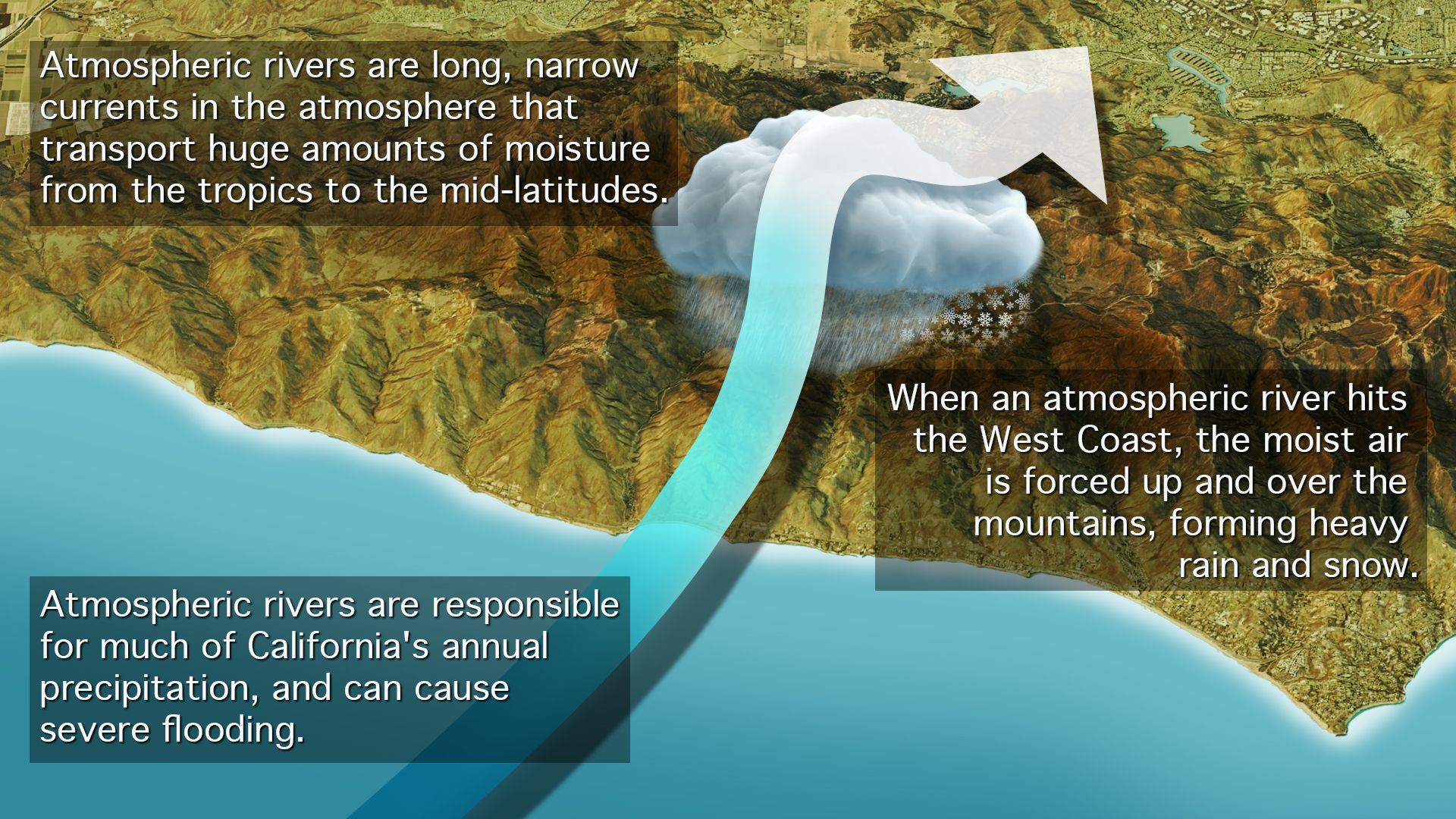 To better predict the intensity of the series of atmospheric rivers, the Air Force's Hurricane Hunters squadron is flying a data-gathering mission Thursday off the West Coast, according to the Scripps Institution of Oceanography.
The big picture: A series of storms that hit the state in December raised the odds of flooding, and computer models are showing a continuation of very wet conditions through mid-January.
If this were to happen, it would yield a major case of weather whiplash, as a drought-parched state sees a sudden lurch into major flooding.
Climate scientist Daniel Swain noted if the subsequent storms hit hard, the ultimate price tag of these events could exceed $1 billion.
Context: A simulation of the potential impacts to California from a series of severe atmospheric river events, known as "ARkStorm 2.0," found the cost of a monthlong series of relentless atmospheric river storms would be greater than a strong earthquake striking near one of California's population centers.
The study showed that climate change has already doubled the risk of such a megaflood occurring today.
A flood of a magnitude similar to an event that occurred in California in 1862 is more than three times as likely to occur now compared to a century ago, Swain and his colleagues found, due to the effects of human-caused global warming.
Yes, but: Swain cautioned in an online briefing Tuesday that an event of this scale isn't expected with the current system and additional storms to follow this month.
Between the lines: Other research shows that as the waters of the North Pacific and the atmosphere warm up, atmospheric rivers are already capable of carrying more moisture than they used to and dumping it on the Western U.S.
The bottom line: The same forces increasing the odds of drought in California are also responsible for upping the possibilities of heavy precipitation, namely the increased water-holding capacity of the atmosphere.
Editor's note: This story has been updated with additional developments.
Go deeper