Latest atmospheric river brings "catastrophic" flood risk to California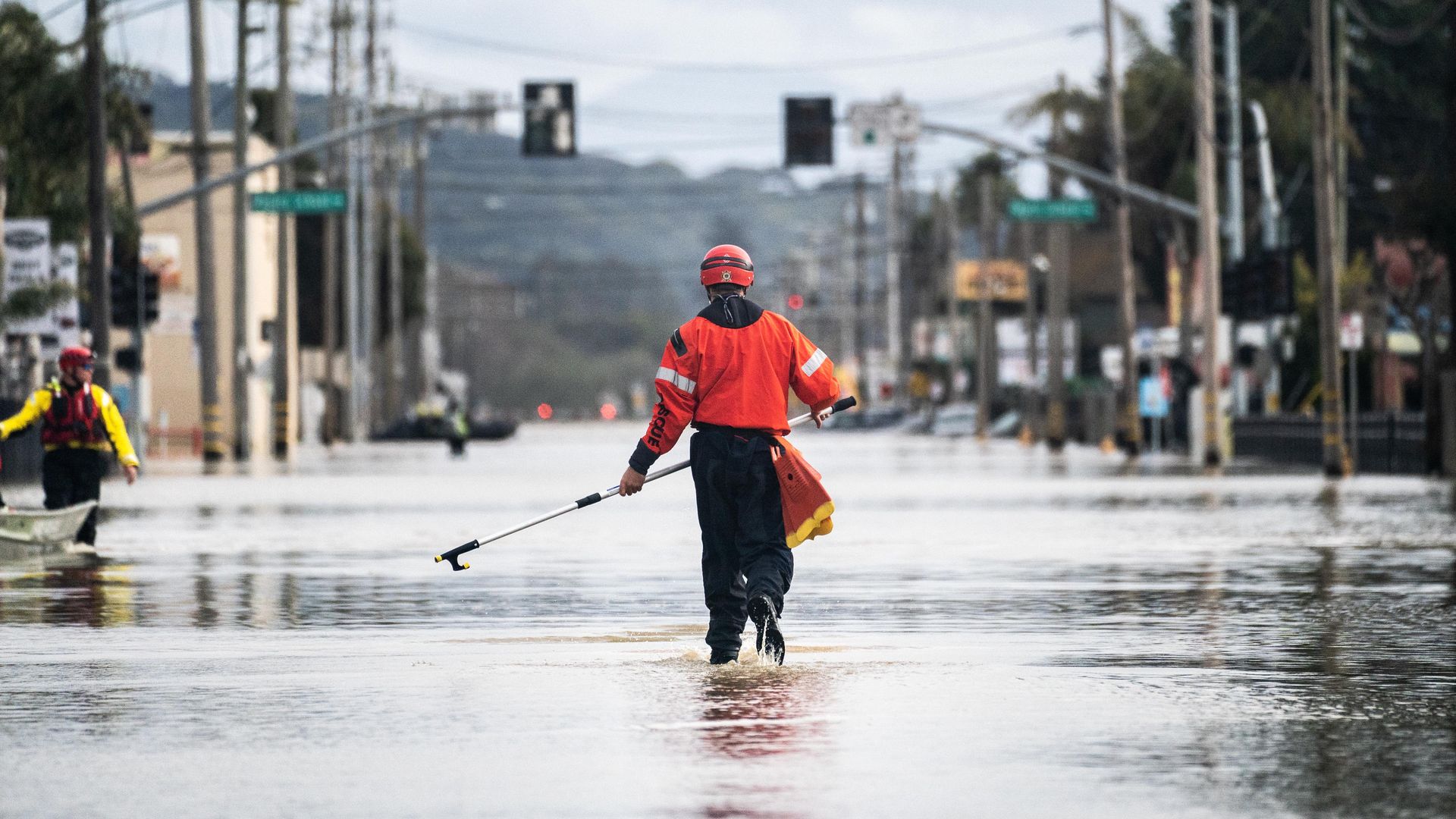 Editor's note: Follow the latest updates on this historic California storm.
California faced another atmospheric river event Tuesday that forecasters warn would bring heavy rains, widespread flooding and mountain snow to much of the state through Wednesday.
The big picture: As heavy rain fell Tuesday, officials warned the latest atmospheric river could "hammer" areas inundated by flooding in the earlier storm.
The National Weather Service (NWS) issued a "high risk" excessive rainfall outlook, the highest on its scale and a relatively rare designation.
The NWS warned of considerable "locally catastrophic flooding impacts" below 5,000 feet, with the heaviest rains moving down the coast from the San Francisco Bay Area, into the southern Sierra Nevada foothills and Los Angeles by Tuesday afternoon.
"Severe, widespread flash flooding is expected," the agency said in an online forecast discussion. "Areas that normally do not experience flash flooding will flood. Lives and property are in great danger from Tuesday into Wednesday."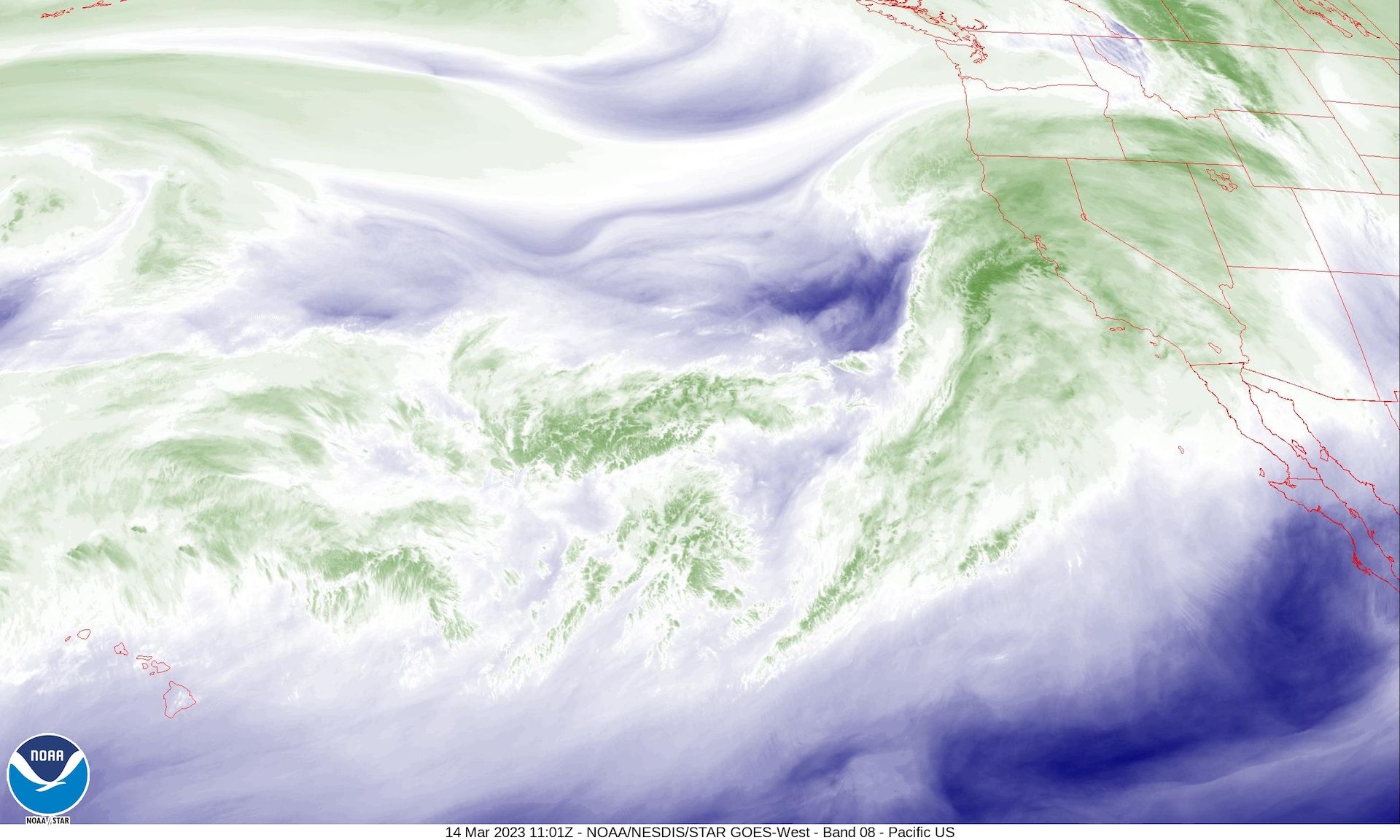 By the numbers: More than 320,000 customers were without power in California on Tuesday evening — mostly in the Bay Area, per Poweroutage.us.
The worst-affected Bay Area county was Santa Clara, where an estimated 125,000-plus customers had no electricity.
Threat level: The weather agency noted in another discussion that the latest atmospheric river contains an unusually high amount of moisture, and will remain parked over the same areas for extended periods.
Forecasters warned of rapid snowmelt boosting water levels in rivers and streams, as well as extensive street flooding possible in downtown L.A.
"We are anticipating that there will be both flash flooding and river and stream flooding and the greatest risk for significant flooding will be across the western slope of the southern Sierra, and also along portions of the central and south coast of California," Megan Syner, a meteorologist with the NWS, told Axios in an interview.
Syner said Santa Cruz, the Santa Lucia and San Raphael mountain ranges, as well as higher elevations in Los Angeles and San Bernardino counties may see the heaviest rains from this event.
Forecasters are watching Monterey County closely, where the California National Guard helped rescue 56 people after the Pajaro River's levee breached early Saturday.
Damaging winds and power outages are likely, especially in Central California. San Francisco International Airport recorded a wind gust of 74 mph, which is hurricane force, shortly before noon local time.
State of play: Local schools and roads were closed and evacuation orders and warnings were in effect for communities along the Pajaro River and other rivers due to rising floodwaters and the threat of further inundation.
Luis Alejo, chair of the Monterey County Board of Supervisors, tweeted Monday night that a breach area along the Pajaro Levee "had grown from 120 wide to 400 feet wide," but a temporary rock and sand wall "will prevent the breach from getting wider" and "slow the flow of water into the Pajaro community."
Meanwhile, the southern Sierra Nevada appears to have recorded its largest-ever snowpack — more than 250% above its seasonal average, according to the California Department of Water Resources.
The U.C. Berkeley Central Sierra Snow Lab reported Tuesday morning that another 13.6" of snow had fallen "and that takes us to within 7" of the winter 1982/1983 total, which is currently second snowiest all-time" on record at the central Sierra snow laboratory.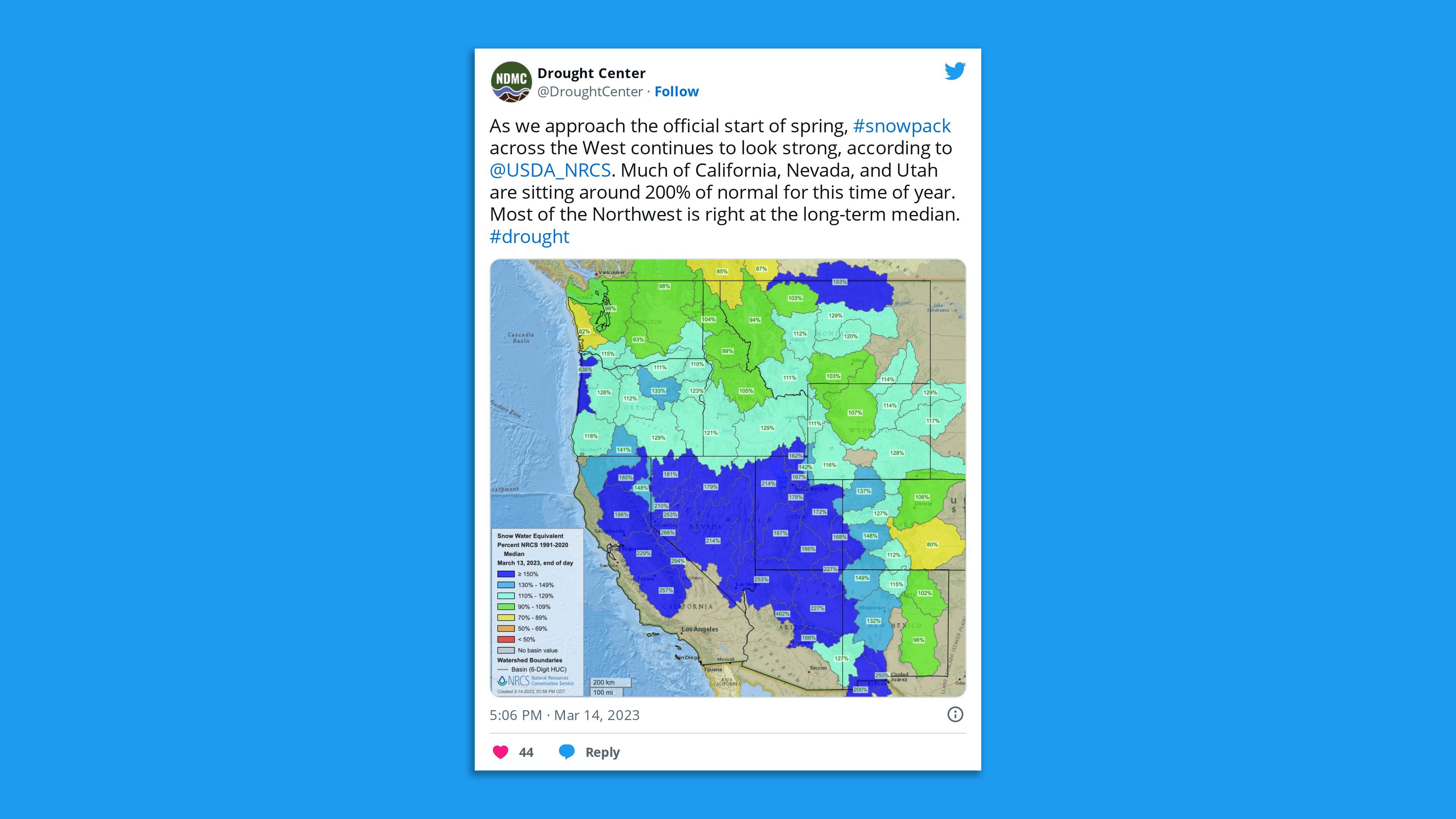 What we're watching: Heavy rains and high-elevation snow are expected to continue into Wednesday from this "Pineapple Express" atmospheric river.
Of note: The moisture for this particular storm originates near Hawaii.
Context: Atmospheric rivers are narrow currents in the air that can carry vast amounts of water vapor thousands of miles, from the tropics to mid-and-northern latitudes — and they've lashed California on more than a dozen occasions this year.
"It really is like a river in the sky," Syner said.
Studies show climate change is intensifying these events since warmer air carries additional water vapor. Climate change is also yielding sharper swings between precipitation feasts and famine in California.
Editor's note: This article has been updated with additional details throughout.
Go deeper