Biden slams climate change doubters while surveying storm damage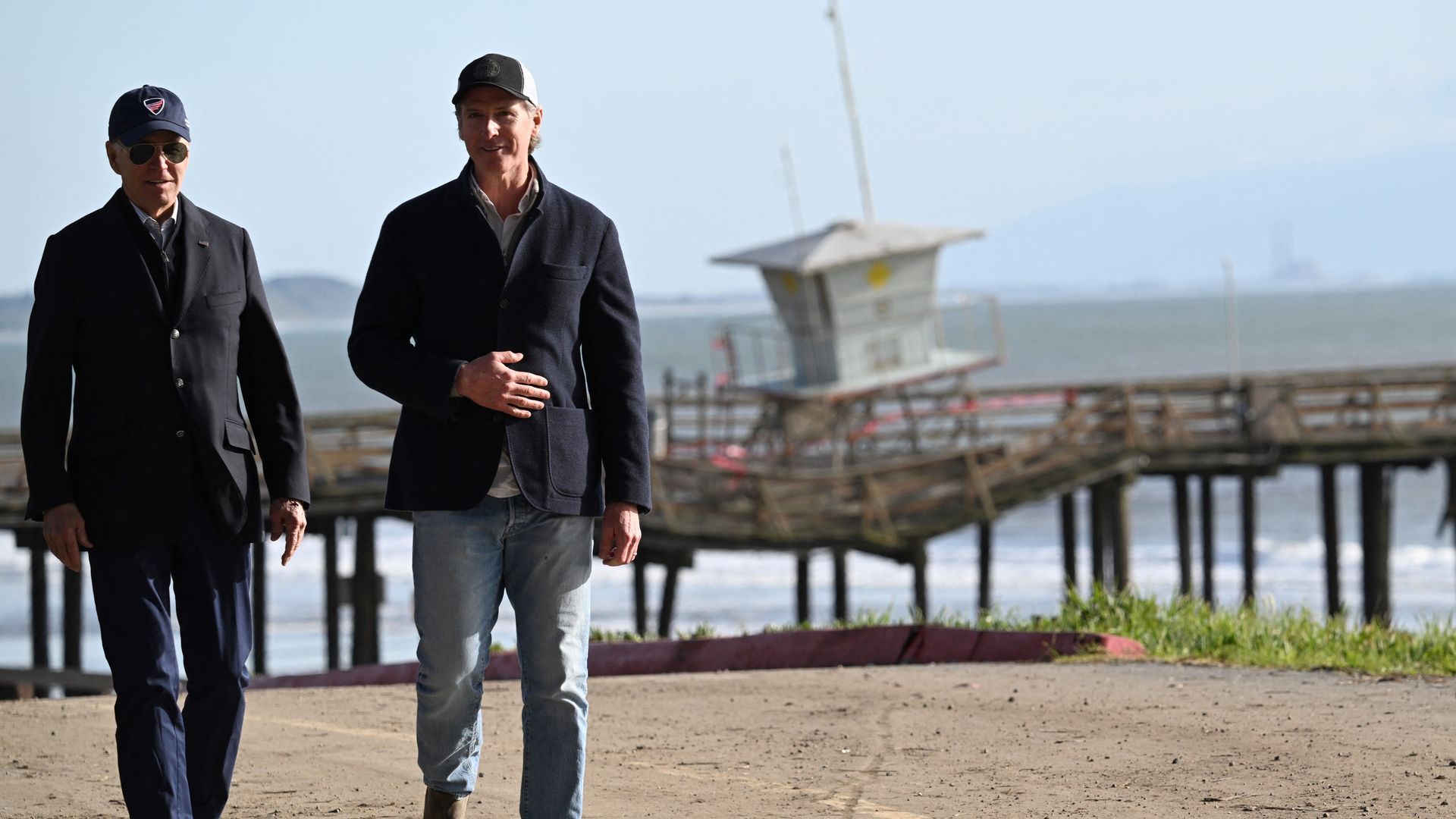 President Biden said Thursday during a visit to survey damage from recent atmospheric river storms in California that "if anybody doubts climate is changing, then they must have been asleep for the last couple of years."
Driving the news: Biden met with Gov. Gavin Newsom (D), who praised the administration for approving a presidential emergency declaration before he even requested it.
Biden also authorized increasing the federal share for debris removal and emergency protective measures to 100% of the total eligible costs for 60 days from the start of the incident period.
The big picture: The state saw nine atmospheric rivers over 22 days, bringing flooding, landslides and mudslides to the Golden State, and leaving at least 21 people dead, not including a 5-year-old boy who remains missing, Newsom said.
What they're saying: "Three years of a mega drought, the driest on the West Coast in over 1,200 years and we've now had three weeks of mega floods," the governor said.
"Parts of the state ... got more rainfall in a single day than they get the entire year," Biden said at the press briefing in Santa Cruz County.
"We know some of the destruction is going to take years to fully recover and rebuild. But we got to not just rebuild, we gotta rebuild better," the president continued.
Biden added that there has to be "significant changes" to the infrastructure, and that "the federal government's gonna be here to help get that done."
Thought bubble via Axios' Andrew Freedman: While California's precipitation history is full of examples of wild swings from drought to flood and back again, the ongoing Southwestern megadrought and recent onslaught of atmospheric river events are taking place in a warmer climate.
Studies show this is causing dry periods to become hotter and drier, and increasing the odds of severe droughts, while atmospheric rivers are expected to carry more moisture as ocean and air temperatures increase.
California has been locked in a drought and flood emergency at the same time.
Go deeper: Atmospheric rivers force California to manage floods during drought
Go deeper