Kinzinger: McCarthy is a "piece of sh*t"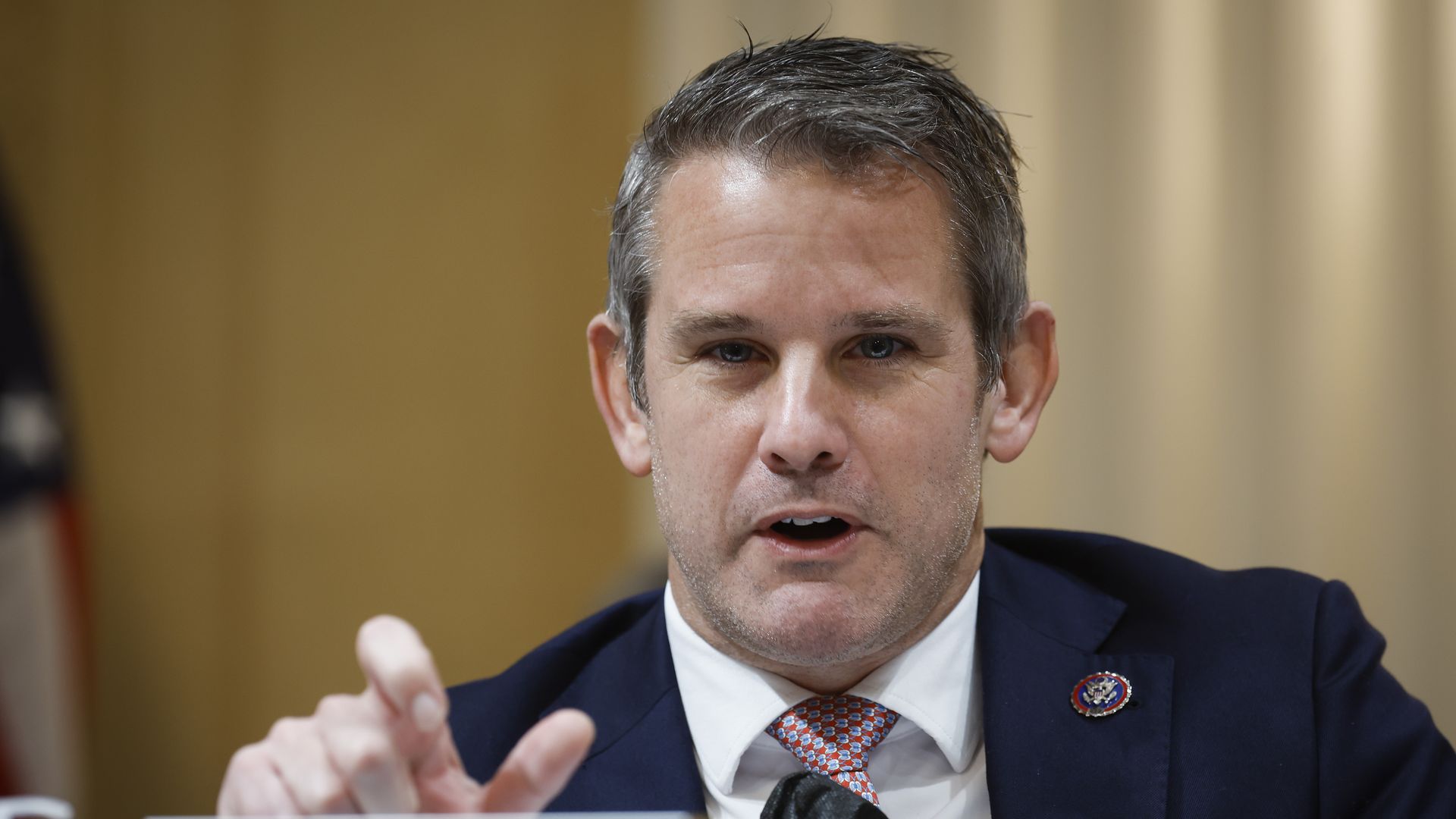 Former GOP Rep. Adam Kinzinger (R-Ill.) blasted House Speaker Kevin McCarthy in a new interview this week, calling the California lawmaker a "piece of sh*t" who will "say whatever he needs to say to stay in power."
The big picture: Kinzinger became a GOP foe during his last term in office as a fierce Trump critic who was one of two Republican members of the House Jan. 6 committee. His remarks came a week after McCarthy took the speakership following a historically prolonged vote and only after he made concessions to his far-right flank.
Kinzinger ended his sixth term in Congress last week after deciding not to seek re-election.
Details: Kinzinger during a Thursday episode of "The Bulwark" podcast hosted by Charlie Sykes talked about the fissures within the Republican party that were laid bare during McCarthy's marathon attempt to seize the speakership last week — and previewed what's ahead for the new Congress.
Kinzinger said the party's firebrands have stood to gain politically, pointing to Rep. Marjorie Taylor Greene (R-Ga.), who unswervingly supported McCarthy.
"They end up getting better assignments," Kinzinger said. "If you actually are an a**hole ... you actually will come out being the person that they pursue more."
Kinzinger called McCarthy a "piece of sh*t" while casting doubt that he would remove embattled Rep. George Santos (R-N.Y.) from his committee assignments given the party's narrow majority in the chamber.
Kinzinger called it "just a fact" that McCarthy would "say whatever he needs to say to stay in power."
Santos has come under fire, including from his fellow Republicans, amid reports he fabricated large swaths of his résumé and probes into his financial disclosures, campaign finances and outstanding legal issues.
McCarthy on Thursday defended Santos' place in Congress, allowing that he has "a long way to go to earn trust."
"Tons of people can exaggerate, you know, parts of their resume. It's different than making up a whole new life," Kinzinger said.
Kinzinger said he thinks McCarthy would perhaps ordinarily boot Santos from committees, but because of the GOP's slim five-seat majority, he can't afford to lose the New Yorker's vote.
Between the lines: McCarthy has repeatedly said he would remove committee assignments for Democrats Ilhan Omar (D-Minn.), Eric Swalwell (D-Calif.) and Adam Schiff (D-Calif.).
McCarthy has pointed to the Democratic-led House removing committee assignments of Greene and Rep. Paul Gosar (R-Ariz.) as part of his reasoning.
Kinzinger noted that McCarthy supported kicking then-Rep. Steve King of Iowa off committees only years earlier "for doing even less" — making comments sympathetic to white nationalists — than Gosar, who attended a white supremacist conference and posted a violent video of himself attacking President Biden and killing Rep. Alexandria Ocasio-Cortez (D-N.Y.).
Of note: Kinzinger has become a media darling in recent years — he'll soon be joining CNN as a senior political commentator.
Go deeper