McCarthy says he'll remove Ilhan Omar from committee assignment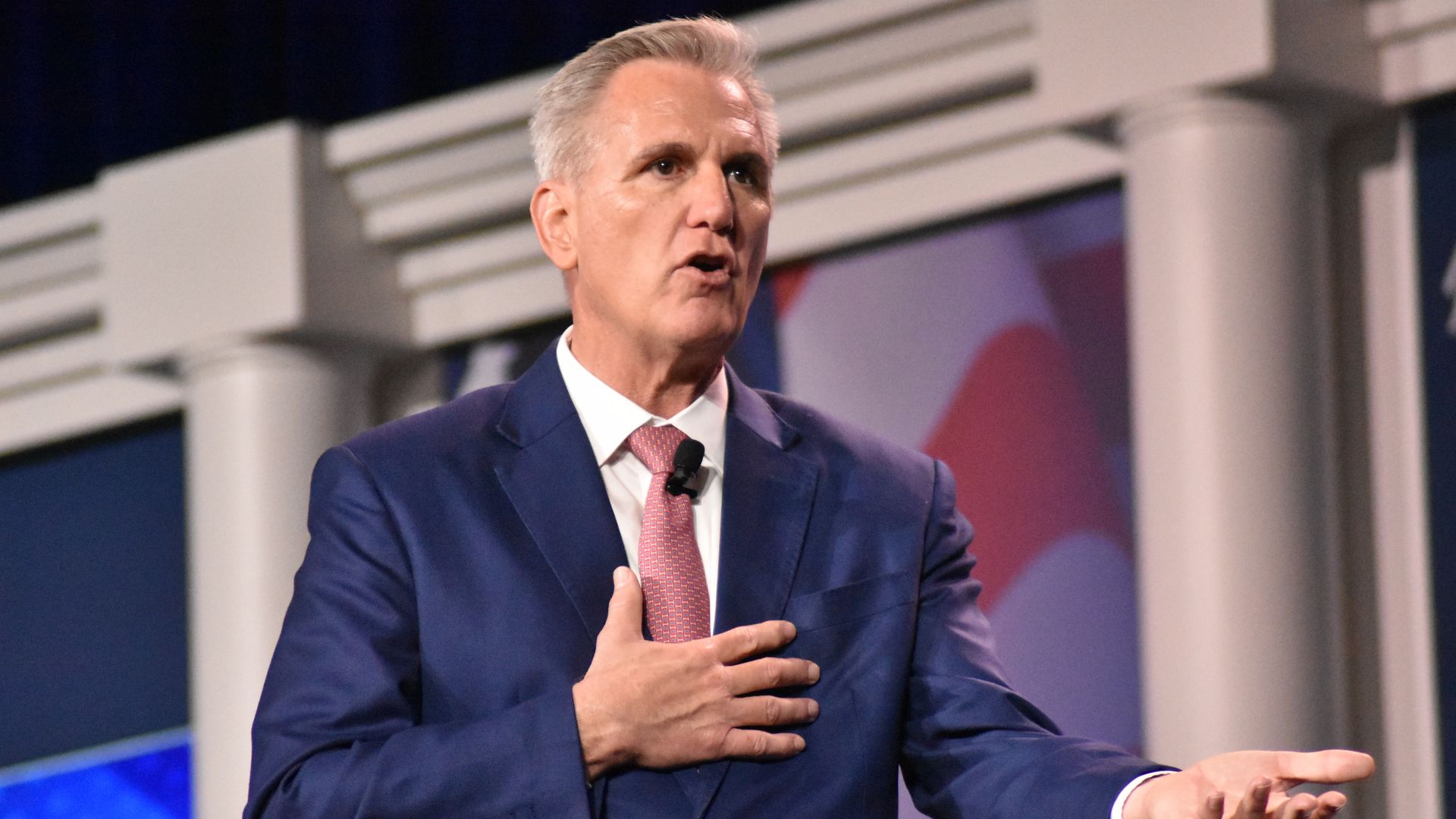 House Minority Leader Kevin McCarthy (R-Calif.) vowed during an appearance on Fox News Channel's "Sunday Morning Futures" to remove several prominent House Democrats from their committee assignments if he becomes speaker of the House.
Why it matters: While not yet confirmed, McCarthy is aiming to become the next speaker after Republicans narrowly captured the House in the 2022 midterms.
State of play: If he succeeds in clinching the position of speaker, McCarthy said that Republicans would "not allow" Reps. Eric Swalwell (D-Calif.) and Adam Schiff (D-Calif.) to serve on the House Intelligence Committee.
McCarthy added that Rep. Ilhan Omar (D-Minn.) wouldn't be allowed to serve on the House Foreign Affairs Committee, citing her "antisemitic comments."
McCarthy had pledged back in January to remove Schiff, Swalwell, and Omar from their committee assignments if Republicans retook the House.
McCarthy's comments came a day after he told the Republican Jewish Coalition's 2022 leadership meeting in Las Vegas that if he becomes speaker will remove Omar from her House Foreign Affairs Committee over her past remarks about Israel.
What they're saying: "Last year, I promised that when I became Speaker, I would remove Rep. Ilhan Omar from the House Foreign Affairs Committee based on her repeated anti-semitic and anti-American remarks. I'm keeping that promise," McCarthy tweeted Saturday, alongside a video clip of his appearance at the meeting.
"We watch antisemitism grow, not just on our campuses, but we watched it grow in the halls of Congress," McCarthy added in his remarks, Fox News reported.
Reality check: Twitter added a text box offering "added context" below McCarthy's tweet. It notes that the "Speaker does not have the power to remove a member from a standing committee. Foreign Affairs is a standing committee."
"Only a majority vote by the entire house could remove Rep. Omar," it added.
The big picture: Omar has faced controversy several times concerning her comments about Israel.
In 2019, Omar implied in a tweet that political support for Israel is based on campaign donations from pro-Israel lobbying group, specifically AIPAC. She later apologized for her remarks.
In 2021, Omar clashed with Jewish Democrats in the House after tweeting about "unthinkable atrocities committed by the U.S., Hamas, Israel, Afghanistan, and the Taliban," in reference to investigations by the International Criminal Court. She later clarified that she was not "equating terrorist organizations with democratic countries."
Republicans have long accused Omar of antisemitism — a charge she denies.
McCarthy has previously tried to boot Swalwell from his committee assignment over his ties to Christine Fang, a suspected Chinese spy.
In January, McCarthy said Schiff "lied to the American public" with his support of the unverified Steele dossier, which alleged extensive ties between former President Trump and Russia.
What they're saying: In a lengthy statement, Omar criticized the GOP for repeatedly allowing party members such as Marjorie Taylor Greene or Donald Trump to attack her while openly tolerating "antisemitism, anti-Muslim hate and racism in their own party."
"Instead of doing anything to address the open hostility towards religious minorities in his party, McCarthy is now lifting up people like Marjorie Taylor Greene, [Tom] Emmer and so many others. If he cared about addressing the rise in hate, he would apologize and make sure others in his party apologized," the statement said.
"McCarthy's effort to repeatedly single me out for scorn and hatred—including threatening to strip me from my committee—does nothing to address the issues our constituents deal with," she continued. "What it does is gin up fear and hate against Somali-Americans and anyone who shares my identity, and further divide us along racial and ethnic lines."
In Feb. 2021, House Democrats, along with 11 Republicans, voted to remove Rep. Marjorie Taylor Greene (R-Ga.) from her committee assignments over her past endorsement of baseless conspiracy theories and violent rhetoric against Democrats, which included antisemitic remarks.
Editor's note: This story has been updated with additional information throughout.
Go deeper