What to watch for in the final Jan. 6 public meeting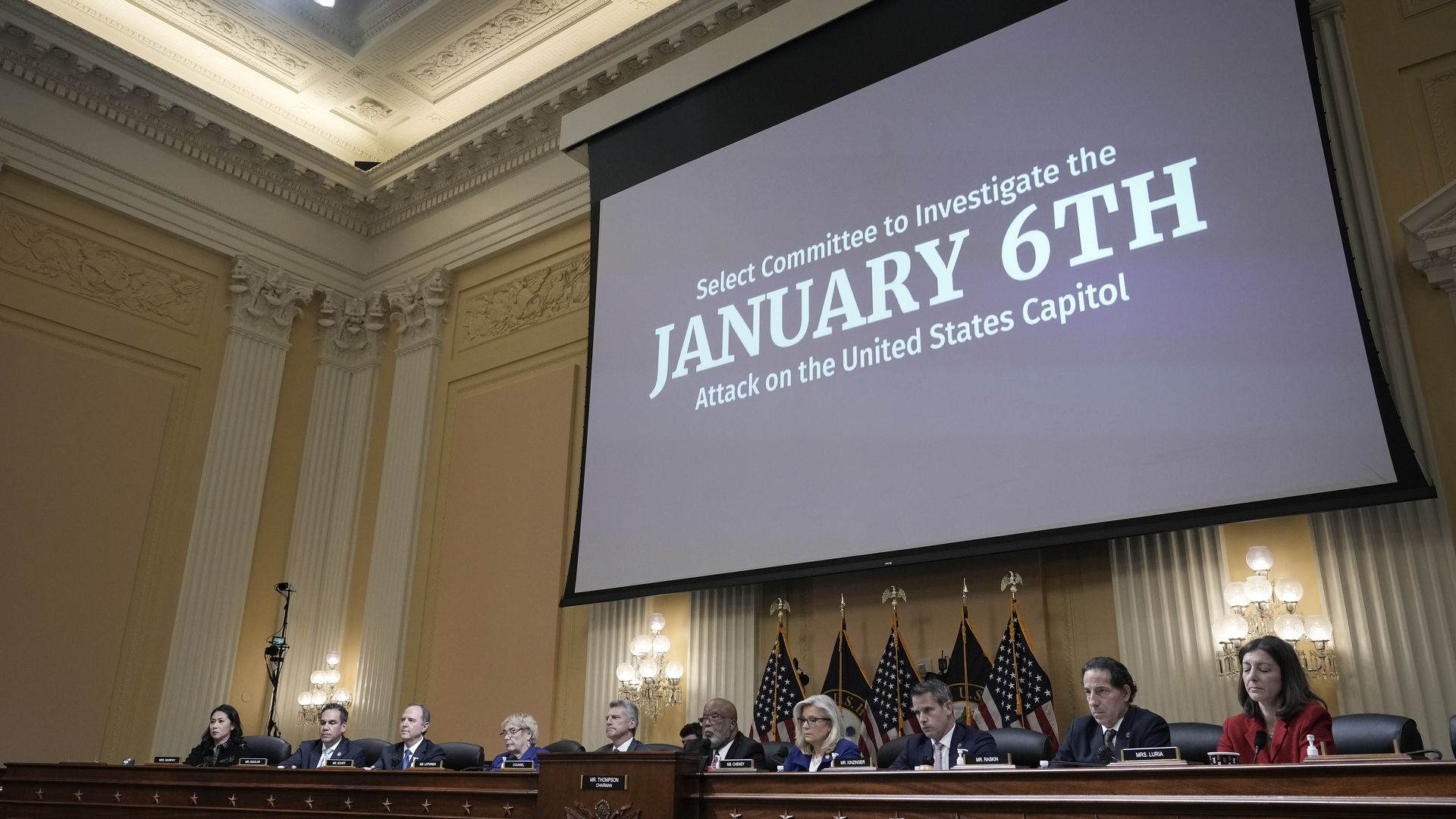 The Jan. 6 select committee is convening Monday afternoon for what is likely its final public meeting, culminating a year-and-a-half long inquiry into former President Trump's efforts to overturn the results of the 2020 election.
The big picture: It's the panel's final act — the committee will dissolve at the end of the congressional session — and is nearly two years after an angry pro-Trump mob stormed the Capitol as Congress was certifying election results for President Biden.
The panel has held 10 public hearings, during which committee members outlined evidence and teased interviews with Trump allies in an effort to tie the former president to the violence of Jan. 6.
The panel has accumulated new evidence since its last public hearing in October, some of which may be released on Monday.
Since October, the panel has interviewed former Secret Service agent Anthony M. Ornato, Trump confidante Hope Hicks, former Trump adviser Kellyanne Conway and others.
Criminal referrals
The panel on Monday is expected to vote on criminal and civil referrals against Trump and some of his closest allies.
Rep. Adam Schiff (D-Calif.) said Sunday that the "evidence is there" that Trump committed criminal offenses related to the 2020 election and added that "there's sufficient evidence to charge the president."
Schiff also said Sunday that relating to a potential charge of insurrection, "if you look at Donald Trump's acts and you match them up against the statute, it's a pretty good match."
Between the lines: The referrals, which would be non-binding and are largely symbolic, do not require the Justice Department to take any additional action. The DOJ ultimately would decide whether the evidence supports prosecution.
Naming House Republicans
Lawmakers who ignored congressional subpoenas may also be named in Monday's public meeting, Schiff said.
"We will also be considering what's the appropriate remedy for members of Congress who ignore a congressional subpoena, as well as the evidence that was so pertinent to our investigation and why we wanted to bring them in," he said.
Schiff mentioned the possibility of censures or ethics referrals for those lawmakers who rebuffed the subpoenas.
House Minority Leader Kevin McCarthy (R-Calif.) and Reps. Jim Jordan (R-Ohio), Andy Biggs (R-Ariz.) and Mo Brooks (R-Ala.) all ignored subpoenas from the committee earlier this year.
Final report
The Jan. 6 select committee is also planning to release its final report on Wednesday of this week, which will include transcripts of interviews with witnesses and hundreds of thousands of documents and other material evidence.
The panel will vote during Monday's meeting on whether to adopt the report and is set to release portions of it, which will include legislative recommendations and focus on Trump's role on Jan. 6.
How to watch: The public meeting is set to begin at 1 p.m. ET. The committee has streamed its hearings live on YouTube.
Go deeper ... Scoop: GOP shadow committee re-emerges for Jan. 6 report
Go deeper