Jan. 6 panel subpoenas McCarthy, four other GOP lawmakers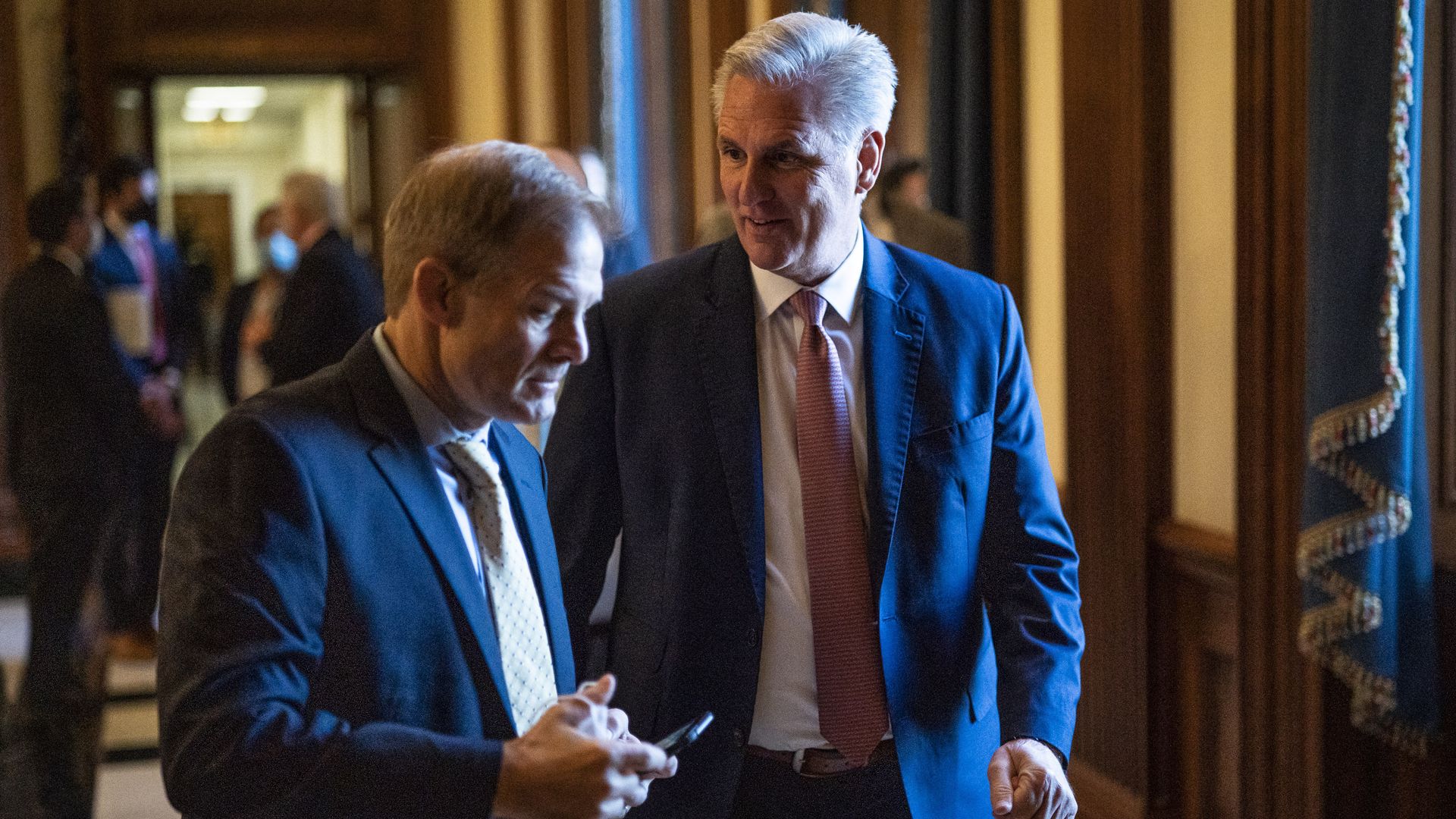 The Jan. 6 House select committee subpoenaed five members of Congress on Thursday, including House Minority Leader Kevin McCarthy (R-Calif.), along with Reps. Scott Perry (R-Pa.), Jim Jordan (R-Ohio), Andy Biggs (R-Ariz.) and Mo Brooks (R-Ala).
Why it matters: There is no precedent for a panel — outside of the Ethics committee — to issue subpoenas to sitting members of Congress and the move comes after months of debate among committee members over the legality of subpoenaing their colleagues.
Driving the news: "The Select Committee has learned that several of our colleagues have information relevant to our investigation into the attack on January 6th and the events leading up to it," Rep. Bennie Thompson, who chairs the panel, said in a statement.
"Regrettably, the individuals receiving subpoenas today have refused and we're forced to take this step to help ensure the committee uncovers facts concerning January 6th," Thompson said.
The details: Each member has faced scrutiny from the panel over their actions around the Jan. 6 attack and involvement in efforts to overturn the election.
Brooks came into focus for the panel after Trump rescinded his endorsement of Brooks' Senate candidacy, prompting Brooks to allege that Trump asked him to "rescind the 2020 elections," remove President Biden, install Trump and "hold a new special election for the presidency."
What we're watching: Continued refusal to testify could end in contempt referrals to the Justice Department.
That's the cudgel the panel has used to compel uncooperative witnesses to sit for testimony or turn over documents, including former White House officials Mark Meadows and Steve Bannon.
The other side: Perry signaled an oppositional stance in a statement to Axios, though he didn't say directly whether he would comply.
"That this illegitimate body leaked their latest charade to the media ahead of contacting targeted Members is proof positive once again that this political witch hunt is about fabricating headlines and distracting the Americans from their abysmal record of running America into the ground," he said.
Editor's note: This is a developing story and has been updated throughout.
Go deeper