Ian weakens to tropical storm as it pummels Florida
Follow live news updates on Tropical Storm Ian as it heads toward Georgia and the Carolinas.
Hurricane Ian weakened to a tropical storm early Thursday, but the National Hurricane Center warned it's still battering the Florida Peninsula with strong winds, heavy rains and storm surge.
Driving the news: Since making landfall as a high-end Category 4 storm Wednesday afternoon, Ian has knocked out power to nearly 2.5 million people as it inundated densely populated coastal communities known for attracting tourists and retirees — including Fort Myers, Cape Coral, Naples and Sanibel Island.
State of play: The storm was moving northeast at 8 mph with maximum sustained winds of 65 mph about 40 miles southeast of Orlando at 6am ET Thursday. It was moving northeast at about 8 mph.
Further weakening was expected as the center of Ian was expected to move across central Florida overnight and Thursday morning, emerging over the warm waters of the Atlantic by late Thursday.
Yes, but: "Ian could be near hurricane strength when it moves over the Florida East coast tomorrow, and when it approaches the northeastern Florida, Georgia and South Carolina coasts on Friday," the hurricane center said.
For the record: Ian had maximum sustained winds of 150 mph when it made landfall on the mainland Florida peninsula 4:35pm Wednesday ET, south of Punta Gorda near Pirate Harbor — just a few mph shy of Category 5 intensity.
That made it the strongest hurricane to make landfall in the state since Hurricane Michael devastated the Florida panhandle in 2018.
Lightning strikes were observed in the thunderstorms surrounding the eye, a sign of continued intensification through landfall.
The big picture: Ft. Myers, Sanibel Island, Naples and Cape Coral saw damaging flooding on Wednesday. Water pushed inland in many communities, while homes in Ft. Myers were damaged or destroyed from storm surge.
The NHC increased storm surge forecasts Wednesday morning to as high as 18 feet in parts of southwest Florida, including Charlotte Harbor and Bonita Beach.
If such amounts verified, this would be unprecedented there, and on par with some of the country's highest surge events in history.
Some parts of Florida received 12-19 inches of rain by Wednesday evening, and heavy rains in northeast Florida prompted at least one issuance of a flash flood emergency on Thursday morning.
It also unleashed life-threatening storm surge flooding across the lower Florida Keys over Tuesday night and was doing the same on the Florida mainland — including the highest surge levels on record in Naples, Florida.
Fort Myers saw a record-high 7.2 ft surge, according to NOAA.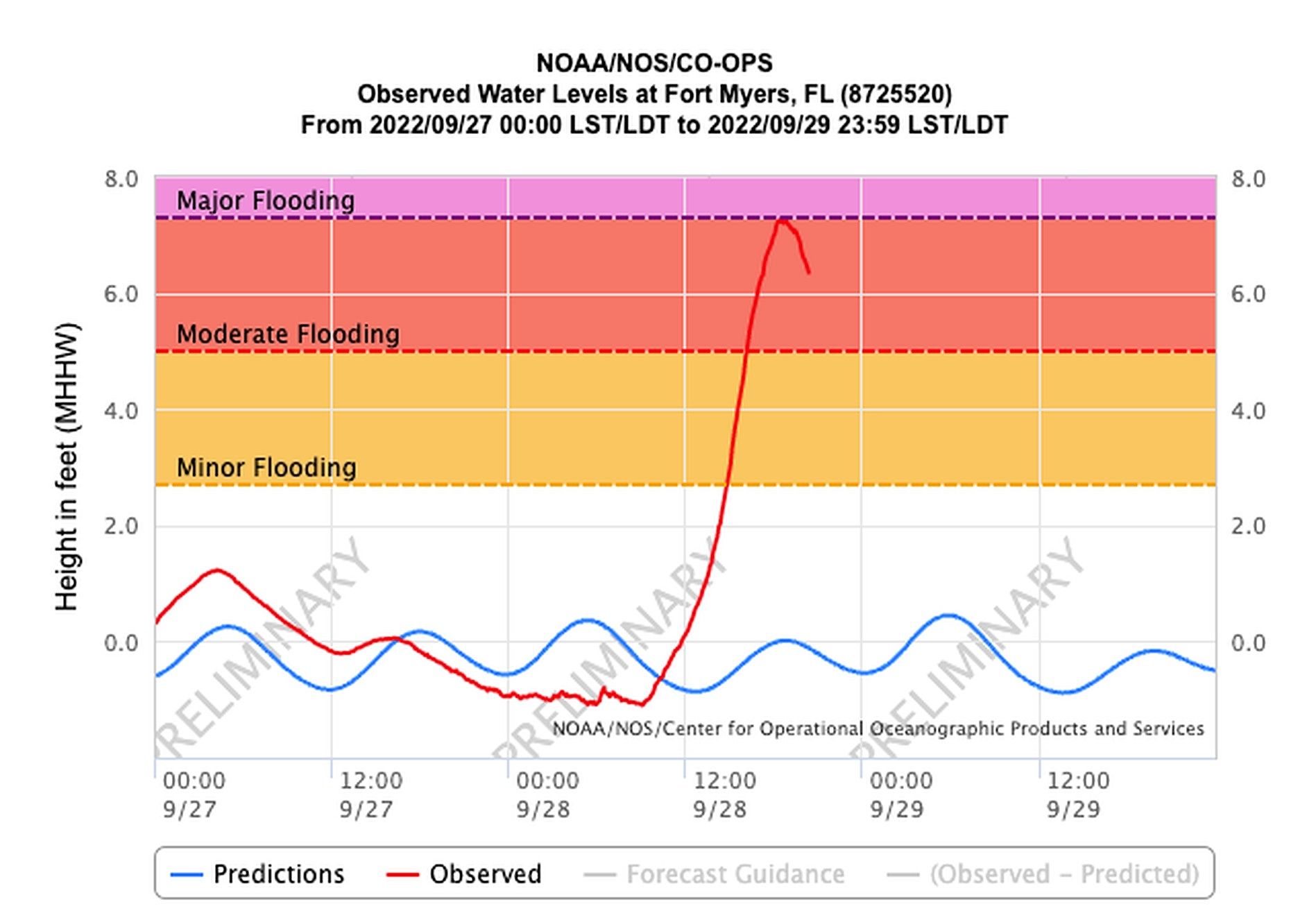 What they're saying: Florida Gov. Ron DeSantis (R) warned at a briefing Wednesday evening "there is going to be damage throughout the whole state."
"Overwhelmingly it's been that surge that's been the biggest issue and the flooding … as a result," he said. "In some areas, we think it's hit 12 feet."
Zoom in: Potentially "catastrophic" flooding was forecast with widespread rainfall amounts of up to 18 inches across much of the state, per the National Weather Service.
The NWS issued a rare "high risk" outlook for flash flooding for much of the state.
Tampa
The city was likely to see a storm surge of 4 to 6 feet, lower than areas to the south, due to the storm's track.
Axios Local dispatch, via Ben Montgomery: The approaching storm and a falling tide began emptying the shallows of the Hillsborough River, Old Hillsborough Bay and parts of Upper Tampa Bay Wednesday morning.
Along Tampa's Bayshore Boulevard, the water retreated from the seawall about 50 feet in places, like it did when Hurricane Irma streaked east of the region in 2017.
Threat level
What we're watching: One of the biggest threats remained storm surge flooding at the coast, which prompted mandatory evacuations in many areas.
Tropical storm and storm surge warnings were in effect for a heavily populated stretch of coastline that included Tampa Bay and the Flagler/Volusia County Line.
The NHC called surge heights "potentially historic," and warned that certain locations may be "uninhabitable for an extended period."
Devastating wind damage has occurred, where the core of the storm moves ashore and barrels inland.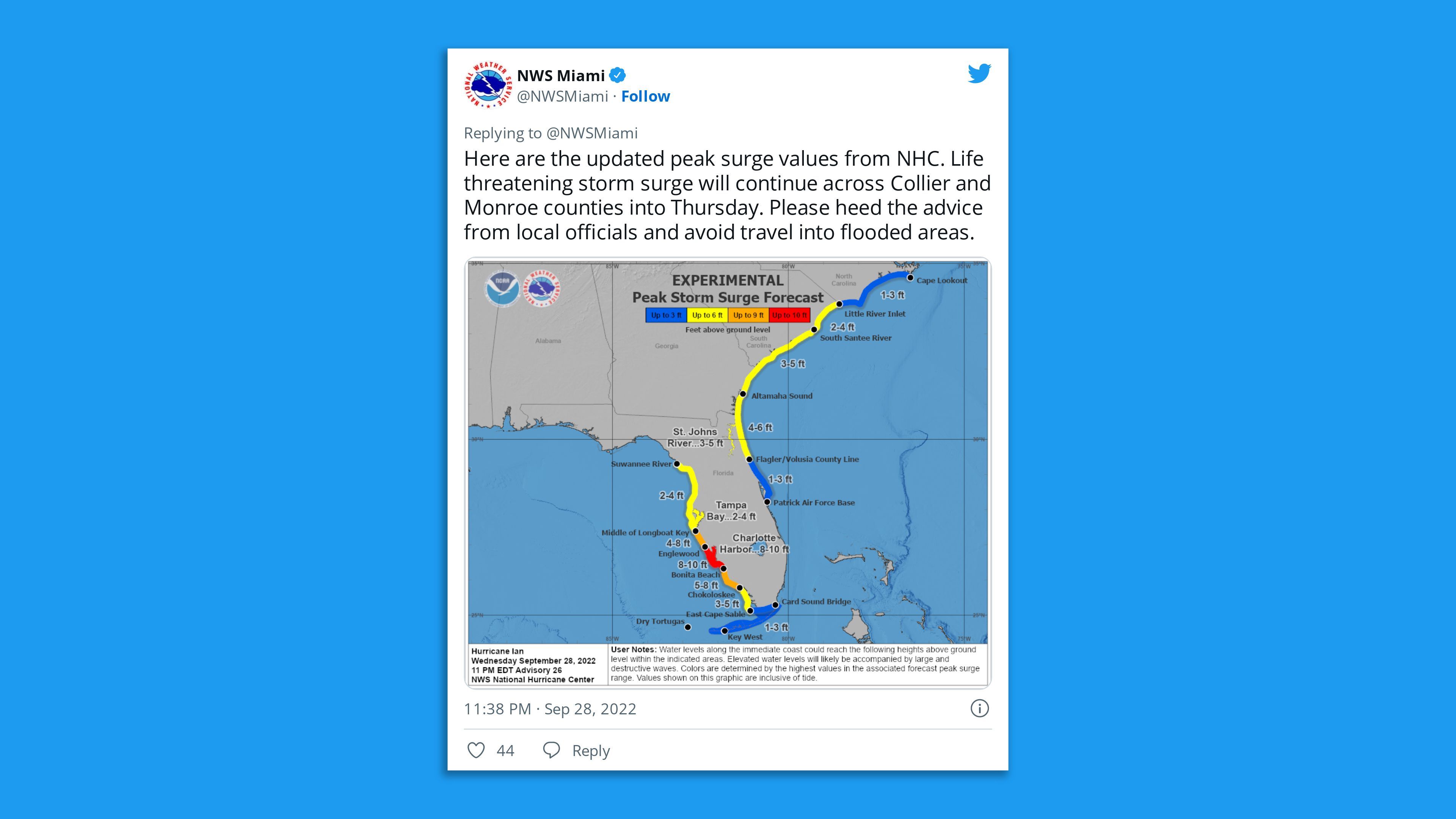 Climate change-related sea level rise is making surge-related flooding more damaging.
Georgia
Storm surge watches, tropical storm watches and warnings, and hurricane watches have been issued extending up and down the east coast of Florida into Georgia and South Carolina.
This is due to the storm's expected track after Florida.
Climate change context
Context: Hurricane Ian rapidly intensified over extremely warm sea surface temperatures straight through landfall.
Climate change favors more instances of rapidly intensifying storms such as Ian, due to the combination of warming seas and a warmer atmosphere that can carry additional amounts of water vapor.
The bottom line: Florida is experiencing a historic storm that could cause billions in damage.
Go deeper...
Go deeper