Impeachment trial recap, day 2: House managers air unseen riot footage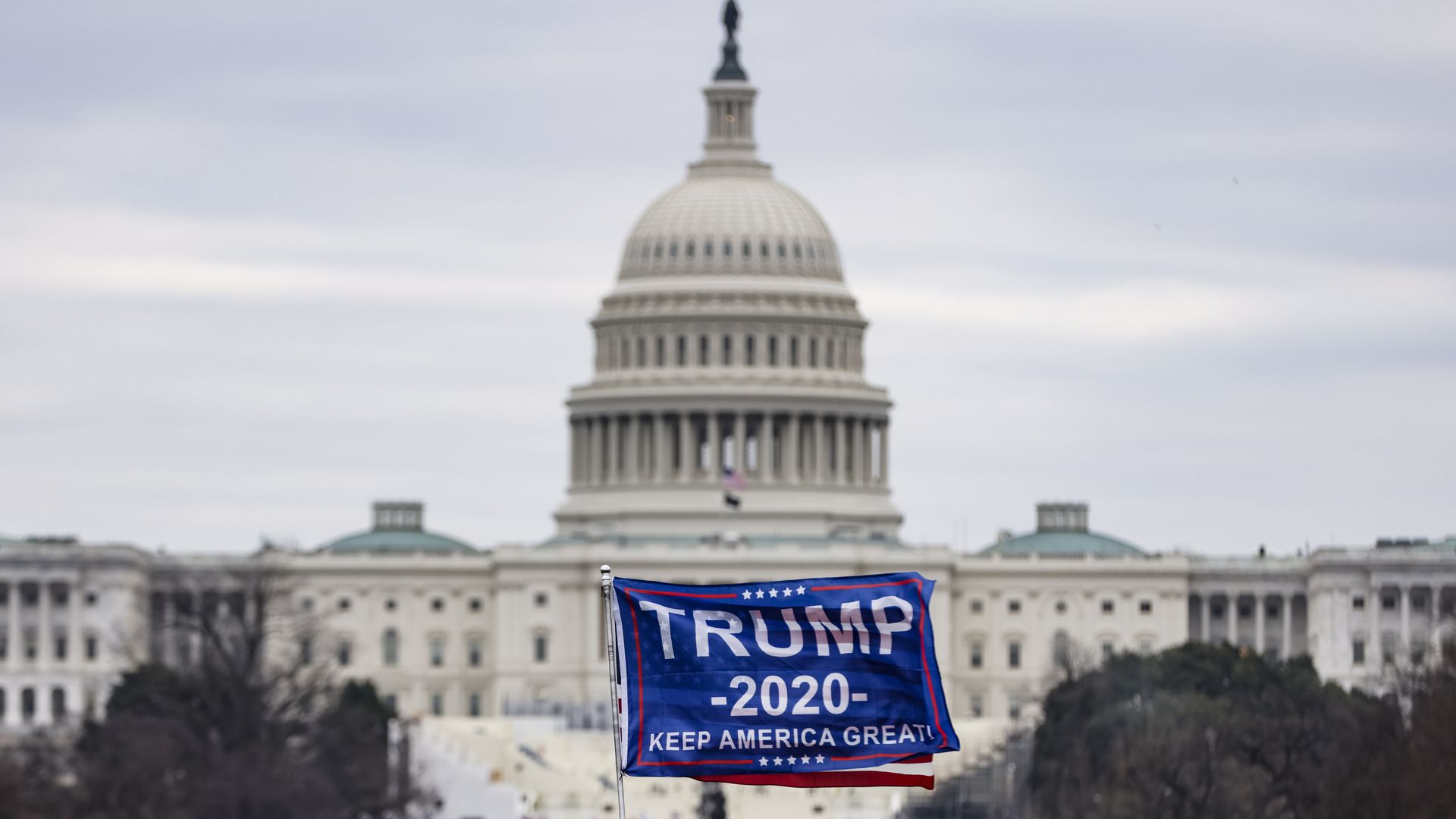 House impeachment managers began presenting their prosecution of former President Trump on Wednesday, laying out their evidence — including previously unseen Capitol security footage from the Jan. 6 insurrection — before a divided Senate.
The big picture: One by one, managers detailed how Trump laid the groundwork for his supporters to believe "the big lie" — that the election would be stolen — for months leading up to the attack. Rep. Joe Neguse (D-Colo.) called Trump's false claims "the drumbeat being used to inspire, instigate, and ignite them," stressing that the incitement didn't just begin with the president's speech on Jan. 6.
Highlights:
Lead impeachment manager Rep. Jamie Raskin (D-Md.) opened by stating the evidence his team will present demonstrates that Trump was "no innocent bystander"— and that he "assembled, inflamed and incited his followers" on his way to the "greatest betrayal of the presidential oath in the history of the United States."
Raskin warned that because the video clips in the presentation would depict "shocking violence, bloodshed and pain in the nation's Capitol ... we do urge parents and teachers to exercise close review of what young people are watching here."
Neguse presented a figurative "roadmap" for senators to follow, laying out the managers' intention to prove Trump is guilty of inciting insurrection in three distinct parts: "the provocation," "the attack" and "the harm."
Rep. Joaquin Castro (D-Texas) zoomed in on Trump's attempts to discredit the election before it even occurred, saying: "He told his supporters that he actually won the election and that the whole election is a fraud. He said that on Nov. 4 and he has never recanted that statement since."
The managers displayed statements from riot participants who have said — in court filings, interviews and on social media — things like, "our president wants us here."
Rep. Madeleine Dean (D-Pa.) played a video from December in which Georgia election official Gabriel Sterling pleaded with Trump at a press conference to stop his election lies, saying: "Someone's going to get hurt, someone's going to get shot, someone's going to get killed." She also played the audio of Trump's call pressuring Georgia Secretary of State Brad Raffensberger to "find" votes, which is now under criminal investigation.
Managers showcased how plans to overthrow the Capitol festered online ahead of the attack, with pro-Trump rioters studying months in advance on how to navigate the building and preparing ways to communicate during the chaos.
New footage also showed USCP officer Eugene Goodman, who on Jan. 6 successfully steered a mob away from lawmakers, warning Sen. Mitt Romney (R-Utah) to flee the area once rioters had breached the floor below.
House managers aired security tapes and body cam footage, some brand new, of the invasion as security at the Capitol was overwhelmed. They showed chilling footage of rioters confronting U.S. Capitol Police, bashing through windows, storming the halls, and chanting the names of enemy lawmakers.
Castro said, "There's no indication that President Trump ever made a call to have the Guard deployed," as the riot spun out of control and law enforcement clashed with the mob. He noted reports that defense and administration officials said it was Vice President Mike Pence, not Trump, who approved the order to deploy the D.C. National Guard on Jan. 6.
What to watch: Democrats will get 16 hours over two days to make their case. The proceedings are on track to make this the fastest presidential impeachment trial in history.
The managers have yet to decide whether they will call for witness testimony, and don't expect to use all of their allotted time.
The bottom line: Tuesday's 56-44 vote on the constitutionality of impeaching a former president — in which only six Republicans joined all Democrats — made clear that Trump will almost certainly be acquitted.
The managers recognize that, but still see value in laying out their arguments before the American people.
Go deeper:
Go deeper