George Floyd protests: What you need to know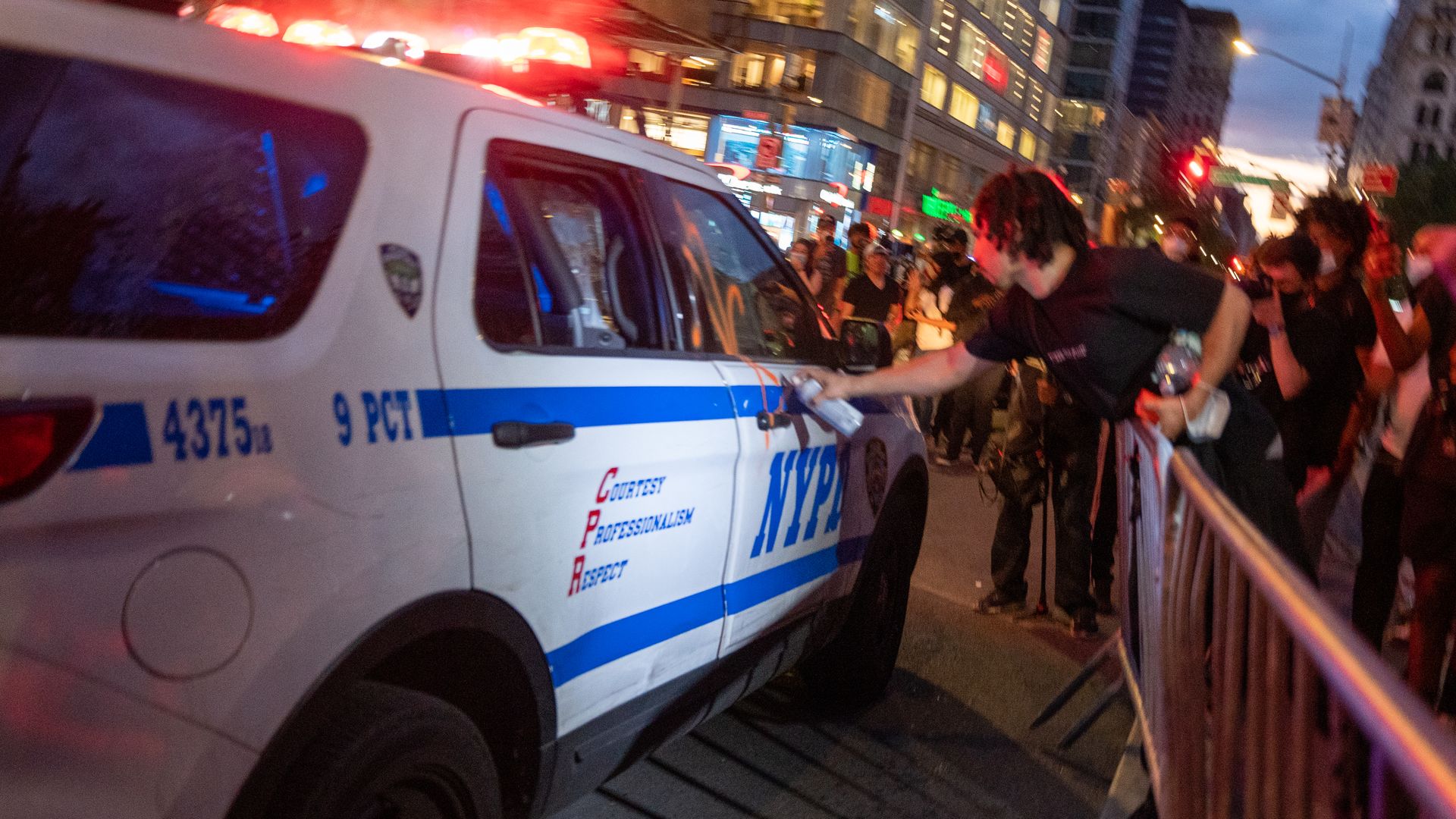 Clashes erupted between law enforcement and protesters in several major U.S. cities Saturday night as demonstrations over the death of George Floyd and other police-related killings of black men spread across the country.
The big picture: Floyd's death in Minneapolis police custody is the latest reminder of the disparities between black and white communities in the U.S. and comes as African Americans grapple with higher death rates from the coronavirus and higher unemployment from trying to stem its spread.
The latest in Minneapolis: Police again fired tear gas during a fifth straight day of protests in the city, video from the scene shows.
Minnesota Gov. Tim Walz announced he was fully mobilizing the state's National Guard for the first time since World War II as they prepared for more protests.
The Minnesota National Guard tweeted that more than 4,100 troops have been deployed, with plans to possibly deploy 10,800.
Police had difficulty enforcing the 8 p.m. curfew, per The Washington Post.
The Pentagon also took a rare step of putting several active-duty military police units on alert, ready to deploy to Minneapolis within four hours of orders, AP notes.
Firefighters struggled to put out fires in the city because streets were filled with protesters.
Former Minneapolis police officer Derek Chauvin is in jail under $500,000 bail on charges of third-degree murder and manslaughter after a video emerged of him kneeling on Floyd's neck for more than eight minutes.
The latest in New York City: Thousands of people simultaneously marched through the city's five boroughs, per The New York Times. Clashes erupted in several areas.
Police arrested over 100 protesters on Saturday, NBC News reports.
Rep. Alexandria Ocasio-Cortez blasted NYC Mayor Bill De Blasio early Sunday for defending the NYPD after video emerged of some officers driving cars into a group of demonstrators. He said the protesters should have "gotten out of the way."
New York Police Department chief Terence Monahan tweeted, "We'll always welcome protestors who want to peacefully express their views. When violent individuals throw bottles, rocks, and cause serious injuries to our officers – we will make arrests.... there is absolutely no tolerance for violence."
The latest across the U.S.: Major U.S. cities have implemented curfews and called on National Guard to mobilize in response to the violent scenes.
Attorney General Bill Barr denounced what he described as "planned" violence from "far-left extremist groups" on Saturday, without citing any evidence.
Local and national leaders are asking the thousands who are protesting to stop the violence, as police in some areas respond to crowds with tear gas and rubber bullets.
Protests also took place in, per CNN:
Bakersfield, Sacramento, San Jose, Oakland and San Francisco, California
Denver, Colorado
Chicago
Des Moines, Iowa
Indianapolis and Fort Wayne, Indiana
Louisville, Kentucky. The protests are also related to the death of Breonna Taylor, a black woman who died in March when the police raided her apartment.
New Orleans, Louisiana
Boston, Massachusetts
Las Vegas, Nevada
Raleigh and Charlotte, North Carolina,
Columbus and Cincinnati, Ohio
Dallas and Houston, Texas
Richmond, Virginia
Go deeper:
Editor's note: This article has been updated with new details throughout.
Go deeper