Highlights from 1st Democratic presidential primary debate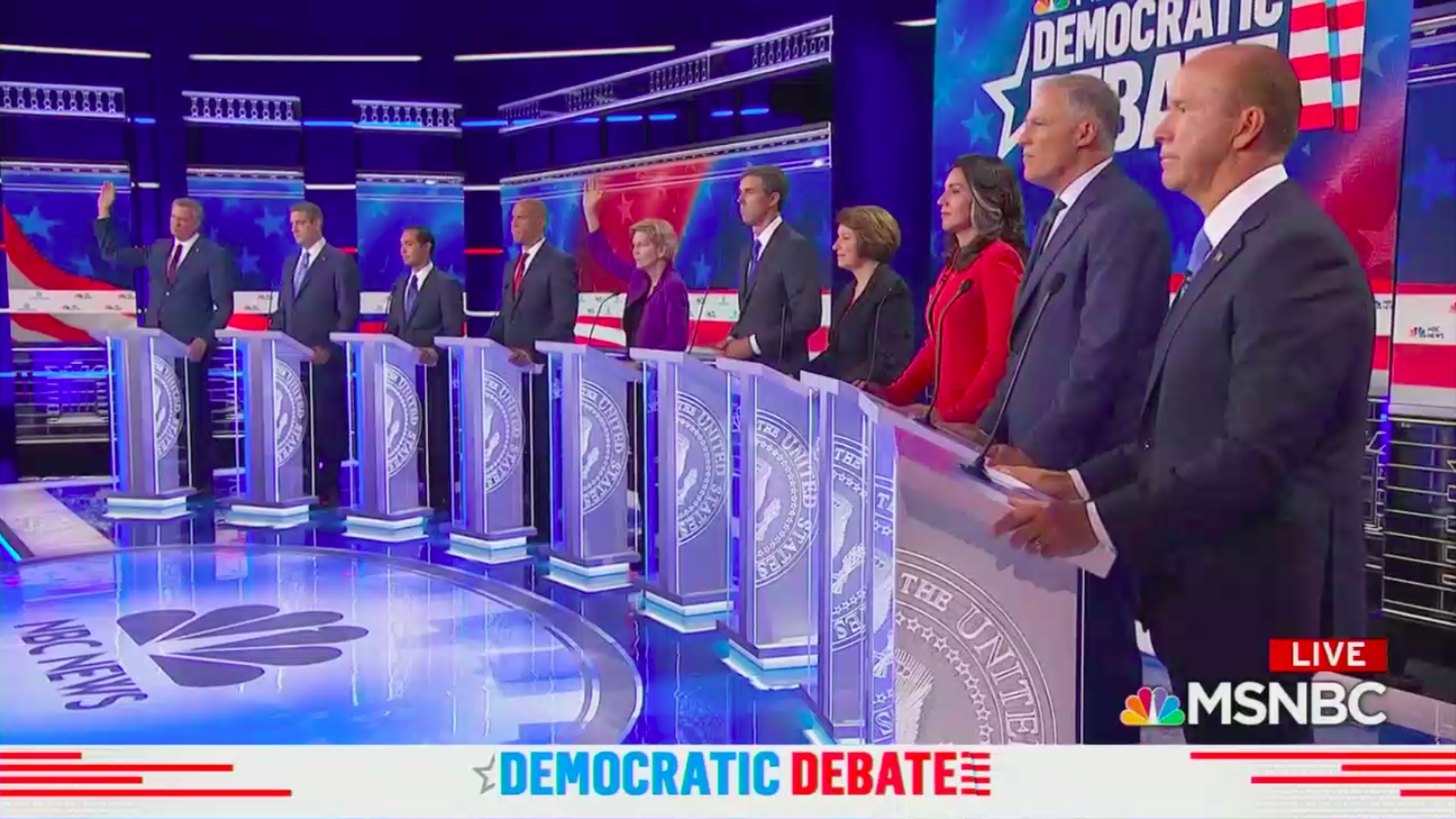 The first Democratic debate of the 2020 cycle has ended, capping two hours dominated by criticisms of big corporations, a spirited exchange on health care and sections on immigration, gun control and climate change — along with a new level of prominence for transgender issues on a presidential debate stage.
The biggest winner was punchy Julián Castro of Texas, the HUD secretary under President Obama, who dominated the immigration exchange and had the best quote about the border: He said the photo of the drowned father and daughter, Oscar and Valeria Ramirez, "is heartbreaking. It should also piss us all off."
Other takeaways, via Axios' Alexi McCammond at the debate, managing editor David Nather and Zach Basu:
The biggest loser was Beto O'Rourke, who got no new traction, was often interrupted, and was much more demure and less jovial than he is on the trail. 
Three candidates spoke Spanish.
Transgender rights were brought to the national stage.
Sen. Cory Booker of New Jersey owned the gun debate. Ron Brownstein said on CNN that Booker could get a second look after his strong night.
New York Mayor Bill de Blasio was an attack dog, positioning himself to the left of most of the pack.
No one laid a glove on the field's top three: Sen. Elizabeth Warren, who kept up her populist jabs; Joe Biden (never mentioned); or Bernie Sanders.
More highlights
The greatest threat to the U.S.:
John Delaney: "The biggest challenge is China. The biggest geopolitical threat remains nuclear weapons."
Jay Inslee: "The biggest threat to the security of the United States is Donald Trump. No question about it."
Tulsi Gabbard: "The greatest threat we face is the fact that we are at greater risk of nuclear war today than ever before in history."
Amy Klobuchar: "Economic threat: China. But our major threat right now is what's going on in the Mideast with Iran."
Beto O'Rourke: "Our existential threat is climate change."
Elizabeth Warren: "Climate change."
Cory Booker: "Nuclear proliferation and climate change."
Julian Castro: "China and climate change."
Tim Ryan: "China without a question. They are wiping us around the world economically."
Bill de Blasio: "Russia because they are trying to undermine our democracy and they are doing a damn good job of it and we need to stop them."
The bottom line: All attention will now turn to this evening, when four of of the five highest-polling candidates take the stage. Elizabeth Warren was the only candidate on stage in the top five.
Go deeper: Read our bios of the candidates on stage from the first night...
Go deeper