Axios Vitals
April 24, 2020
Good morning.
🚨 "Axios on HBO" is expanding its 2020 season and moving to a new night and time! We return with can't-miss episodes airing biweekly, starting Monday, April 27 at 11pm ET/PT on all HBO platforms.
Today's word count is 1,179, or a 4-minute read.
1 big thing: The South is vulnerable to a coronavirus nightmare
The South is at risk of being devastated by the coronavirus.
Why it matters: Southern states tend to have at-risk populations and weak health care systems — and they're the ones moving fastest to loosen social distancing rules. That puts them at risk for the worst-case coronavirus scenarios.
The big picture: To stop the spread of the coronavirus, there are really only two options: stringent social distancing, or stringent public health measures.
Driving the news: Several southern states including Georgia, Tennessee and South Carolina have recently announced that they're starting to back off of social distancing.
Our national testing capacity is still nowhere near where experts say it needs to be, and only some communities have announced efforts to build up contact tracing.
Between the lines: The Surgo Foundation created a coronavirus community vulnerability index that takes into account factors like socioeconomic status, minority status, housing type, epidemiologic factors and health care system factors.
The bottom line: The South is already worse off in almost every way, partially due to policy choices made in these states. Its comparatively unhealthy population is vulnerable to more serious illness, and looser social distancing will enable the virus' spread.
Go deeper: Everything's deadlier in the South
2. Murky data fragments about a coronavirus drug
Depending on the study, remdesivir is either a clinical failure or a godsend for treating the novel coronavirus, Axios' Bob Herman reports.
The big picture: The grim reality of the coronavirus pandemic has the world itching to know which experimental treatments actually work, but we're not necessarily getting any smarter from these incremental drips of incomplete information.
Driving the news: Remdesivir — an antiviral drug that some experts have seen as a promising coronavirus treatment — "was not associated with clinical or virological benefits" for coronavirus patients, according to a summary of a clinical trial in China, viewed by STAT and the Financial Times.
Between the lines: The truth is we still don't really know how effective the drug is in fighting this virus.
The Chinese trial has a randomized control group, so it is by far the most reliable study. However, the trial has not gone through peer review, and Gilead said the results were "inconclusive" because the trial had to be terminated early.
The bottom line: Science is slow for a reason, and the deluge of poorly designed trials and early drafts of studies is sowing confusion instead of creating clarity.
What's next: A more rigorous report from Gilead's Chinese trial is expected at the end of this month, and data from other trials is expected in late May.
Go deeper: The high stakes of low scientific standards
3. The latest in the U.S.
The House on Thursday voted 388-5 in favor of a $484 billion interim coronavirus relief bill that will add another $310 billion for the small business Paycheck Protection Program (PPP), as well as provide billions in aid to hospitals and COVID-19 testing.
President Trump said at a press briefing that he disagrees with Anthony Fauci's assessment that the U.S. is "just not there yet" in terms of reaching the testing capacity needed to reopen large parts of the economy.
A likely coronavirus scenario: More inequality among schoolkids, made worse the longer they're not in classrooms.
Tyson Foods said Thursday it's closing a beef plant in Washington state indefinitely as workers undergo coronavirus testing, warning in a statement that "the closure will mean reduced food supplies."
House Energy and Commerce Committee Chair Frank Pallone (D-N.J.) sent a letter Thursday requesting that the Department of Health and Human Services' inspector general investigate the removal of a doctor leading the federal agency tasked with developing a coronavirus vaccine.
Sen. Elizabeth Warren (D-Mass.) announced that brother, Don Reed, died Tuesday at age 86 from the coronavirus.
Americans are looking more favorably on the tech industry and are especially cheered by efforts to help track coronavirus cases, according to recent polling.
4. The latest worldwide
Brazil and Ecuador have become coronavirus epicenters in Latin America, as prolonged lapses in tracking and testing have led to severely undercounted death tolls, the Washington Post and the N.Y. Times report.
The director of Israel's foreign intelligence agency, Mossad, said in a briefing to health care officials on Thursday that Iran and its regional allies are intentionally underreporting cases and deaths from the coronavirus, officials who attended the event tell Axios contributor Barak Ravid, of Israel's Channel 13 news.
The Chinese Foreign Ministry on Thursday announced that the country will give the World Health Organization an additional $30 million, after donating $20 million in cash to WHO on March 11 to help fight the global coronavirus outbreak.
Nearly 265 million people worldwide could be pushed to starvation by the end of the year as the coronavirus pandemic strains supply chains, agricultural production and national economies, the New York Times reports.
5. New evidence of higher coronavirus caseloads
A new study found that 13.9% of 3,000 New Yorkers tested had signs of the coronavirus, suggesting that about 10 times the number of people who have officially tested positive have had the virus, Bloomberg reports.
Why it matters: Studies like these will help us understand the virus and its true spread. So far, what we've been able to learn about it has been limited by inadequate testing, because that's resulted in only the sickest patients being tested.
It's unknown how many people have had the virus and been unable to get the test, never sought out a test, or were completely asymptomatic.
Details: In New York City, where the outbreak was more intense, 21.2% tested positive for an antibody showing that they'd had the virus.
The big picture: This is just one test, and we'll need more like it to get a clearer picture of the virus. But eventually, they'll tell us how contagious the virus is, how fatal it is, and how many people have already been infected and thus may have immunity.
Go deeper: How coronavirus antibody tests will help
6. Social media use spikes during pandemic
While usage of most mobile apps has remained neutral during the coronavirus pandemic, social media app usage has exploded during the lockdown, according to new data from Nielsen.
Why it matters: Prior to the pandemic, consumers and tech companies were both becoming more aware of the overuse of social media and actively trying to limit it, Axios' Sara Fischer writes.
In a time when people can't connect with friends and family in person, companies have put these efforts on pause.
By the numbers: Prior to the pandemic, social media usage for most of January, February and early March remained relatively flat at around 20% of total mobile app usage, according to Neilsen's data.
But beginning in mid-March, when statewide stay-at-home orders went into effect, social media app usage began to increase significantly, and now consumes around 25% of all mobile app usage for U.S. adults.
Other media app usage, like video, lifestyle, and finance apps have mostly remained the same, in part because consumers are now leveraging other devices, like desktops and television screens, for more activities while home.
The bottom line: The coronavirus pandemic is deepening users' immersion in social media at a moment when society had just begun to question it.
Go deeper: Tech companies target your sanity
7. 1 foster dog thing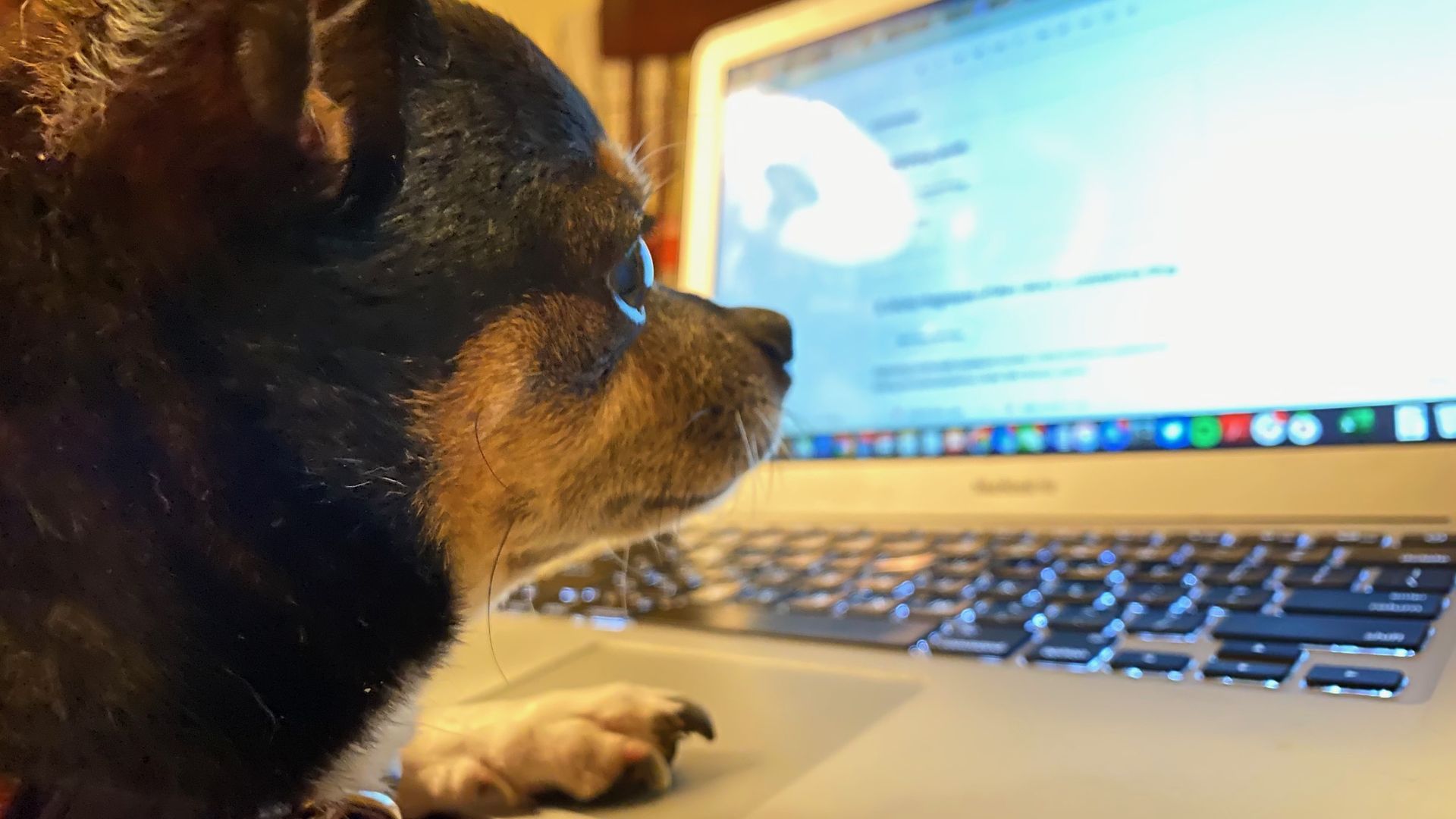 Meet my assistant for today's newsletter, Poppi. He's 10 years old and looking for a fur-ever home, but moonlighting as an intrepid coronavirus correspondent. Bonus points for whoever comes up with the most creative caption about what he's writing.