Axios Sneak Peek
July 07, 2023
Welcome back to Sneak. Smart Brevity™ count: 1,092 words ... 4 minutes.
💰 Situational awareness: Florida Gov. Ron DeSantis raised $20 million in the first six weeks of his presidential campaign.
1 big thing: Twitter's political monopoly under threat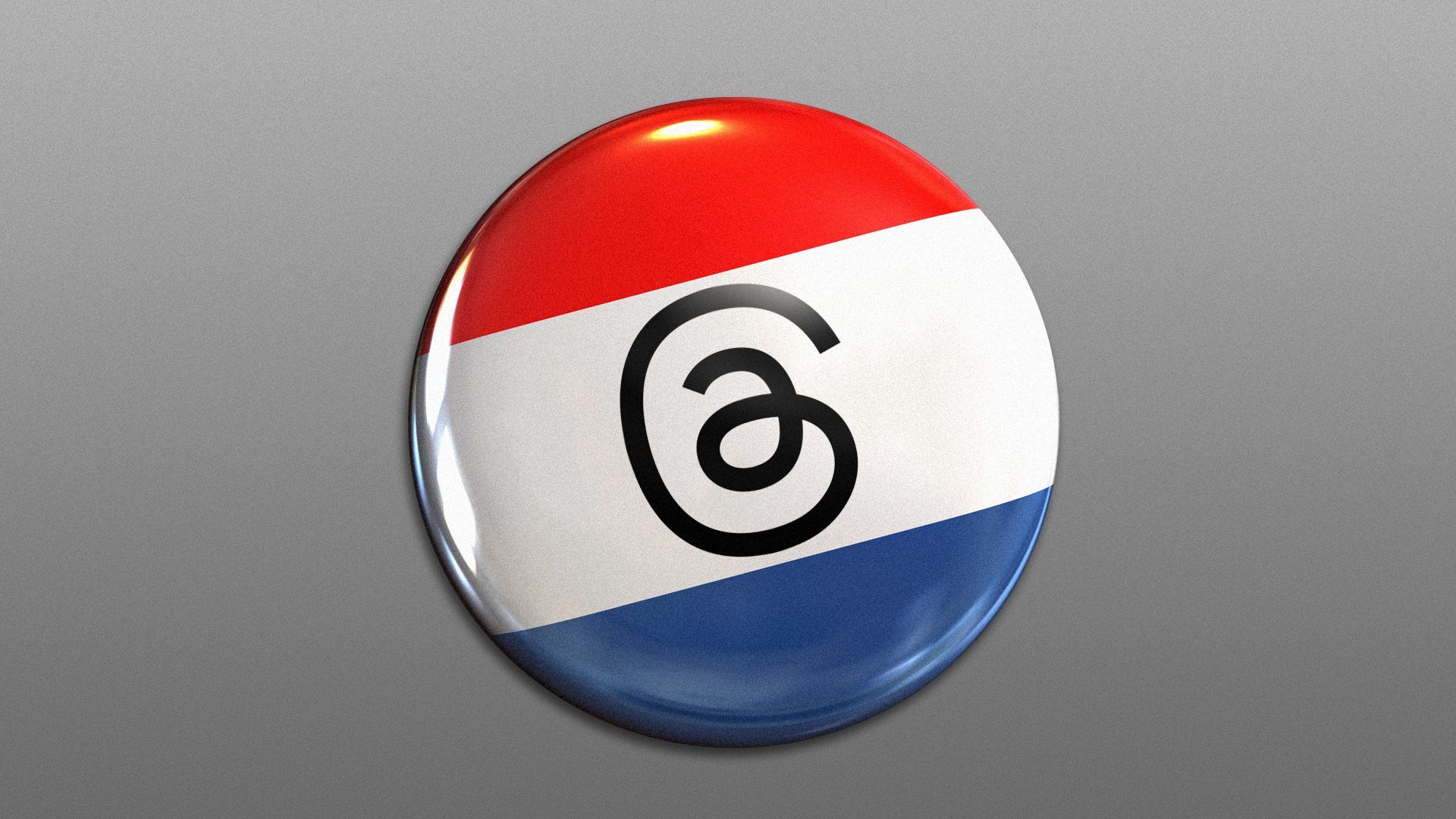 Meta's new microblogging app Threads is emerging as a potential threat to Twitter's lock on politicians and political observers seeking real-time news and debate, Axios' Andrew Solender reports.
The latest: Within 16 hours, the Instagram-linked app had been downloaded more than 30 million times — making it the most rapidly downloaded app of all time. Twitter has already threatened legal action against Meta for creating a "copycat."
Why it matters: Most Twitter competitors have struggled to match the size and bipartisanship of its user base, but Threads is garnering significant participation from both parties.
Sites like GETTR and Truth Social have almost exclusively been the dominion of the right. The same goes for liberals with Mastodon and Post News.
But with Twitter struggling under the ownership of Elon Musk, lawmakers are eager to find a credible alternative.
By the numbers: As of this evening, more than a quarter of Congress' 535 House members and senators had made accounts.
More than 100 are Democrats, but there are also around three dozen House Republicans and 10 Senate Republicans, including House Speaker Kevin McCarthy (R-Calif.), House Majority Leader Steve Scalise (R-La.) and arch-conservatives like Sen. Ted Cruz (R-Texas).
Half a dozen GOP presidential candidates have joined — including Sen. Tim Scott (R-S.C.), former U.N. ambassador Nikki Haley and former VP Mike Pence — as have several GOP governors.
The White House is staying coy about whether it will jump on the bandwagon, but several top aides — such as domestic policy director Neera Tanden and deputy press secretary Andrew Bates — have created accounts.
Between the lines: Democrats have long been critical of Meta, but generally view Threads as a superior alternative to Twitter — which one senior House Democrat described as an "unrecognizable cesspool of trolls, fake accounts, misinformation, racism, antisemitism and antagonism."
"I'm one of millions hoping that Threads can become a vibrant, diverse and respectful virtual public square," they said.
"Elon Musk is running Twitter into the ground," one Democratic aide said. "Everyone is trying to make plans for how to reach audiences elsewhere."
Zoom in: Another Democratic aide said recent changes to Twitter, specifically limits on how many tweets a user can read each day, have made it "untenable" for political communications.
What we're watching: The House's chief administrative officer is expected to send out cybersecurity guidance about using the new app.
In December, the CAO instructed staffers not to download another Twitter rival, Mastodon, onto official devices because it was "unclear what, if any, security implications the app may present."
Twitter's press office, in response to an emailed request for comment, sent back its standard automated reply: a poop emoji.
2. 🔥 MTG drama looms over House recess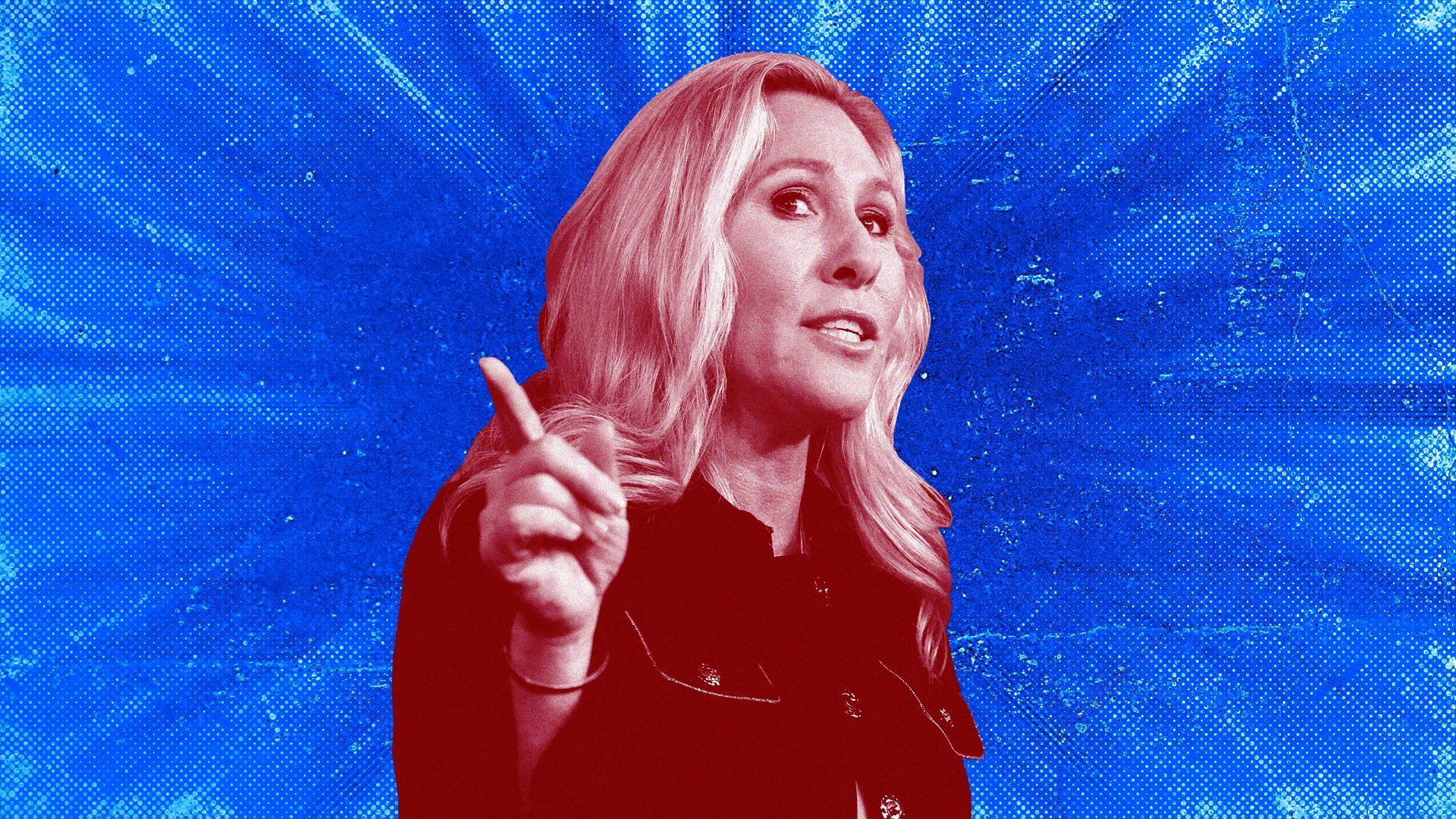 Uncertainty over whether Rep. Marjorie Taylor Greene (R-Ga.) has been removed from the far-right House Freedom Caucus is overshadowing the return of Congress from recess, Axios' Juliegrace Brufke reports.
Between the lines: Multiple Freedom Caucus members told Axios conflicting stories about Greene's membership in the group, dating back to a vote on her membership that was taken before recess.
As of this afternoon, Greene had not received formal notification of her removal from Freedom Caucus Chair Scott Perry, according to a source familiar with the situation.
Context: Critics of the firebrand Republican took issue with an obscenity-laced altercation she had on the floor with Rep. Lauren Boebert (R-Colo.) over competing resolutions to impeach President Biden.
Proponents of removing Greene argued her behavior was "unprofessional" and took issue with her shift toward supporting McCarthy on an array of issues, often breaking with her HFC colleagues.
Freedom Caucus decisions generally require the support of 80% of its members, with a sizable number of her colleagues supporting her ouster.
The intrigue: Greene came into Congress branded as one of the most far-right and controversial members of the House, but her vocal support of leadership over the last year has puzzled some HFC members.
"There's certainly no love lost," one source said of the situation.
Greene would be the first Freedom Caucus member booted from the group in its history.
3. 📜 Pence's McCain moment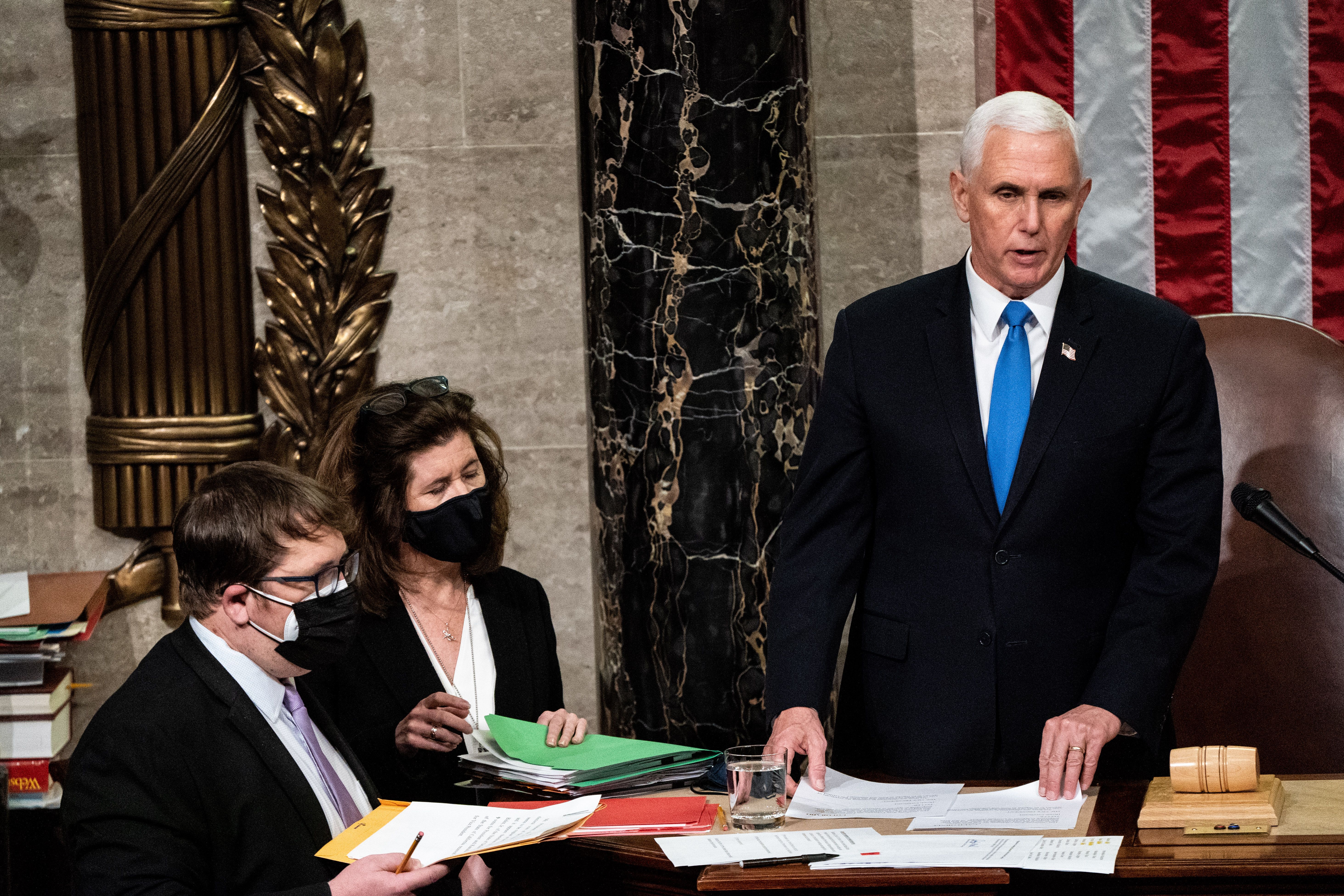 Former Vice President Mike Pence was confronted at an event in Iowa last night by an angry voter who claimed his actions on Jan. 6, 2021 — when Pence presided over the joint session of Congress certifying Biden's victory — are the reason Trump is no longer in office.
What they're saying: "The Constitution affords no authority — to the vice president or anyone else — to reject votes or return votes to the states," Pence, a long shot to win a GOP primary dominated by his former boss, patiently explained.
"Never been done before, should never be done in the future. I'm sorry, ma'am, but that's actually what the Constitution says."
"And I want to tell you, with all due respect ... President Trump was wrong about my authority that day, and he's still wrong," Pence concluded.
Flashback: Pence's response drew comparisons to a powerful moment on the campaign trail in 2008, when then-Sen. John McCain (R-Ariz.) shut down a voter who said she couldn't trust Barack Obama because he was "an Arab."
"No, ma'am," McCain said as he grabbed the microphone, cutting the woman off.
"He's a decent family man, citizen that just I just happen to have disagreements with on fundamental issues, and that's what the campaign's all about."
4. 🏙️ City Hall stunner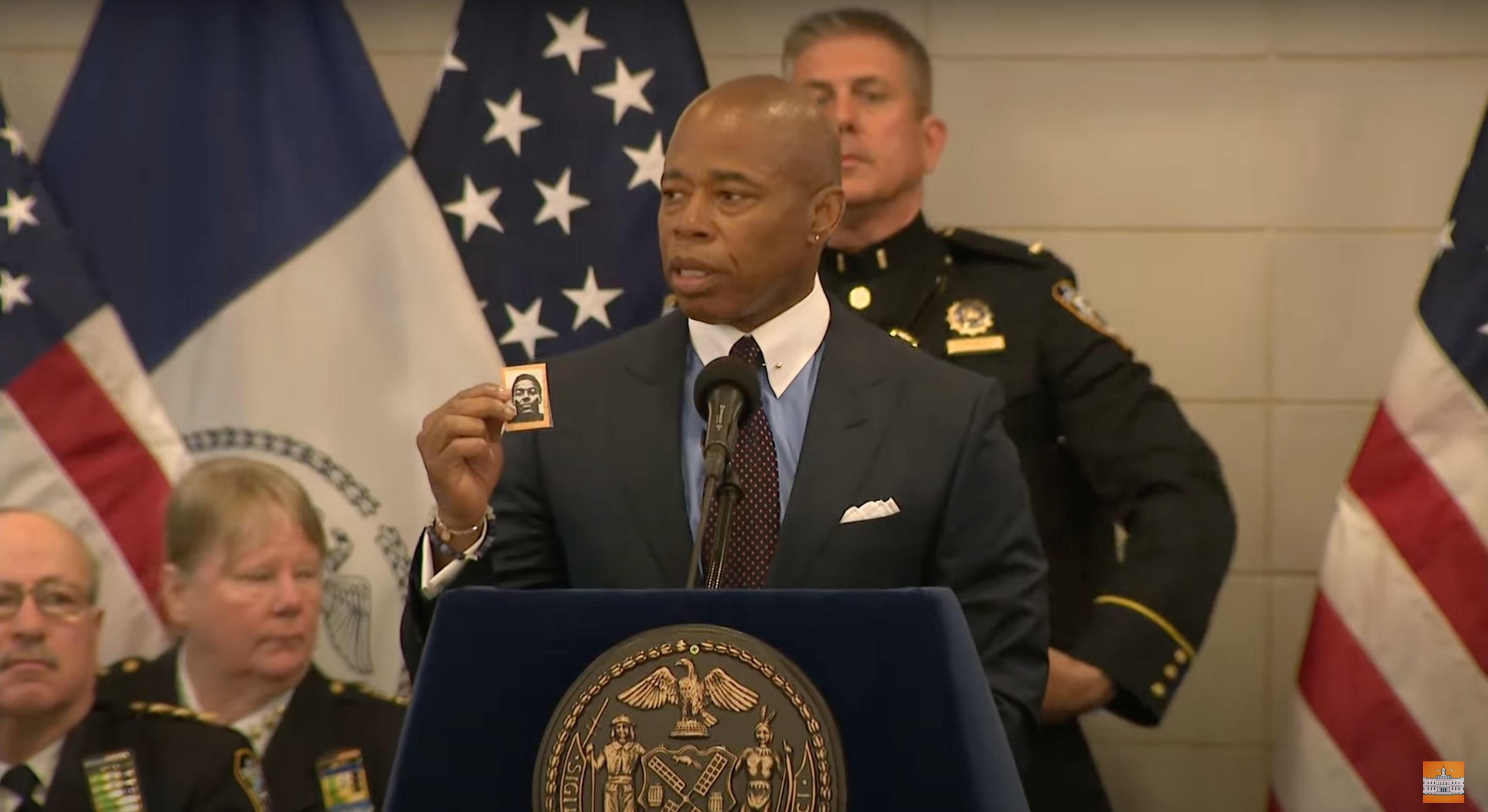 New York City Mayor Eric Adams, a former police captain, told reporters after the killing of two police officers last year that the tragedy reminded him of the line-of-duty death of Officer Robert Venable in 1987.
"I still think about Robert. I keep a picture of Robert in my wallet," Adams said — an anecdote he would go on to tell in numerous interviews and public appearances.
The catch: The New York Times revealed today that staff in the mayor's office were instructed to create a photo of Venable days after Adams first claimed to have carried one in his wallet for decades.
Adams then posed for an NYT portrait with the photo, which had been found on Google, printed in black and white, and made to look weathered — including with coffee stains.
📬 Thanks for reading this week. This newsletter was copy edited by Kathie Bozanich.