Threads poses rare threat to Twitter's political monopoly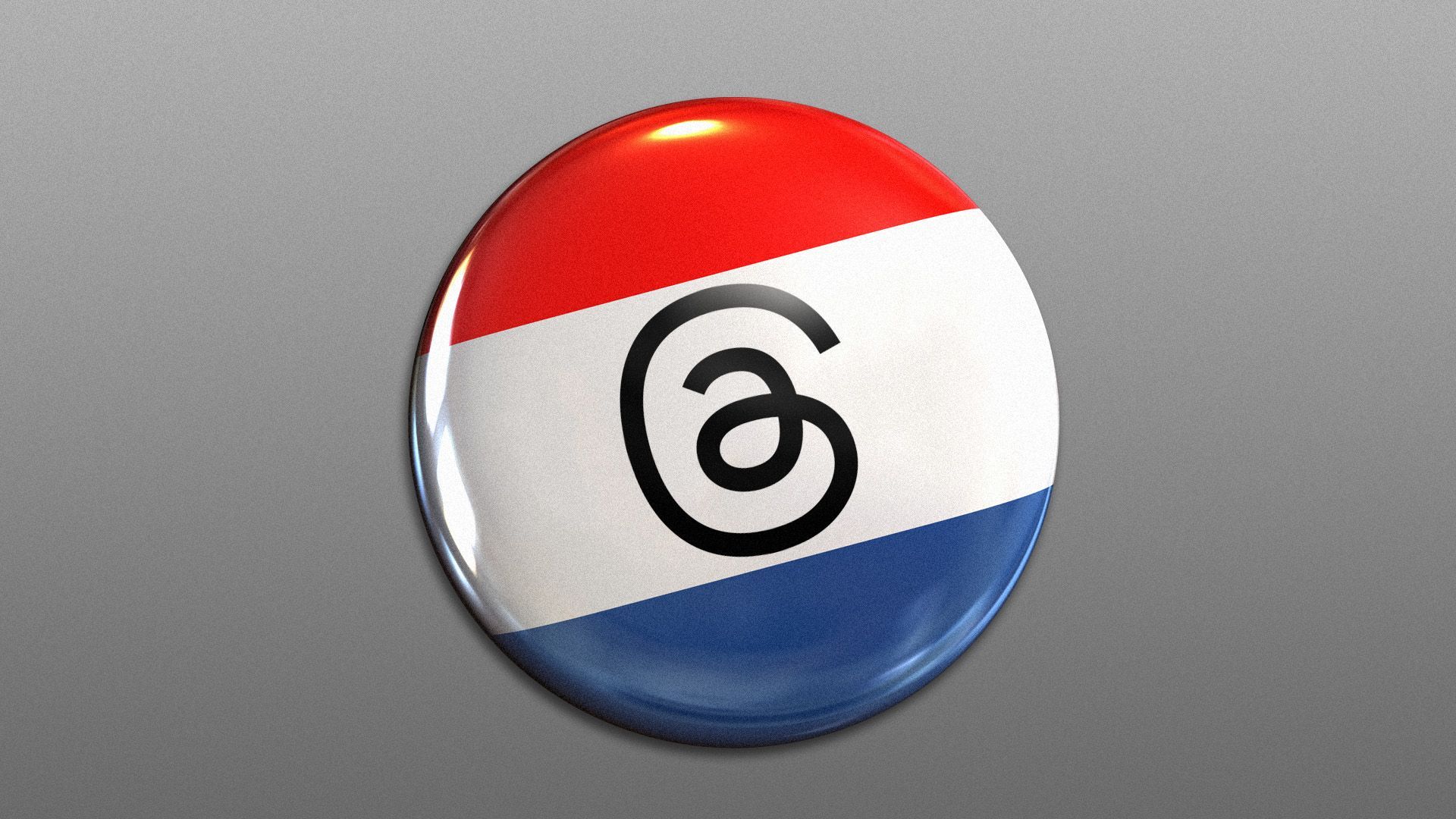 Meta's new microblogging app Threads is emerging as a potential threat to Twitter's lock on politicians and political observers seeking real-time news and debate.
The latest: Within 16 hours, the Instagram-linked app had been downloaded more than 30 million times — making it the most rapidly downloaded app of all time. Twitter has already threatened legal action against Meta for creating a "copycat."
Why it matters: Most Twitter competitors have struggled to match the size and bipartisanship of its user base, but Threads is garnering significant participation from both parties.
Sites like GETTR and Truth Social have almost exclusively been the dominion of the right. The same goes for liberals with Mastodon and Post News.
But with Twitter struggling under the ownership of Elon Musk, lawmakers are eager to find a credible alternative. "For members of Congress ... it's really important for us to use social media to connect with the community," said Rep. Robert Garcia (D-Calif.).
"In such an impossibly fractured media landscape, whatever tools we can use to reach people we will try," said a House communications director.
By the numbers: As of Thursday evening, more than a quarter of Congress' 535 House members and senators had made accounts.
More than 100 are Democrats, but there are also around three dozen House Republicans and 10 Senate Republicans, including House Speaker Kevin McCarthy, House Majority Leader Steve Scalise and arch-conservatives like Sen. Ted Cruz.
Half a dozen GOP presidential candidates have joined — including Sen. Tim Scott, former U.N. ambassador Nikki Haley and former Vice President Mike Pence — as have several GOP governors.
The White House is staying coy about whether it will jump on the bandwagon, but several top aides — such as domestic policy director Neera Tanden and deputy press secretary Andrew Bates — have created accounts.
Between the lines: Since Musk took over Twitter, some Republicans have come to view competing platforms as inherently liberal-coded.
But Threads, which is already associated with relatively non-partisan Instagram, appears to carry less of a stigma.
"I'm just like, 'oh another network, better get my boss on it,'" one GOP congressional aide told Axios. "I think this will be the first real [T]witter competitor[.]"
Yes, but: Some on the right, including Rep. Marjorie Taylor Greene (R-Ga.) and Donald Trump Jr., are already accusing the platform of bias against conservatives.
Between the lines: Democrats have long been critical of Meta, but generally view Threads as a superior alternative to Twitter — which one senior House Democrat described as an "unrecognizable cesspool of trolls, fake accounts, misinformation, racism, antisemitism and antagonism."
"I'm one of millions hoping that Threads can become a vibrant, diverse, and respectful virtual public square," they said.
Rep. Garcia said he is "really bullish" on Threads "as a very online person," but, he added, "I'm one of those that hopes that Twitter survives."
"Elon Musk is running Twitter into the ground," one Democratic aide said. "Everyone is trying to make plans for how to reach audiences elsewhere."
Zoom in: Another Democratic aide said recent changes to Twitter, specifically limits on how many tweets a user can read each day, have made it "untenable" for political communications.
"Imagine it's a breaking news day and ... you can't keep up [because] you've hit your limit!"
What we're watching: The House's chief administrative officer is expected to send out cybersecurity guidance about using the new app.
In December, the CAO instructed staffers not to download another Twitter rival, Mastodon, onto official devices because it was "unclear what, if any, security implications the app may present."
A Democratic leadership aide told Axios they are having "informal [staff-level] discussion about Threads and the changes to Twitter" with offices, including advising them on social media best practices and testing out the "best and most authentic ways to inform their unique constituencies."
Twitter's press office, in response to an emailed request for comment, sent back its standard automated reply: a poop emoji.
Axios' Sophia Cai contributed reporting.
Go deeper