Meta launches Instagram Threads, its Twitter rival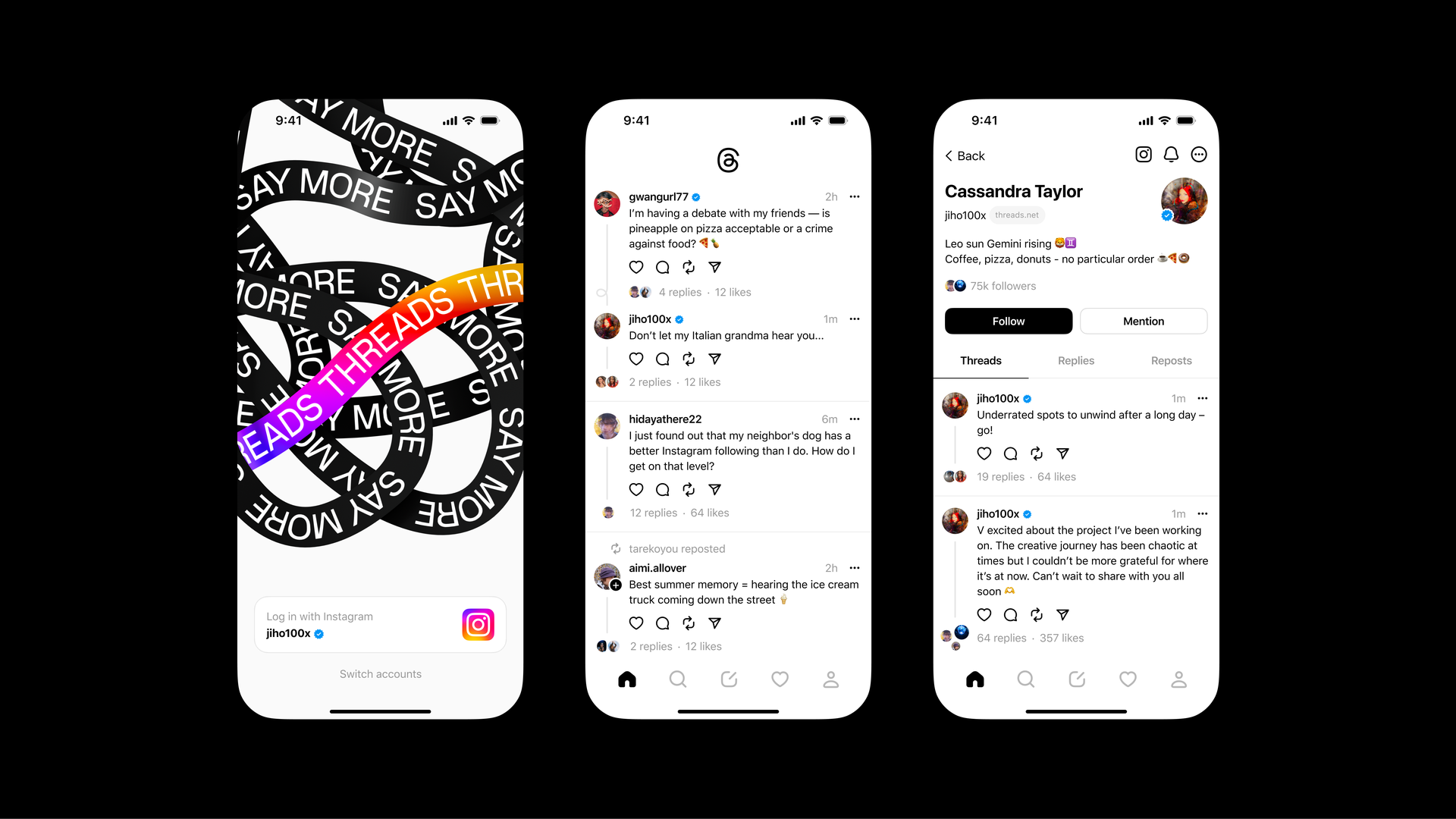 Meta's clone of Twitter launched Wednesday evening and was made available in the Apple iOS App Store at 7:00 pm E.T.
The big picture: Mark Zuckerberg's bargain is to offer you a cleaner version of Twitter — "sharing with text" — in exchange for handing over more data.
Twitter owner Elon Musk challenged Zuckerberg to a literal cage match in June, and the launch of Threads represents a sort of digital cage match.
Why it matters: Threads is not innovative, but it's smart.
Meta has achieved massive success buying up and borrowing ideas from elsewhere. Messenger, WhatsApp and Instagram are its most notable successes.
Now the playbook is being used to claim a potentially lucrative market from Musk, who's severely annoyed both users and advertisers since taking ownership of the platform in late 2022.
Driving the news: Just four hours after making the app available in the Apple App Store, Meta CEO Mark Zuckerberg announced on the app that more than 5 million people had signed up for Threads.
The details: The new app allows existing Instagram users to use their login credentials to log into Threads.
As with Instagram, Threads users can follow friends and creators with shared interests — including the accounts and content they already follow on Instagram.
Everyone who joins Threads who is under 16 in the U.S. will have their account set to private by default.
Thread users can share posts up to 500 characters long, in addition to links, photos, and videos up to 5 minutes in length.
Between the lines: Meta's move is both an admission of defeat — it's not a metaverse play, after all — and a product with a high chance of business success.
Threads takes the sales pitch of Twitter's new CEO Linda Yaccarino —  that she's a safe pair of hands for your advertising dollars — and offers the advertisers the ability to target Facebook, Instagram and Threads users under one roof.
By the numbers: Twitter has never been a good business by the standards of other leading platforms and social media sites.
Yes, but: While some will find it convenient to take up Meta's offer to enjoy the same Instagram and Threads account handles, others will prefer to keep work and play separate.
Meta isn't planning to launch Threads in Europe — limiting its ability to leverage global scale to squeeze Twitter.
Europe is the second most lucrative global market after the U.S., but data sharing between Threads and Instagram creates regulatory issues in the EU.
Both Meta and Twitter will continue to struggle with misinformation and election-related issues, including because of layoffs — though Meta has more experience and staff on hand through the 2024 elections.
The intrigue: Many self-appointed Big Tech skeptics and proponents of a decentralized web have already bolted to other start-up Twitter rivals: Mastodon and Blue Sky.
While that cutting-edge crowd is unlikely to find Threads appealing, Meta doesn't need them to turn a profit.
Quick take: Meta is aiming for something in between LinkedIn and Twitter as a place for you to share your views with the world.
Watch for zombie accounts: As users figure out which platform they prefer for news and conversation, they may neglect rather than shut down their older profiles.
The bottom line: Twitter was for a few years the global town square. But those days are over.
Whatever business success Threads achieves, it's unlikely to capture that old Twitter zeitgeist.
Editor's note: This story has been corrected to say that Musk challenged Zuckerberg to a cage match, not the other way around. The story has also been updated with additional details.
Go deeper