Twitter users report "rate limit" on platform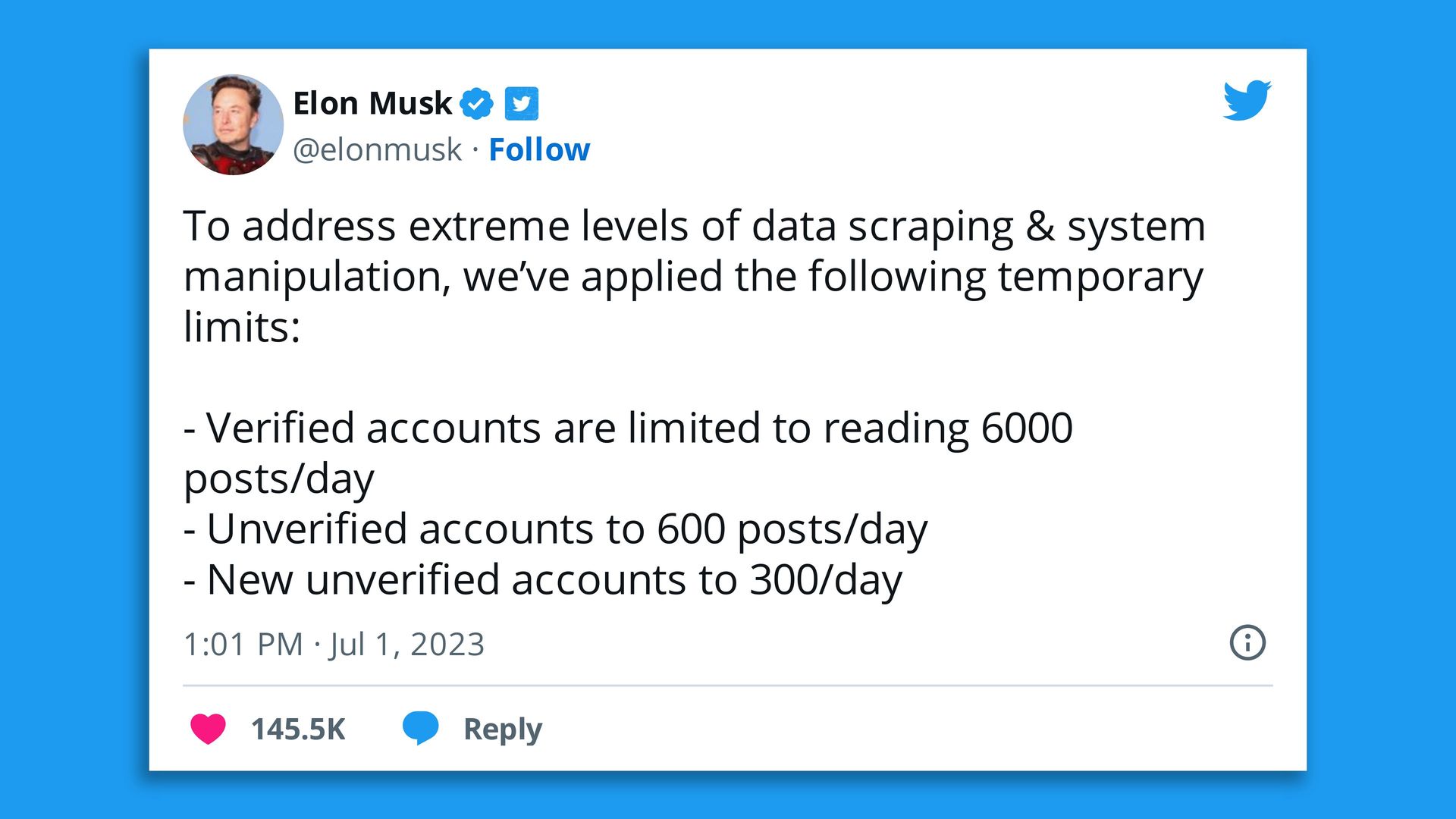 Elon Musk's continued experimentation with Twitter's basic functions introduced new chaos on Saturday when "temporary limits" prevented some users reading from tweets.
Catch up fast: Screenshots shared online show notifications telling users that they had exceeded a "rate limit" and to "wait a few moments" before trying to access more posts.
Hashtags including "Wtf Twitter" and "TwitterDown" trended on the platform among U.S. users, while thousands of people also reported issues on the crowdsourced site Downdetector.
What they're saying: Musk, who handed his Twitter CEO position over last month to former NBCUniversal ad chief Linda Yaccarino, explained that Twitter has applied "temporary limits" to "address extreme levels of data scraping and system manipulation."
"Verified accounts are limited to reading 6000 posts/day. Unverified accounts to 600 posts/day. New unverified accounts to 300/day," Musk said in an initial tweet.
A few hours later, he posted an update saying the limits would increase "soon" to 8,000 for verified users, 800 for unverified and 400 for "new unverified."
Zoom out: A day earlier, some users also noticed that they couldn't read posts and profiles unless they were logged into an account.
"Temporary emergency measure. We were getting data pillaged so much that it was degrading service for normal users!" Musk tweeted.
Be smart: Musk also has been attempting to boost subscriptions to Twitter Blue, the paid verification program that he reintroduced in December.
A few weeks ago, Musk said users would need to become Twitter Blue subscribers to direct message people who don't follow them.
Context: His aggressive push to boost subscriptions comes as advertisers remain skittish.
Twitter Blue has also likely struggled to convert users that have for years grown accustom to accessing most of Twitter's features for free.
Mashable, citing a third-party estimate, reported that roughly 640,000 to 680,000 people were subscribed to Twitter Blue as of the end of April.
For context, Axios reported Thursday that Snapchat surpassed 4 million paying customers for its subscription product Snapchat+ in its first year.
What to watch: Musk did not immediately indicate when the temporary limits would lift and Twitter users have been left wondering what counts as "reading."
In a now-deleted response to a tweet from YouTube mega-influencer MrBeast, Elon Musk said it would take about an hour to look at 6,000 posts.
Go deeper
Go deeper