Axios Sneak Peek
April 27, 2023
Welcome back to Sneak. Smart Brevity™ count: 1,094 words ... 4 minutes.
⚡ Situational awareness: Writer E. Jean Carroll testified in a Manhattan courtroom today that former President Trump raped her in the mid-1990s. Trump has denied wrongdoing and accused her of lying, but declined to attend the trial.
1 big thing: McCarthy pulls it off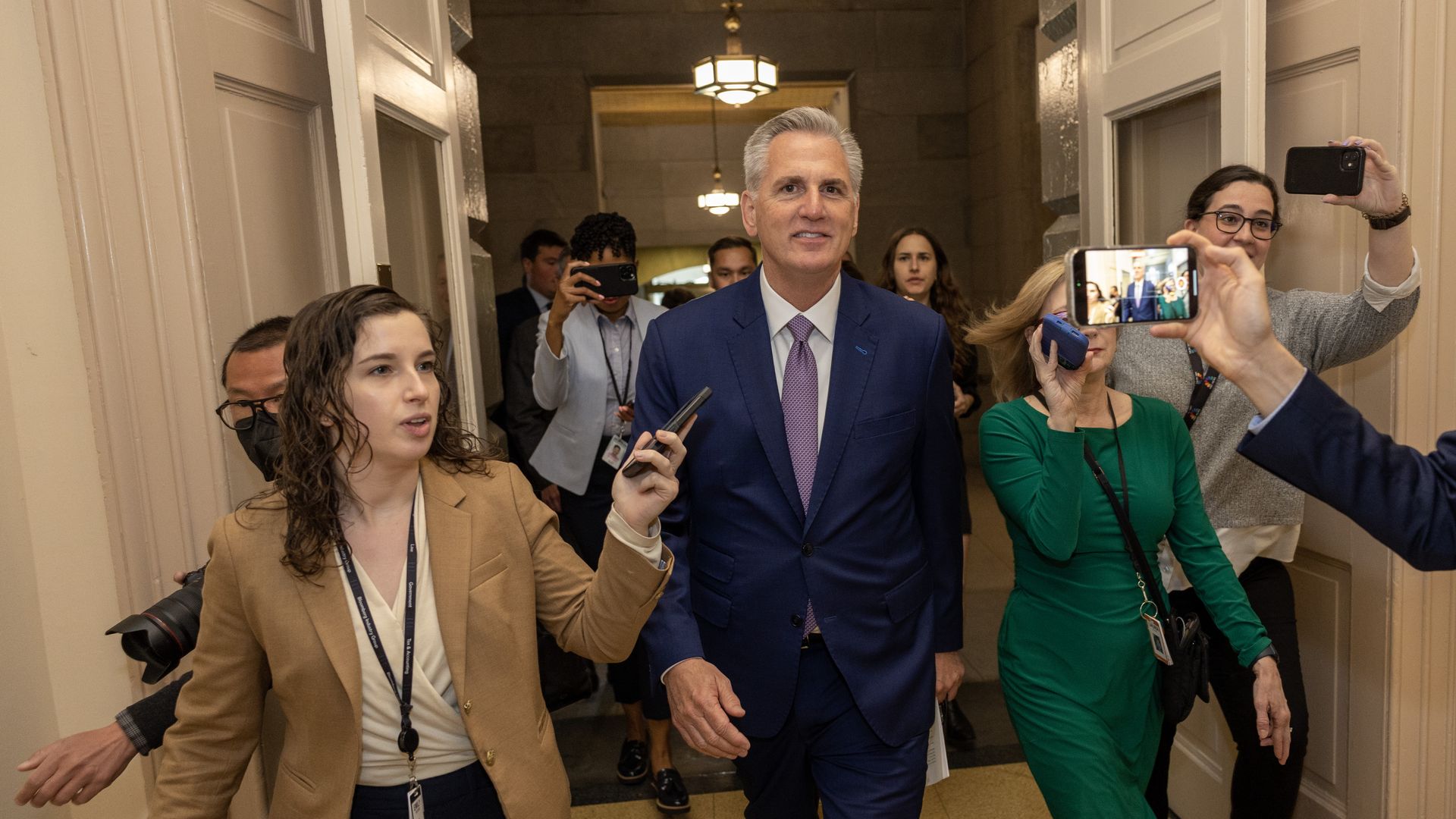 In the end, House Speaker Kevin McCarthy (R-Calif.) lost just four Republicans — one less than he could afford — as the chamber voted 217-215 to pass his bill pairing a debt-ceiling hike with sweeping spending cuts.
Why it matters: The vote, quite literally, could not have been closer — and even benefitted from a few Democratic absences. But McCarthy did exactly what he said would: Unite his fractious conference in an ambitious effort to force President Biden to the negotiating table.
"The Republicans have raised the debt limit. You have not," McCarthy said in a message to Biden and Senate Democrats after the nail-biter vote.
Biden has threatened to veto the Republican bill, and at a press conference today reiterated his position that he will only negotiate with McCarthy on spending cuts if they are de-linked from raising the debt ceiling.
How we got here: While McCarthy and House GOP Whip Tom Emmer (R-Minn.) had consistently expressed public optimism that the bill would pass, the reality is that over a dozen Republicans were threatening to vote "no" as recently as yesterday.
Just after 2am ET today, the House Rules Committee amended the bill to appease conservatives demanding stricter work requirements for government benefits — as well as Corn Belt Republicans concerned by the repeal of ethanol tax credits.
GOP leadership had insisted all week that there would be no revisions to the bill but ultimately made what McCarthy spun as "technical changes" in the middle of the night.
Leadership continued to scramble to lock down support up until the bill was set to come to the floor.
Rep. Nancy Mace (R-S.C.), a key moderate holdout, said she received a promise to hold floor votes on several of her priorities in exchange for her support.
In the end, the four Republicans who voted "no" were Reps. Tim Burchett (R-Tenn.), Ken Buck (R-Colo.), Andy Biggs (R-Ariz.) and Matt Gaetz (R-Fla.).
Between the lines: The saga had echoes of January's historic speaker election — fitting, considering that McCarthy would have faced serious doubts about his future if he had failed to pass the bill.
"Hand up, I did not think there were 218 votes for *any* R-only debt limit plan. Appears McCarthy has pulled that off, and it's very impressive," Brendan Buck, a former aide to House Speakers Paul Ryan and John Boehner, tweeted earlier today.
"The more meaningful phase — and lots of problems — still to come, but this is a strong statement of his standing in the conference."
2. 👀 Dem skeptics hold off on Biden endorsement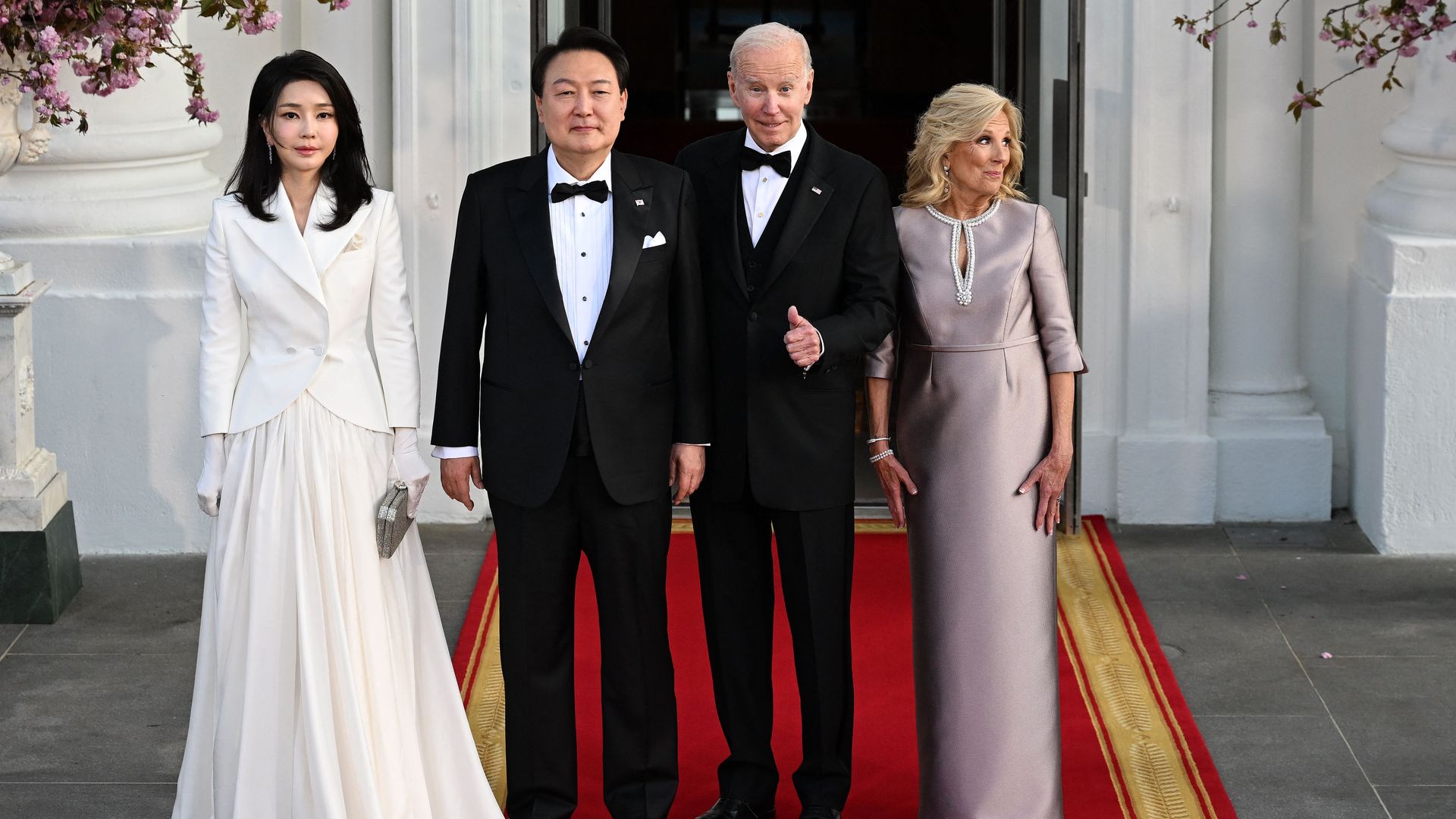 A handful of high-profile Democratic lawmakers have declined to endorse President Biden's re-election, even as party leaders, top progressives and other elected Democrats rally around his newly launched 2024 campaign, Axios' Andrew Solender reports.
Why it matters: Polling has consistently shown most Democratic voters do not want the 80-year-old president to run again — but would reluctantly support him if he's the party's nominee.
What they're saying: Out of dozens of House and Senate Democrats contacted or interviewed by Axios, just four who responded declined to endorse Biden.
Sen. Joe Manchin (W.Va.), who is up for re-election in a state Trump won by 40 points in 2020: "I have no comments on any of this. I wish everybody the best whatever they want to do."
Rep. Alexandria Ocasio-Cortez (N.Y.): "He's rolled out and I think he's presented a strong case and we'll see how the race goes on."
Rep. Cori Bush (Mo.): "Right now, my mind isn't on that. I saw that he announced his re-election. But the problems I have in my district, that has taken precedence over everything at this point."
Rep. Dean Phillips (Minn.), who called last year for a "new generation" of leadership: "I'm impressed by the Biden presidency. ... I just believe American democracy is made stronger by competition."
3. 📺 Tale of two ads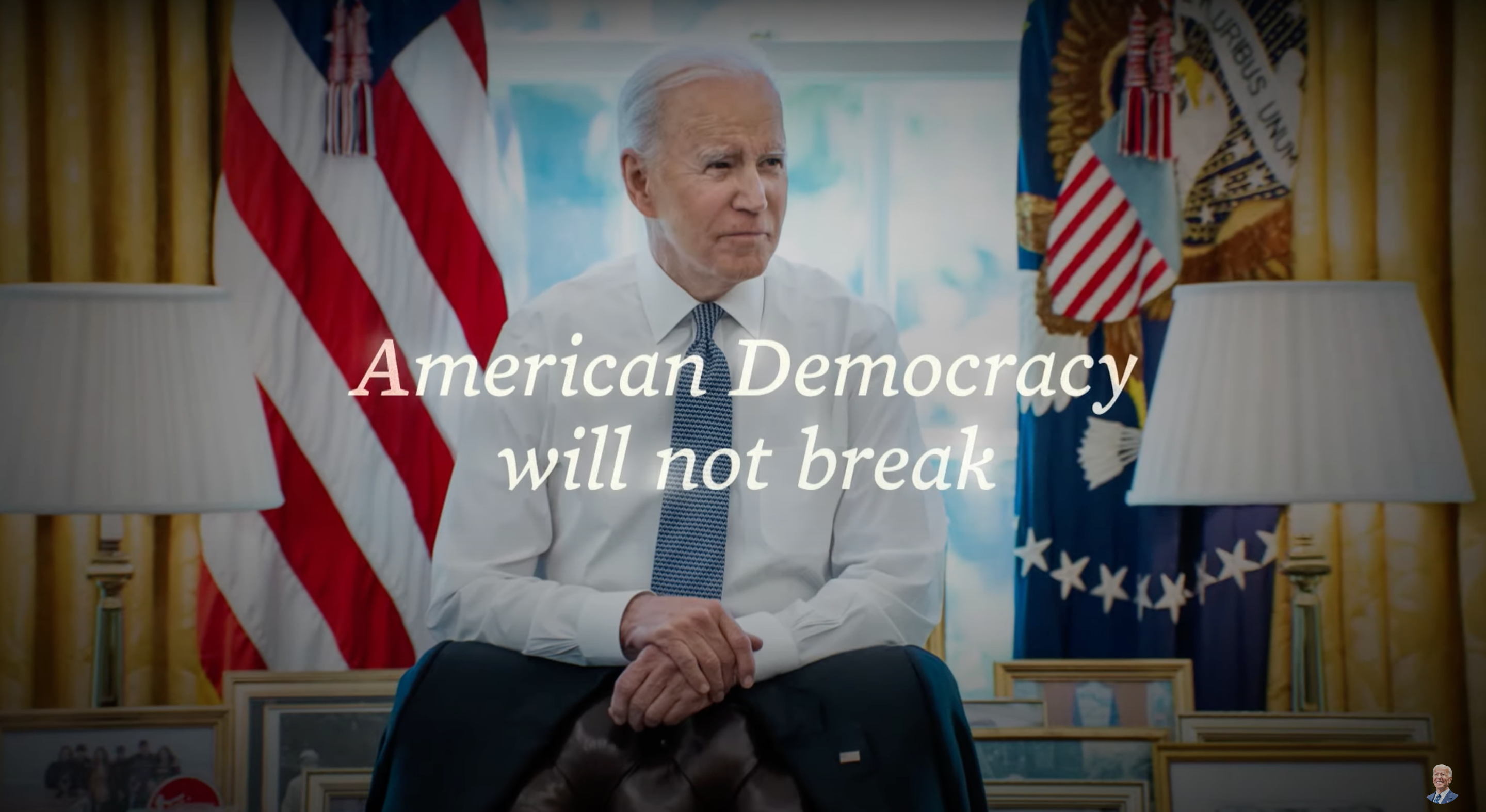 The 2024 Biden campaign's first TV ad — titled "Flag" — is part of a two-week, seven-figure buy running in six battleground states: Arizona, Georgia, Michigan, Nevada, Pennsylvania and Wisconsin.
Why it matters: Freedom and democracy are at the center of Biden's re-election message.
Flag imagery features prominently throughout the 90-second spot, which casts Biden as America's bulwark against "an extreme movement that seeks to overturn elections, ban books and eliminate a woman's right to choose."
Reclaiming the mantle of patriotism from Republicans is part of a playbook that Pennsylvania Gov. Josh Shapiro and Maryland Gov. Wes Moore — viewed as two rising Democratic stars — deployed to great effect in the midterms.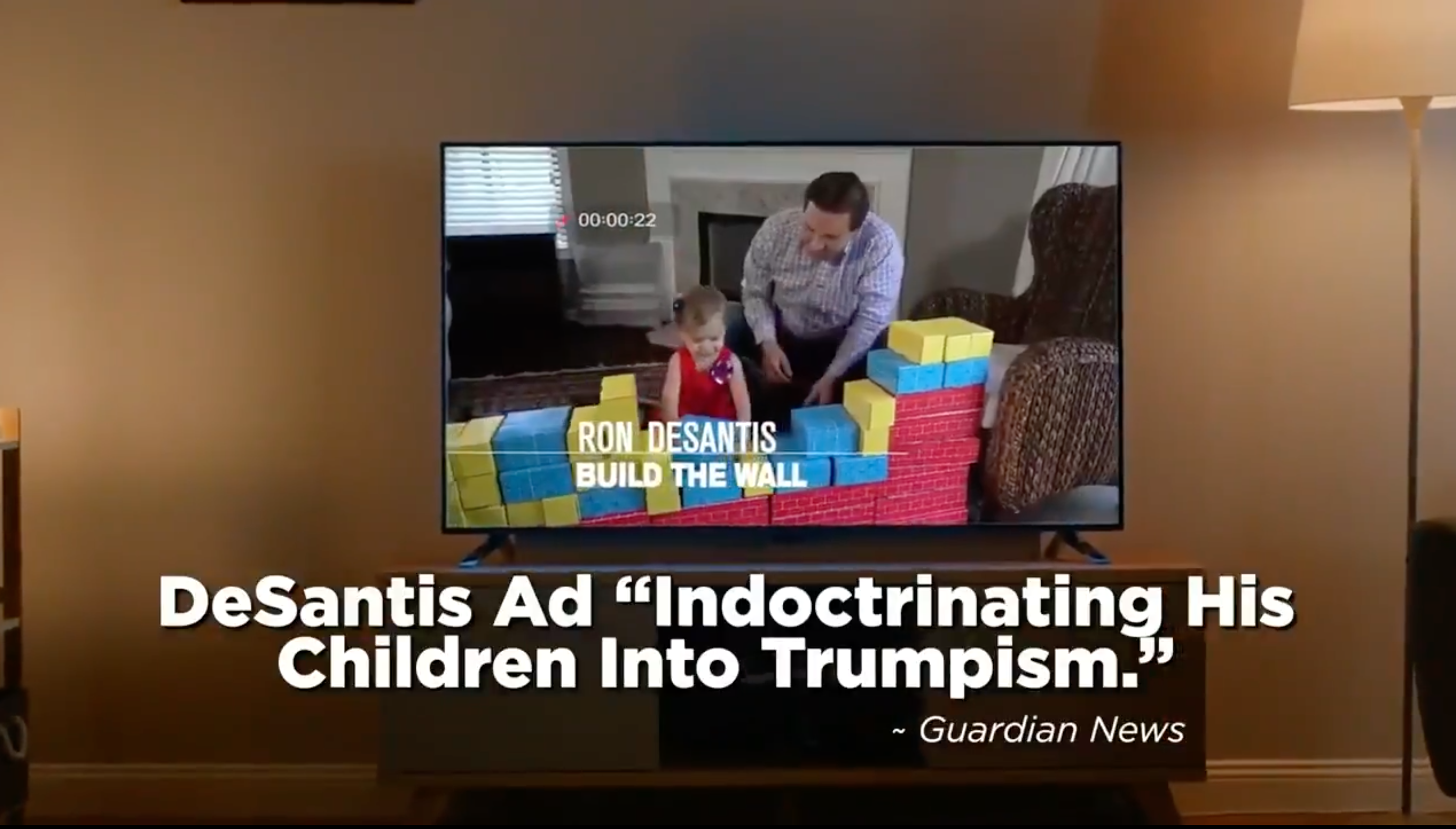 The Trump campaign also released its first ad of the 2024 cycle today — a national spot taking aim not at Biden, but at Florida Gov. Ron DeSantis using footage from the 2018 governor's race.
Why it matters: Trump is seeking to paint DeSantis as a disloyal acolyte who lacks the talent to go head-to-head with the MAGA movement's one true leader.
"I'd like to thank our president for standing by me when it wasn't necessarily the smart thing to do," the ad shows DeSantis saying in his 2018 victory speech, referring to the huge momentum boost he received from Trump's endorsement.
A narrator then booms: "Isn't it time DeSantis remembers how he got to where he is? ... Truth is, there's only one person who can make America great again."
4. 🪄 Disney sues DeSantis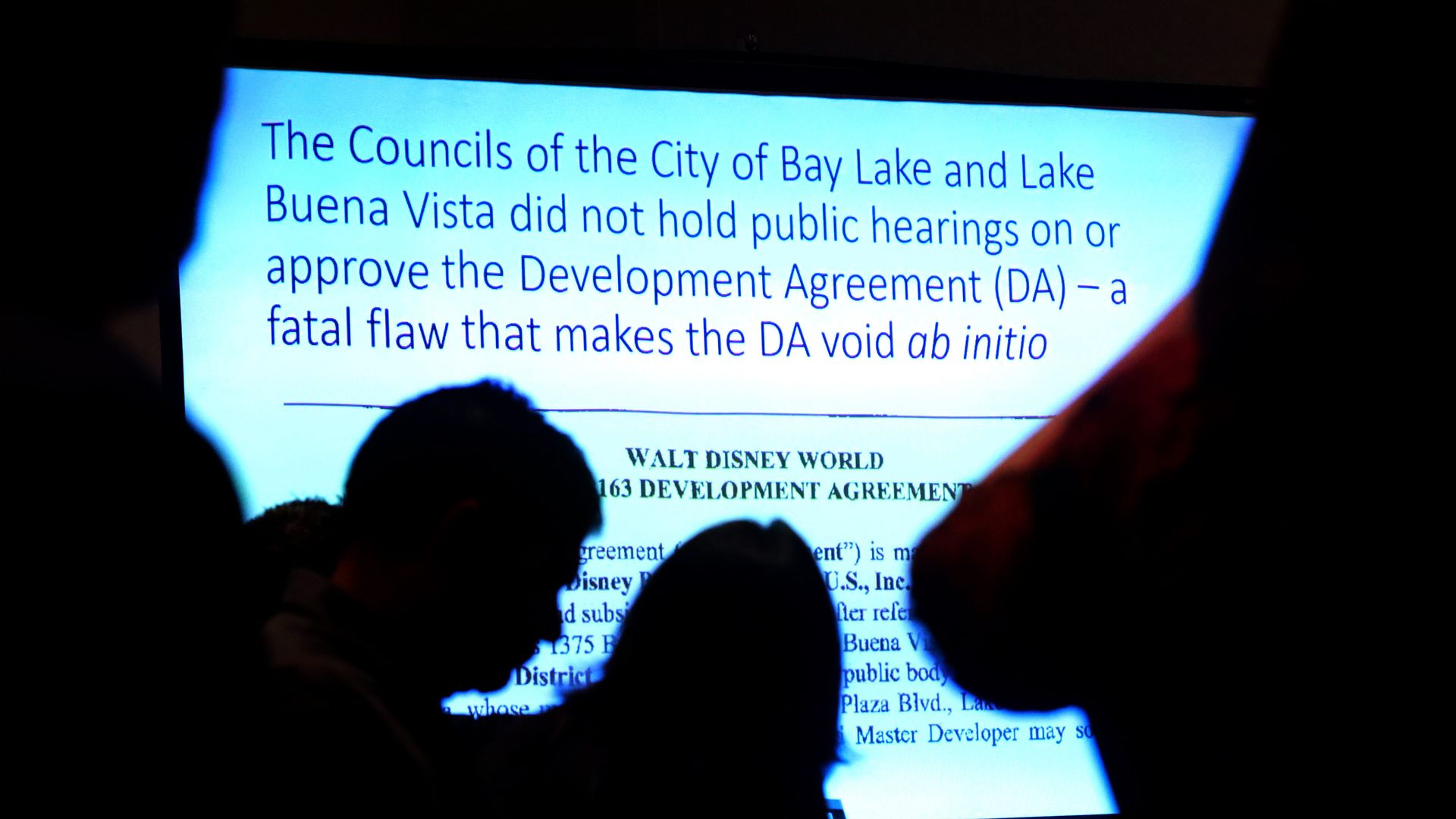 Disney sued DeSantis in federal court today, virtually ensuring the Mouse v. Florida feud — which has divided the Republican Party — remains a prominent issue in the GOP primary for at least the next several months.
A targeting campaign of government retaliation — orchestrated at every step by Governor DeSantis as punishment for Disney's protected speech — now threatens Disney's business operations, jeopardizes its economic future in the region, and violates its constitutional rights.
—
Disney lawsuit
How it's playing: DeSantis remained defiant, with his rapid response team tweeting out a clip of him saying: "It's not conservative to simply defer to every corporation in America. That's being a corporatist."
The intrigue: GOP candidate Nikki Haley, who has sought to position herself as a more viable Trump alternative than DeSantis, tweeted that her home state of South Carolina would "happily accept" Disney's 700,000+ jobs if the company chose to leave Florida.
📬 Thanks for reading. This newsletter was copy edited by Kathie Bozanich.