Democratic skeptics hold off on Biden 2024 endorsement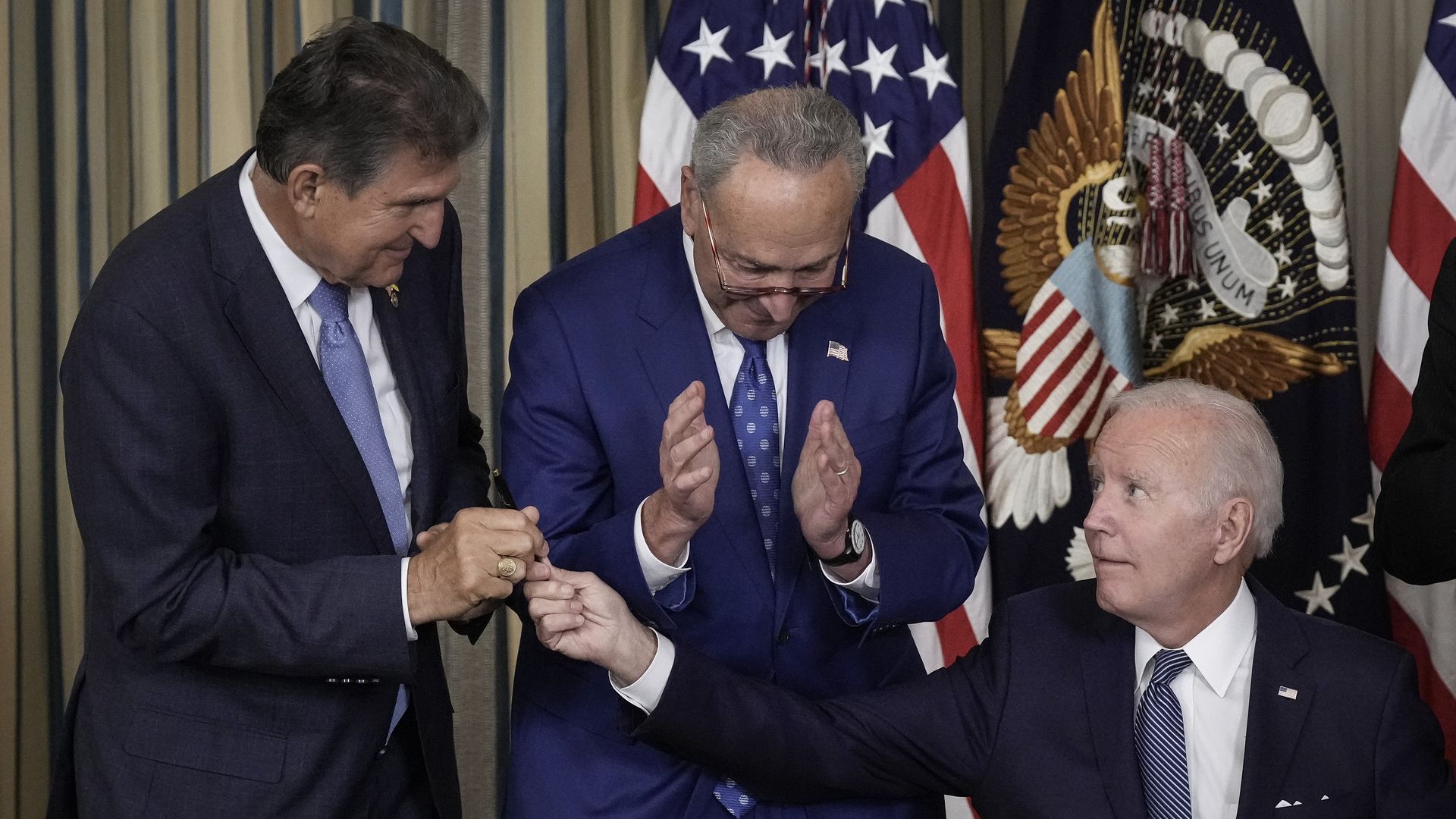 A handful of high-profile Democratic lawmakers have declined to endorse President Biden's re-election, even as party leaders, top progressives and other elected Democrats rally around his newly launched 2024 campaign.
Why it matters: Polling has consistently shown most Democratic voters do not want the 80-year-old president to run again — but would reluctantly support him if he's the party's nominee.
What they're saying: Out of dozens of House and Senate Democrats contacted or interviewed by Axios, just four who responded declined to endorse Biden.
Sen. Joe Manchin (W.Va.), who is up for re-election in a state former President Trump won by 40 points in 2020: "I have no comments on any of this. I wish everybody the best whatever they want to do."
Rep. Alexandria Ocasio-Cortez (N.Y.), a member of the progressive "Squad": "He's rolled out and I think he's presented a strong case and we'll see how the race goes on."
Rep. Cori Bush (Mo.), another "Squad" member: "Right now, my mind isn't on that. I saw that he announced his re-election. But the problems I have in my district, that has taken precedence over everything at this point."
Rep. Dean Phillips (Minn.), who called last year for a "new generation" of leadership: "I'm impressed by the Biden presidency. ... I just believe American democracy is made stronger by competition. Coronations are antithetical to democracy, and competition always results in the best possible candidate."
Yes, but: Sens. John Tester (Mont.) and Sherrod Brown (Ohio), the other two Senate Democrats up for re-election in Trump states this year, both said they're supporting Biden — as did Trump-district Reps. Mary Peltola (Alaska) and Marcy Kaptur (Ohio).
Another "Squad" member, Rep. Ilhan Omar (Minn.), said in a statement: "I plan to support our Democratic President for re-election."
Rep. Angie Craig (Minn.) — who, like Phillips, has called for Democrats to embrace younger leaders — told Axios: "I've said if the president chooses to run, [and] he has, I will support him."
The intrigue: Many Democrats who sidestepped when Axios asked the question last August, months before the 2022 midterms, now say they're backing Biden.
"I am supporting him," said Rep. Susan Wild (Pa.). "It's important for Democratic members of the House to support a Democratic president ... Would I do so blindly? No. I will criticize the president on occasion."
Rep. Pat Ryan (N.Y.) said: "President Biden stands for freedom, I stand for freedom, it's that simple."
Rep. Steve Cohen (Tenn.) quipped that he's for Biden "twice": "I'm for him in 2024 and I'm for him in 2028 as well."
Between the lines: Unlike in last year's midterms, vulnerable Democrats' electoral prospects are closely intertwined with Biden's. The results of the presidential election will likely have a major impact on congressional races.
House Democratic strategists have been open about the fact that their best path back to the majority runs through the districts that voted for Biden in 2020 but Republicans in 2022.
The inverse is also true: Biden will need his congressional allies to make his case to their constituents.
"I am going to do my best [to help him], not withstanding the fact that I have my own election to work on," said Wild. "I will certainly do everything I can to help him in turning out the Pennsylvania vote."
The bottom line: Wild, who said her district is less tied to the presidential margin than others, nevertheless acknowledged: "In districts where people are prone to voting straight-ticket ... it's going to be important that they support the president for their own political future."
Axios' Eugene Scott and Stef Kight contributed reporting to this story.
Go deeper