June 15, 2021
Today's Media Trends is 1,379 words, a 5-minute read. Sign up here.
Situational awareness: Venture capital firm Andreessen Horowitz launched a content site called Future, after months of anticipation.
1 big thing: Politico's top editor leaving for NBC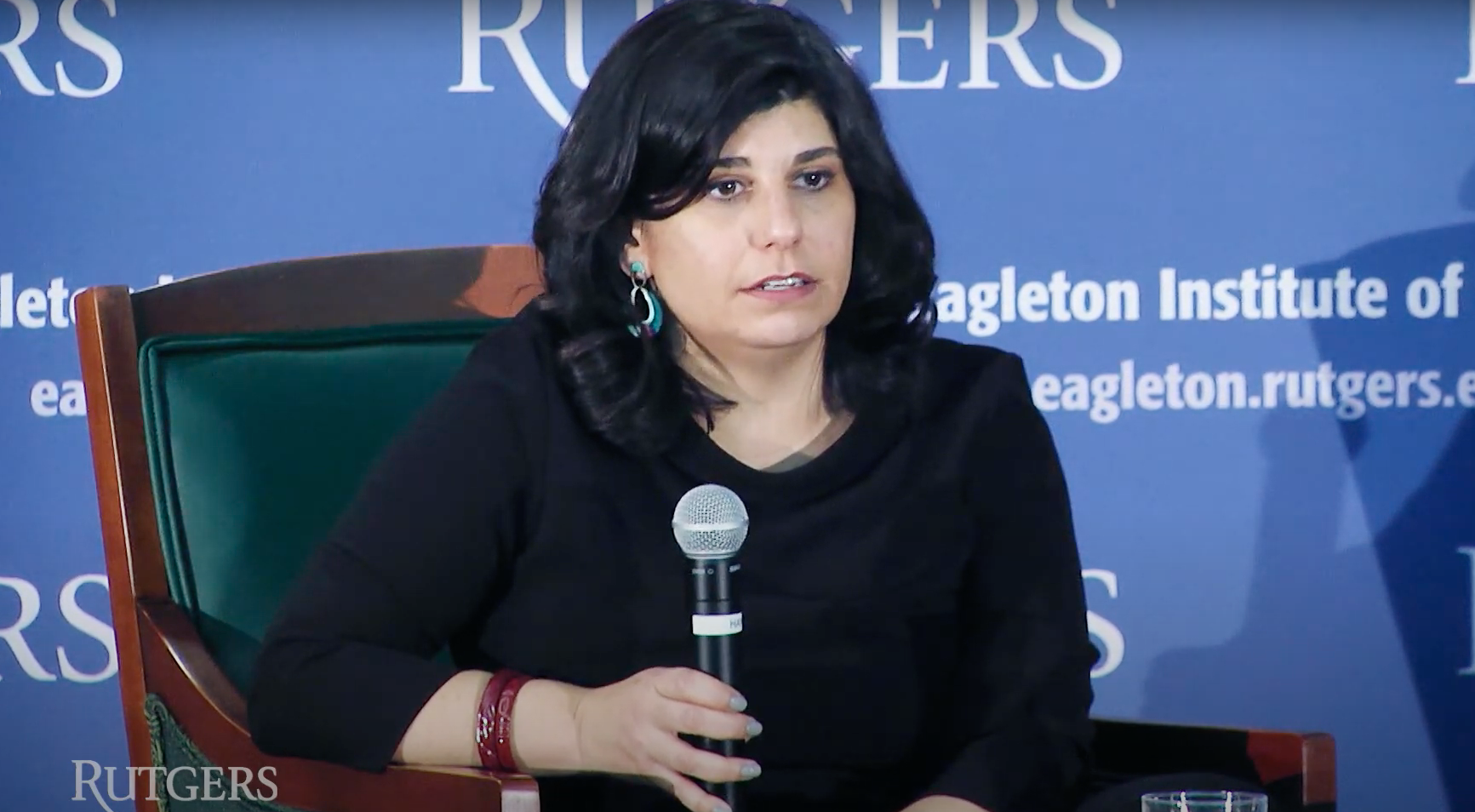 Politico's top editor Carrie Budoff Brown is joining NBC, sources familiar with the discussions tell Axios.
In a memo to staff, NBC News president Noah Oppenheim said Budoff Brown will join in the newly-created role of Senior VP of "Meet the Press."
"At NBC News, Carrie will be responsible for MTP's editorial programming on television, digital and streaming and will work to expand the iconic brand's reach and impact even further," he said.
Why it matters: Budoff Brown has been with Politico since its earliest days in 2007 and is admired among newsroom staff. Her departure will be a major loss to the organization.
Politico's highly-regarded CEO Patrick Steel announced earlier this year he would leave the company this summer.
Politico has grown significantly in the past few years, and has used that momentum to expand its business with a key acquisition and hires.
Last year, a few of Politico's top writers said they would be leaving the company to launch their own outlet, Punchbowl News.
The big picture: Meet the Press has been aggressively expanding its franchise with new newsletters, streaming shows and podcasts. 
Sources say "Meet the Press" Executive Producer John Reiss will remain in his role.
Editor's note: NBC is an investor in Axios. MSNBC & Axios engage in a weekday sponsored television appearance at 5:55am ET. 
2. Bye, bye, binging
Consumers and streamers are gravitating towards shows that are released weekly, as opposed to binge-watching shows that are released all-at-once, according to data provided exclusively to Axios from Parrot Analytics.
Why it matters: Streamers are no longer competing against traditional TV for consumers attention — they're competing against each other. Weekly releases help reduce subscriber churn.
Driving the news: Disney's new streaming series "Loki" premiered last week in its first installment of six episodes that will be released weekly on Wednesdays.
"Loki" follows other Marvel-inspired streaming shows like "WandaVision" and "The Falcon and the Winter Soldier," which are also released weekly on Disney+.
Disney began releasing shows weekly instead of all at once as soon as it launched in November 2019 with a weekly installment of "The Mandalorian."
In the years since, Disney, HBO Max, Amazon Prime Video, Apple+ and others have experimented with more weekly streaming releases for dozens of popular series, including "The Big Shot," "The Boys" (Season 2), and "Ted Lasso."
By the numbers: Even before the pandemic, the trend was accelerating, per Parrot.
Data shows that 2019 was a clear turning point in weekly releases starting to outperform binge releases. That the same year that Apple TV+ and Disney+ launched, kicking off the modern streaming wars.
The trend accelerated further in 2020, with the launch of HBO Max, Peacock, Discovery+ and others.
A significantly higher number of weekly releases showed up in Parrot Analytics' top 100 shows last year than in years prior, per Wade Payson-Denney, an insights analyst at Parrot.
What to watch: In an effort to build more community around shows, HBO Max's Sarah Lyons told Axios that the streamer is eyeing new ways to build experiences around weekly releases that will allow users to "congregate around content."
"We think that works for our users; to have a consistent drum beat of new episodes coming and provide a water cooler moment," Lyons, EVP of Product Experience at WarnerMedia and HBO Max, told Axios.
The big picture: Binge-watching TV was popularized by Netflix, beginning in 2013 with the release of its first original series "House of Cards," and peaking in 2017.
Netflix's Ted Sarandos said last year that while the company has seen enormous success with weekly releases around reality shows, "customers have spoken loud and clear that they really like the options of the all-at-once model for us. So I don't see us moving away from that meaningfully."
3. Scoop: Gopuff launching an ads biz
Gopuff, the $9 billion food delivery startup, is launching its own ad network, sources tell Axios.
Why it matters: It's the latest delivery giant to use advertising to boost revenues and increase sales. Insider reported Monday that rival Instacart is quietly building a $1 billion ads business.
Details: The Philadelphia-based company has created an in-house advertising team that is building ad products and working to onboard marketers, sources say.
Its ad network will be customized for consumers and marketers based on the delivery company's local inventory. Ads will only be shown to consumers based on what's available nearby.
The company is pitching brands that they will be able to deliver advertised products within a half hour of consumers seeing and engaging with an ad on its platform.
Advertisers can target consumers in a number of ways, including display ads outside of the app via ad network partnerships with third-parties, like The Trade Desk, as well as in-app ad placements, like messaging ads, sponsored products and search result ads.
The big picture: Ecommerce giants like Amazon, Alibaba and Walmart have long used ads to increase consumer spend and retailer engagement on their platforms. More recently, grocers like Kroger and Albertsons have also begun launching their own ad solutions.
Bonus: Tech giants eat more ad share than ever
Five of the world's largest tech companies owned nearly half of all global ad revenues last year, according to the latest mid-year forecast from GroupM.
Why it matters: The percentage of the entire global ad market owned by the top 5 biggest publishers grew from roughly 26% five years ago to 46% today.
Be smart: While firms like Google and Facebook continue to own the biggest share, Chinese firms like Alibaba and ByteDance (TikTok's parent), as well as Amazon are rapidly growing their ad businesses, replacing traditional media giants that used to rank in the top five, like Disney and Comcast.
Yes, but: GroupM predicts that traditional media companies will be able to increase their market share as they invest more in ad-supported streaming video services globally.
4. Media on the mend
About 963 newsroom jobs have been lost so far this year — down 91% from the 10,576 cuts through the same period last year, according to new data.
Other factors, like record advertising growth and the speedy return of live events, suggest the media industry is rebounding much more quickly than it originally anticipated.
The big picture: Global ad spending is expected to grow by $78 billion in 2021 to $657 billion, a new all-time high, according to a new mid-year forecast from advertising firm Magna.
👀 This year, the U.S. advertising market is expected to grow by $34 billion to reach $259 billion — its strongest growth rate in 40 years.
Between the lines: There are still some setbacks that will impact the industry this year, especially at the local level.
5. YouTube bans politics, alcohol, gambling from masthead
YouTube will stop accepting ads for its masthead ad unit from certain verticals, including alcohol sales, gambling, prescription drugs, and election and political ads, Axios has learned.
Why it matters: YouTube's masthead, a highly visible rectangle across the top of the homepage, is often the platform's most expensive and sought-after ad unit.
6. Mashable's Jessica Coen joins Morning Brew as content chief
Mashable Editor-in-Chief Jessica Coen is joining Morning Brew as Chief Content Officer, Axios has learned. She will report to CEO Austin Rief.
Why it matters: Coen is the latest high-profile hire for Morning Brew, which has added dozens since Insider purchased a majority stake in the outlet last fall.
Morning Brew is exploring different business models to support video, which could one day include licensing its intellectual property for a streaming series.
7. Time capsule: Reflecting on 4 years of damaged press freedoms
Leaders from The Washington Post, The New York Times and CNN met with Attorney General Merrick Garland on Monday following disclosures that the Trump-era Justice Department seized reporters' records during a leaks investigation.
Why it matters: "When you really stop and think about it, what was done was unconscionable," writes Poynter's senior media writer Tom Jones.
Garland has vowed to tighten rules to ensure that such abuses of power will never happen again.
The big picture: Press freedoms in the U.S. suffered a major blow under the Trump administration. News leaders are still reckoning with the aftermath.