Axios Generate
August 02, 2023
🐪 Halfway there! Today's newsletter has a Smart Brevity count of 1,320 words, 5 minutes.
🎸 At this moment in 1976, George Benson was #1 on the Billboard album chart with "Breezin'," which provides today's sublime intro tune...
1 big thing: A really hot July, thanks to climate change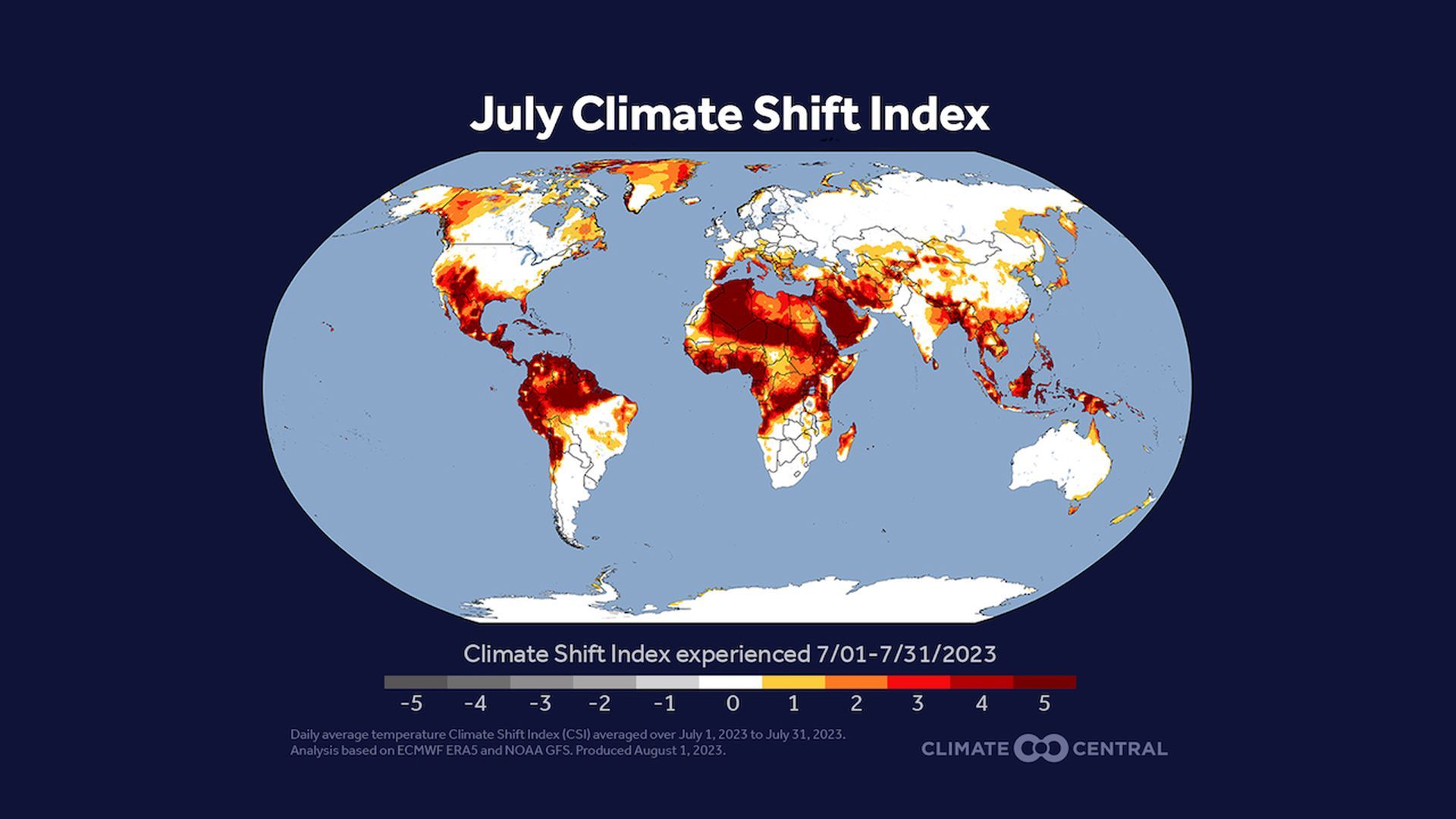 About 80% of humanity experienced unusually hot temperatures during July attributable in large part to human-caused climate change, Andrew writes.
Why it matters: A new analysis shows the extraordinary reach of climate change, and its influence on temperature extremes. It's made extreme heat far more likely, particularly in many developing countries.
The report uses Climate Central's daily tool for climate attribution known as the Climate Shift Index. It shows the human influence on, and exposure to, global temperature extremes was far broader than the three main heat waves making headlines last month.
The big picture: The analysis covered climate change's influence on daily average temperatures across 200 countries and 4,700 cities. It found that during July, at least 6.5 billion people experienced at least one day that was amplified threefold by climate change.
The report, which is based on peer-reviewed methods, found that at least 2 billion people felt a strong influence of climate change on each day in July. This was calculated based on CSI readings of three or higher.
Study author Andrew Pershing, who leads Climate Central's science work, found that global exposure to climate-influenced extreme heat peaked on July 10, when 3.5 billion people were rated as living in locations with a CSI reading of 3 or higher.
The study identified several hotspots for climate change influence, including the Caribbean, Central America, northern Africa, the Middle East, and parts of Canada.
Zoom in: Much of the Caribbean was ranked as a five on the CSI scale, meaning climate change made the heat there at least five times more likely compared to a preindustrial climate.
Meanwhile: New numbers in Tuesday show that July was the hottest month on record for more than two dozen U.S. cities including Phoenix, which became the first U.S. city to have an average monthly temperature above 100°F.
The all-time heat records were concentrated across the southern tier of the U.S., stretching from Florida to the Southern California desert.
The monthly mean temperature is calculated by averaging each day's high and low temperature.
By the numbers: The southernmost city in the U.S., Key West, had its hottest month, as did Miami and Tampa Bay. The records there and at other Florida locations were tied in part to record-breaking sea surface temperatures, which are causing widespread coral bleaching.
The bottom line: Per the new report and other work from the World Weather Attribution group, the extreme heat seen in the southern tier of the U.S. is unambiguously tied to human-caused climate change.
2. Offshore wind's split-screen effect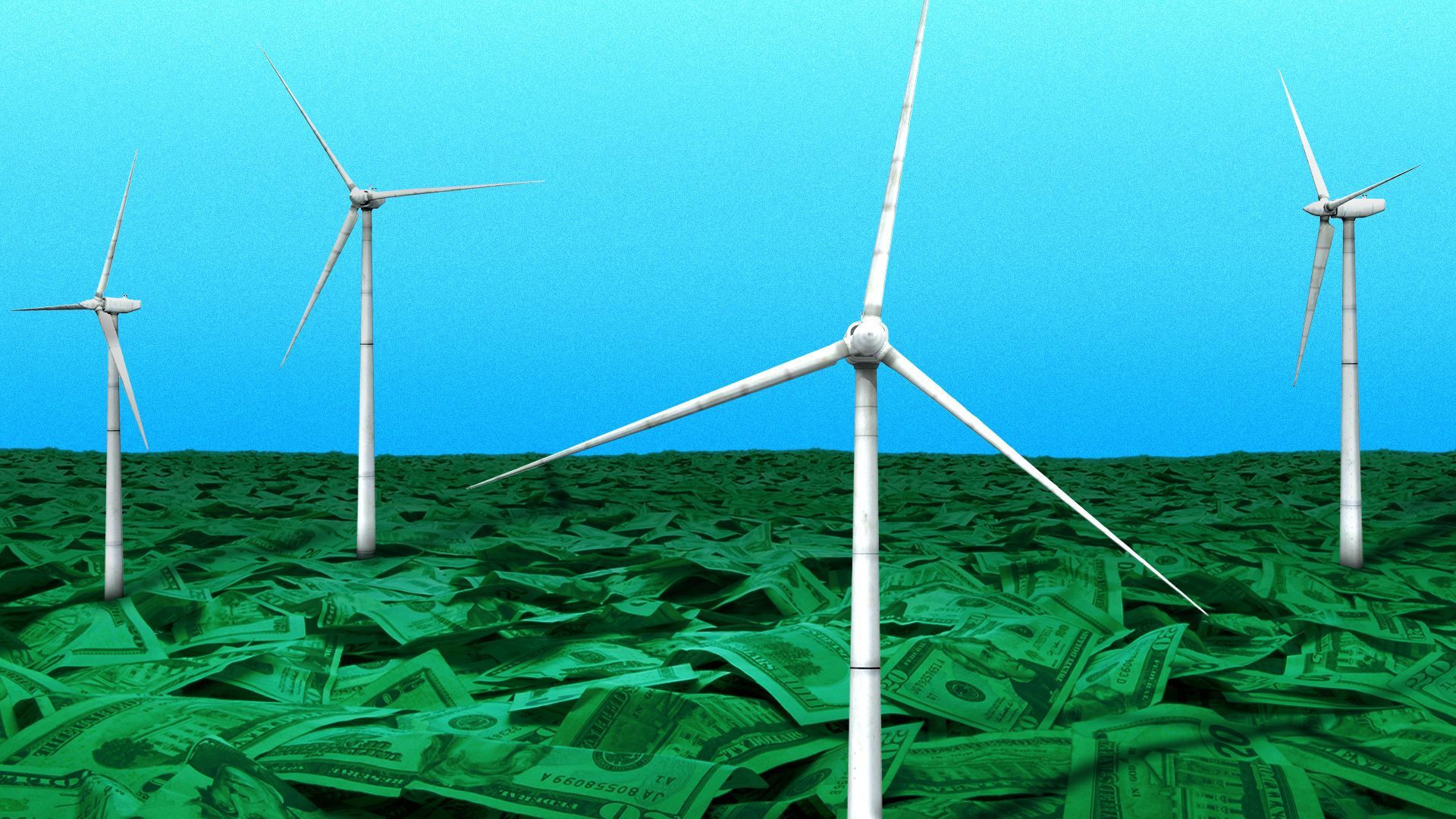 Two pieces of news illustrate the near-term hurdles and long-term potential of U.S. offshore wind (a topic we also explored last week), Ben writes.
Driving the news: BP CEO Bernard Looney said Tuesday that planned projects with Equinor off New York's coast are "challenged" by cost inflation.
The companies have petitioned state officials to renegotiate power purchase contracts.
"We will not develop projects that don't meet our returns threshold" of 6%-8%, Looney told analysts on BP's Q2 earnings call.
State of play: They're not alone. Other developers have sought to renegotiate terms. OffshoreWIND.biz has more.
And last month Rhode Island Energy abandoned a project proposed by Ørsted and Eversource, citing cost factors.
What they're saying: "Like other developers at the forefront of the emerging U.S. offshore wind industry, we have seen the estimated costs of these projects rise sharply due to inflation, supply chain disruptions, permitting and interconnection delays, rising interest rates and other factors," BP told Axios in a statement.
It said the partners are "optimistic" about a resolution and remain "strongly committed" to the projects that together would be able to power 2 million homes.
The big picture: BP's warnings arrived the same day researchers unveiled an analysis of the potential of offshore wind.
The topline of the University of California-Berkeley report found that offshore wind could meet 10%-25% of the country's power needs by 2050 — up from scarcely anything today — without spiking wholesale electricity costs.
Reality check: The study, issued with the firm Energy Innovation and the nonprofit GridLab, finds far more "robust" policy is needed for those levels, which are way beyond the current White House target of 30 gigawatts of capacity by 2030.
Bonus: the U.S. is playing catch-up
There's a lot of action around offshore wind in the U.S., but the country is playing catch-up on the global stage, Ben writes.
The big picture: The U.S. is a rounding error in the chart above, with only 42 megawatts (or 0.04 gigawatts) of capacity installed. But that's changing, even as projects face cost hurdles.
State of play: Two Atlantic Coast projects — Vineyard Wind 1 and South Fork — have begun construction, the Business Network for Offshore Wind tells Axios.
Roughly 17 gigawatts are at various stages of permitting, leasing or construction, with most to come online late this decade, per UC-Berkeley researcher Nikit Abhyankar.
And over 50 gigawatts are somewhere in the long-term pipeline or planning stages, according to the American Clean Power Association.
3. Notes from the intensifying race for energy transition metals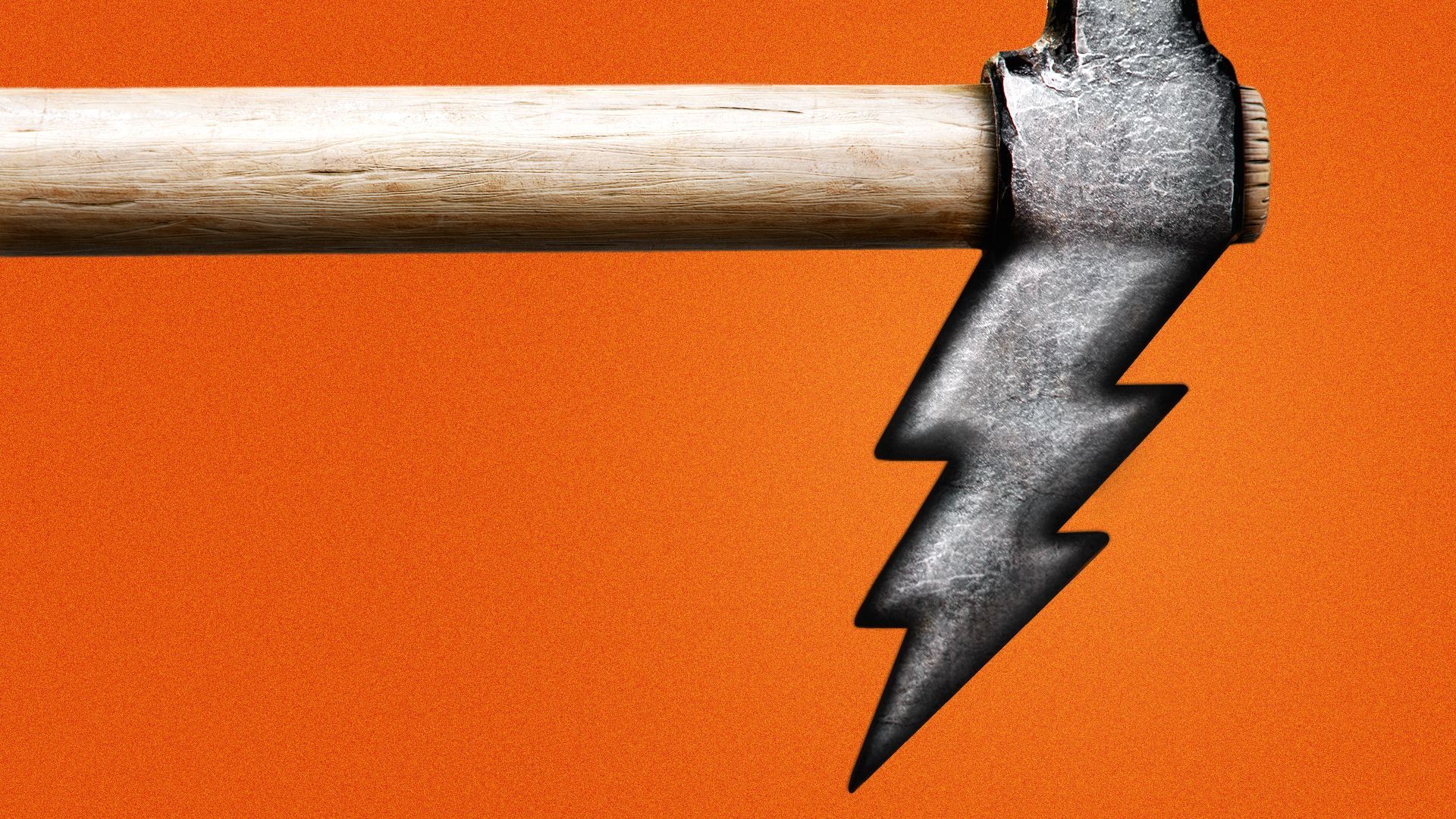 The geopolitical and commercial race is on to lock up energy transition metals, Ben writes.
Driving the news, part 1: The FT reports that China is on pace for record annual overseas metals and mining investments, with over $10 billion in the first half of this year already.
The country is jockeying to "defend its position as the world's biggest producer of electric vehicles, batteries, solar panels and wind turbines," the paper reports.
Driving the news, part 2: The Saudi Arabian firm Manara Minerals and the investment company Engine No. 1 are paying a combined $3.4B for a 13% stake in Brazil-headquartered heavyweight Vale Base Metals.
Manara Minerals, a new joint venture between the Saudis' massive sovereign wealth fund and state mining firm Ma'aden, will have the bulk at 10%.
Manara "will gain access to high quality supply chains across strategic minerals, including nickel, copper, and cobalt," the venture said last week of its stake in Vale, which operates in multiple countries.
Why it matters: The Saudis have also been holding other mining investment talks, Bloomberg reports, and it sums up the importance well:
"The move comes as the question of who controls the commodities needed to both sustain and decarbonize the world's economies has turned into a global flashpoint, jumping to the top of agendas in the US and Europe."
What we're watching: The U.S. posture as the White House looks to tap more global supplies and domestic sources — and GOP lawmakers call U.S. regulators way too cautious on the latter.
The Center for Strategic and International Studies is out with some ideas on how the U.S. can boost supply security of materials needed for l0w-carbon tech.
The bottom line: The growth of tech like electric vehicles, hydrogen, and renewables requires lots of new raw materials — and the race for positioning in that transition is only getting more intense.
4. 🏃🏽‍♀️ Catch up fast on policy: climate law and light bulbs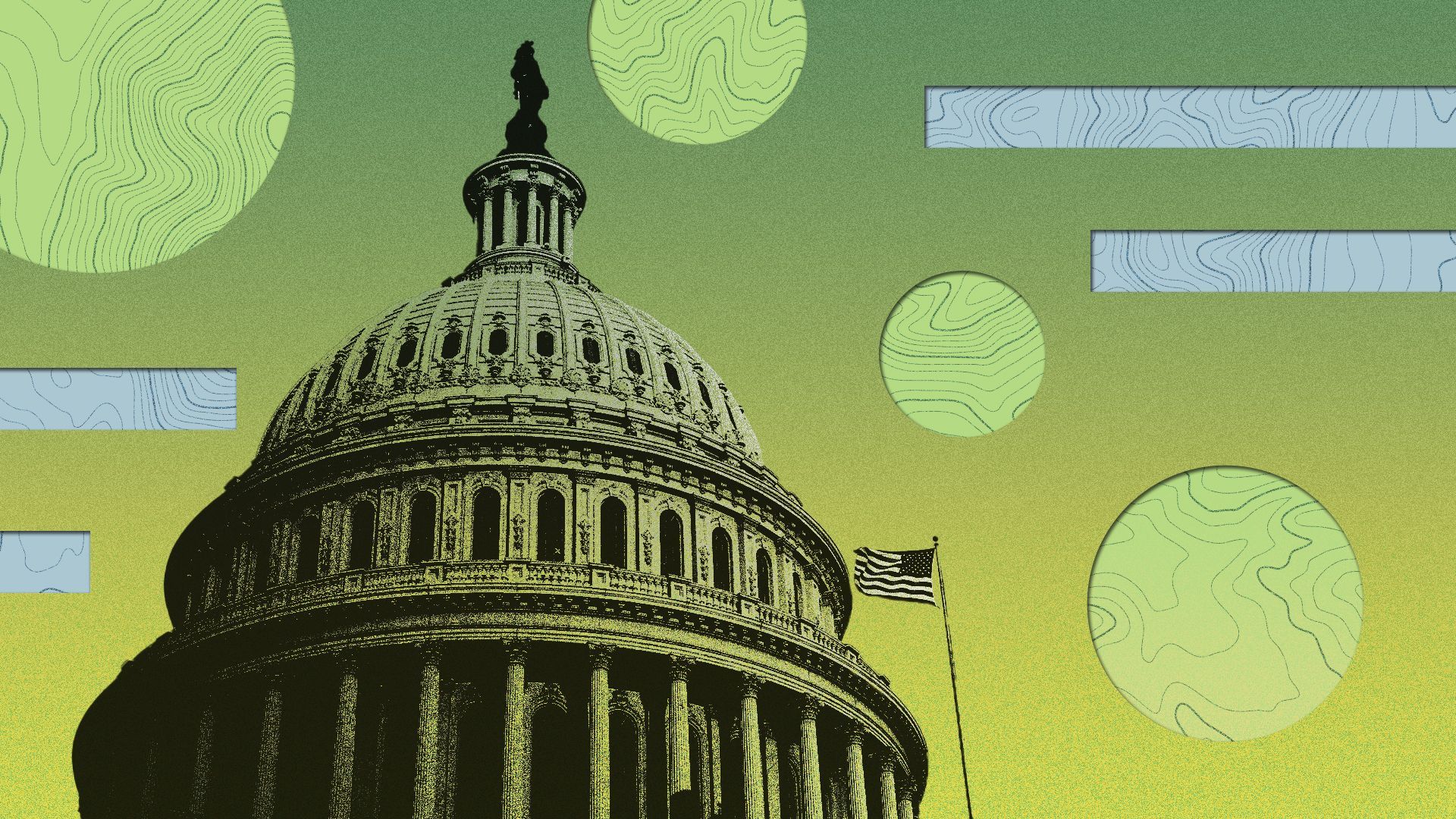 📊 New analysis finds the U.S. climate law will certainly help push down U.S. emissions but leave the country well short of its targets, Ben writes.
Why it matters: The research firm BloombergNEF's report is their first granular, sector-by-sector look at what the law can and can't achieve over the long term.
The big picture: U.S. emissions in 2030 are 22% higher than the U.S. target under the Paris Agreement. It drives big cuts next decade, but far more aggressive policy is needed to achieve net zero by midcentury.
The bottom line: There are "limits to what can be achieved with even the most generous incentives," BloombergNEF finds, citing continued barriers like permitting and the law's limited effect on industrial decarbonization.
🛑 "America's ban on incandescent light bulbs, 16 years in the making, is finally a reality. Well, mostly," CNN reports on Energy Department rules that took effect this week.
Of note: The rule doesn't target individuals but instead will "penalize violators who stand to profit, including manufacturers, distributors and retailers — not consumers," The Hill reports.
📬 Did a friend send you this newsletter? Welcome, please sign up.
🙏 Thanks to Chris Speckhard and Javier E. David for edits to today's edition, along with the talented Axios Visuals team.