Axios Generate
July 25, 2023
🚀 Off we go! Today's newsletter has a Smart Brevity count of 1,233 words, 4.5 minutes.
🎶 This month marks 30 years since U2 released the album "Zooropa," which provides today's intro tune...
1 big thing: July heat waves' strong link to climate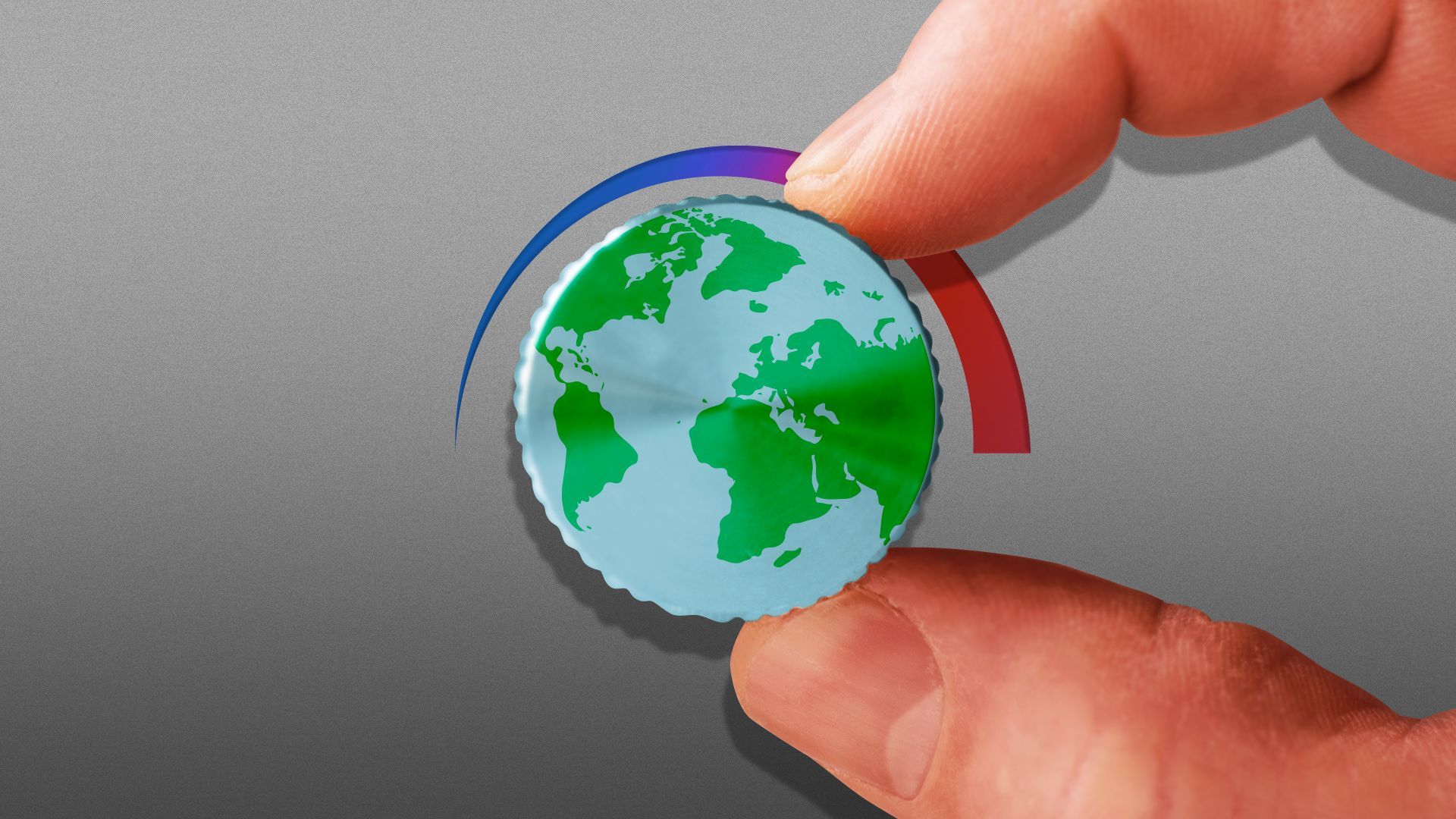 Record-breaking, deadly heat in the U.S. and Europe would have been "virtually impossible" in a world without human-driven climate change, Andrew writes.
Why it matters: The findings of a new study show society is more vulnerable than previously thought to relatively low levels of warming.
The study, published early Tuesday, also drives home the speed with which greenhouse gas emissions are transforming our climate.
Driving the news: With all-time heat records falling in North America, Europe and Asia, seven members of the international group of scientists known as World Weather Attribution examined the potential that human-caused climate change is shifting the likelihood and severity of heat waves.
Reality check: While rapid analyses are based on peer-reviewed methods, they are conducted and released too quickly to undergo outside evaluation.
This is a tradeoff: The goal is to provide the public and policymakers with needed context for understanding ongoing or recent extreme events.
Zoom in: The data found that the heat waves still affecting three continents have been transformed from rare events to relatively common occurrences, in a matter of just a few decades.
Sweltering conditions in the U.S., Mexico and southern Europe would have been "virtually impossible ... if humans had not warmed the planet by burning fossil fuels," the study says.
The researchers also concluded that climate change dramatically increased the odds of this month's heat wave in China, which set a provisional national record high temperature.
China's heat wave would have been a 1-in-250-year event without human-caused warming. But now, such an event has a 20% chance of occurring in any given year.
How they did it: Using weather observations and computer models, scientists compared the extreme heat in the context of the climate as it exists today — after about 1.2°C (2.16°F) of human-caused warming — with that of the preindustrial era.
The intrigue: Climate change made heat waves both more possible, and hotter — about 2.5°C (4.5°F) degrees warmer in southern Europe, and 2°C (3.6°F) higher in the southwestern U.S.
What they're saying: "As long as we keep burning fossil fuels, we will see more and more of these extremes," said Friederike Otto, a climate scientist at Imperial College London who leads the group that completed the study.
2. Offshore wind developers face choppy seas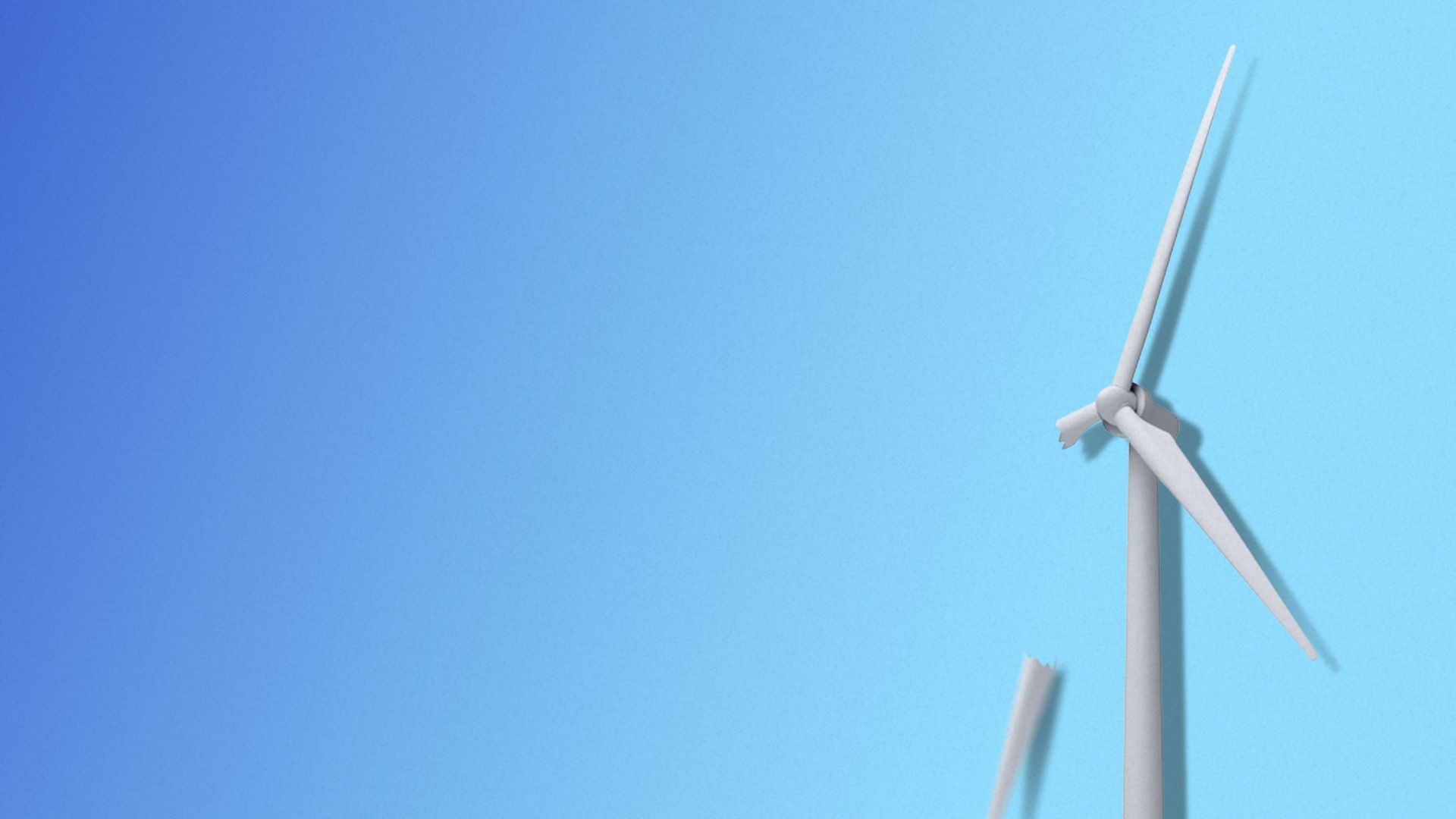 Offshore wind is in the throes of a good times, bad times dynamic, Ben writes.
Driving the news: Octopus Energy plans to invest $20 billion by 2030 in offshore wind, the U.K.-based company said Monday.
The big picture: It's the latest in a years-long stream of industry and policy moves to expand generation. Two recent examples:
TotalEnergies and BP are planning large projects off Germany's coast after placing billions of dollars in winning auction bids.
Biden officials will next month hold the first Gulf of Mexico offshore wind lease auction, adding to ongoing East Coast development and West Coast leasing.
Yes, but: Planned farms face tough project economics and material costs, even as the first large-scale U.S. projects are beginning construction in the Atlantic.
Rhode Island Energy last week abandoned a project proposed by Ørsted and Eversource.
The utility noted "higher interest rates, increased costs of capital and supply chain expenses."
More broadly, "soaring" costs are threatening or killing multiple projects in the U.S. and Europe, per Bloomberg.
Why it matters: Offshore areas have massive potential; there's already substantial commercial output in China and Europe and a lot planned on the East Coast.
What they're saying: Developers are in a tough spot, the Center for Strategic and International Studies' Allegra Dawes tells HeatMap News.
"They look at projects and the agreed upon price and are not seeing a path to profitability," she said.
Last year, final investment decisions fell by over 50%, per International Energy Agency analysis.
The bottom line: Offshore wind's a tool for helping to decarbonize power, but barriers to rapid growth are very real.
Bonus: Wind's growth and struggles
Wind power — which is mostly onshore projects even as offshore development rises — is growing steadily but not fast enough, Ben writes.
The big picture: According to the International Energy Agency, wind is in a bucket labeled as "more efforts needed", part of a three-tiered system for assessing progress of technologies against climate goals.
The chart above shows recent growth — and the gap with the 2030 target in the agency's hypothetical roadmap to net-zero emissions in 2050.
The "most important areas" for improvement are "facilitating permitting for onshore wind and cost reductions for offshore wind," IEA notes.
3. 🏃🏽‍♀️ Catch up fast on policy: Power, China, methane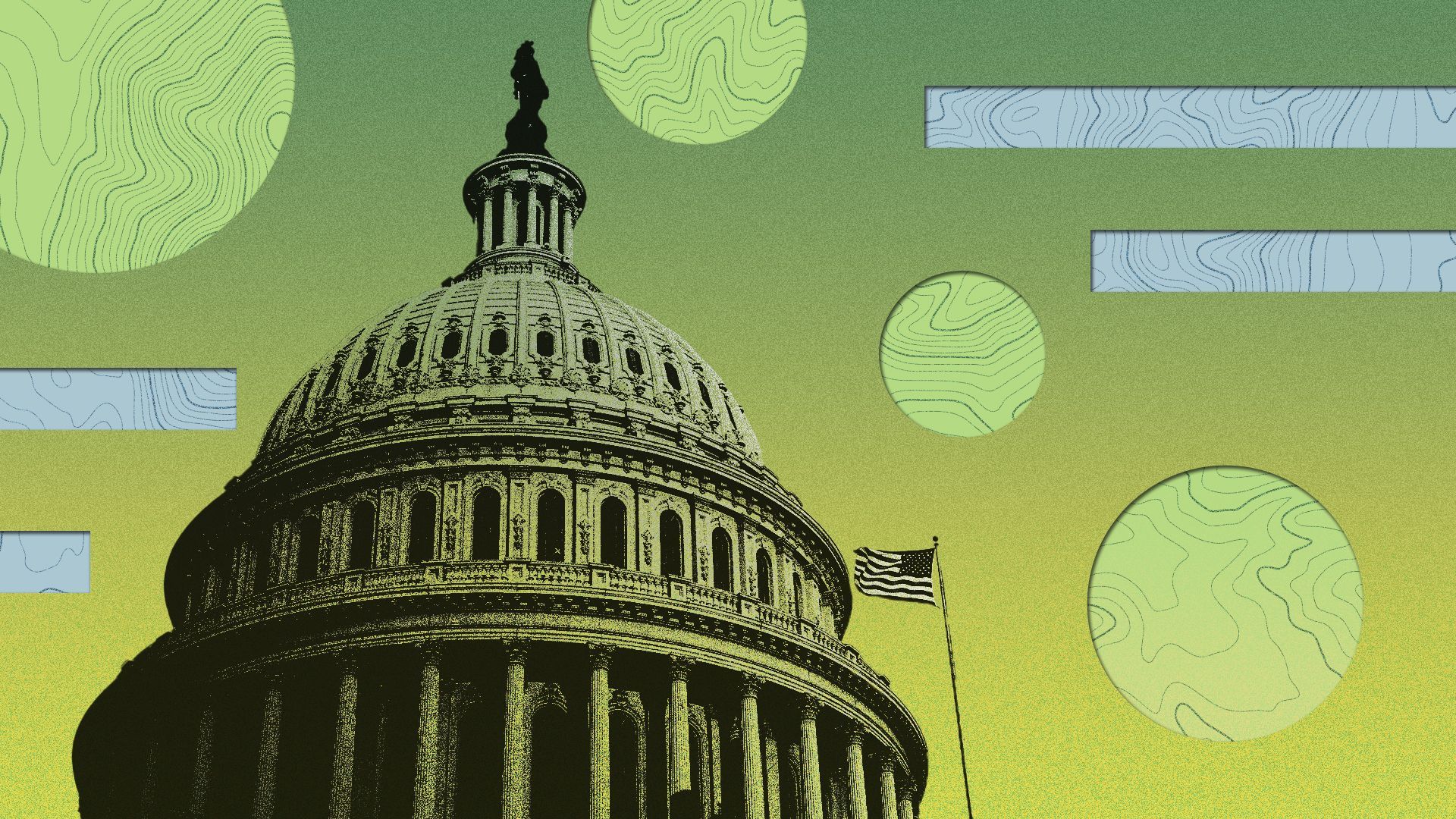 ⚡ Senate Majority Leader Chuck Schumer is pressing the Federal Energy Regulatory Commission to strengthen and complete rules that enable more transmission construction, Ben writes.
Why it matters: More long-distance projects are needed to bring power generated from renewables projects to demand centers.
Quick take: The plea to FERC comes as legislation to speed transmission permitting faces big hurdles in Congress.
Go deeper: Full letter; coverage in HeatMap News and The Hill.
🇨🇳 Two House committee chairs have launched an investigation into Ford Motor Co. and its relationship with Chinese battery-maker CATL, Axios Pro: Energy Policy's Jael Holzman reports.
Why it matters: The auto industry's relationships with Chinese companies is in the House GOP's oversight crosshairs. Subscribe for the whole story and vital coverage every week.
💵 "The U.S. government will provide up to $1.55 billion in funding to monitor and reduce methane emissions from the oil and gas sector, two agencies said on Monday," Reuters reports.
4. Oil supply's not too hot, not too cold problem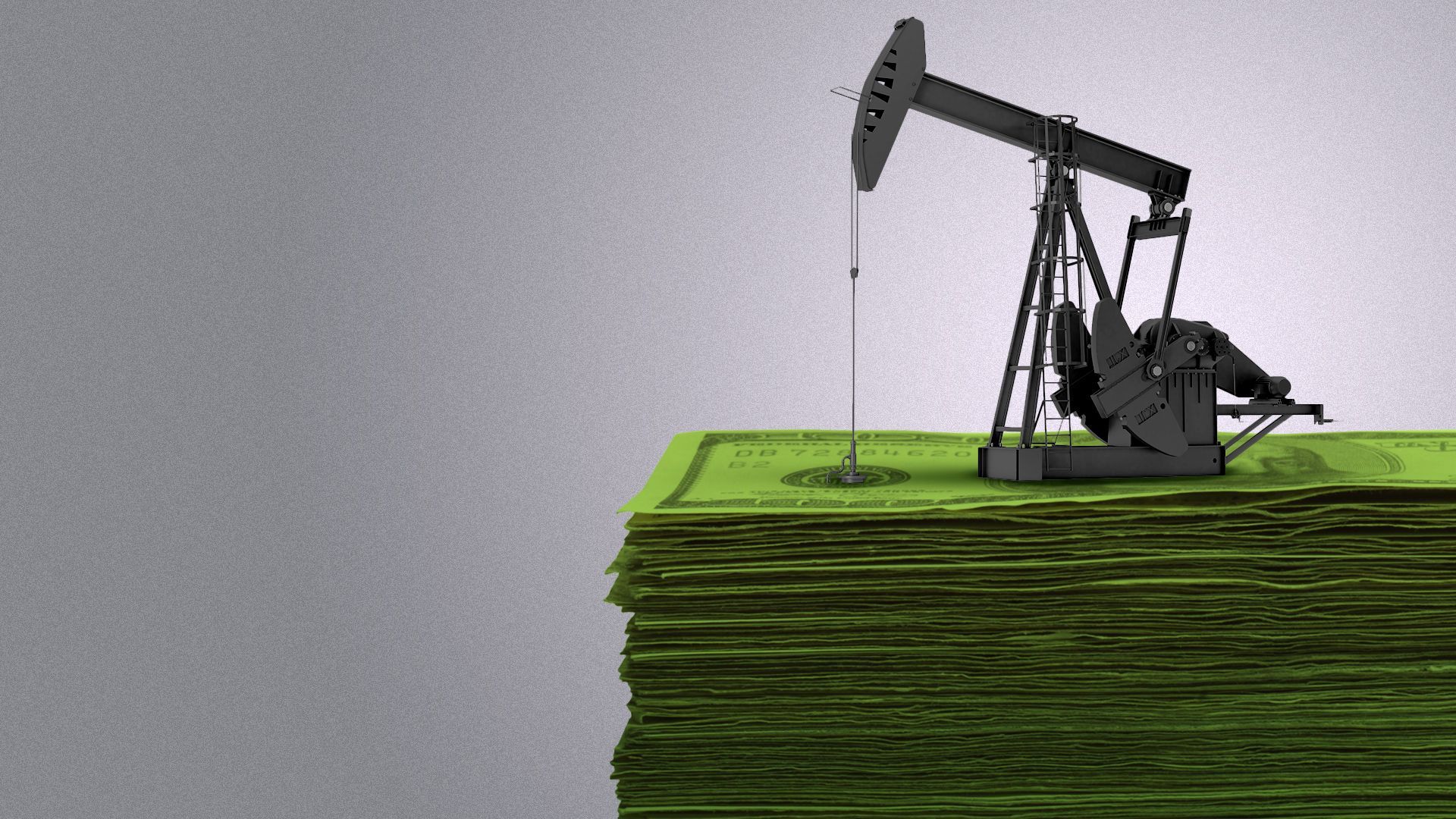 Capital spending in oil is suffering a "Goldilocks" problem, Ben writes.
Why it matters: Too little investment in new supplies could risk shortages with steep economic tolls, while too much helps amplify planet-warming emissions.
The big picture: There's too much fretting about the "too little" side of the ledger, even as industry spending remains well below its peak in the mid-2010s, two research firms say.
Driving the news: "[I]nvestment around today's levels can deliver the supply needed to meet demand through to its peak and beyond," a Wood Mackenzie analysis finds.
The current rate of roughly $500 billion a year — about half the level a decade ago — on asset development can deliver enough oil and gas to meet demand over the next 10 years, they write.
They see an oil demand peak of around 108 million barrels per day in the early 2030s, followed by a long, gradual decline.
Still, they note this trajectory is decidedly not a recipe for meeting Paris Agreement temperature goals.
State of play: The cost of new supply has "fallen dramatically" as price shocks in 2015-2016 and 2020-2021 forced companies to be more efficient and selective about which projects proceed, Woodmac said.
Catch up fast: Their take matches a recent Rystad Energy note that calls claims of underinvestment "overblown," citing unit cost relief, efficiency and productivity gains, and other factors.
5. TotalEnergies' new deal and more biz notes
💵 Breaking Tuesday: TotalEnergies is spending $1.6 billion to buy the remaining 71% stake in the renewables company Total Eren, signaling the oil and gas giant's deepening push into the sector, Ben writes.
Zoom in: Total Eren has 3.5 gigawatts of capacity in operation worldwide and a project pipeline three times that size, the announcement states.
☀️ The solar firm Meyer Burger said Monday it's building a 2 gigawatt cell manufacturing plant in Colorado Springs, tapping manufacturing tax credits available in the climate law. More from the Denver Post
🔋 "Stellantis says it will build a second U.S. electric vehicle battery factory in a joint venture with Samsung," AP reports.
📬 Did a friend send you this newsletter? Welcome, please sign up.
🙏 Thanks to Chris Speckhard and Javier David for edits to today's edition, along with the talented Axios Visuals team.