Florida researchers rush to save thousands of corals from historic ocean heat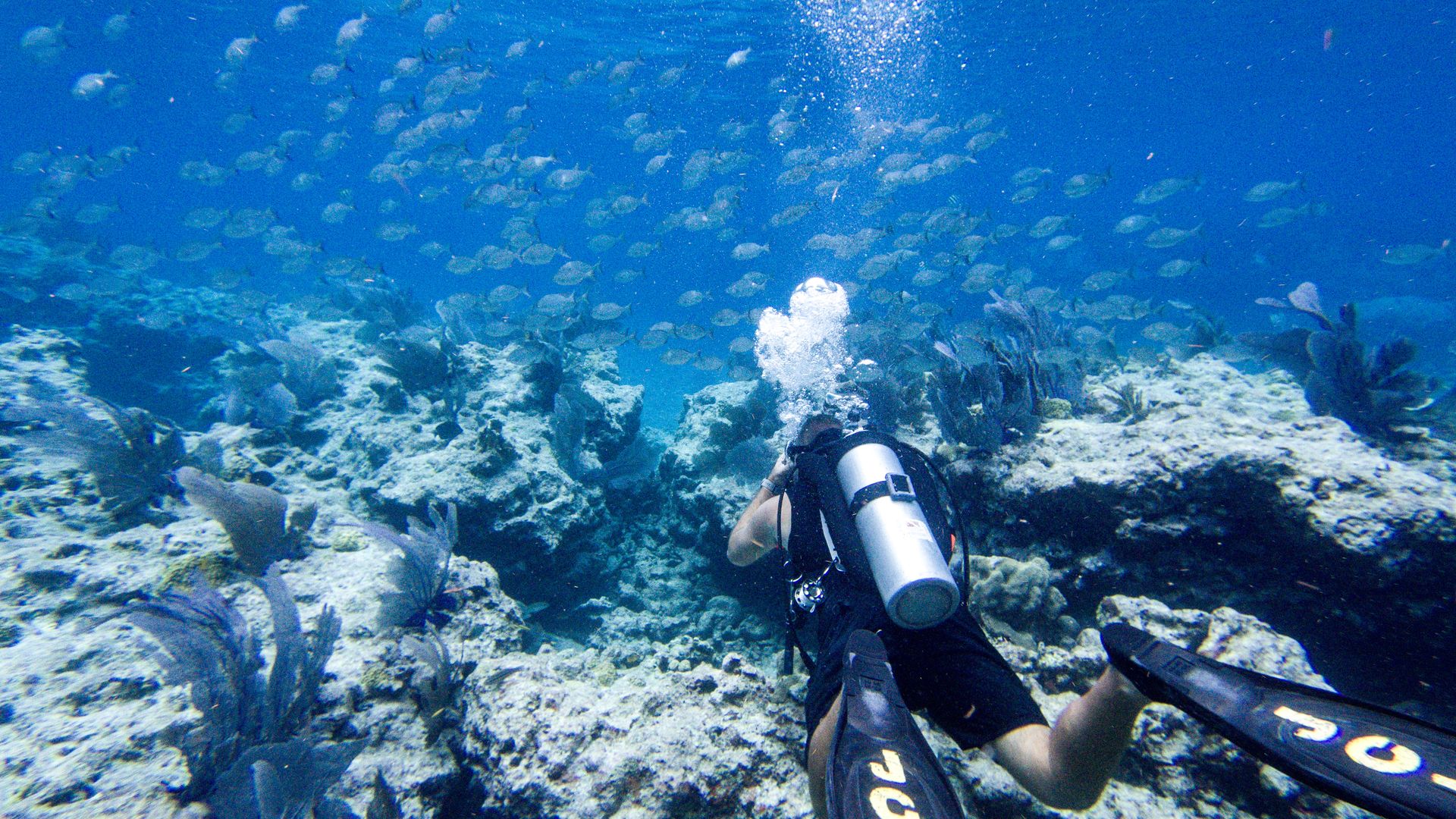 The University of South Florida said Monday its researchers have transported some 1,500 coral specimens to tanks on land as "unprecedented heat waves and escalating water temperatures" create "a massive coral bleaching event."
Why it matters: Coral reefs provide shelter for over 25% of ocean animals, and are economically key to over half a billion people's livelihoods.
The big picture: Ocean temperatures surrounding South Florida and the Florida Keys are at historic levels. Extreme sea surface temperatures hit a possible record 101°F Monday, per provisional data reported by Tampa Bay meteorologist Jeff Berardelli.
NOAA has issued its highest level of coral bleaching alert for this region.
What's happening: The University of South Florida (USF) said its Keys Marine Laboratory, operated by the Florida Institute of Oceanography, is housing the coral specimens that were harvested in the past week from offshore nurseries and parent colonies.
Many of the corals being delivered to KML's 60 tanks are rare and endangered species, per a USF statement.
The lab's tanks range from 40 to 1,000 gallons and it "has the capacity to house thousands more as the coral bleaching event is expected to continue," according to the USF.
Threat level: "Typically, water temperatures at this time of year are in the mid 80s, but we are already recording temperatures of 90 degrees," said KML director Cynthia Lewis. "It is very alarming."
When the Coral Restoration Foundation on Thursday visited the Sombrero Reef in the Florida Keys, a restoration site the CRF team has been working at for over a decade, the effects of the extreme temperatures were clear.
"What we found was unimaginable — 100% coral mortality," said Phanor Montoya-Maya, a restoration program manager at the foundation, in a statement. "We have also lost almost all the corals in the Looe Key Nursery in the Lower Keys."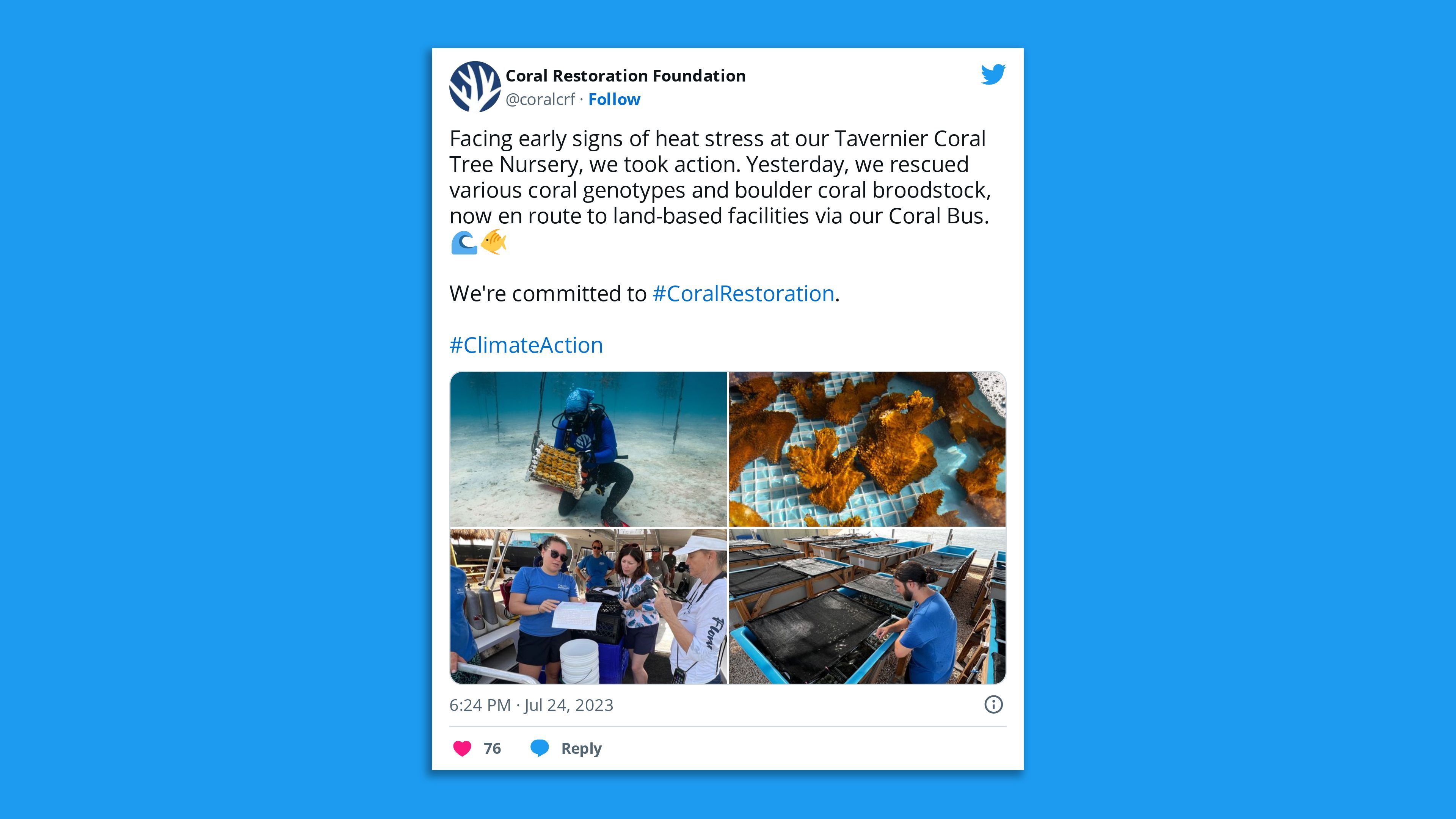 Between the lines: When water is too warm, corals expel algae that lives in their tissues, which causes them to turn white in an event known as coral bleaching, per NOAA. This can lead to die-offs.
Context: Human-caused climate change and more transient weather patterns are influencing these unusually warm waters, per Axios climate reporter Andrew Freedman. Heat domes favor clear skies and warmer air temperatures, thereby increasing water temperatures as well.
What to expect: Corals will likely be housed in the land-based systems for months, with some being part of land-based breeding programs, per the USF.
"Once these historically high water temperatures return to normal, USF scientists in partnership with restoration practitioners across the Keys can return corals back to their off-shore nurseries and ultimately their natural environment, reattaching them to reefs using epoxy, cement, zip ties and nails."
Go deeper: Miami's worst heat wave breaks records on land and sea
Go deeper