Heat wave expands across the U.S., as Southwest continues to swelter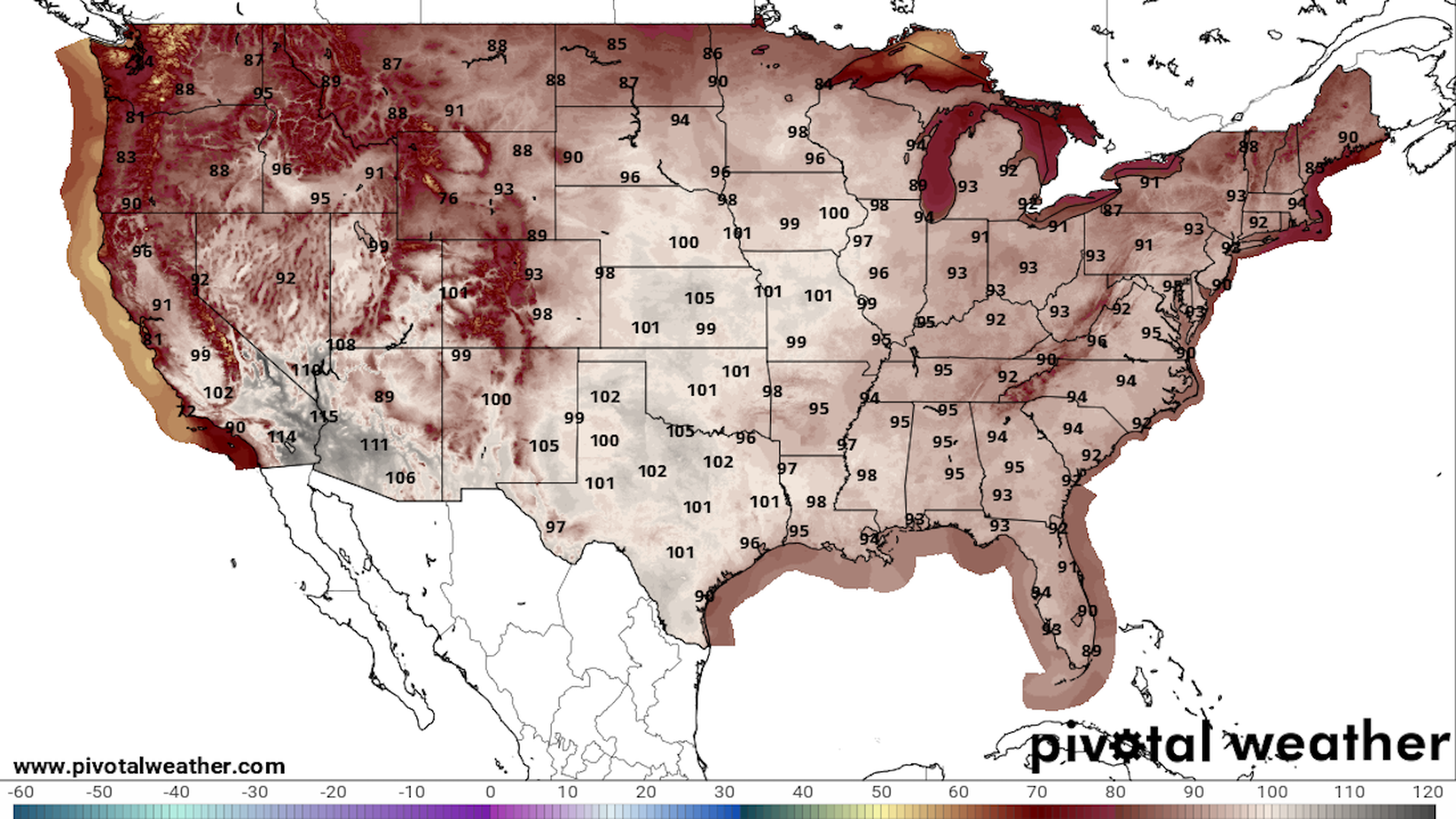 The heat wave roasting much of the U.S. for weeks is expanding its reach to the Great Basin, parts of the Rockies, and will eventually extend eastward across the Plains, Midwest and East Coast by the end of the week.
Why it matters: The longer this extreme heat event lasts, the greater the human and economic toll will be.
Extreme heat is the number one weather-related killer in the U.S., and Phoenix has now gone more than three weeks straight with high temperatures at or above 110°F.
There have been reports of people suffering burns, some severe, from people falling on hot pavement and even children stepping onto scalding surfaces.
The big picture: As of Tuesday morning, heat alerts stretched in patches from South Florida, where yet another "Excessive Heat Warning" was in effect for Miami, northwestward to Montana.
This affected over 81 million people, and more alerts are expected to be issued as the heat dome responsible for this weather sprawls out further, before eventually retreating southward and sticking around through August.
The Midwest, East Coast and other areas could see their hottest weather of the summer this week, including the potential for a triple-digit-reading in Washington, D.C.
By the numbers: New milestones were set over the weekend, extending record streaks. Monday was Phoenix's 25th straight day with a high temperature of at least 110°F, shattering the previous record of 18 such days.
The city also notched its record 15th straight day with low temperatures at or above 90°F on Monday.
The forecast for Phoenix calls for daily high temperatures to exceed 110°F through Friday.
Phoenix is on track to become the first major U.S. city to average over 100°F for an entire month, per NOAA statistics and a Washington Post analysis.
Meanwhile, Miami's heat index record of 100°F-plus temperatures extended into a 43rd consecutive day Sunday, beating the previous record by 11 days, with Monday likely to extend it further.
Context: Climate change is contributing to more severe and longer-lasting heat waves and making them far more likely to occur, studies show.
An example of this can be seen in one shattered record in El Paso, Texas. The city's previous record streak of 100°F days was 23. That now stands at 38 days and counting, with Monday likely to be the 39th day. Based on the latest forecasts, it is possible that 2023 will double the previous record for consecutive days at or above 100°F there.
The big picture: The extreme heat in the U.S. is one of three major events occurring simultaneously worldwide, and July is on track to be the globe's warmest month on record.
The past 20 days have been the warmest on record for the globe, according to climate scientist Zeke Hausfather, and the record heat observed in the North Atlantic Ocean even slightly exceeds projections from the latest sophisticated climate models.
In South Florida, the extreme heat is being driven in part by unprecedented ocean temperatures of well into the 90s°F. This is keeping adjacent land areas unusually mild and is also posing serious risks for the region's already degraded coral reef ecosystems.
Coral reefs have a narrow temperature tolerance and will expel symbiotic algae when they become too heat-stressed, a phenomenon known as coral bleaching since it turns them a ghostly white.
This is already being observed in parts of the Florida Keys, including areas where coral restoration projects were ongoing. Some scientists are moving corals to safety in tanks on land to protect them.
Editor's note: This article has been updated to reflect that a further 21 million people were under heat alerts and that Phoenix has now gone 25 straight days with a high temperature of at least 110°F.
Go deeper