Axios Gaming
August 14, 2023
Happy Monday.
If you're in Seattle, maybe it's time to open a gaming arcade? Just a thought.
Today's edition: 1,529 words, a 6-minute read.
1 big thing: Embracer's mystery partner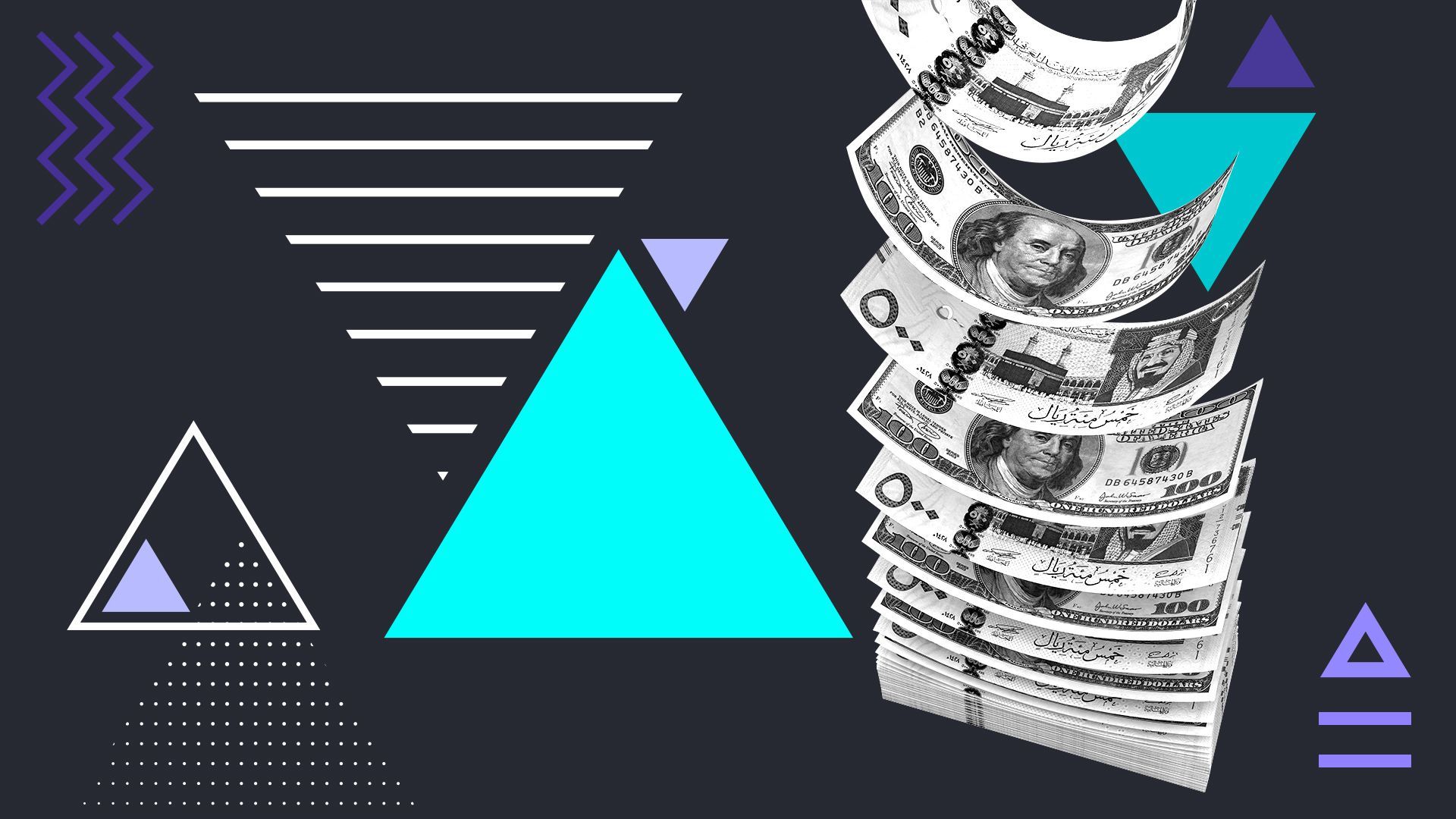 The previously unknown partner in a $2 billion video game mega-deal that mysteriously and dramatically collapsed a couple of months ago was the Saudi government-funded Savvy Games Group, Axios has learned.
Why it matters: The fallout of the failed deal sent shares of The Embracer Group — Savvy's would-be partner, and one of the most voracious acquirers of video game studios in the last several years — plummeting, and forced it into cost-cutting mode.
More broadly, the revelation may raise questions about how Saudi Arabia will proceed with its controversial ambitions to invest $38 billion in the video game industry.
Driving the news: Axios learned of Savvy's involvement from four sources familiar with the deal who were not authorized to speak about it publicly, and after reviewing documentation related to the planned partnership.
An Embracer spokesperson declined to comment for this story. A Savvy rep did not reply by press time.
Catch up quick: The $2 billion deal would have involved Savvy investing in the development and publishing of games from Embracer, helping establish the Saudi company as a major gaming label.
In a May 24 note, Embracer management announced the collapse of a partnership it had teased since November, saying a verbal commitment in October 2022 had been reneged on. It did not say who the deal was with.
"All documentation was finalized and ready to go as of yesterday," the note read. "We asked for the execution of the agreement before our Q4 announcement. However late last night we received a negative outcome from the counterparty."
While Axios' sources were clear about who the deal was with, they were less certain about why Savvy walked away.
Embracer and Savvy are both rising forces in the games industry and have worked together before.
Embracer has risen to prominence in recent years through a string of acquisitions, including its May 2022, $300 million purchase of several elite studios, along with the rights to the iconic Tomb Raider gaming franchise.
Savvy emerged in January 2022 with the news that Saudi Arabia's sovereign wealth fund, or Public Investment Fund (PIF), was setting it up as an attempt to invest in gaming and diversify the Kingdom's economy.
The intrigue: Embracer and Savvy announced a stock deal last June, with the Saudi firm purchasing $1 billion worth of Embracer shares — a move Embracer CEO Lars Wingefors swiftly defended amid criticism the investment would compromise his company's values.
While Savvy executives have told Axios and others that their operation, which has a board chaired by Saudi Crown Prince Mohammed Bin Salman, is a genuine effort to get into gaming and address the professional and leisure interests of the kingdom's youthful population, it's nonetheless been accused of being a distraction from the country's human rights record, similar to criticism of so-called "sportswashing" that's emerged from Saudi-backed efforts in boxing and golf.
What's next: Embracer will announce its latest quarterly earnings Thursday, when it may begin to detail cost reductions that it has promised to have in place by Oct. 1.
Meanwhile, some Embracer divisions continue to announce new games. And Embracer still has a lucrative deal with Amazon, which committed in December to publish the next Tomb Raider game.
But some Embracer studio projects are getting canceled — and one studio, Campfire Cabal, announced last week it was being shut down due to Embracer's restructuring.
2. Rockstar embraces role-players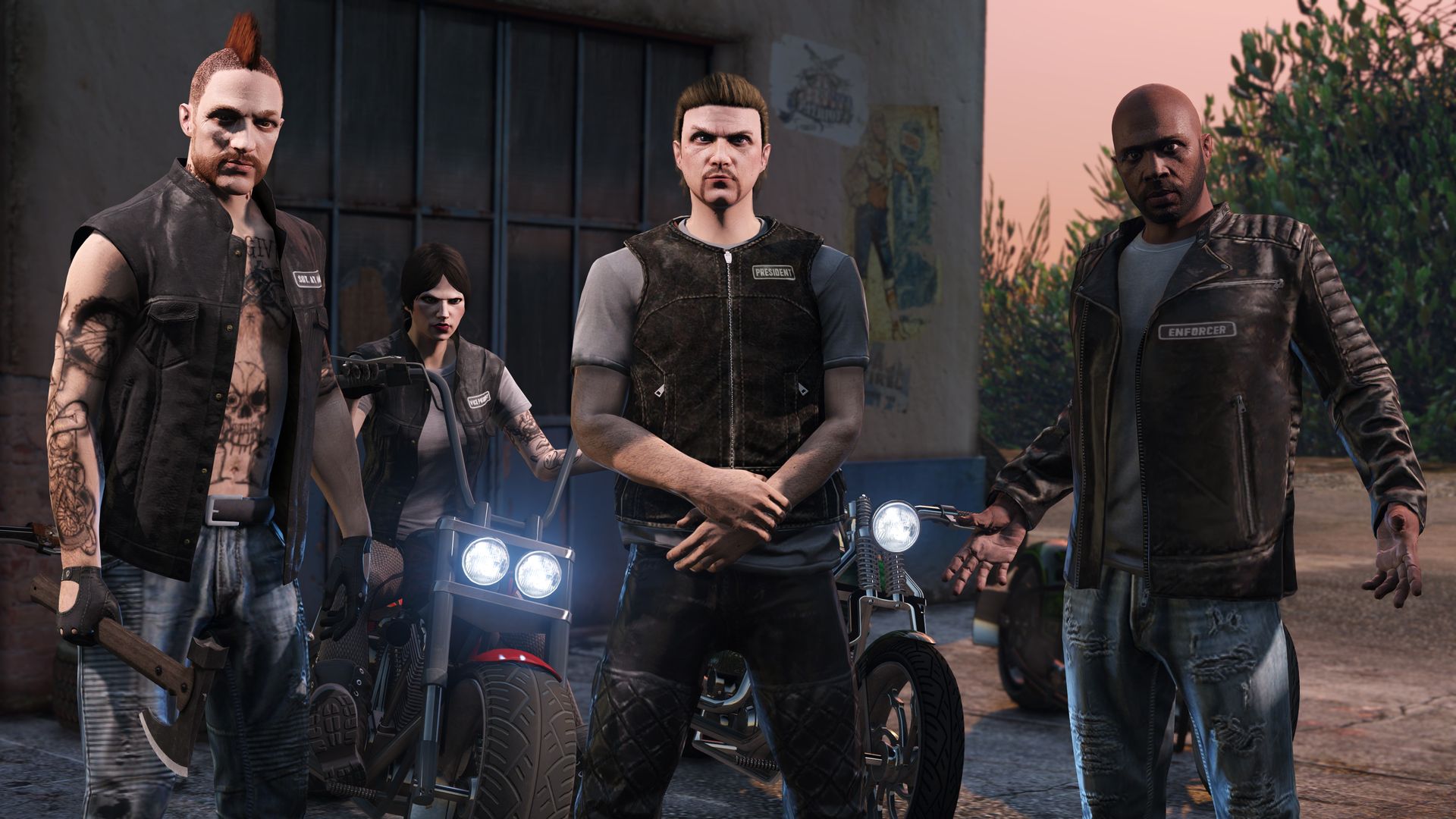 Rockstar Games, which once banned the makers of a popular software modification for Grand Theft Auto V, is now partnering with them.
Driving the news: The studio announced Friday that modding group Cfx.re is "now officially a part of Rockstar Games."
Rockstar said the new partnership was part of an effort to expand its embrace of the role-playing community, who use mods like Cfx.re's FiveM and RedM to turn its biggest games into virtual stages for player-driven drama.
Be smart: Gamers use GTA V mods to play out all sorts of adventures in the game's fictionalized Los Angeles that were not crafted by Rockstar itself, pretending to be cops, con artists or comedic foils for other players.
State of play: Mod-enabled role-playing in Rockstar's games, particularly GTA V, is one of the world's most popular video game activities to play and watch.
GTA V is still the most widely streamed game on Twitch as of last month, despite being released a decade ago, largely thanks to mod fans.
Twitch users viewed 139 million hours of GTA V streams in July, according to Stream Elements — 31 million more than the next closest game, League of Legends.
Yes, but: Relations were not always so warm.
In 2015, three modders behind FiveM said Rockstar banned them. The company later said "[t]he FiveM project is an unauthorized alternate multiplayer service that contains code designed to facilitate piracy."
What's next: Neither Rockstar nor Cfx.re have detailed what will come of the partnership, promising more info will be released.
3. Netflix's games are coming to TVs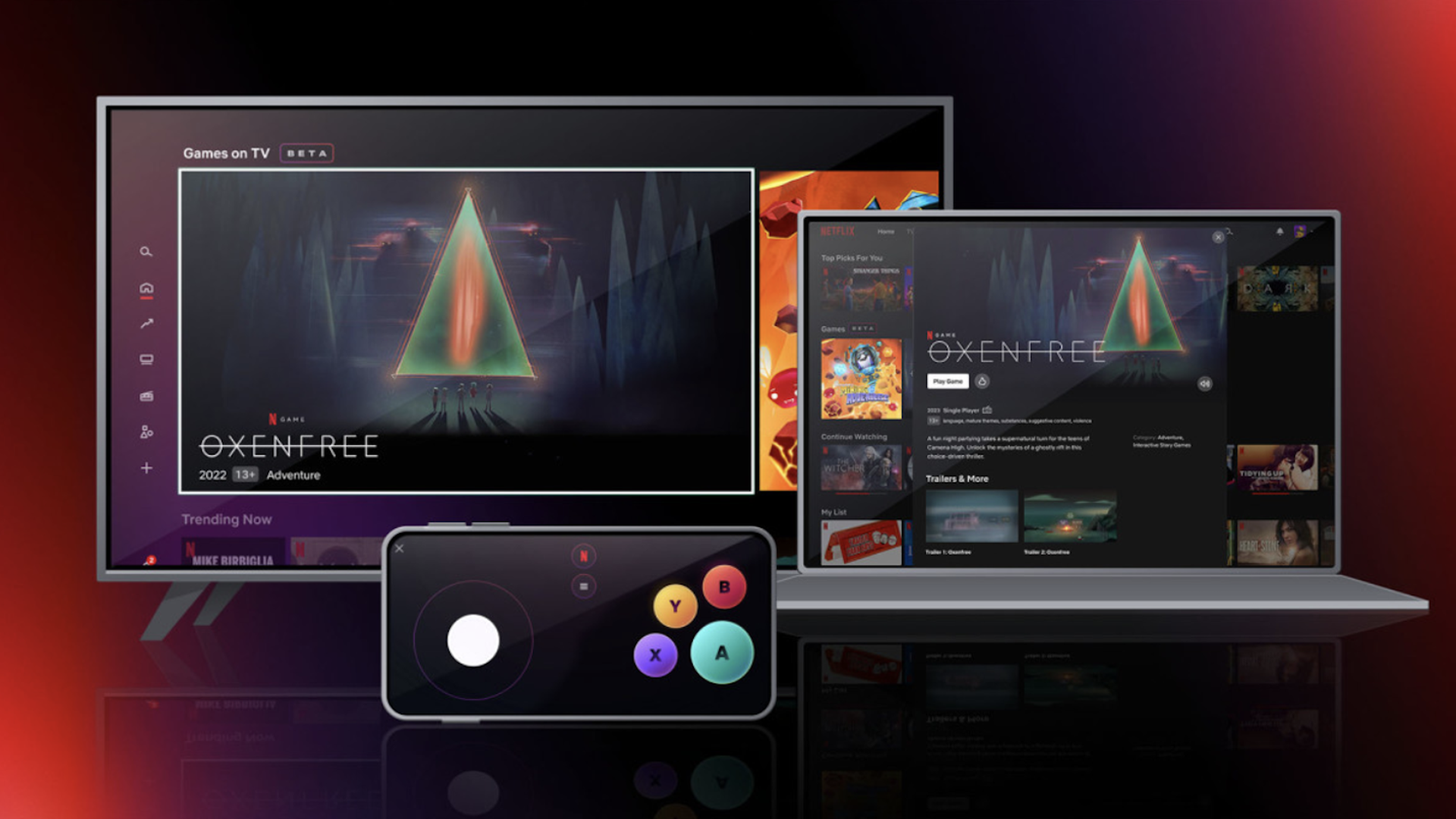 Netflix is making some of the company's video games playable on TVs and computers, expanding its reach beyond mobile gaming.
Why it matters: Netflix is taking another step toward using its massive subscriber base to become a player in the video game industry.
Details: The company said today it will allow a small number of users in Canada and the U.K. to test two of its games via smart TVs or on PC/Mac through Netflix.com.
Computer players can use a mouse and keyboard to play the games: Oxenfree, from Netflix-owned Night School Studio, and Molehew's Mining Adventure.
People playing the TV can use a new app released by Netflix last week that turns their phone into a game controller, complete with virtual buttons.
The games are played over Netflix's streaming services, as opposed to its mobile games, which were downloaded to phones.
The big picture: Netflix started offering mobile games at no additional cost to subscribers in late 2021, and has proceeded to buy game studios, start new ones, hire senior game development talent and roll out dozens of games.
4. Activision drops lawsuit against TikTok user
Activision is no longer suing a music critic over the rights to use a sample of his voice from a viral TikTok clip in a promotional video.
Driving the news: Activision withdrew the unusual suit against Anthony Fantano last week, according to a court filing.
"Plaintiff Activision Publishing, Inc. hereby dismisses this entire action, including, without limitation, all claims alleged therein, with prejudice," it stated.
A rep for the game company declined to comment on the dismissal.
Between the lines: Activision had sued Fantano in July, accusing the critic of asking for an "extortionate" amount of money for using his voice in a TikTok video of its own to promote its gaming character Crash Bandicoot.
In April 2021, Fantano had created a TikTok video of himself reacting to the prolific slicing of a pizza. His reaction, segueing from fascination to alarm, went viral.
Activision would later claim Fantano's clip was listed by TikTok as cleared for commercial use. It also argued that users who signed on to TikTok agreed to allow others to remix their contributions.
5. Need to know
👀 Patricia Hernandez is out as editor-in-chief of Kotaku, after taking over from Riley MacLeod in 2021.
Full disclosure: I hired Patricia as a writer at Kotaku in 2012 and consider her vital to transforming video game coverage from a product-focused beat to one that followed games as they are played, with an emphasis on the importance of what gamers do in games and the culture of the scene.
🖋 Game journalists Jacob Wolf and Mikhail Klimentov, the latter of whom was a founding editor for the Washington Post's recently shuttered Launcher gaming vertical, are launching a Patreon, as more game journalists test the appetite for direct crowd-funded reporting, Digiday reports.
🎮 THQ Nordic, one of the larger divisions of the Embracer Group, announced action role-playing game Titan Quest 2 (PC, TBD release date), a four-player co-op South Park game subtitled Snow Day (console and PC, 2024 release) and Teenage Mutant Ninja Turtles: The Last Ronin (PC, PlayStation, TBD release date), among other games in a packed online showcase Friday.
😲 Id Software has released an enhanced version of classic 1997 first-person shooter Quake II (PC, console), complete with a new expansion made by sister studio MachineGames.
🗓 Ubisoft has moved the release date of Assassin's Creed Mirage up a week to Oct. 5.
💰 Haveli Investments, which has been building a venture capital gaming fund since last year, has purchased a $100 million stake in mobile game studio Candivore (Match Masters).
🤔 The Pokémon Company is having "conversations" about how its "constant release" schedule is impacting the quality of its games as development complexities increase, the company's COO told ComicBook.com.
6. Zelda moves, patented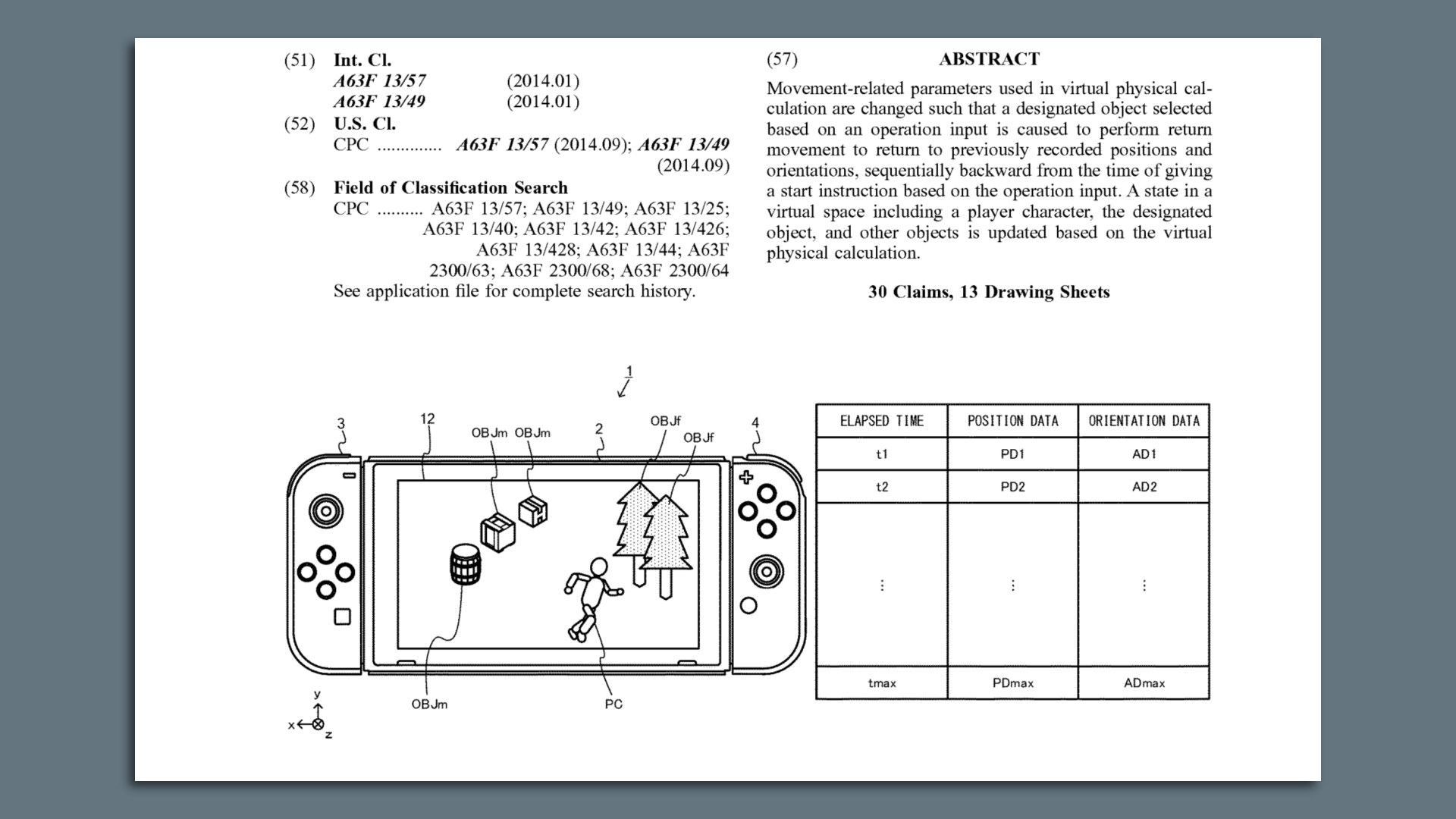 Nintendo is trying to patent many of Link's signature moves from its May blockbuster The Legend of Zelda: Tears of the Kingdom, Automaton reports.
The outlet cited 31 Zelda-related patent applications from Nintendo from early July to early August, pertaining to in-game abilities such as the construction-oriented Ultrahand or the ability to strike multiple enemies with lightning.
The patenting of game mechanics is common across big publishers but has been controversial, with critics saying it can stifle innovation, as per a Vice report in 2021.
🎁 Like the newsletter? Refer Axios Gaming to your friends to spread the word, and get free stuff in the process. Follow the link here to begin.
🐦 Find me on Twitter or Threads, @stephentotilo.
Thank you to Alex Fitzpatrick for editing and Kathie Bozanich for copy editing this newsletter.
Would anyone have been OK with "6. A link to the patent."?