Axios AM
December 26, 2022
🧤 Welcome back! Smart Brevity™ count: 1,191 words ... 4½ minutes. Edited by Laurin-Whitney Gottbrath.
1 big thing: Year of upheaval
Most news cycles in '22 — from Will Smith's Oscars slap to monkeypox to the death of Queen Elizabeth II — burned hot and fast.
These five events produced this year's biggest spikes in Google searches:
World Cup.
Ukraine.
Powerball.
Will Smith.
A tie: Queen Elizabeth II ... and searches about Russia during the first week of its invasion of Ukraine.
🕶️ What we're watching: Several topics maintained high levels of attention for multiple weeks.
Russia's invasion of Ukraine.
The historic confirmation of Justice Ketanji Brown Jackson ... the overturning of Roe v. Wade ... and a plot against Justice Brett Kavanaugh kept people Googling about the Supreme Court.
Speaker Nancy Pelosi made waves by visiting Taiwan ... after the attack on her husband, Paul Pelosi ... and when she announced she'd step down from House leadership.
Continued waves of migration at the southern border ... actions by the Texas and Florida governors ... and the coming end of pandemic-era border policies drove Google searches about immigration all year.
The year again was marred by mass shootings, which took the lives of 19 children and two teachers in Uvalde, Texas ... 10 supermarket shoppers and employees in Buffalo ... and many others.
Go deeper: Visit our Google Trends charts for 2017, 2018, 2019, 2020 and 2021.
2. 🎒 Chatbot cheating

Darren Hick, a philosophy professor at Furman University in Greenville, S.C., warns in an eye-opening Facebook post that cheating using the new OpenAI chatbot, ChatGPT, can be tough to catch:
"ChatGPT responds in seconds with a response that looks like it was written by a human — moreover, a human with a good sense of grammar and an understanding of how essays should be structured."
⚠️ Why it matters: The chatbot generates new words based on "the soup of data in its neural network" — rather than searching the web. So there's no specific passage you can point to as proof a student cheated.
And plagiarism software may not catch it.
I found Hick's post via a link in a "Tech Fix" column by the N.Y. Times' Brian X. Chen ("Using A.I.? Please Do It Responsibly"), who pointed out:
"People experimenting with ChatGPT were quick to realize that they could use the tool to win coding contests."
State of play: The Furman professor busted one student, who admitted she had used the chatbot.
Hick was tipped off because her essay "confidently and thoroughly" responded to the assignment — "Hume and the paradox of horror" — in ways "that were thoroughly wrong."
"It did say some true things about Hume, and it knew what the paradox of horror was, but it was just bull----ting after that," Hick writes.
"ChatGPT also sucks at citing, another flag."
"For freshman-level classes ... [e.g.] the dominant themes of Moby Dick, or the causes of the war in Ukraine ... this is a game-changer."
🔮 What's next: "Administrations are going to have to develop standards for dealing with these kinds of cases ... FAST," Hick writes.
"Expect a flood, people, not a trickle. ... I expect I'm going to institute a policy stating that if I believe material submitted by a student was produced by A.I., I will throw it out and give the student an impromptu oral exam on the same material."
3. 🚌 Axios interview: Migrants left outside V.P.'s residence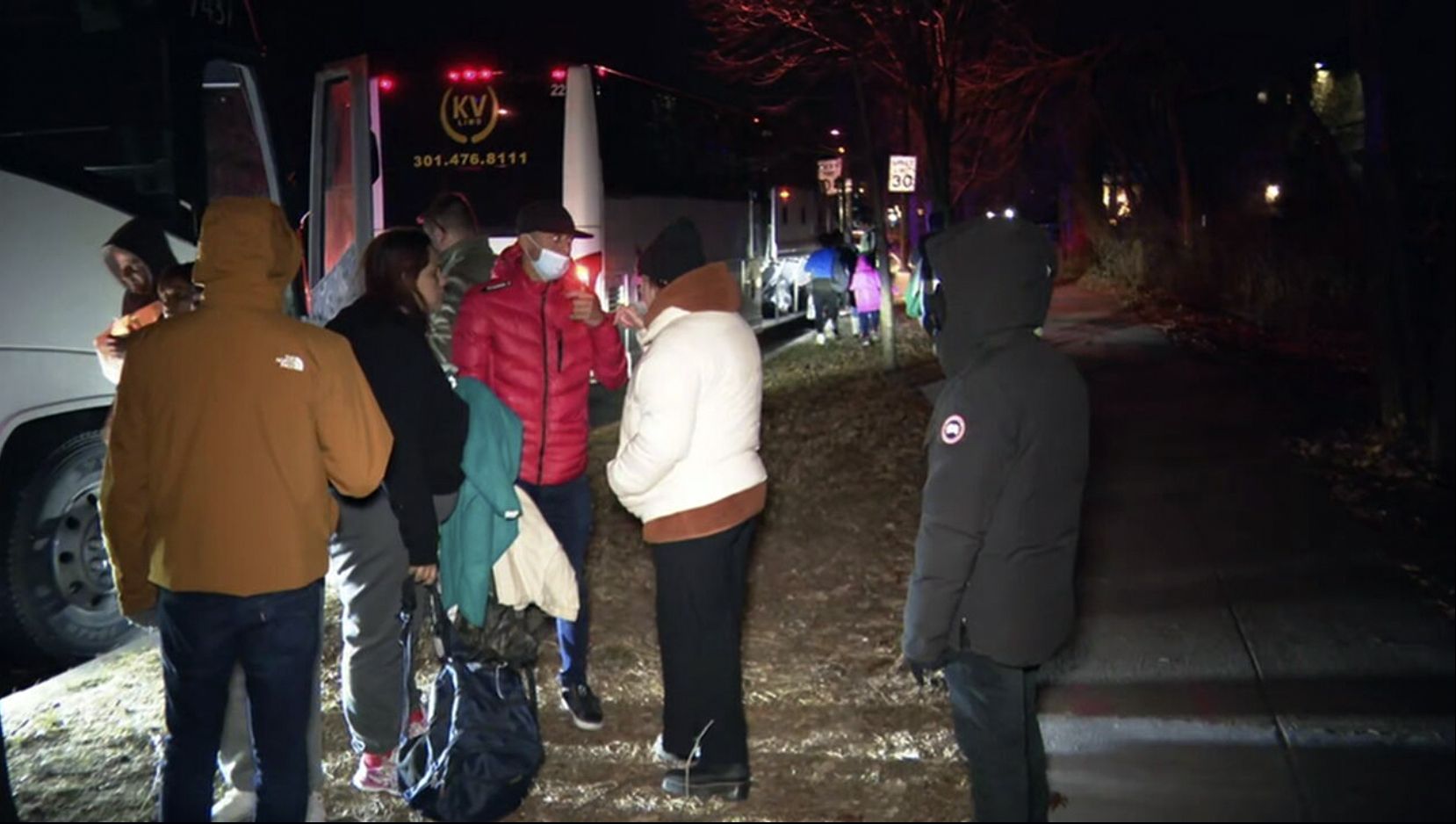 Claudia Tristán, a volunteer with the Migrant Solidarity Mutual Aid Network, spent the wee hours yesterday helping feed 140 migrants who were left by the roadside on Christmas Eve outside Vice President Kamala Harris' official residence, the Naval Observatory.
Tristán and other advocates said the three buses came from Texas. An aide to Gov. Greg Abbott (R) hasn't responded to my text.
"None of them knew where they were being dropped off," she told me, after hours of chatting with them. "They have no idea they're part of this bigger political game."
The bus drops have become common enough in D.C. that a network of churches is ready to spring into action.
Tristán told me that within half an hour of the arrival of the first bus, the migrants were on their way to a church to be warmed with coffee, tamales, beans and rice, and rotisserie chicken.
Tristán used a Bluetooth speaker to play Christmas carols in Spanish.
The group included enough toddlers that a play area was set up for them.
Tristán said the migrants were from many different countries, including Nicaragua, the Dominican Republic and Chile.
The aid network sent the migrants on to destinations where they have contacts, including Philly, Boston and Washington State.
4. 📷 1,000 words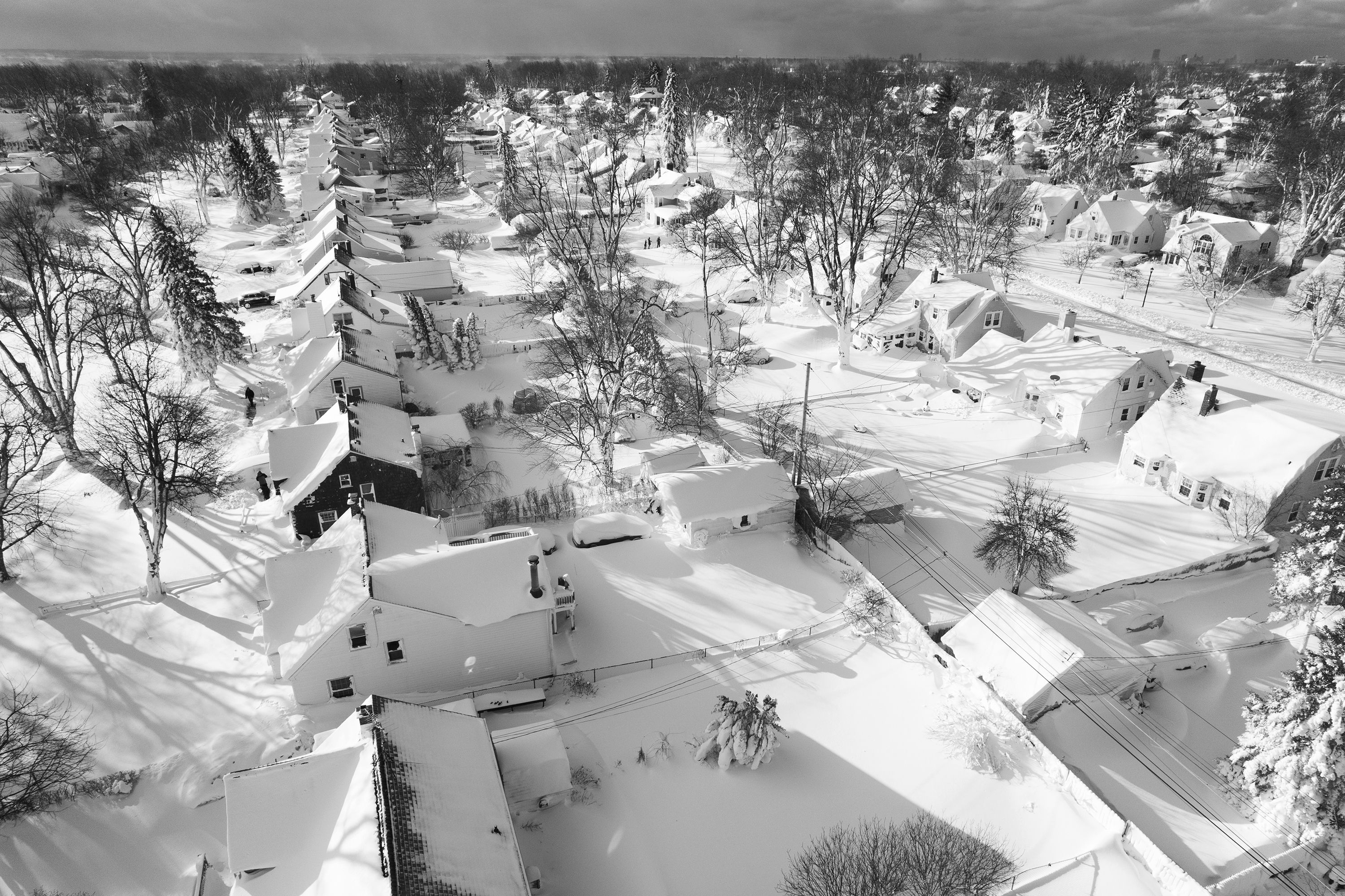 Above is a drone image showing snow blanketing Cheektowaga, N.Y. — in Erie County, outside Buffalo.
This weekend's storm killed at least 34 people across the U.S — half in the Buffalo area, where some people were stuck in cars for more than two days. Tens of thousands lost power. Keep reading.

Left: Charleston, S.C. ... Right: New Orleans.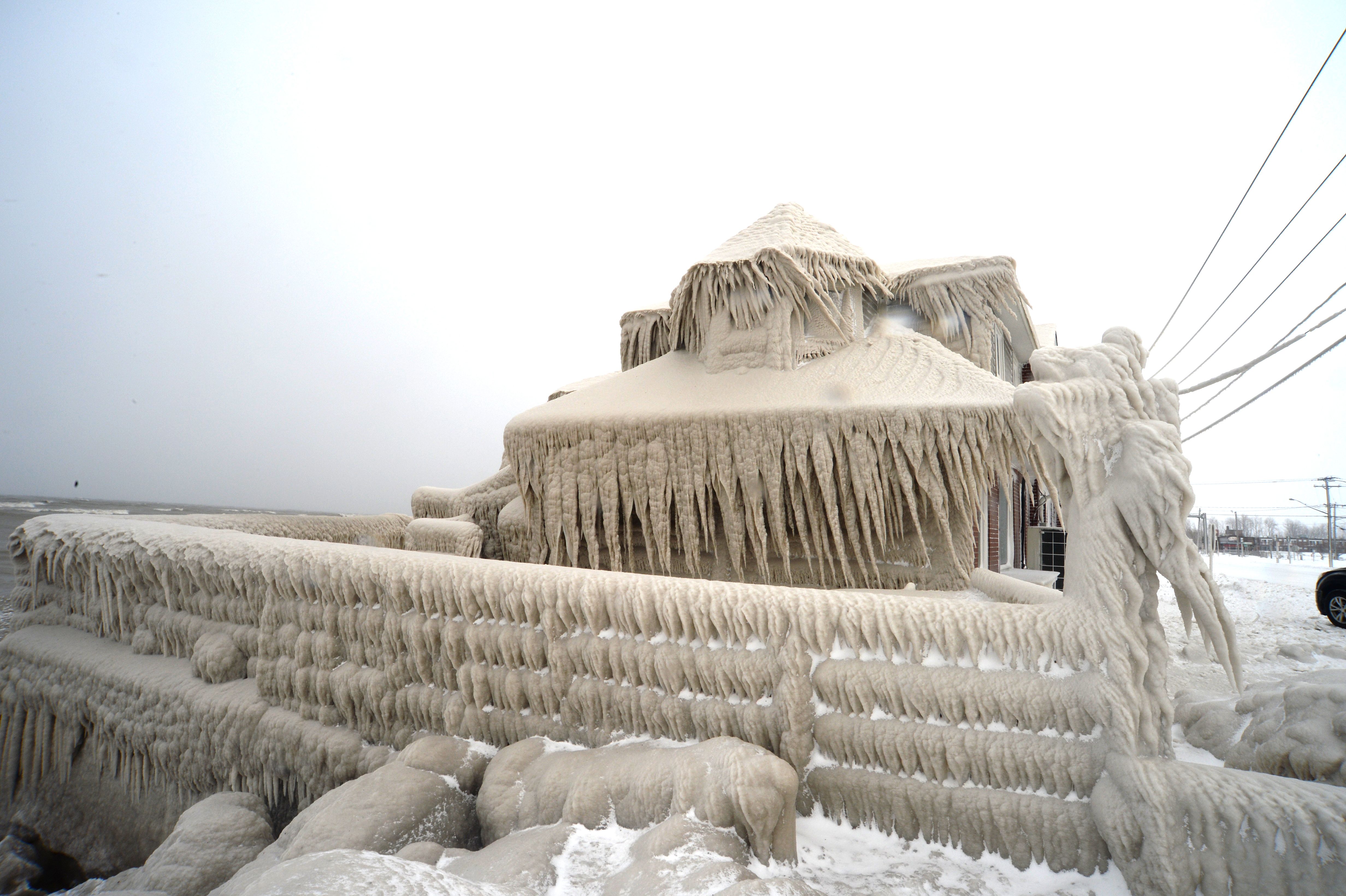 Ice covers Hoak's Lakeshore Restaurant — on Lake Erie in Hamburg, N.Y., a Buffalo suburb.
"We had to save firemen, we had to save police officers, we had to save EMTs. ... [T]he rescuers have to be rescued."
5. 🤯 Check out these hold times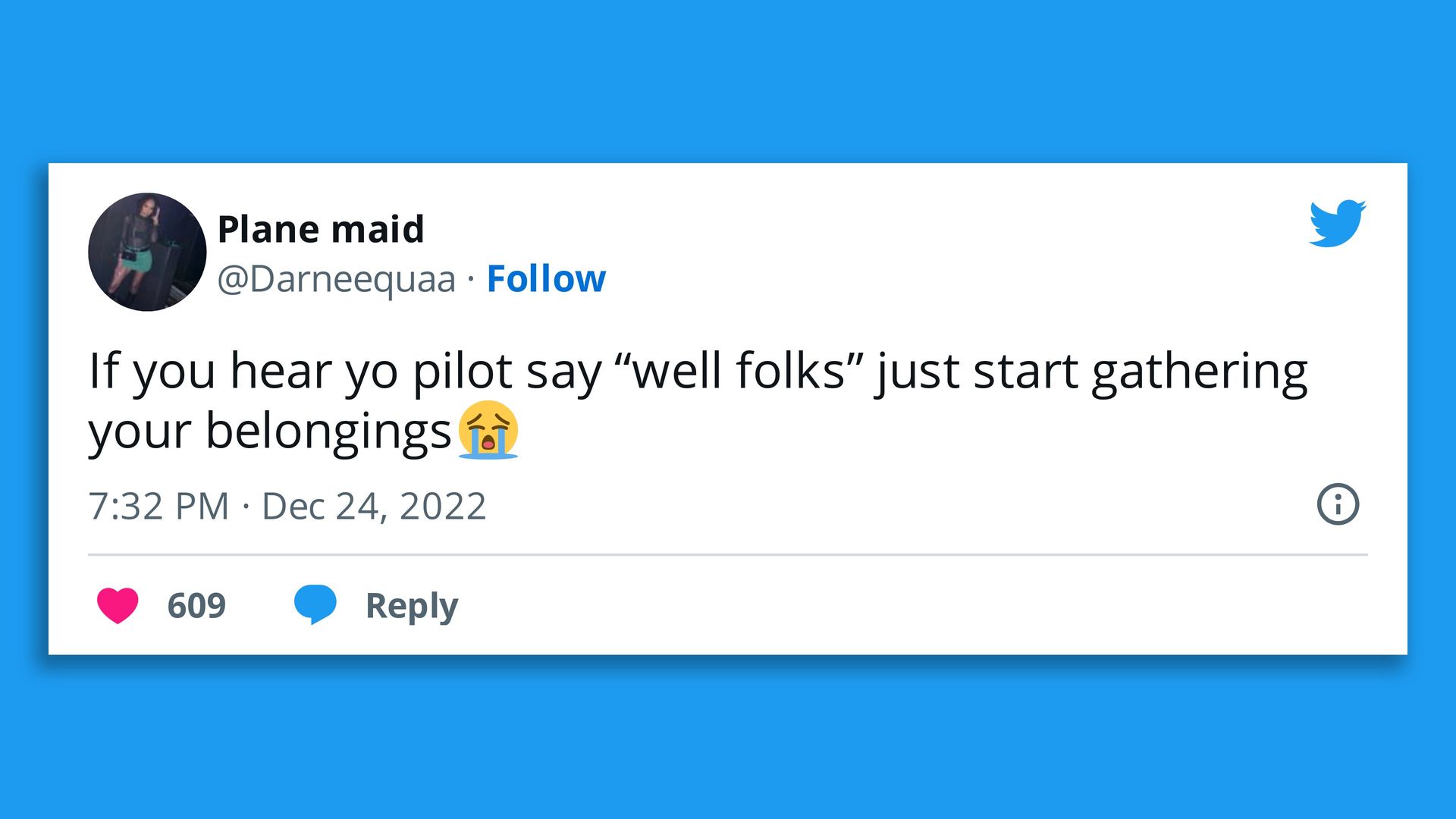 A small window into the travel hell so many families faced this holiday:
I tried to make one of the simplest possible changes — move a full-fare ticket to a later day — on the Alaska Airlines website. No dice.
So I called the 800 number on Christmas afternoon. The robot informed me: "The current longest call holding is 8 hours, 19 minutes."
In case it was a fluke, I called back: "The current longest call holding is 8 hours, 23 minutes."
There was no option to call you back, as American Airlines offered. (It worked, in just 10 mins.)
I checked back this morning: 7 hours, 56 mins.
6. 🇺🇦 New way to troll Putin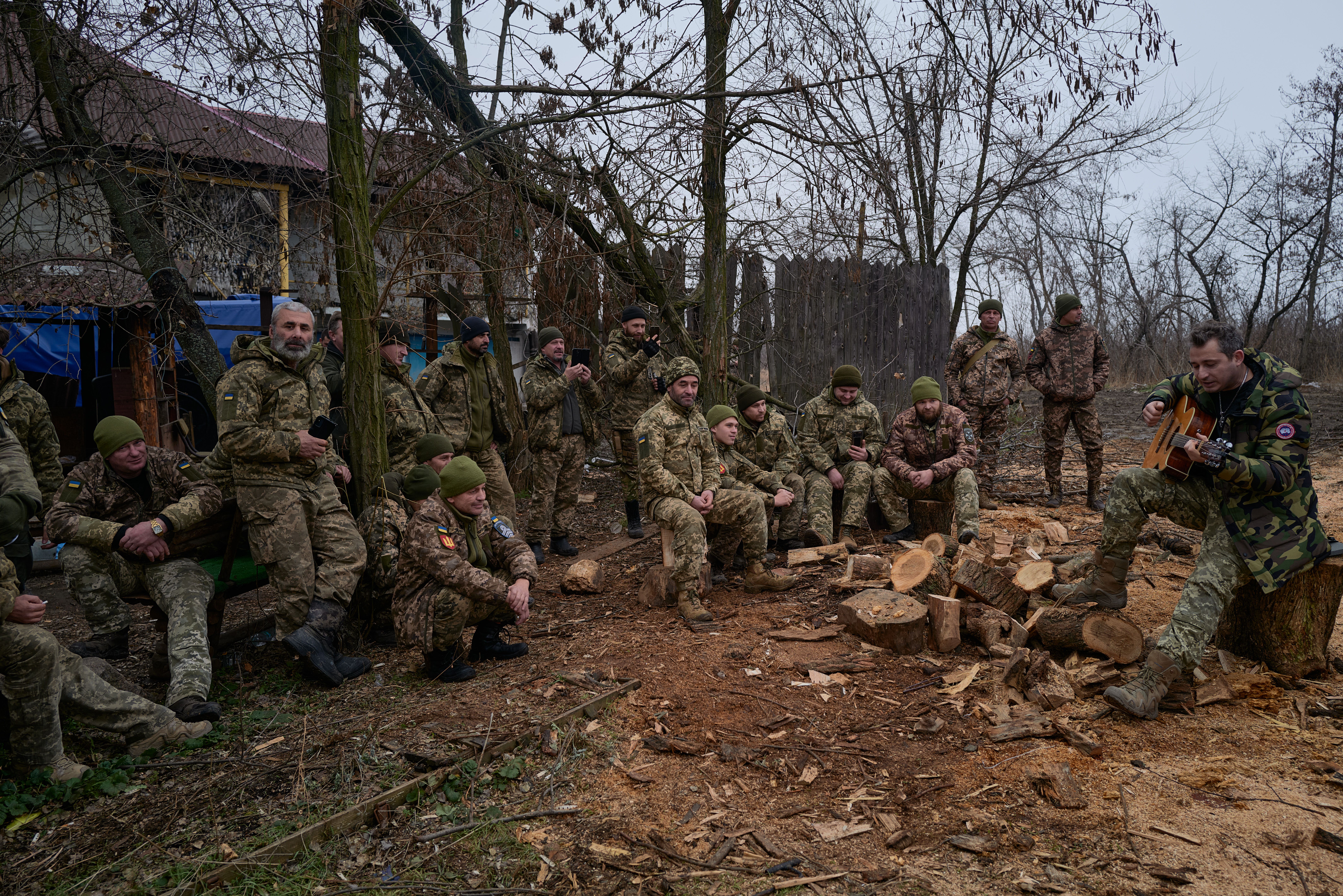 Many Ukrainians celebrated Christmas yesterday, in a break from their traditional Eastern Orthodox observance on Jan. 7.
Why it matters: The shift is a rebuke to Russia, where the Orthodox church follows the Julian calendar — and an alignment with the West, where the Gregorian calendar dominates, Axios' Dan Primack writes.
7. ⛳ Remembering history's winningest golfer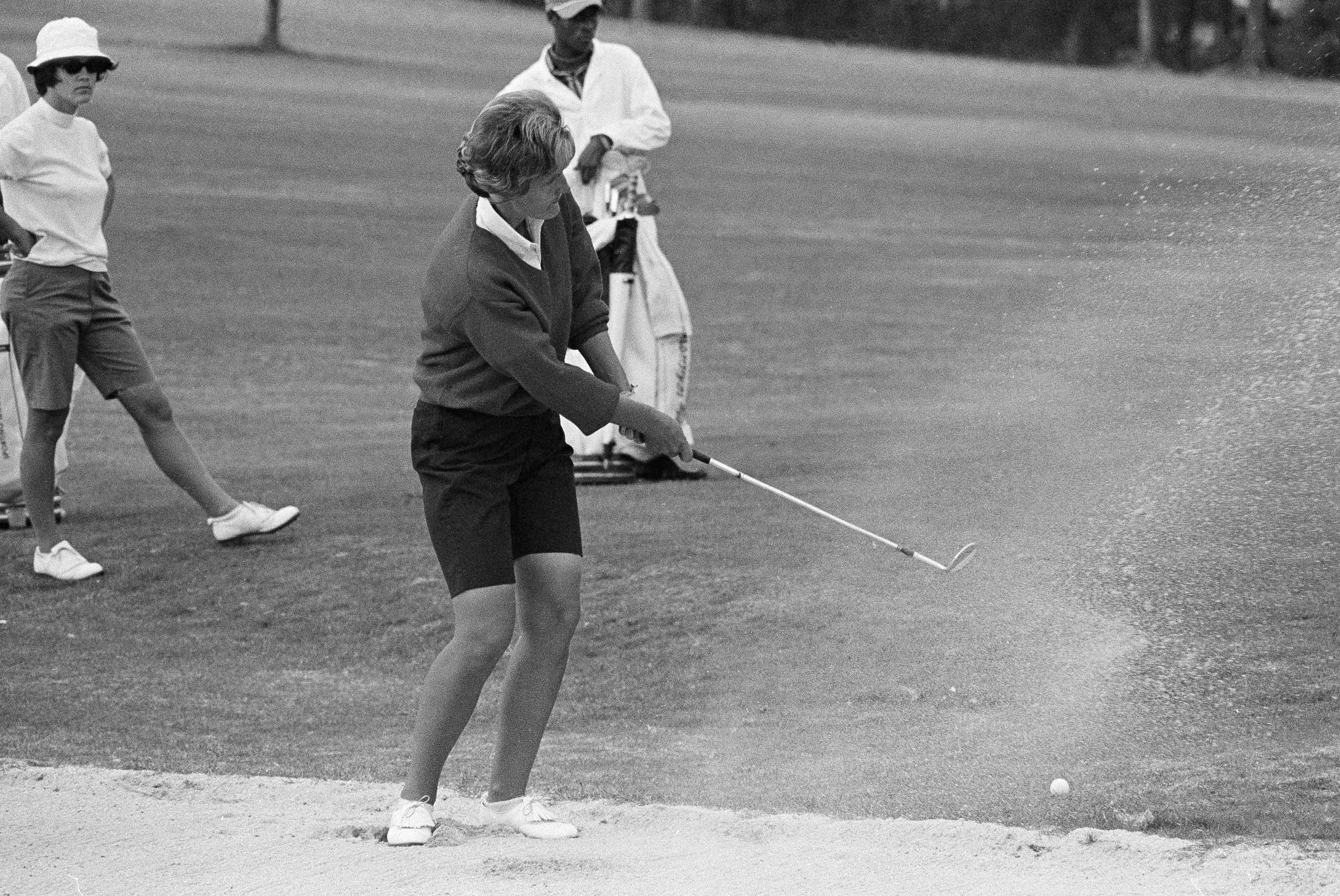 Kathy Whitworth, who died on Christmas Eve at 88, set a golf benchmark no one has touched — not Sam Snead or Tiger Woods, nor Mickey Wright or Annika Sorenstam, AP's Doug Ferguson reports:
Whitworth's 88 victories are the most by any player on a single professional tour.
Whitworth won the first of 88 titles in the Kelly Girl Open in 1962.
Go deeper: Golf Digest feature from 2009, "Golf's greatest winner."
8. 🥊 Parting shot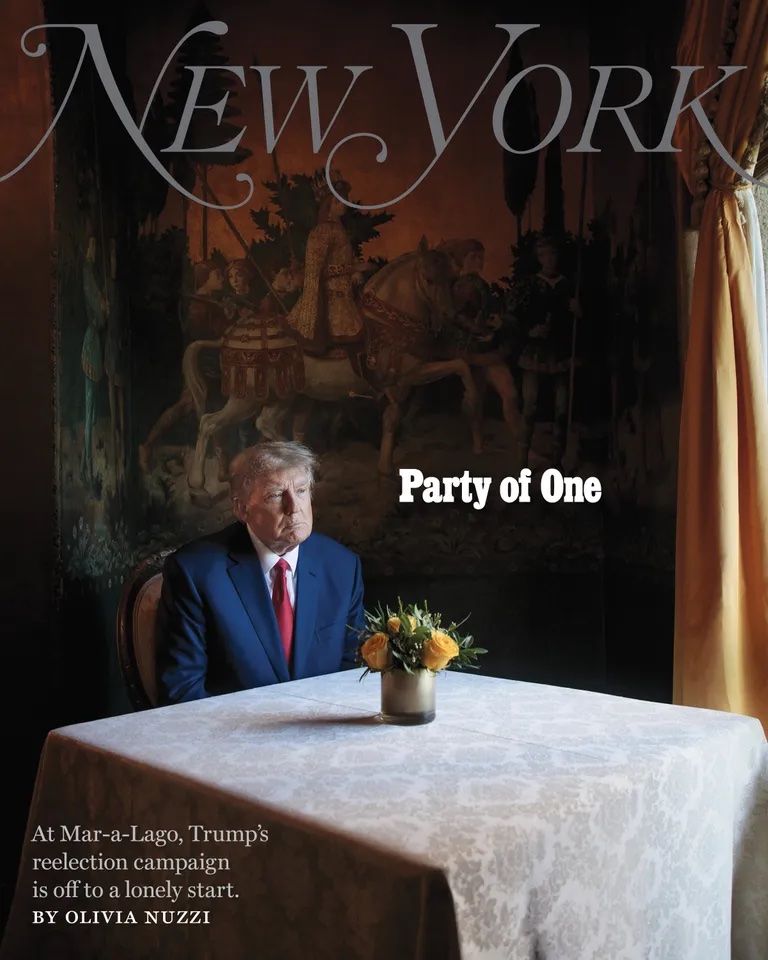 The cover of New York Magazine's Jan. 2 issue.
❄️ Thanks for starting your week with us. Please invite your friends to sign up.