Valhalla Resale, Tampa Bay clothing swaps are fresh takes on secondhand shopping trend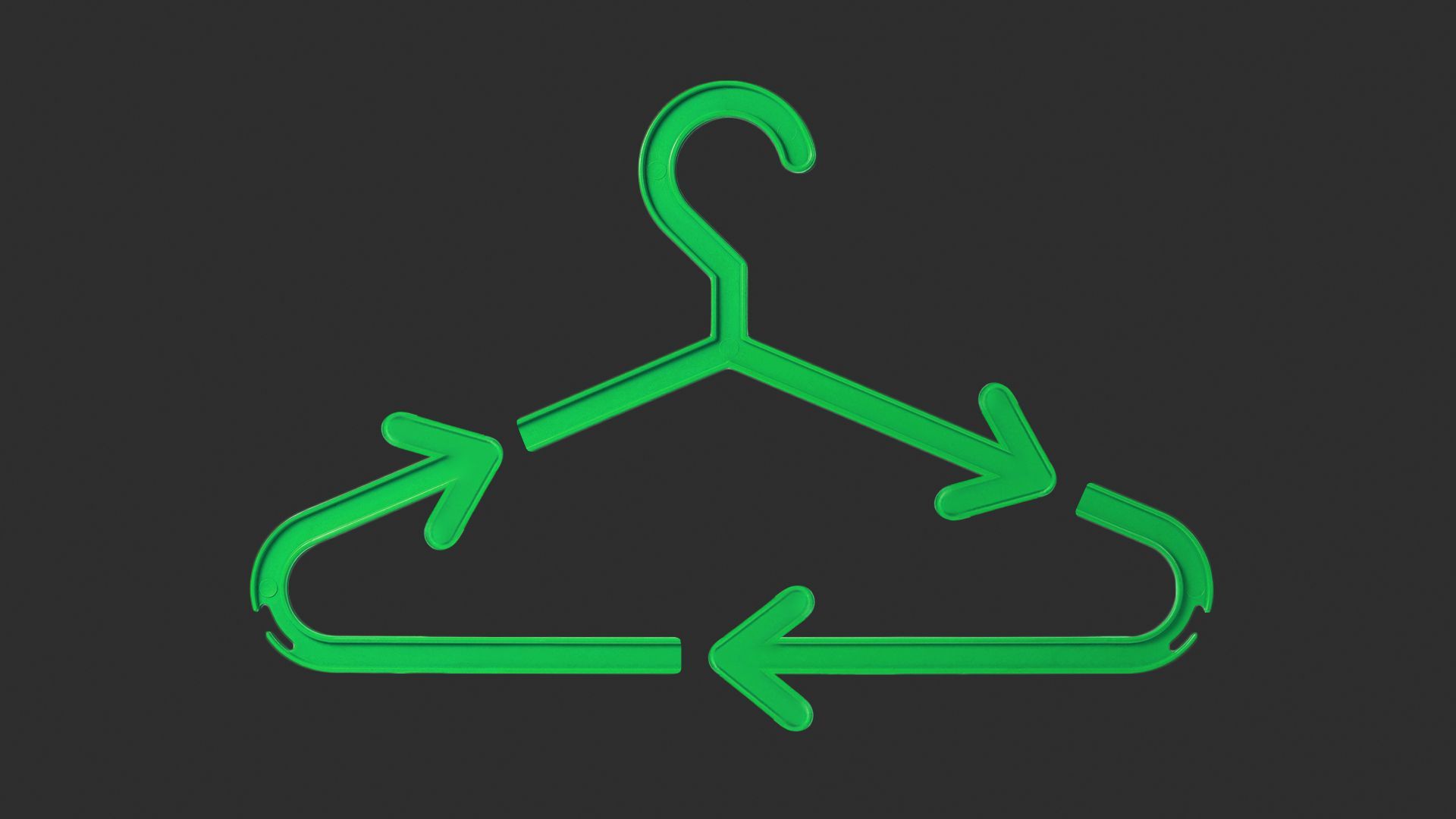 Buying new clothes? That's so last season.
Driving the news: Buying and trading used clothing — whether at thrift stores, clothing swaps or online via sites such as Depop or Poshmark — is on the rise, and it's not slowing down anytime soon.
Why it matters: Between the fashion industry's massive carbon footprint and the billions of pounds of used textiles thrown away by consumers each year, our relationship with clothes comes at a steep cost to the environment.
State of play: Tampa Bay has long had donation-based thrift stores. Shops like Avalon Exchange and Revolve St. Pete offer cash or store credit for clothes, and the selection of items has a more curated, boutique feel.
Yes but: More recently, some enterprising locals have brought fresher takes to the secondhand fashion trend.
Valhalla Resale, which began in Seminole Heights and opened its second location last year in St. Petersburg, offers a clothing rental program.
Subscribers can rent up to three pieces of clothing, selected from the store's vast stock of secondhand pieces.
Plus: St. Pete Clothing Exchange coordinates monthly clothing swaps with donated items available for free. The network began a few years ago among friends and last year launched as a Facebook group that's now up to nearly 2,000 members.
A clothing swap is exactly what it sounds like: You take your unwanted clothes, meet up with a group of people and trade them around.
Zoom out: The exchanges are everywhere these days, whether in living rooms with a group of friends or as more formalized events. One swapper based in Los Angeles created an online platform called Swap Society.
Zoom in: Brooke St. Arnold organized the first St. Pete event for a friend who had left behind most of her wardrobe in leaving an abusive relationship. "I had so much left over that I was like, 'I should just save this and do another one,'" St. Arnold, 28, told Axios.
She advertised on social media, and "it really just blew up." Events are now held the second Sunday of each month at The Mad Monk art gallery.
What they're saying: "You realize how much we do not lack as a society," co-organizer Brittany Rowlett, 29, said. A fashion lover, she used to spend a couple hundred dollars a week buying new clothes. Now, "I don't remember the last time I bought any clothing."
The bottom line: "It's totally unnecessary to have fast fashion," St. Arnold said. "There is enough clothing out there that nobody should have to buy anything ever again."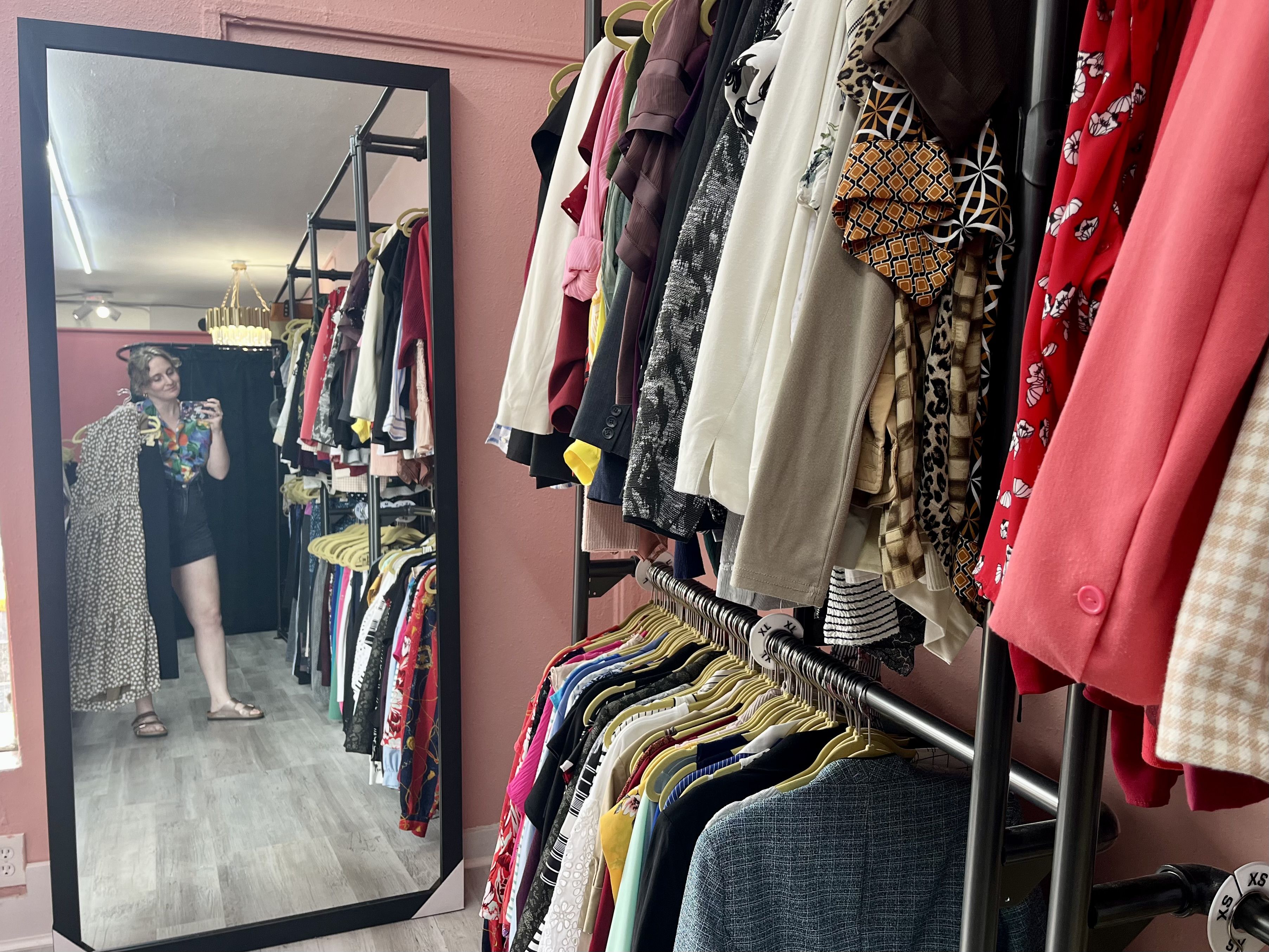 Test Drive: Valhalla Resale
I love fashion — probably too much. I'm a huge thrifter, both in store and on Instagram, where direct-to-consumer secondhand sellers hold court. (My favorite local Instagram accounts are The Kosmic Kham and Golden Trash.)
Driving the news: With that vice in mind, I decided to try out Valhalla Resale to see how renting felt. For $49 a month, members can take up to three pieces of clothing at a time and change out items as many times as they want.
State of shop: Owner Danielle Ferrari had been working in civil construction for a decade when she decided to start her own business. Her initial idea was an Airbnb for tools — users could offer up, say, their lawnmower for another user to borrow.
Without knowing how to program, she left that idea behind. She started researching what it would take to open a clothing shop and learned how much fashion goes to waste. "That was the 'Aha!' moment," Ferrari told Axios.
Valhalla has grown to 100 members in Tampa (it was 150 before COVID, Ferrari said) and about 50 members in St. Pete.
The vibe: Visiting the shop gave me the same thrill of the hunt I get from thrifting. It also offers personal styling, so Ferrari had a rack of picks (and a glass of sparkling wine) waiting for me when I got there, based on an online questionnaire that took about 10 minutes.
I ended up taking home two of her picks — a pair of navy wide-leg mesh pants and a light blue Everlane shift dress. My third item was a reversible printed wrap skirt I grabbed off the rack.
I liked the dress and skirt so much that I was ready to fall back on old habits and buy them. Valhalla offers 20% off the purchase price for members.
Yes, but: I didn't have time to make it back to the shop for another few weeks, and that turned out to be a good thing. The "new clothes!" shine wore off, and I was ready to relinquish the dress and pants to try some other items.
Meanwhile, I kept the skirt. Valhalla lets you hang onto a piece of clothing for as long as you want. The skirt is perfect for a music festival I'm going to next month, and that's where I think Valhalla really shines.
The option to rent clothes for a special occasion, like a wedding or concert, is super helpful.
Ferrari said the shops got especially busy before last month's Beyoncé show in Tampa, and business usually picks up around Halloween.
The best part? Valhalla handles the laundry, which is also done with sustainability in mind. Ferrari uses Sans Market to refill detergent and installed a filter to collect microplastics so they don't end up in Tampa Bay.
Of note: Based on my perusal, the sizes ranged from 00/XS to 16/XL. The shops accept and sell only women's clothing.
The verdict: The shop's motto — "Limitless Closet. Endless Possibilities." — sums up the appeal well. I'm hanging onto the membership for at least another month to find some more music festival outfits.
And maybe, just maybe, spending more time renting will help me kick my buying habit. My overflowing closet would thank me.
More Tampa Bay stories
No stories could be found
Get a free daily digest of the most important news in your backyard with Axios Tampa Bay.