Orca sightings around Washington break records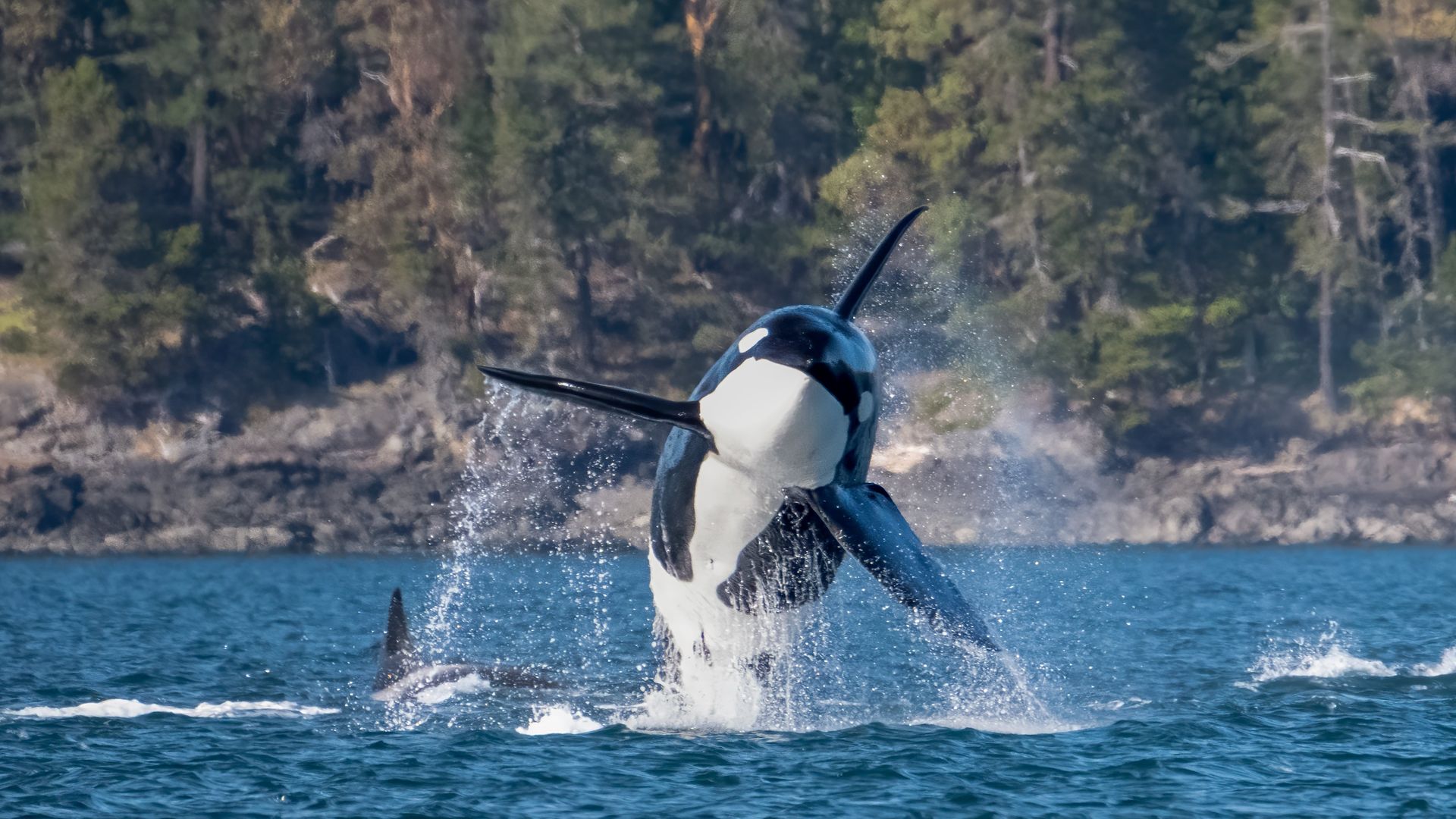 It's been another record-breaking year for Bigg's killer whales in the inland waters of Washington and British Columbia, according to local whale organizations.
Why it matters: The nearly year-round presence of the once rarely seen mammal-hunting killer whales, also known as transients, shows that conservation efforts and regulations work, according to the Pacific Whale Watch Association (PWWA).
Driving the news: There were 1,270 unique sightings of Bigg's killer whales in the Salish Sea this year through Oct. 31, the Orca Behavior Institute (OBI) said this month.
This surpasses the previous record of 1,220 unique sightings, set over 12 months in 2022, PWWA says.
This is the ninth year out of the last 10 that the record has been broken — with a dip only in 2020, most likely due to decreased observation during the pandemic, said OBI director Monika Wieland Shields.
Of note: Whale sightings are compiled from reports by professional whale watchers, regional sightings groups and community scientists throughout the Salish Sea of Washington and British Columbia and confirmed with photos, per OBI.
Catch up quick: Marine mammals like seals, sea lions and porpoises were once the target of state-funded bounty programs in Washington, Oregon and Alaska because they were considered competition for the local fisheries, PWWA said.
But their population has increased steadily since the bounty programs ended in 1960 and marine mammals gained protection under the Marine Mammal Protection Act in 1972, said Erin Gless, executive director of PWWA, a group of 30 professional wildlife viewing companies.
That has lured Bigg's killer whales back into local waters, Gless told Axios.
What they're saying: "What's happening with Bigg's killer whales right now is truly remarkable to witness," Gless said. "People once referred to them as 'transient' killer whales because sightings were so rare, but now we're seeing them almost daily, and we have their food to thank for that."
Yes, but: The news remains grim for the region's critically endangered Southern Resident orca population, which was estimated at 74 in July, per the Marine Mammal Commission.
Unlike their Bigg's relatives, Southern Resident killer whales eat only salmon, which have been declining due to rising ocean temperatures, loss of spawning habitat, chemical pollution and predation from natural predators, including humans, said OBI and PWWA.
The remaining Southern Resident population, now found mostly off the coast, will likely not return regularly to inland seas until salmon runs are restored, Shields said.
Anyone can report whale sightings through the Orca Network, the WhaleReport app (on Apple and Android) or the Whale Alert app (on Apple and Android).
More Seattle stories
No stories could be found
Get a free daily digest of the most important news in your backyard with Axios Seattle.