Wine industry braces against impacts of wildfire smoke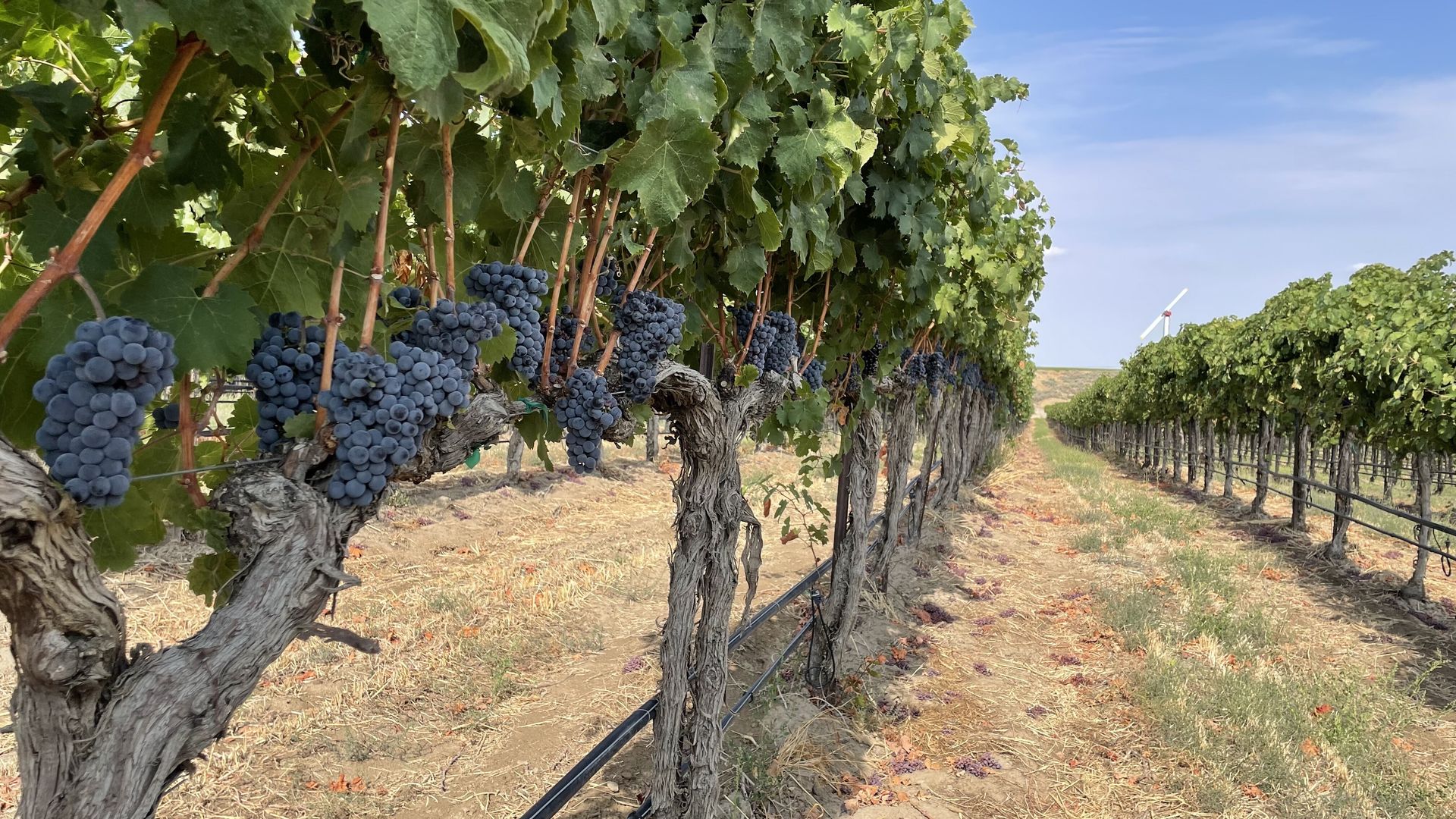 Smoke season hasn't hit Washington in force yet this year, but the wine industry is preparing.
Why it matters: While grapevines are themselves quite resilient to fire, smoke can have a quick and devastating effect on vignerons, vintners and the larger billion-dollar wine industry.
Washington is the nation's second-largest wine-producing state, with more than 1,000 wineries and an annual $8 billion impact on the state.
If no wine were produced for a year due to smoke or any other reason, it would not only jeopardize the wine industry directly, but also the industries tied to it, including restaurants, hotels and more, Drew Pauk, owner and winemaker of Moonbase Cellars, told Axios.
Driving the news: The National Interagency Fire Center's latest forecast released on July 1 shows nearly all of Washington state and most of Oregon at an elevated risk for wildland fire.
Details: Volatile phenols in smoke can taint the skin of grapes, sometimes in just hours, according to Washington wine enologist Emma Eisenbeis. When smoke taint sets in, the wine "smells like ash and tastes like an ashtray in your mouth," Eisenbeis told Axios.
There are tests that can help determine whether a vintage is affected, she said. But mostly winemakers are forced to guess, she said, as the damage is typically not apparent until several years after bottling.
Some vintners are also changing the way they do business, harvesting grapes earlier or creating more whites and rosés than reds, which spend more time "in their skins," said Eisenbeis.
What they're saying: Smoke taint generally comes down to a vineyard's proximity to fire, as the compound that causes smoke taint is heavy and falls to the ground quickly, said Pauk. It may also be affected by timing.
Smoke in early October means the whites and rosés are likely already in the winery and fine, "but others that ripen later, like Bordeaux grapes, are still hanging on the vine and could be in danger," Pauk said.
What's next: The Smoke Exposure Research Act was recently introduced to the U.S. Senate and House of Representatives by Sen. Alex Padilla and Rep. Mike Thompson of California. Among other measures, it would:
Direct the Secretary of Agriculture to conduct research to identify the compounds responsible for smoke taint.
Establish fast and inexpensive standardized screening tools for smoke-exposed wine grapes and wines.
Study compounds that may act as a barrier between wine grapes and smoke compounds among other things.
More Seattle stories
No stories could be found
Get a free daily digest of the most important news in your backyard with Axios Seattle.