Seattle still struggles with disability access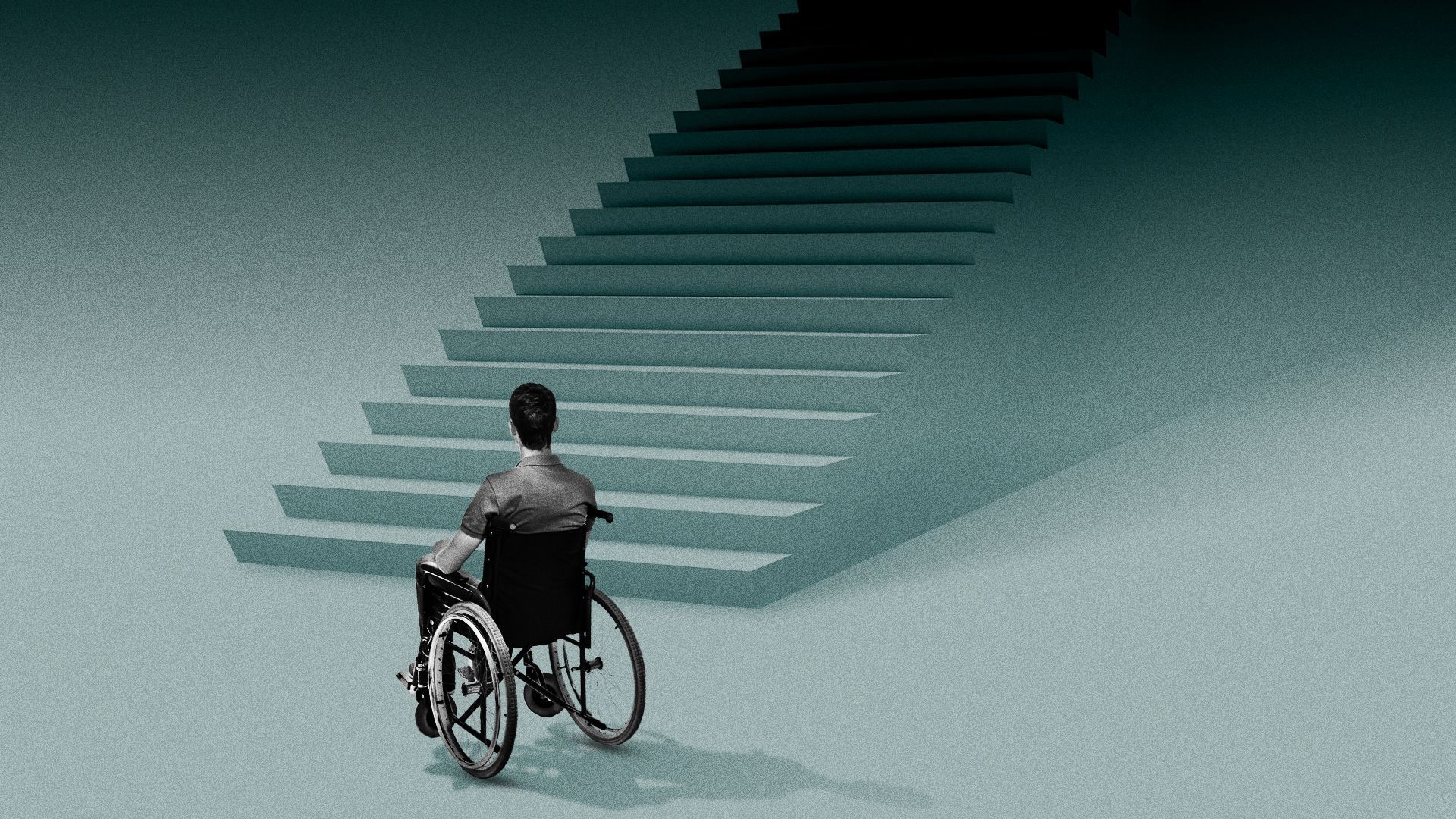 March is Disability Awareness Month, but full access in Seattle for people with mobility and other challenges remains an ongoing issue.
Driving the news: More than 30 years after the Americans with Disabilities Act became federal law, disability access remains among Seattle's least championed civil rights, advocates say.
Why it matters: If access is not addressed for people with mobility, vision, hearing and other impairments, people with disabilities can't be full participants in their communities, Kimberly Meck, executive director at Disability Empowerment Center, told Axios.
The big picture: Between 20 to 25% of Seattle-area residents are estimated to experience some kind of impairment, Meck said, and those numbers will grow as people age.
What they're saying: "There's a difference between (organizations) writing down what they think they need to say and taking action," she said. "And that's where people with disabilities are getting the short shaft."
Zoom in: Access is better in Seattle and King County than much of Washington, according to Anna Zivarts, the director of Disability Rights Washington's mobility initiative program. But, she said, there remain well-documented and long-standing barriers to mobility.
A 2017 Seattle assessment of 2,300 miles of city sidewalks documented 20,000 obstructions and 93,000 height differences or tripping hazards.
Missing or inaccessible sidewalks, inadequate or absent curb ramps and the lack of accessible pedestrian signals continue to be among the most often reported issues, Zivarts said.
Blocked access in construction zones and broken elevators and escalators obstructing public transit entries are other chronic issues.
For Hugh Boyd, a member of the Harborview Amputee Support Group who works, drives and lives in Seattle, the lack of ADA parking — including at apartment complexes with minimal or no parking, ADA or otherwise —is another constant thorn.
Zoom out: Because there is no enforcement body specifically tasked with ensuring ADA compliance, it often takes lawsuits or investigations to surface problems and prompt change, Christina Fogg, former civil rights program coordinator for the U.S. Attorney's Office for the Western District of Washington, told Axios.
After being sued over inaccessible curb ramps in 2015, the city agreed in 2017 to build or fix 1,250 ramps each year for 18 years.
Yes, but: The funding required to repair and maintain 34,000 blocks of sidewalk worth $5 billion is much greater than the available budget, the city said in its sidewalk report.
Of note: The city is addressing the issue and made a series of improvements last year, said Ethan Bergerson of the Seattle Department of Transportation, including 17,000 sidewalk repairs covering roughly 56,000 square feet of sidewalk.
Additionally, 20 blocks of new sidewalks were added on streets that did not have them before and 1,500 new curb ramps were installed around Seattle.
What's next: Revenue made from tickets issued by automatic cameras to people violating bus lane and intersection laws will be used to install more accessible walk signals, said Bergerson.
Those signals, which vibrate and make noise, help people with vision and hearing impairments to cross safely.
More Seattle stories
No stories could be found
Get a free daily digest of the most important news in your backyard with Axios Seattle.