SNAP cuts lead to warning of "hunger cliff"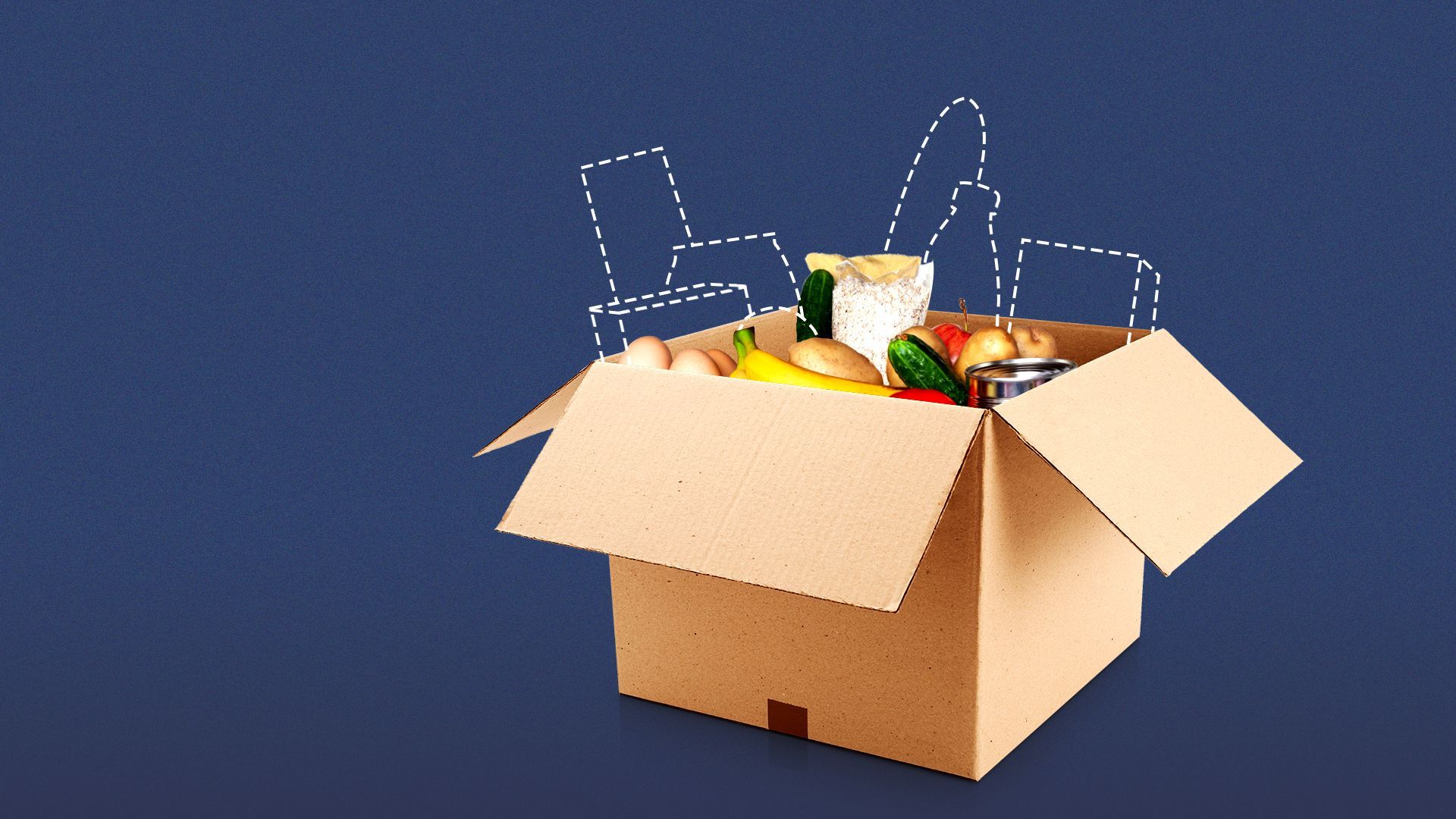 Extra food benefits put into place during the pandemic are ending nationwide on Tuesday.
Driving the news: Pandemic emergency allotments added to the Supplemental Nutrition Assistance Program (SNAP) in March 2020 put extra food money in the pockets of people getting aid.
But people on food assistance now have to go back to receiving their smaller, pre-pandemic payment as determined by income and household size.
Why it matters: The change in federal law means more than half a million households in Washington will lose a total of about $95 million a month in food assistance even as food and fuel costs remain high or increase, Jennifer Otten, a faculty researcher with the UW Center for Public Health Nutrition, told Axios Seattle.
Even with the pandemic boost to SNAP, food insecurity was high throughout the state last year, according to a new study by Otten and other University of Washington and Washington State University researchers.
More than half of the 5,000 respondents surveyed between December 2022 and last month used at least one type of food assistance the previous month.
Food insecurity was higher in households made up of people of color, families with children and among renters.
By the numbers: The change in federal law means a smaller monthly food budget for more than 520,000 low-income Washington households currently receiving food assistance, according to Department of Social and Health Services spokesperson Norah West.
That's about 13% of the state's 7.7 million residents and includes about 115,000 households in King County, West told Axios.
In Washington, the additional pandemic allotments added an average of $171 per month to families' food budgets.
The number of Washingtonians receiving SNAP benefits peaked throughout 2020 and declined as people returned to work and COVID-19's impact lessened. But still, state data shows the number of people on SNAP right now is higher than the 476,000 it was in January 2020.
Threat level: The switch could strain already-strapped local food banks. Northwest Harvest CEO Thomas Reynolds said inventory at Northwest Harvest is down 80% compared to this time last year and food banks are reporting up to 100% more people participating in their food programs.
"We actually see the end of February to be something like a hunger cliff," he told KING 5 News.
"It's impossible to think that food banks can fill the $95 million a month gap that SNAP households are about to experience," said Otten.
What next: Deepening congressional division over nutrition programs means households can't count on federal relief in this year's farm bill, the legislation that authorizes SNAP, Axios' Ayurella Horn-Muller writes.
But state legislators are currently considering several bills that could assist residents with food affordability, including one that would provide free school meals to more students.
Otten said her team hopes their research will inform lawmakers as they think about how to address food insecurity and hunger across the state.
More Seattle stories
No stories could be found
Get a free daily digest of the most important news in your backyard with Axios Seattle.