San Antonio ISD to close and consolidate schools by 2024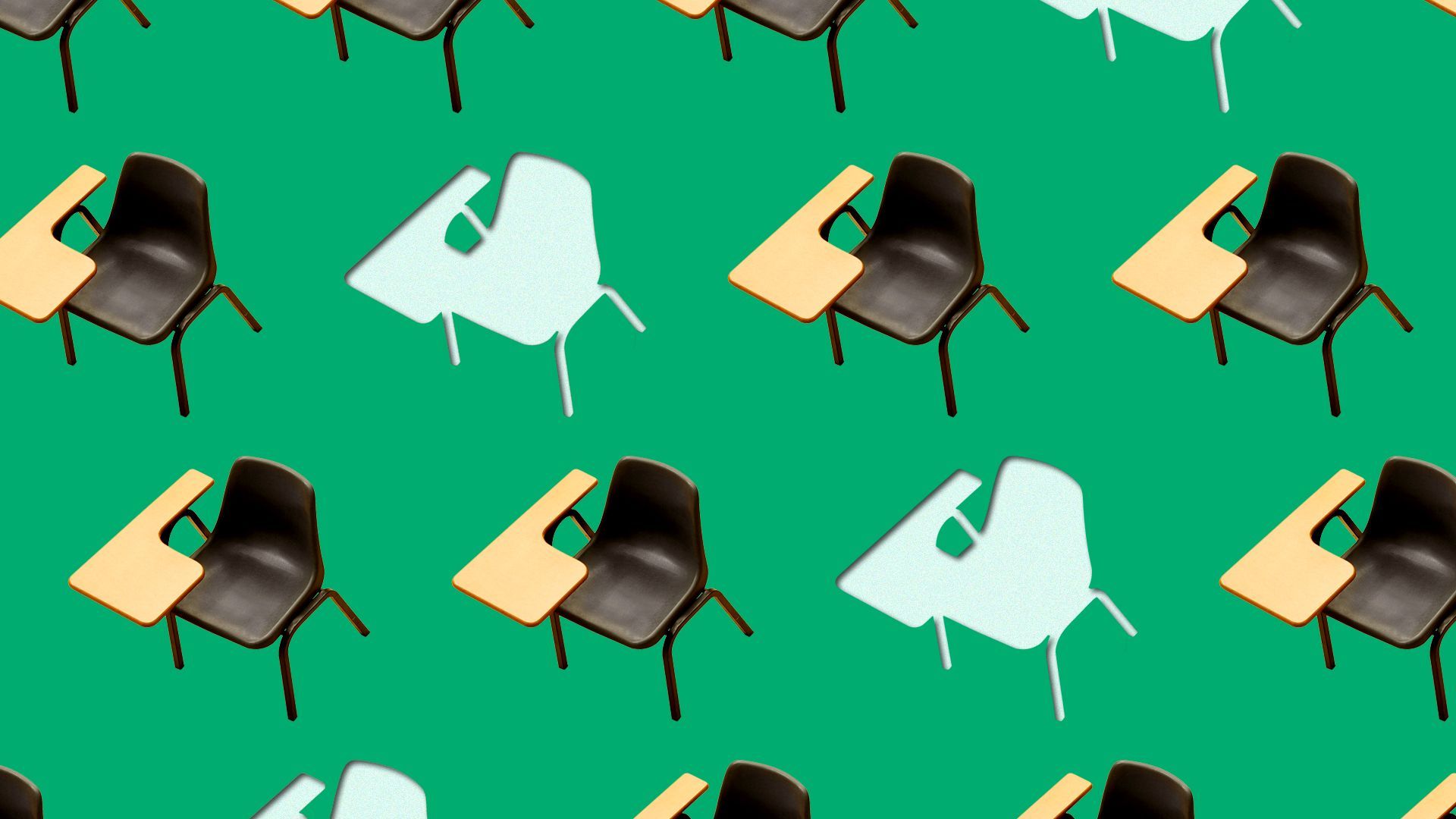 San Antonio ISD is starting the process of closing school buildings due to declining enrollment.
Why it matters: SAISD superintendent Jaime Aquino tells Axios that some schools are under-enrolled and teachers arebeing stretched thin. "A teacher can be teaching first and second grade combined in the same classroom because there are not enough kids," he says.
What's happening: SAISD published the first draft of the "rightsizing" framework this month. Community members can provide feedback through an online survey.
The final version will list school buildings that may be considered for consolidation or closure. It will also name schools that may be able to enroll more students.
The district does not have a set number of schools it's expecting to close, per spokesperson Laura Short.
State of play: SAISD's enrollment in 2003-2004 was 56,812, making it the 10th largest in the state at the time, according to district data.
During the 2021-2022 school year, enrollment fell to 44,568. Enrollment for the 2022-2023 school year rebounded slightly to 45,285 students.
The number of schools that SAISD operates declined from 106 to 100 since 2003-2004.
By the numbers: Much of the decline in enrollment is due to fewer children living in the district, according to Brian Eschbacher, a demographic researcher who reported to the board.
Births have declined 36% in ZIP codes in SAISD since 2007.
In 1998, there were 5,147 first graders enrolled in SAISD. In 2023 there were 3,221.
The neighborhoods around Brackenridge (-30%) and Lanier (-25%) high schools have seen the largest declines in the K-12 population.
Housing factors such as affordability and size, as well as students attending other schools are also contributing to the enrollment declines.
About 10,000 kids living in the district attend a charter school.
Flashback: In March, South San and Harlandale ISDs voted to close schools in response to declining enrollment and to save money.
What they're saying: Aquino says SAISD's decision is driven by an inability to deliver a high-quality education across all schools. The district's resources are spread thin, creating an inequity, he says.
"Will it save some money? Of course it will, but not to the magnitude that people think. It's not about the finances, it's about the quality of education and keeping our promise to families," Aquino says.
The other side: A coalition of teachers, parents, staff and residents want a vote in the process, rather than leaving the final decision up to trustees, according to the San Antonio Express-News.
They also feel the district is moving too quickly on the plan.
Aquino expects the plan will have "very minimal impact" on staff, but cannot guarantee that all staff will keep their jobs in the process.
Vacancies will be frozen until teachers who are affected can go through the transfer request process.
"It's so hard to find teachers that I don't think there will be a significant impact," Aquino says.
There are 260 vacancies in the district now, according to his count.
What's next: Feedback will be collected through September via the survey and two regional meetings.
On Sept. 18, the initial recommendation on which schools to close will be presented to the board, and affected staff and families will be notified.
The trustees will vote on the recommendation on Nov. 13.
Changes will go into effect by the 2024-2025 school year.
More San Antonio stories
No stories could be found
Get a free daily digest of the most important news in your backyard with Axios San Antonio.