Mormon leaders double down on gender and marriage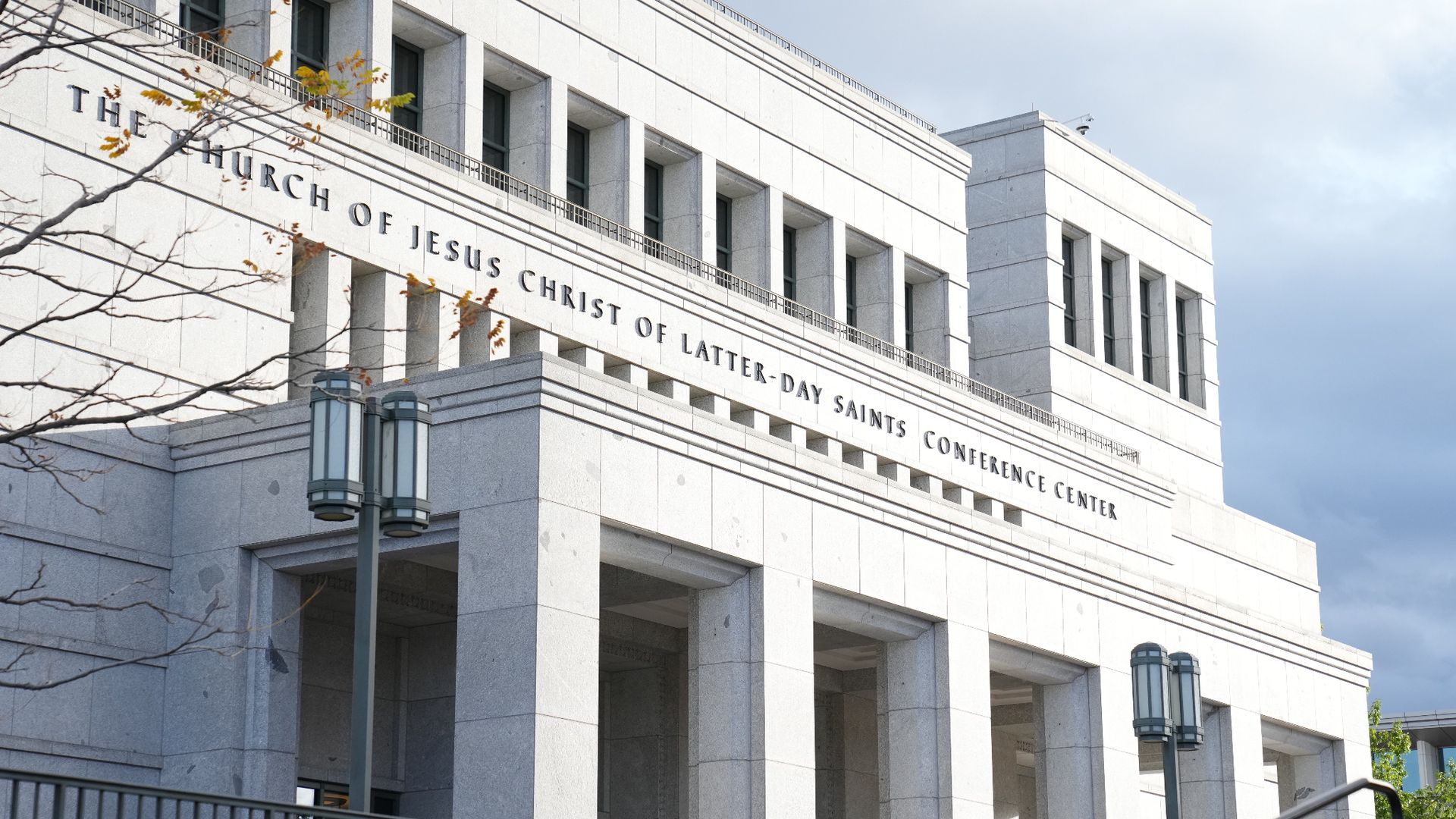 In General Conference talks this weekend, leaders of the Church of Jesus Christ of Latter-day Saints stressed the importance of heterosexual marriage to become "exalted" for eternity.
The message used the powerful leverage of church teachings about the afterlife to reassert its conservative stance on marriage and gender.
General Conference is the semiannual gathering of church leaders in Salt Lake City, where faith messages and policy updates are announced to members.
Driving the news: Dallin H. Oaks, who is effectively the church's second-in-line after President Russell M. Nelson, said Saturday that "exaltation can be attained only through … an eternal marriage between a man and a woman in the Holy Temple."
The "union of a man and woman in marriage" is the "highest and holiest" manifestation of the church's power to "link generations," said D. Todd Christofferson, member of the church's Quorum of the Twelve Apostles.
"The Lord has clearly taught that only men and women who are sealed as husband and wife … will be together throughout the eternities," Nelson said in a video message Sunday.
Why it matters: Church teachings on gender, sexuality and marriage have long created tension with the LGBTQ+ church members and allies, as well as single adults.
Even if members remain "chaste," the church teaches they cannot reach the highest degree of exaltation in the afterlife unless they marry someone of the opposite sex.
"That is why we teach that, quote, 'gender' is an essential characteristic of individual … eternal identity and purpose," Oaks said Saturday. It is church policy to discipline members who transition genders.
Context: Among Christian traditions, Mormonism's teachings about the afterlife are particularly specific and detailed, and frequently held up as the stakes of obedient membership.
Only those in the highest or "celestial" kingdom will join their families for eternity, according to church teachings.
The intrigue: Oaks stressed that Latter-day Saint teachings about the afterlife are also more merciful than many other Christian beliefs. Rather than a selective heaven that relegates many to a fiery hell, Mormonism holds that nearly everyone will enjoy eternal "glory" — just in varying degrees.
"No other theology or philosophy or authority can match such an all-inclusive opportunity," Christofferson said.
Yes, but: Oaks repeatedly added that the church's purpose is to "prepare" members for the highest degree of exaltation. That exaltation excludes many LGBTQ+ people due to the prerequisite of a temple marriage, which the church only performs for heterosexual couples.
That effectively makes queer members second-class citizens within Mormonism, not just during their lives but for eternity, said Jaclyn Foster, who was raised in the church and still considers herself Mormon.
Foster now attends Episcopalian Church, where she says her lesbian marriage "isn't up for debate."
What they're saying: "You cannot preach that 'exaltation is a family matter' while continuing to insist that queer people will either find their marriages eternally invalid or be forced into a marriage that does not reflect their family on Earth," Foster told Axios.
"Being taught that the 'best-case scenario' for your eternal progression is fundamentally unequal is extremely damaging, as it teaches you to believe that you inherently deserve less love than others," Foster said.
More Salt Lake City stories
No stories could be found
Get a free daily digest of the most important news in your backyard with Axios Salt Lake City.