Old News: John Wesley Powell's crappy night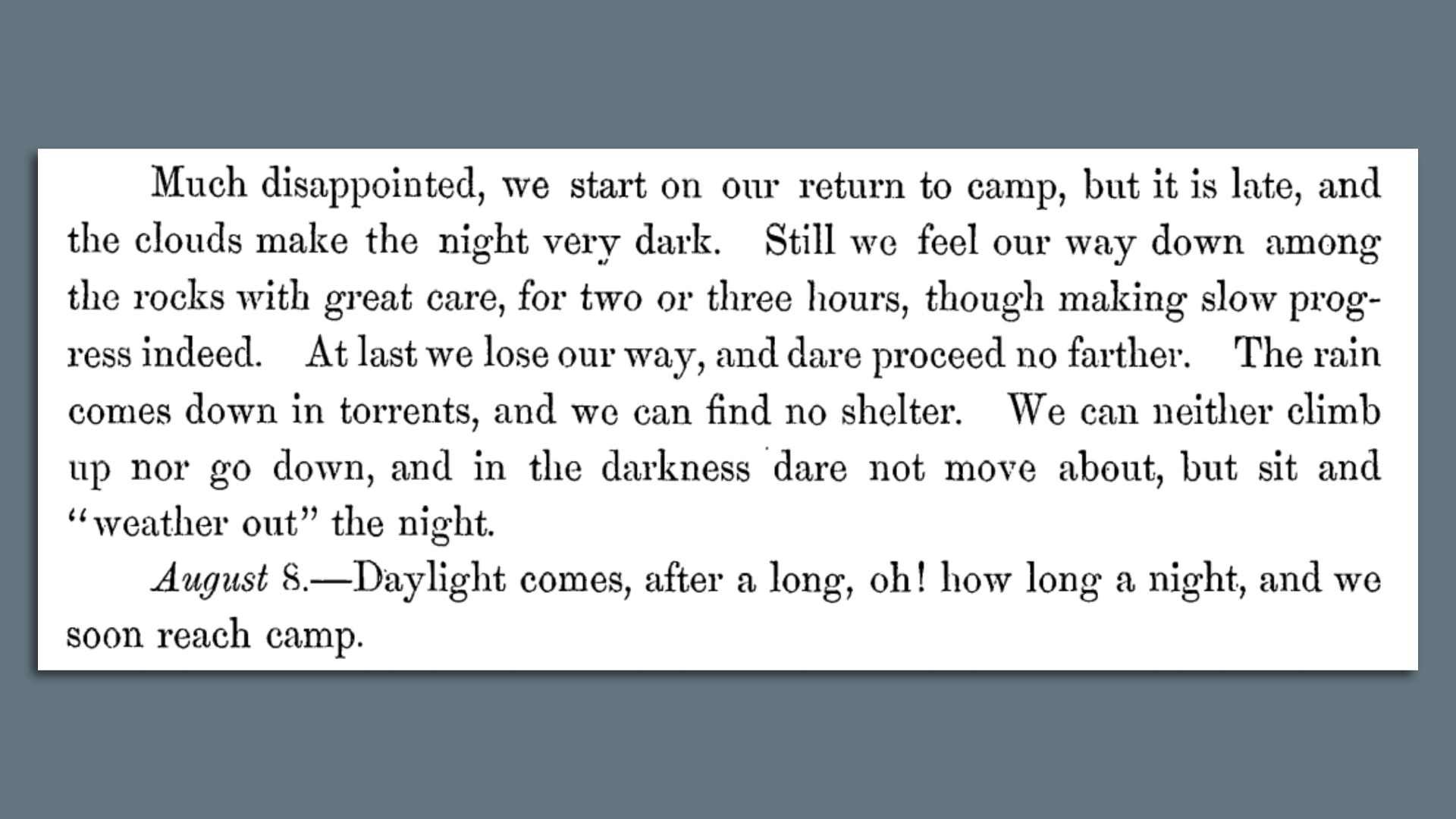 We're going straight to the source for today's Old News: The travelogue of John Wesley Powell.
Why it matters: Powell's 1869 expedition down the Green and Colorado rivers marks a turning point in the history of the American West — for better and for worse.
The famed geologist gave the U.S. government its first glimpse at some of the remote waterways that would guide the region's settlement and one day support some of the nation's biggest cities.
Before 1869, a lot of the area was basically "Here Be Dragons" on U.S. maps: blank and seemingly flat.
Flashback: 154 years ago today, Powell had just entered the Grand Canyon for the first time.
It was the third of 18 arduous days his team spent in the now-famous gorge.
What happened: The almanac noted an eclipse on Aug. 7, which Powell thought would help make a longitude reading. So he and his brother climbed 2,300 feet up the canyon walls, instruments in hand (Powell had lost his right one in the Civil War).
Total eclipse of the zonk: Then the rain started. No sun. No moon. Just clouds.
What he said: "Much disappointed, we start on our return to camp, but it is late, and the clouds make the night very dark. Still we feel our way down among the rocks with great care, for two or three hours," he wrote. "At last we lose our way, and dare proceed no farther."
"The rain comes down in torrents, and we can find no shelter. We can neither climb up nor go down, and in the darkness dare not move about, but sit and 'weather out' the night."
The bottom line: In case today turns out to be one of those Mondays, we'll leave you with Powell's next sentence:
"August 8.— Daylight comes, after a long, oh! how long a night."
Previously in Old News:
More Salt Lake City stories
No stories could be found
Get a free daily digest of the most important news in your backyard with Axios Salt Lake City.